Easy & Safe Ways of Android Data Recovery without Root [Proven Tips]
"If you want to recover deleted data without root then it's going to be pretty difficult because most of the recovery apps cannot work without root access. So you've left with the only option of using Google Drive to restore deleted files on Android and that too will work only if you've enabled backup option before."
-- From Quora
As the above user has encountered, how to perform Android data recovery without root may really annoy many people. As for the situation, this blog post will introduce 3 practical methods to help recover deleted Android files in the phone memory or SD card without root. These solutions cover the recovery of phone contacts, call logs, photos, SMS, videos, music and many other vital documents, solving your troubles in an all-round way.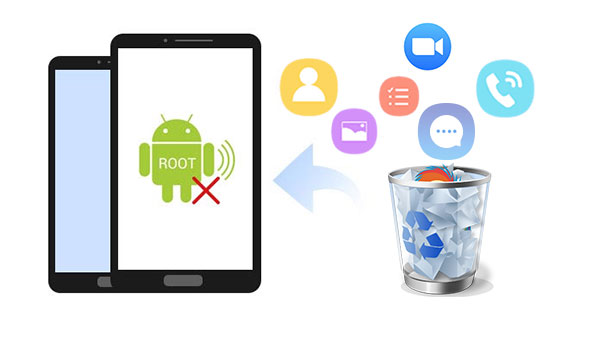 Part 1: Why Most Android Data Recovery Tools Require Root Access
When "mobile file" comes across "data recovery", file access may be the first threshold. In most cases, a software needs to perform a certain measure of interaction with the device while accessing the phone or tablet, including the interaction with the device storage unit, so as to truly enter the mobile to scan out the deleted files for recovery.
Android devices have been set with right protection before they leave their factory. In order to prevent malware intrusion, "MTP" protocol has been customized in the device. The distinctive feature of this protocol is that the software cannot establish advanced interaction with the mobile. However, this will keep some pro phone programs away from recovering files, because many of these data recovery programs need get root permission to work. It can be awkward, isn't it?
Faced with a case like this, we introduce 3 solutions, which can help you recover deleted files using Android app with no root. No matter text messages, contacts, multimedia or other deleted data, they can be easily coped with.
Part 2: How to Conduct Android Data Recovery without Root - MobiKin Doctor for Android
After the valuable data are lost, they are only marked as useless info hidden somewhere in the phone memory. At this time, it is recommended that you don't do any operation on the mobile, and find advanced program to recover as soon as possible to ensure the odds of success. Here's a catchy tool - MobiKin Doctor for Android, the best recovery software for Android with hundreds of thousands of champions. It offers two recovery modes to retrieve contacts, call records, SMS, multimedia files, etc. on Android phone without root.
Before moving on to its usage, let's take a look at its current characteristics first:
> Recover lost/deleted contacts, SMS, call logs, photos and documents from Android internal memory or SIM card.
> Get back all your lost photos, videos, music, and documents from Android SD card without rooting Android device.
> Preview details of the files to be recovered and deliver high success rate.
> Backup your Android lost and existing data to your computer with foolproof clicks.
> Easy to connect, fast and safe to retrieve, running in a standalone environment.
> At the service of 6000+ Android devices (nearly all Android phones), covering Samsung, Huawei, Realme, HTC, LG, Motorola, Sony, OPPO, Meizu, Xiaomi, OnePlus, Vivo and so on.
> Mac version is also available: MobiKin Doctor for Android (Mac).
Click the following button to download the trial version for either Windows or Mac as required to implement Android data recovery without root for free.
Step 1. Launch the program on your computer and use a USB cable to connect your Android phone to the PC. Then you need to follow the prompts to enable or allow the USB debugging on your phone. After that, the software will detect and scan the files on the device.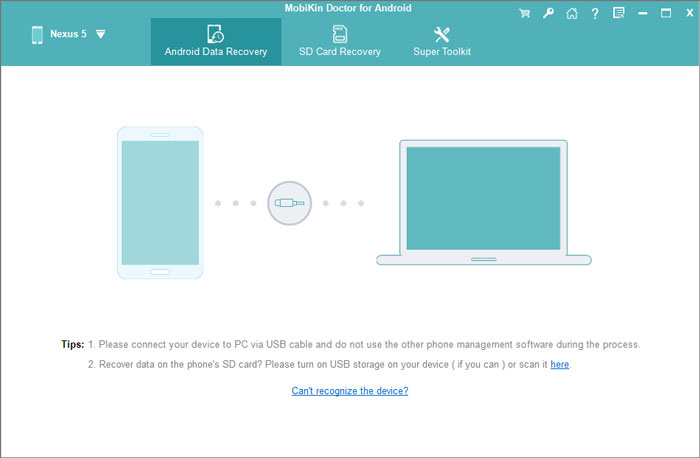 Step 2. Once the connected phone is recognized, you will see an interface as below: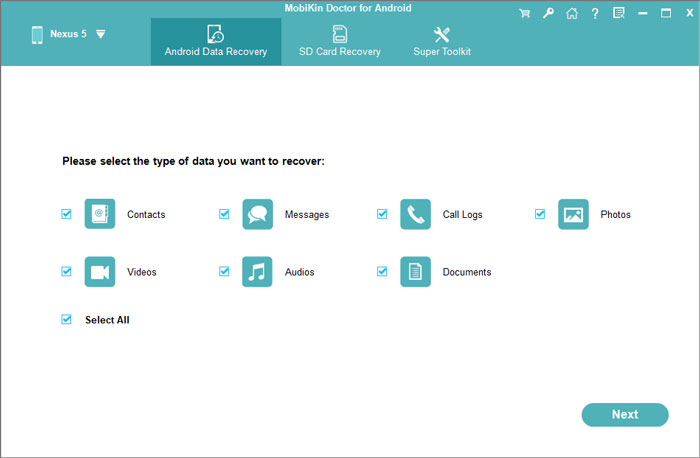 On this page, you can tick the file types you wish to restore and tap on Next to start scanning for lost files.
Step 3. When the scanning process ends, you can click the folder that you want to recover in the left panel, such as Photos. Here you can select to turn ON/OFF the option "Only display the deleted item(s)". Then just mark your wanted items and hit Recover to get back your lost files.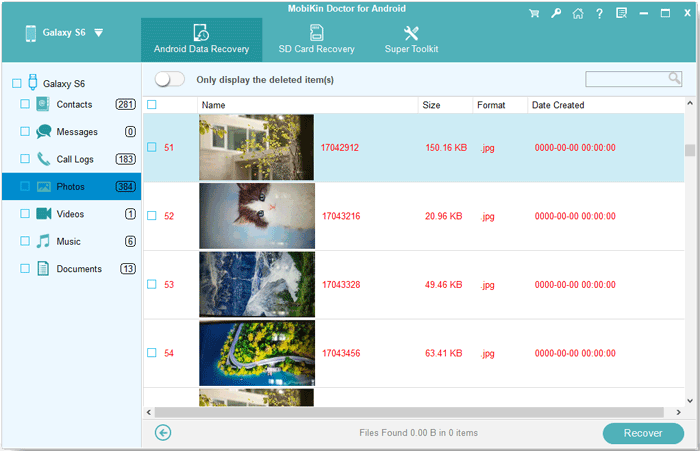 If deleted Android data is originally saved in the SD card in Android phone, how can I carry out Android data recovery without rooting by using the Doctor for Android?
Step 1: Insert your SD card to computer
After your download, install and open the tool. Then insert your SD card to computer using a card reader. Opt for "SD Card Recovery" mode from the top menu of the window to get the interface. Then connect "Next" to move on.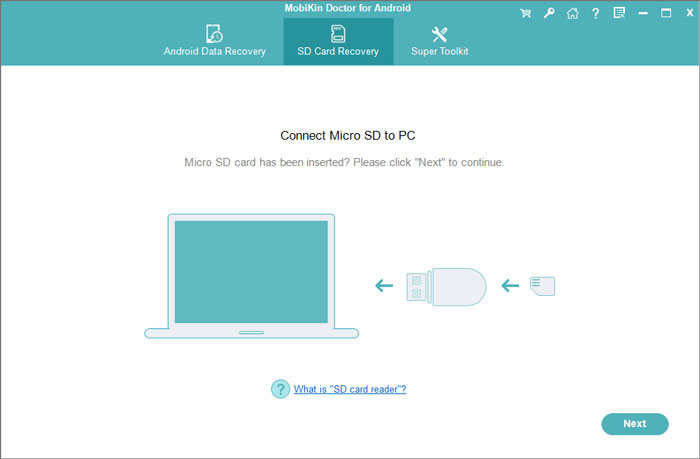 Step 2: Scan your SD card
While your SD card is recognized. Mark the removable disk - SD card from the interface, and tap "Next" to get the card scanned by the program.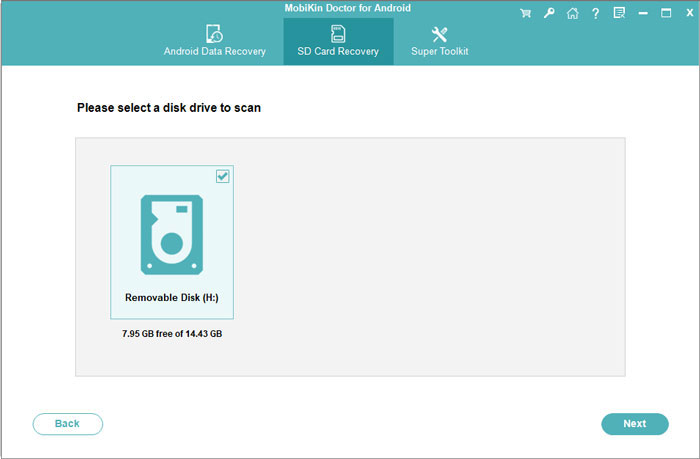 Step 3: Recover Android data from SD card
When the scan is done, file types from SD card will be on the left panel. Choose the data types to preview the details. For instance, you can select "Photos" from the left and choose your needed images. Then press "Recover" to retrieve the selected pictures from SD card in your phone.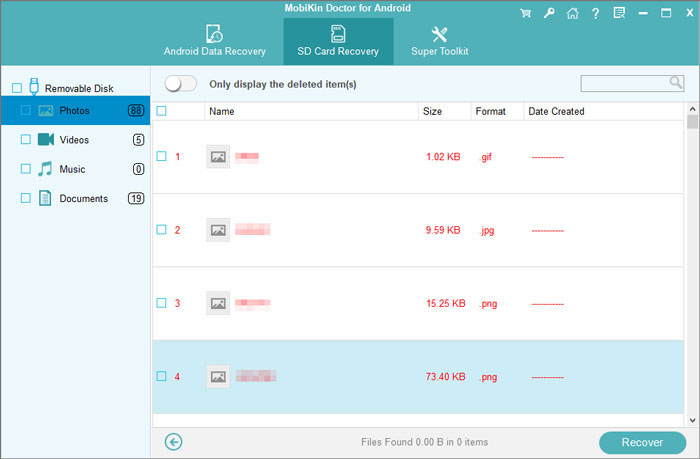 MobiKin Doctor for Android is not illegal and disgusting program, so it is not harmful to mobiles and won't disclose your privacy. Instead, it can help recover deleted data safe and sound. Thus, you can try to recover Android photos, documents, contacts, SMS and others using this Android data recovery tool.
Can't Miss:
Part 3: How to Recover Deleted Photos from Android without Root - Google Photos
Separated from Google+ services, Google Photos harbors a powerful built-in repair feature as well as an artificial intelligence to automatically create collages, animations, movies, stylized pictures, etc. Its basic responsibility is to backup and restore photos, music, movies, videos and other multimedia files without root. You can easily restore mobile data, but only if the photos or videos are deleted within two months.
Further, after restoring the photos, the new version of Google photos can also identify the people in the pictures and remind users to share images with them. Unlike Google Drive, currently, there is no limit to the storage space this service.
To know how to execute Android undeleting without root with Google Photos, let's take recovering deleted photos for example:
Step 1: Download, install and start Google Photos app on your Android device. (If you haven't got a Google account yet, you can sign up for one as prompted in the open interface, and then log in it.)
Step 2: Touch "Menu" button from the top left corner, and then click "Trash" button. Preview and choose the photos you'd like to recover.
Step 3: Press "Restore" button (three-dot icon) on the upper-right corner. Then, your chosen photos will be saved to your Google Photos library and taken back to your Android album originally.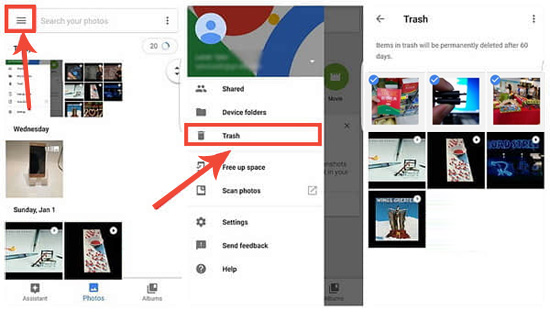 Can't Miss:
Part 4: How to Recover Deleted Files from Android Phone Memory without Root - GT Recovery
Whether it's a file you delete manually or the one that disappears from the memory card due to formatting, GT Recovery can be used for Android data recovery with no root or root situation. For non-root phones, it can run on "Quick Recover" mode, and the data scanned in this mode may be incomplete, and the recovery odds of success is limited. While for advanced recovery mode, you need root your Android mobile.
At present, only SMS, contacts, call logs, Messenger chats, WhatsApp, and KIK messages can be recovered. In addition, you need to authorize for it twice or more on your Android during the installation.
Let's take restoring deleted contacts as an example to show how to conduct Android file recovery without root using the Windows version of GT Recovery (there is also an Android version of the software).
Step 1: Download GT Recovery for windows, and then install and open it. Connect your Android phone to your computer via a USB cable for the automatic detection. Then you'll find your phone info on the interface.
Step 2: Choose "Contacts" > "Start" and tap "Recover Directly". Then this program will begin to scan your lost contacts quickly.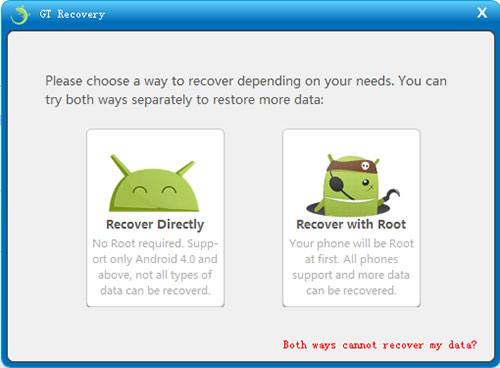 Step 3: After a while the contacts content will be listed below the menu. Next, choose your needed contacts and tap "Save results" to choose a location to store them. Afterwards, hit "Recover" to get them back.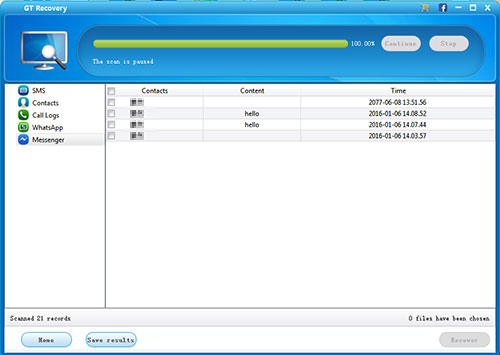 Attention: If you want to improve the success rate of Android data recovery, you'd better tap "Recover with Root" instead of "Recover Directly" in "Step 2". In that case, ensure your phone battery is more than 20% as the process may take a long time.
Part 5: Tips to Avoid Android Data Loss
After reading so much associated with how to Android data recovery app without root, do you think this could have been less complicated. Yes, many users will feel lost only when the crucial data on the mobile disappear. In fact, the troubles caused by data loss and the search for reliable recovery software could be avoided, as long as the backup is done before losing files.
Here, we present a backup software - MobiKin Assistant for Android for you. It enables you to backup your entire Android data to your computer within one click, and find them back selectively or in batches through its recovery function easily. With it, you'll no longer have to worry about Android data loss.
Give it a free download and sync your Android data to your computer in case of need someday.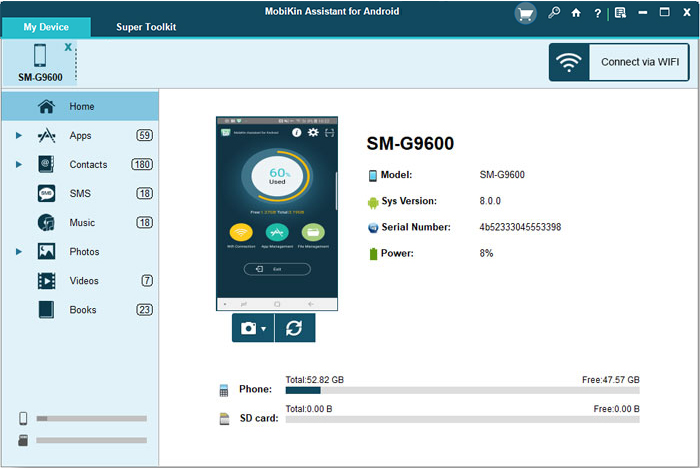 Write in the End
When it comes to how to perform Android data recovery without root, considering the security, privacy confidentiality and recovery probability of data recovery, we highly recommend that you go for MobiKin Doctor for Android, which is in support of a variety of recoverable file types, such as multimedia and mobile communication files. It can deal with the matters of Android data recovery on Windows or Mac computer professionally. Therefore, why not download it and enjoy its one click recovery? Besides, it's true that Google Account and GT Recovery, to some extent, can handle the urgent problems, but they also have the limitations as have been talked about.
Finally, you are welcome to share with us at your convenience if you have any problems on Android mobile management.
Related Articles:
Recover Deleted/Lost Photos from Samsung Galaxy S8/S8+
How to Recover iMessages from Disabled iPhone? 3 Ways for You!
Ultimate Guide on How to Transfer Contacts from Android to Android
How to Recover Deleted Call Logs on Android Phone? - 2 Easiest Ways
How to Transfer Photos from iPhone to Android? - Top 5 Ways