Easily & Safely Recover Android Data without Rooting [Proven Tips]
Just yesterday I accidentally deleted one very important family photograph from my Samsung. I am suffering from the pain of my stupidity and need to know if there is any way to get back that photo without rooting my phone. I have not installed in any backup app like Dumpster or alike. - Albert
An accidental deletion on Android phone is very common in our daily and correspondingly there are lots of methods to get back these deleted files. However, most of these solutions require a root access so here one more problem comes up- how to recover Android data without rooting. This would be a harder task to complete but you still have 3 ways to solve the problem.
Most Android data recovery tools require a root access since the application needs to perform a low-level interaction with the device while performing the recovery operation. In addition, rooting an Android device enables users to gain privileged control over various Android subsystems. Hence, it is understandable that most Android recovery software ask a root access.
Nonetheless, there are plenty of disadvantages of rooting a phone as well. For example, it would void the warranty of a device, increase the likelihood of bricking the Android device or other damages. So some users wish to recover the deleted data on Android without rooting. This is realizable and you have several ways to achieve it.
For the users who lose their wanted data without any backup, their only option is to use a professional recovery tool to get back the lost files. Here we would like to strongly recommend you one powerful software- MobiKin Doctor for Android. This program allows you to extract the deleted or formatted Android data like photos, videos, music, documents without rooting the device.
Notice: This tool is also able to restore the contacts, text messages and call logs from Android phone but it requires a root access as well.
You can download and install the free version of the software to have a try first.
Step 1. Launch the program on your computer and use a USB cable to connect your Android phone to the PC. Then you need to follow the prompts to enable or allow the USB debugging on your phone. After that, the software will detect and scan the files on the device.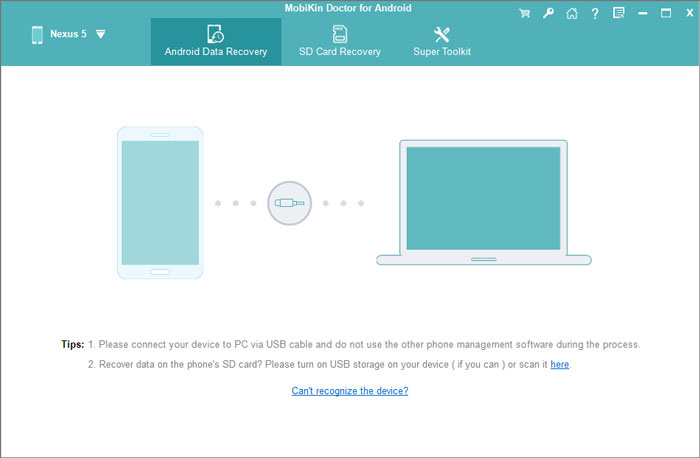 Step 2. Once the connected phone is recognized, you will see an interface as below: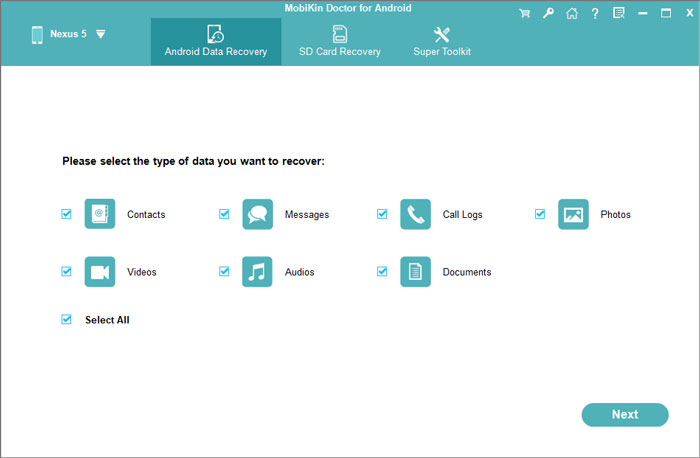 On this page, you can tick the file types you wish to restore and tap on Next to start scanning for lost files.
Step 3. When the scanning process ends, you can click the folder that you want to recover in the left panel, such as Photos. Here you can select to turn ON/OFF the option "Only display the deleted item(s)". Then just mark your wanted items and hit Recover to get back your lost files.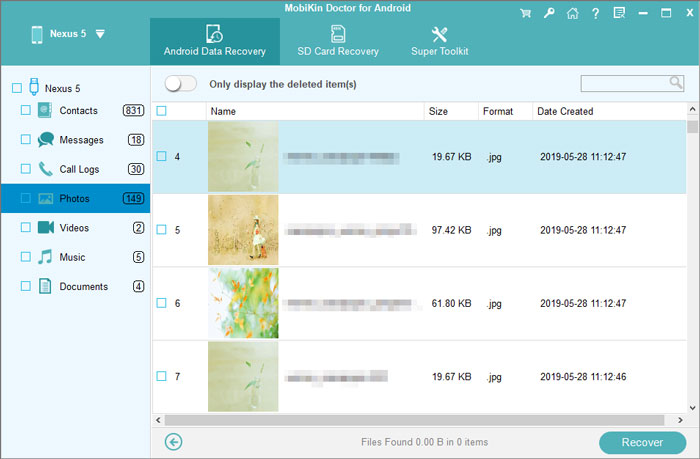 Video Tutorial
To avoid data loss, some users would select to sync their Android data with Gmail. Then in this case, you can easily retrieve the lost files from Gmail. And as well all know, Gmail does not ask a root access all the time. That is to say, you are able to restore the deleted files from Gmail backup without rooting. But how to perform this recovery process? Just go with the tutorial below:
Step 1. Login to the Google account on your Android phone and you will see a list of all your previous devices.
Step 2. Next, you need to select a device that you've used to store the lost files and tap on it.
Step 3. After that, you can simply click on the button Restore to get back the saved data.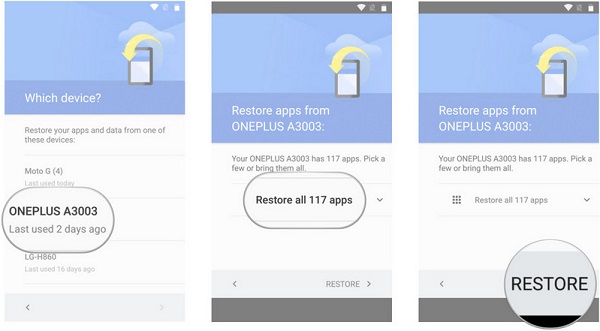 Dumpster is a helpful application for Android users to recover and restore videos, images, Apps and other files. It works like a recycle bin for your phone. Once you install it on your Android device, it will backup the phone data automatically and allow you to undelete and restore the files effortlessly. What's more important, this is a free Android App so you can try it without paying any cost.
Here's how to use Dumpster to get back your Android files:
Step 1. Double-click on the icon of Dumpster on the main screen of your phone to open the application.
Step 2. After entering the App, you will see a list of deleted files on the screen. Here you just need to find out the App you want to restore and tap on it.
Step 3. Then you will enter next page. On this page, you can simply tap on the Restore icon to retrieve the deleted data.
Attention: This application only starts to backup and restore the files when it is installed on the device.
Recovery Methods
Pros & Cons
MobiKin Doctor for Android

Pros:

- Support to recover deleted or formatted photos, videos, music, documents from Android phone without rooting;

- Enables users to get back the lost files without backup.

Cons:

- The recovery of contacts, call logs and text messages requires a root access.

Gmail

Pros:

- Allows users to restore Android photos, videos, settings and other files without rooting;

- Users are free to perform the recovery process on mobile phone or computer.

Cons:

- To restore the files, you need to make a backup beforehand.

Dumpster

Pros:

- It is free to use;

- No internet connection required.

Cons:

- It won't recover the files that are deleted before it is installed.
►
The Bottom Line
Now you can know that it is also possible to recover the lost Android data without rooting the device. However, as you can see, every means has its own disadvantages and there are always some files you cannot restore. Hence, it would be better for you to backup the important files on your Android phone in advance.
Related Articles:
How to Backup Your Android Devices without Rooting?
Recover Data from Broken or Damaged Android Phone
Android SMS Recovery: How to Recover Deleted Text Messages from Android Easily?
[Solved] How to Recover Deleted Photos/Pictures from Android?