Want to Fake GPS with No Root? 6 Programs You'd Better Know
When we play mobile games like Pokemon GO or access geo-based dating apps, we may want to fake locations to teleport our devices. Alright, we can obtain more resources and better protect our privacy in doing so. However, since some apps require us to root phones and further configure GPS settings, most of us tend to fake GPS with no root. OK, this review will take you through a list of the spoofing tools. We believe that you'll gain something here.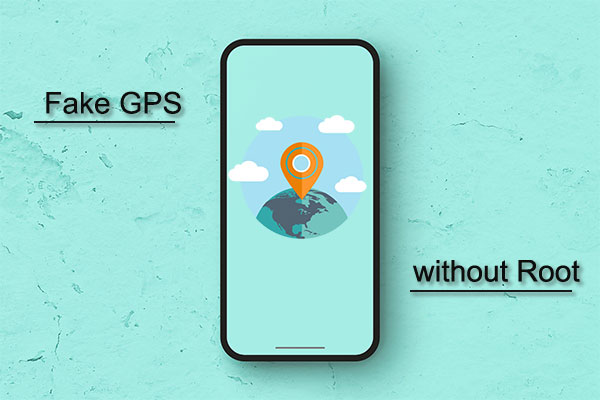 Top 1: Fake GPS No Root - Virtual Location Tool
When you use some unprofessional programs, you may keep bouncing back to your true location. Virtual Location Tool allows you to say no to any inconvenience. It is a utility that has been tried and tested by countless users. And it can fake GPS without root, working for various Android and iOS devices. Next, let's check out the main characteristics of this software.
Some features of Virtual Location Tool:
Fake GPS with no root on Android and iOS devices in one click.
Enable you to select or delete the locations you've visited before.
Customize routes, simulate routes, and create different routes.
Work on any location-based apps like AR games, social platforms, etc.
Change locations for almost all smartphones, covering Samsung, Xiaomi, Google, Motorola, OPPO, Vivo, LG, iPhone 14/14 Pro/13/13 Pro (Max)/13 mini/12/12 Pro (Max)/12 mini, iPhone 11/11 Pro/11 Pro Max, iPhone X/XR/Xs/Xs Max, iPhone 8/8 Plus, iPhone 7/7 Plus, iPhone 6/6S/6 Plus, iPod touch, iPad, etc. (Why is my location is wrong on my iPhone?)
It won't let out your privacy.
How to use Virtual Location Tool to fake GPS without root?
Step 1. Download and install the Virtual Location Tool on your computer. Launch it and click "Get Started" on the initial interface.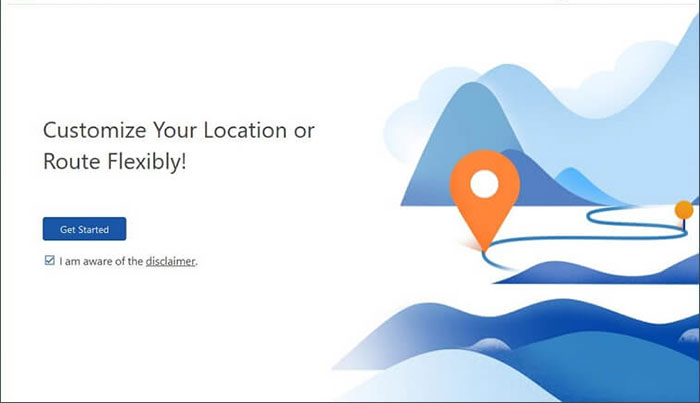 Step 2. Connect your device to this computer with a USB cable. Wait a few seconds until the tool recognizes the device. Then click "Teleport Mode" from the screen and enter the location you want in the search bar. You can also input GPS coordinates to find a specific location.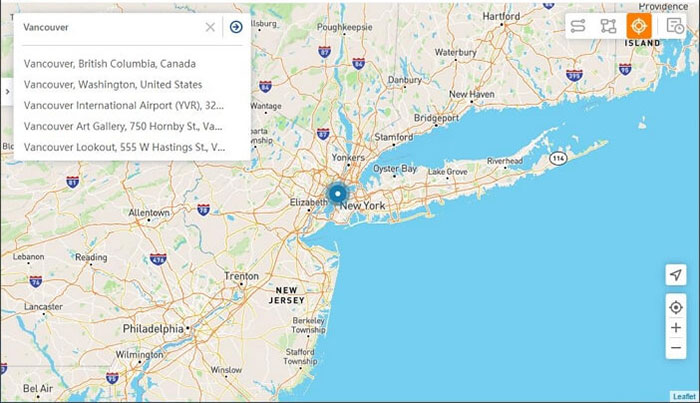 Step 3. The pointer on the page will move to the corresponding location on the map in accordance with the location you specify. Finally, click "Move" to set this place as your current GPS location.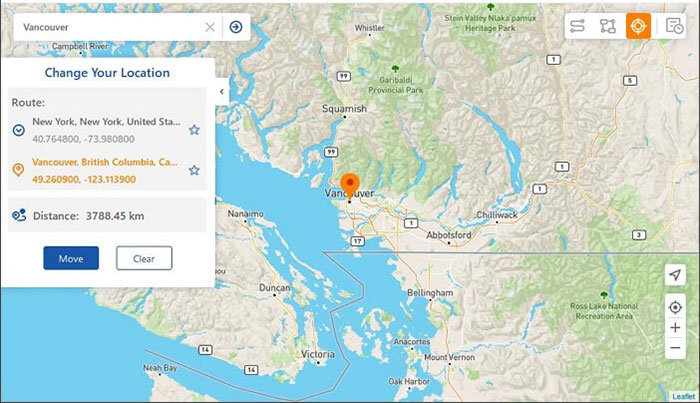 Note: This software shouldn't be used for cheating. So make sure you take it only for non-malicious purposes, and we surely give enough credit to that.
You Might Want to Know:
Top 2: Fake GPS Location - Floater
Fake GPS Location - Floater comes in handy when preventing your device from simulating your whereabouts, keeping your privacy intact. You can first enable the "Developer option" on your phone. Then it can trick your phone proximity and hide mock location without root as long as you give permissions to Gyroscope, internet service, and storage.
Salient features:
Align a Gyroscope to toggle among the locations.
Keep your location on the go.
Get the location history you flowed to.
Set speed and accuracy of the location tracking.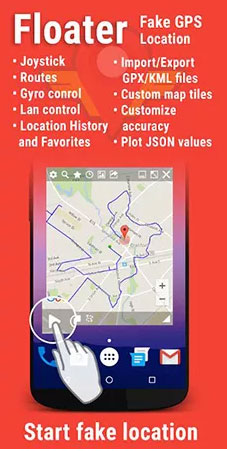 Top 3: Fake GPS GO Location Spoofer
Unlike some of its counterparts, Fake GPS GO Location Spoofer has been around for a long time, so the developer has got it updated over time with newer features. For instance, you can add geo-tags to your photos even if you are not in the mentioned location. (How to add photos from PC to your phone?) To mock location on it with no root, you are required a stable internet connection to change your location conveniently.
Salient features:
Record history and offer multi-lingual support.
Integration ability with other apps using the share button.
Root access on your devices running Android 6.0 Marshmallow or older.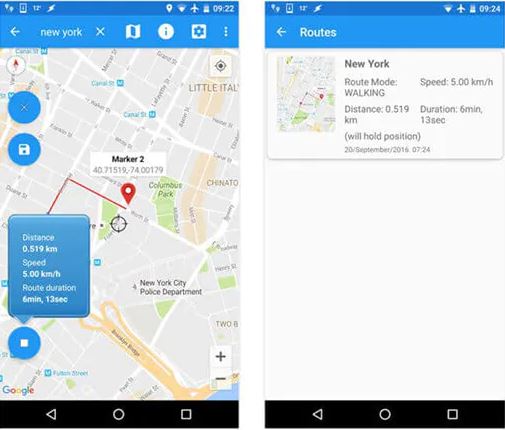 Top 4: Fake GPS location - Hola
Fake GPS location - Hola is recognized for VPN services, and you don't need to think of whether developers have a GPS spoofing app or not. This app is used to break geo-restrictions that come through several tools. It fakes GPS without mock location, and no root is required. Yet, some users claim that GPS spoofing does not work on some apps. So make sure you know if there are any app-related restrictions before setting GPS locations.
Salient features:
Save location for future use.
Support coordinate searching or pinching through the map.
Accurately place the Locations you mark to spoof.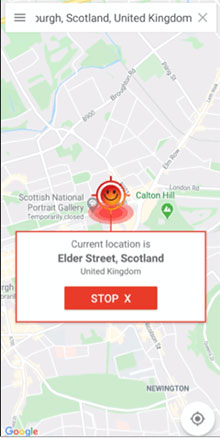 Learn More:
Top 5: Mock GPS with Joystick
With a convenient joystick available on its screen, Mock GPS with Joystick allows you to quickly change your location so long as you enable mock locations in the "Developer options". The tool has a good response from the users' end and fake GPS with no root for Android. Further, you can actually search places on it, and it'll give you the best results if your phone is on Android 4.0 and higher.
Salient features:
Deliver teleportation and joystick.
It is configurable and displays recent history.
Location's mode has to be high accuracy.
Top 6: NordVPN
NordVPN appears at the end of our list, though it lets users connect to hundreds of server locations throughout the world. People in the US can watch content from the UK or other countries where there is a VPN server. It offers the same set of features as the app we talked about above and ensures your data stays private when browsing the web. Else, it fakes GPS with no root mode, but you cannot manipulate your favorite social media tags.
Salient features:
The automatic change-over switch is excellent.
More than 5275 servers and up to 3000 free agents.
No bandwidth restrictions.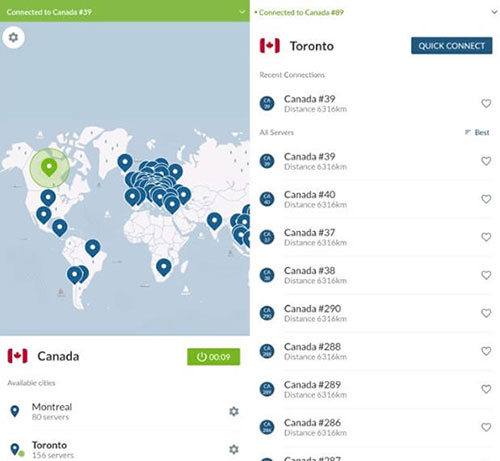 Final Verdict
We just covered the top six tools to fake GPS without root mode. And Virtual Location Tool is obviously the most dedicated and flexible program. This software doesn't occasionally return the true location during use and lets you easily change any place at any time. What's more, it gets along well with almost all Android and iOS devices.
Hopefully, this post is helpful to you, and if it does, please share it with those in need. Thanks!
Related Articles:
5 Methods to Stop Parents from Tracking Your Phone [Updated]
How to Mock Locations on Huawei P50/P40/P30 Lite/P20 Pro/P20 Lite, etc.?
What You Should Know About Fake GPS on Android without Mock Location
Is My Phone Rooted? 7 Effective Methods to Check if Your Device is Rooted
Easy & Safe Ways of Android Data Recovery without Root [Proven Tips]