[Productive Tips]How to Recover Data after Factory Reset Android Phone?
Summary: This article is going to show you several methods to restore Android files after a factory reset. If you have lost your phone data in the same way, you can click to learn the solutions.
In order to fix some phone issues, users may need to format their Android phones and reset all settings on the phone to the manufacturer default settings. This would be an effective way to solve mobile phone problems but it will wipe the data on your device meanwhile. So in this case, most people are eager to know how to recover data after factory reset Android phone.
Is It Possible to Restore Data after A Factory Reset?
When people need to fix some chronic performance issues of Android, improve the phone's performance or reset the pattern lock/password, they often select to factory reset their devices. A factory reset is the restoration of an Android phone to the state it was when it left the factory. That means all the settings, applications and files saved on Android will be removed from the internal hard drive. But it is still possible to get back the data after a factory reset since the original hard drive records are not overwritten with zeroes. Then how? Just read on to learn the details.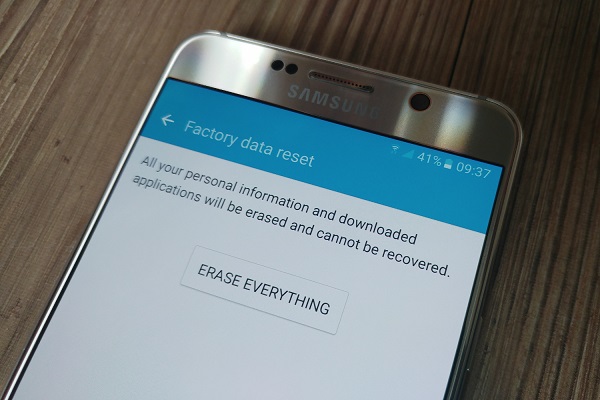 How to Recover Data after Factory Reset Android without Backup?
If you do not make a backup before resetting your Android phone, it would be more difficult to get back the lost data. But don't worry! The program Android Data Recovery can make the recovery process easier. It can help you to extract the files like contacts, messages, call logs, WhatsApp, videos, pictures, etc. from formatting Android phone without any hassle.
The following is the trial version of the software. You can download the proper version by clicking the icon below and make an attempt first.
Step 1. Use a USB cable to connect your Android phone to computer and run the program on your PC. Then you will be asked to enable USB debugging on your device. Just go with the prompts on the screen to turn it on so that the software can detect your phone.
Step 2. Once the connection is OK, you can choose the file that you want to recover and hit Next to scan the data.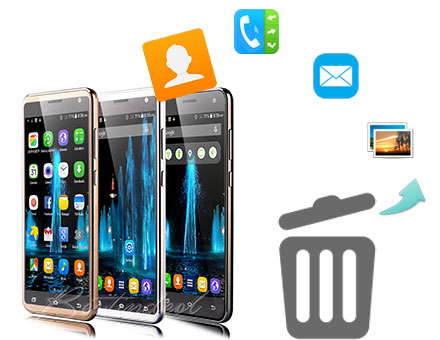 Step 3. Mark the files you wish to extract and tap Recover to start the recovery process.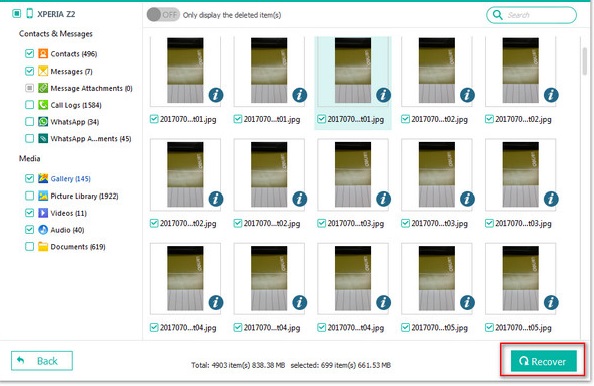 Extract Android Files after A Factory Reset with Backup
Provided that you have made a backup beforehand, you can get back your data effortlessly and easily- transfer them from the storage device or service to your Android phone. For example, if you have synced the files to computer, you can retrieve your data by moving them from computer to Android; If you have backed up the files to Google account or locally, you can even restore to the device directly. Here is how:
1. Move Files from Computer to Android
To achieve this goal, you can ask MobiKin Assistant for Android for help. This software is good at import, export, backup and restore Android files. You can download it to move the data with clicks.
Step 1. Launch the program and connect your Android phone to the computer via USB cable. Then you should open the USB debugging on your phone and install USB driver on your computer as required.
Step 2. Once your mobile phone is detected, you will see the main interface as below: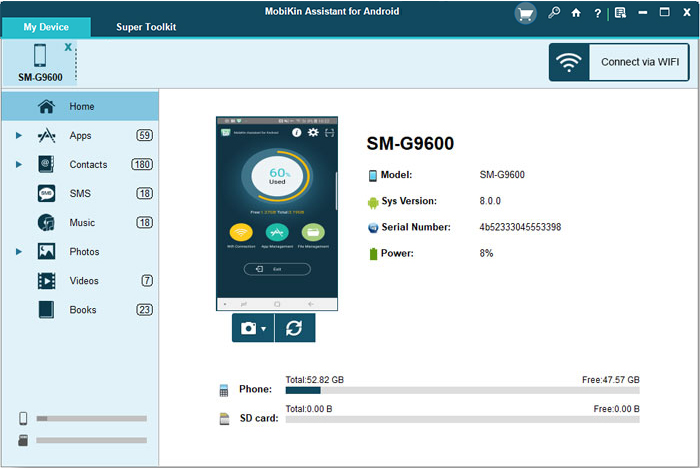 Just tap on the folder that you want to import the files to and click the Import button at the top menu. After that, you are able to choose data from computer and transfer them to your Android phone.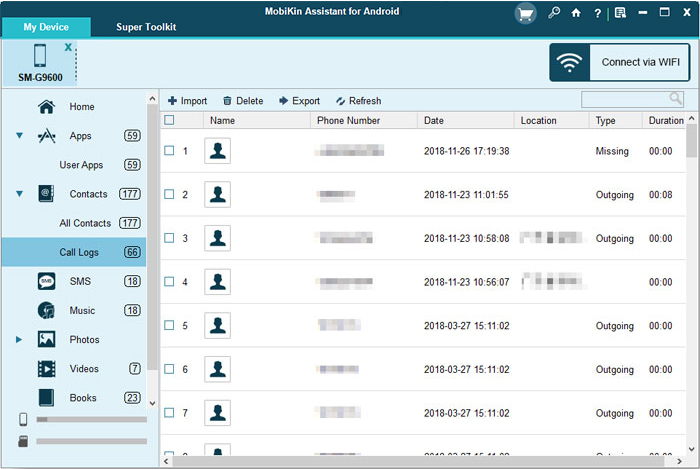 2. Restore the Files from Google Account
For those who have backed up the phone data to their Google account, they can extract these saved files from the account easily.
Step 1. Login to the Google account that you have used to sync the Android files on your mobile phone.
Step 2. Find the wanted backup file from the listed files and tap on it.
Step 3. On this page, you can elect the data you want to restore on Android and click Done to begin the restoring process.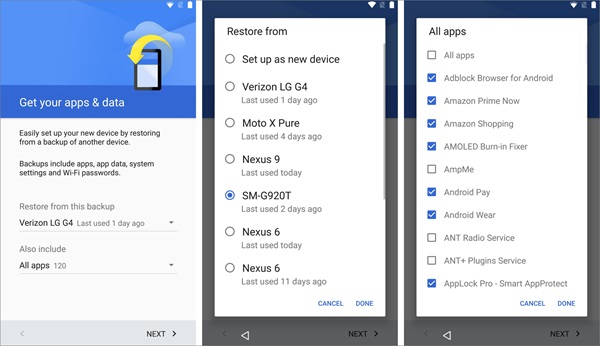 3. Get Back Your Android Data from Local Backup
Some Android phones provide a built-in backup feature which allows users to backup/restore phone data to/from the phone internal storage or SD card. If you have used this feature to make a backup before, you can restore the files from local backup directly. Let's take LG as an example.
It would be better to backup your phone data to SD card cause a factory reset will wipe all the data saved in phone internal memory, including the backup files.
Step 1. Navigate to Settings> LG Backup> Backup & restore> File restore & management.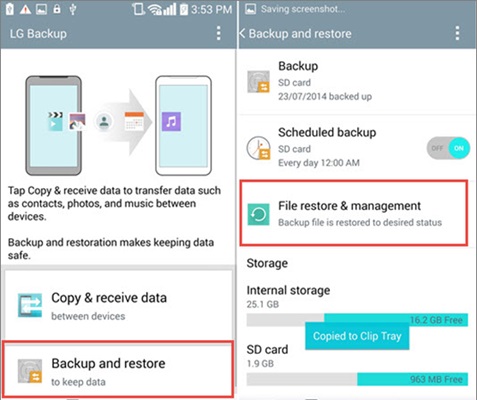 Step 2. Choose a backup file you want to restore and wait for the restoration to complete.
Useful Tips for Android Data Recovery
Here are some tips that can help you better protect your phone data and retrieve the wanted files more easily:
1. There are some ways to restore Android files after a factory reset or other issues, but they are unable to retrieve all kinds of files so you'd better backup your Android phone regularly to avoid data loss.
2. If you mistakenly delete some significant data on your Android phone or SD card, you can simply get them back with the help of MobiKin Doctor for Android.
3. To recover the lost data from iOS device effortlessly and effectively, you can ask Doctor for iOS for help.
Write in the End
See, it is really easy to recover data after factory reset Android, right? However, no matter how easy it is, you are strongly recommended to backup your phone data to ensure their security. Or you may lose them and fail to get them back.
Related Articles:
Recover Data from Broken or Damaged Android Phone
Android SMS Recovery: How to Recover Deleted Text Messages from Android Easily?
[SOLVED] How to Recover Deleted Photos/Pictures from Android?
Android Contacts Recovery- 2 Ways to Restore Deleted Contacts from Android