How to Recover Data after Factory Reset Android with/without Backup? [Fixed]
Android phones have become repositories of our personal and professional lives. They store invaluable photos, videos, contacts, messages, and other essential data. However, there are instances in which you may find yourself in a situation where a factory reset becomes necessary.
OK, this post aims to shed light on the situations of recovering data after a factory data reset and provides four effective ways to recover data after factory reset Android, from which you can regain access to your valuable info eventually.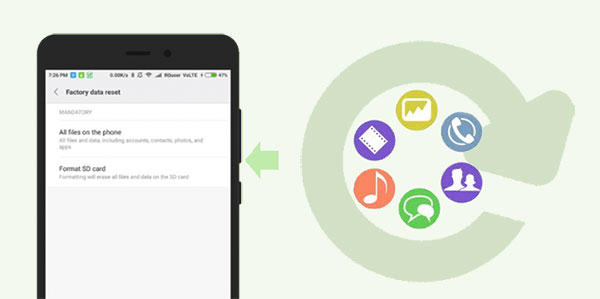 Part 1: When You Factory Reset Your Android Phone?
If you restore your Android phone to its original factory settings, you'll lose all the data, settings, and applications that you have added to the device since you first started using it. Here are a few common scenarios when you might want to factory reset your Android phone/tablet:
Just want to wipe the entire content.
Forgot your password, PIN, or pattern lock.
Get rid of junk or harmful files.
Resell or give away your phone.
Fix software glitches.
Improve the phone's performance.
Remove malware or viruses.
Click to See:
Part 2: How to Restore Data after Factory Reset Android from Local Backup
"My phone factory reset itself, and I lost everything. Can I get it recovered from my local backup?" Of course. But remember, when recovering data in this way, the specific labels and locations of the options may vary slightly depending on your Android device and version of the operating system. Here are the tips for performing Android data recovery after a factory reset from a local backup:
Open your app and navigate to the "Settings" menu.
Look for the "Additional Settings" section. It may be labeled differently depending on your device.
Within that tab, find and tap the "Backup and Restore" or "Back up and reset" option.
In the backup settings, you should see an option to create a backup. Enable this option.
Follow the process required by your Android phone to complete the backup.
After performing the factory reset, go back to "Settings" > "Backup and Restore" or "Back up and reset" as you did before.
Look for the "Restore" option within the backup settings.
Pick the backup file you created before your reset your Android phone.
Select the file and initiate the restore.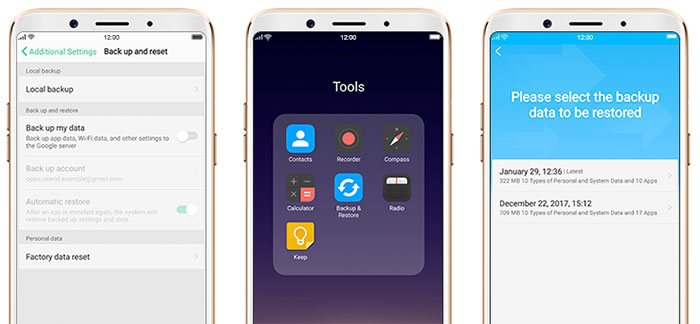 Part 3: How to Recover Data after Factory Reset Android via Google Backup
To restore your Android phone from Google backup, you should have a backup of your data on the cloud storage. It primarily focuses on app data, system settings, and some personal data associated with your Google account. Therefore, not all data may be recoverable through this method. Learn how to undo a factory reset from Google backup:
Access the "Settings" menu on your Android device.
Look for the "Google" option and tap on it.
Locate and select "Backup".
You will find options to automatically back up your data to your linked Google account. Enable these options.
Additionally, make sure to enable the "Automatic restore" button.
After performing the factory reset, set up your device again.
During the setup, when prompted to add your Google account, enter the necessary details.
You will be presented with an option to restore your data.
Agree to the restoration option, and your device will proceed to restore all of your backed-up data.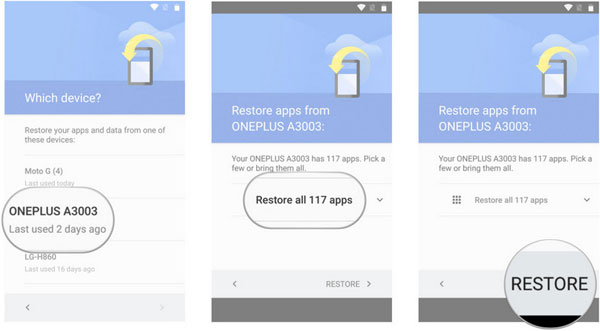 Know More:
Part 4: How to Get Everything Back after Factory Reset Android from Samsung Cloud (Samsung Only)
In addition to commonly used backup tools, Android manufacturers like Samsung often provide specific Cloud services tailored to their users. This built-in feature is designed to work seamlessly with your Samsung devices, and importantly, the auto-backup feature is usually enabled by default when you set up the corresponding account. Next, you'll know how to get everything back after factory resetting Samsung from Samsung Cloud:
After performing the factory reset, set up your Samsung device again.
During the initial setup process, you will be prompted to sign in to your Samsung account.
Once signed in, navigate to the "Settings" menu on your device.
Find and select the "Accounts and Backup" or "Cloud and Accounts" option.
Look for the "Samsung Cloud" or "Samsung Account" option and tap on it.
If prompted, enter your Samsung account credentials to access your Samsung Cloud storage.
In the Samsung Cloud settings, select "Restore data" or "Restore using Samsung Cloud".
Choose the types of data you want to restore, such as contacts, messages, photos, and more.
You may have the option to pick "Select all" to restore everything.
Recover data after factory reset on Samsung by tapping "RESTORE NOW".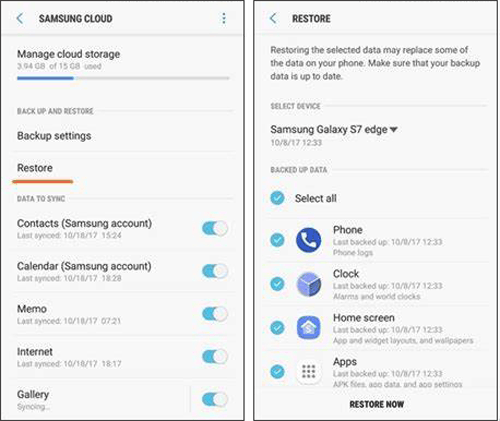 Part 5: How to Recover Data after Factory Reset Android without Backup
"I accidentally factory reset my phone, and I kept a backup of it for restore". However, there is one indisputable fact that the backup might not always include your most recent data files. Or you didn't create a backup prior to resetting your Android phone. Then retrieving the lost data can be more challenging. However, fret not! Android Data Recovery can simplify the recovery process for you. It enables you to easily extract various file types from your even if it goes to its original state.
Why pick Android Data Recovery?
It can effortlessly recover data after a factory reset on Samsung devices.
Recover deleted files from the Android internal memory or SD card of Android devices even without a backup.
Capable of handling various data types, including contacts, messages, message attachments, call logs, WhatsApp, WhatsApp attachments, gallery, picture library, videos, audio, and documents.
Allow you to preview and selectively choose specific items for recovery before initiating the process.
Work well with almost all Android devices, including Samsung, HTC, Motorola, Xiaomi, Huawei, ZTE, DELL Sony, LG, vivo, OPPO, etc.
It won't let out your privacy.
Can data be recovered after a factory reset without a backup? Certainly! Free download Android Data Recovery and use it to recover data from Android by following the drill below:
Step 1. Get your Android phone recognized
Install and run the Android Data Recovery tool on your computer. Connect your Android phone to the computer via USB, and ensure USB debugging is enabled on your device, after which the tool will detect your device. Then, navigate to the "Android Data Recovery" mode from the left sidebar of the tool's interface.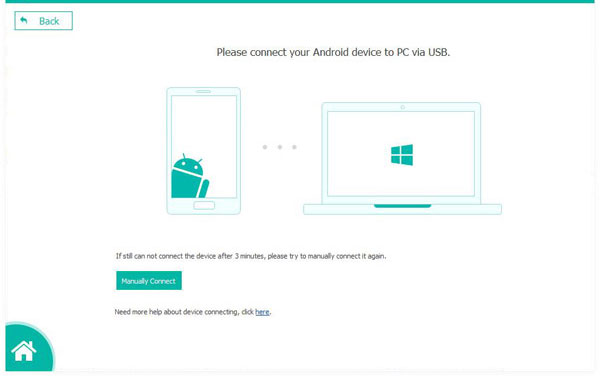 Step 2. Scan for the deleted Android files
From the screen, choose the desired data types that you want to recover and click "Next". The smart program will promptly initiate the scanning process on your device.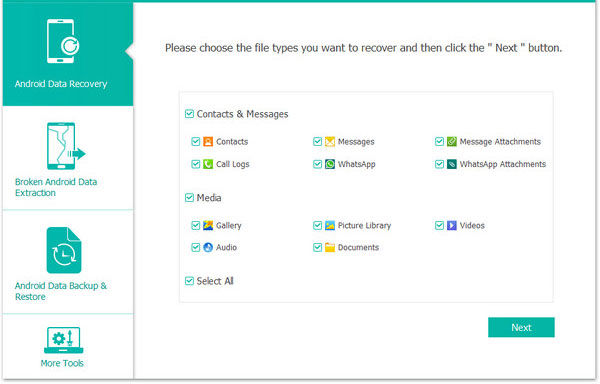 Step 3. Recover data after factory reset Android
Once the scan is over, it will present a comprehensive list of the recovered items on its screen. Pick the content you wish to retrieve. To save the chosen files on your computer, simply click the "Recover" button.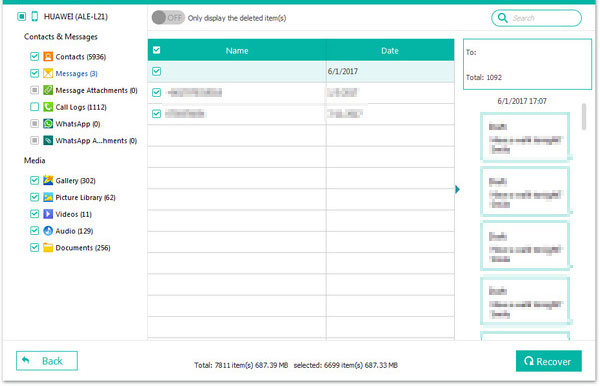 Concluding Thoughts
Factory resetting an Android phone is a decision that comes with the risk of losing valuable data. However, by understanding the importance of data recovery and utilizing the approaches mentioned above, you can significantly increase the chances of retrieving your data right after a factory reset. Finally, always remember to regularly back up your data to avoid any potential loss and consider the recovery options available based on your specific needs and circumstances.
Related Articles:
Best 8 Android Backup Software & Apps to Back up Your Android Data
How to Fix Android Crash? 12 Common Solutions You Must Know
How to Recover Data from Android Phone with Broken Screen?
How to Recover Data after Factory Reset iPhone? 3 Solutions Are Here!
5 Most Effective Solutions to Recover Deleted Voicemail on Android
[Full Guide] How to Move Files to SD Card on Android Easily?