[5 Ways] How to Backup Android Contacts?
These days, almost all mobile manufacturers are focusing on the way to improve the security level of their mobile devices, so does Android manufacturers. However, these devices can still get lots of attacks from malware or other unknown situations. And you might lose important data unconsciously, including contacts. Thus, it is highly recommended to backup Android contacts to other security places to avoid any contacts losing or restore backups to your device after losing in your digital life.
Some iPhone users may directly search "how to backup contacts" in the searching engine, so here we could like to introduce another page for backing up iPhone contacts in different solutions for your reference.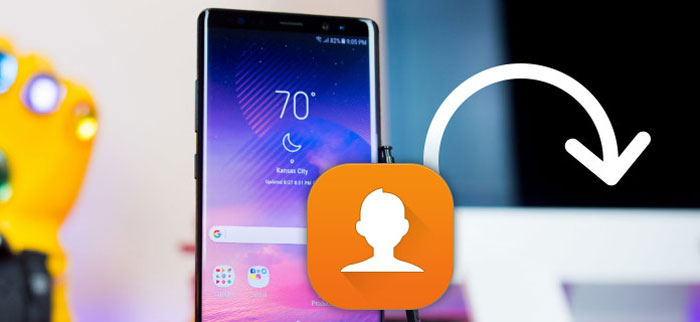 In this page, we'll show you four different ways to backup your Android contacts to PC, Google account or SD card as you like. You can select one of them to keep your Android contacts safe all the time. However, if you mistakenly deleted something wrong, you can still try to recover deleted contacts from Android by yourself.
MobiKin Assistant - Backup & Restore Android Contacts with 1 Simple Click
MobiKin Assistant for Android is a reliable yet full-functional management tool for Android devices. It has been tested on thousands of Android models and can be worked well. This program allows users to backup, import/export, add, delete, edit, or restore data between Android and PC without restrictions. And it runs on all Windows OS (Mac users please click here), and will help you backup contacts from Android to PC with 1 simple click.
Now, let's have a brief look on the detailed features of this Android Backup & Restore tool:
- Backup Android contacts selectively according to your own needs;
- Restore contact backups to any Android device with 1 simple click;
- Edit Android data with this program on PC directly;
- Compatible with almost all Android models on the market.
Step 1. Click the above button to download and install MobiKin Assistant for Android on your Windows or Mac computer according to its prompt instructions. Then, launch it directly. After that, you'll be required to connect your Android phone to computer with USB cable or WiFi. Just choose the method for connecting as you like.
Step 2. After connection, you need to do some operations to make the device be recognized by the program. For example, you need to open USB debugging under "Developer" option, and install a right USB driver on the PC. (Sometimes you may need to install the USB driver manually due to unknown reasons when the automatic operation is not working well.)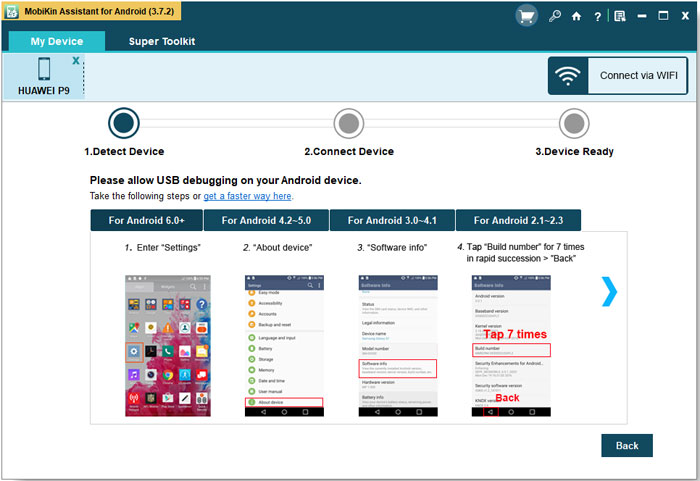 Step 3. When your Android is recognized by the Android Assistant software, you can see an interface like below. Now, directly click "Super Toolkit" in the top menu, and select "Backup" option.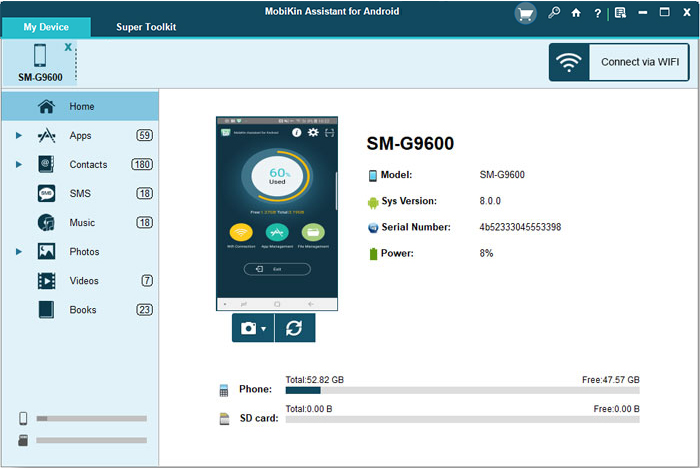 Step 4. Check the device and click "Contacts", then specify an output folder according to your needs. After that, click "Back Up" button to begin the process.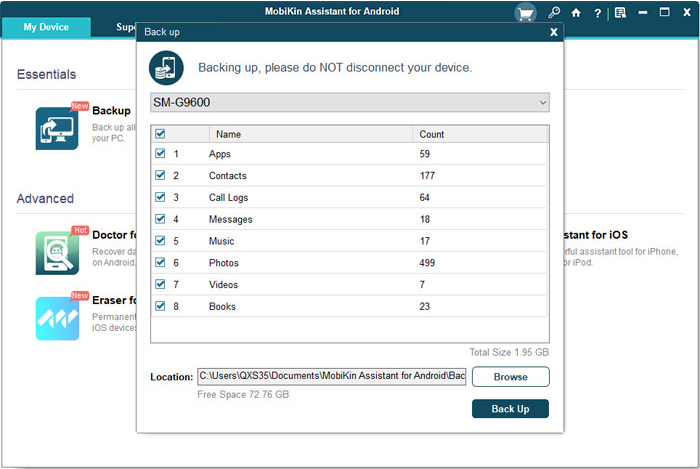 If you still have trouble of performing the program, here is a video tutorial for your reference. Or you can go to here to see how to transfer contacts from Android to PC in details.
How Can I Backup Android Contacts to Gmail Account?
Saving Android contacts to Google Gmail account can make your contacts be viewable by any Android device when you associate with your Google account. And it is also a great way to avoid data losing on your device, right? So lots of Android users wish to know the simplest way to back up Android contacts to Gmail account and actually, you can do it by yourself.
It is quite easy for you to save contacts to Gmail on your Android phone by following the below steps:
Step 1. Sync your Android phone to Google account by clicking "Settings > Accounts & Sync > Add Account > Google > Next > Sing in".
Step 2. Type your Gmail login information, and then select "Sync Contacts" to transfer contacts from Android to Gmail. Please noted that if you haven't a Gmail account before, you can tap the "Create" button to add a new one than type the existing Gmail info. (Learn how to add a Google account on Android device)
Step 3. Wait for a few seconds, the syncing process will be finished. And you can login to your Gmail account on any Android device to check the synced contacts as you like.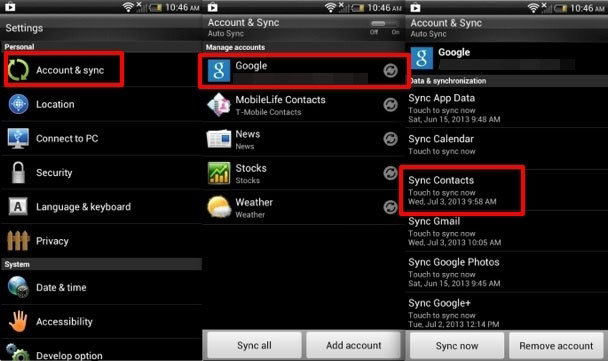 If you don't want to add Gmail account on your Android phone, you can also choose to backup Android contacts to Gmail on your computer.
See Also: How to Link Google Contacts to My Android Phone?
How to Back Up Android Contacts to Google Gmail with PC?
For some people, they don't want to add a Gmail account on their phone due to various reasons, so if you're one of them, you can follow the below steps to sync contacts to Gmail on PC.
Step 1. Make sure the contacts you wish to sync to Gmail account have been exported and saved on PC. If not, please go to "Contacts > Import/Export > Export to USIM Card/Storage > OK".
Step 2. Log into Gmail with your own account and password on computer, then choose the arrow icon and click "Contacts > More > Import" as the below picture shows. After that, select "GO TO OLD CONTACTS > Import Contacts" to select the exported contacts backups on PC.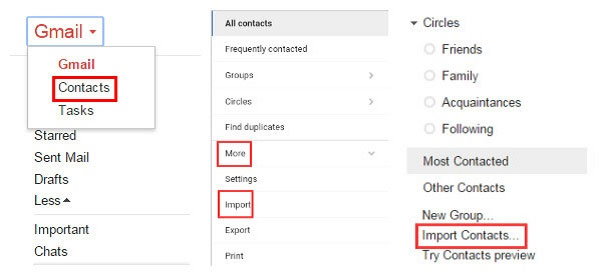 Step 3. Select contacts in VCF or vCard format on the computer, then click "Open" button to bring a new pop-up window and simply click "Import".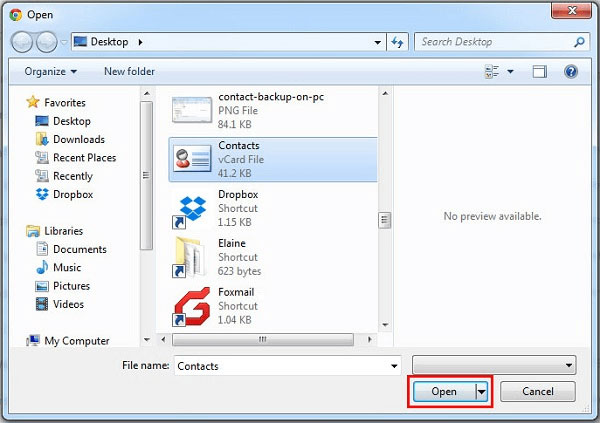 Step 4. Now, you can check the Gmail account on PC, and you can see all contacts you select have been displayed in the list.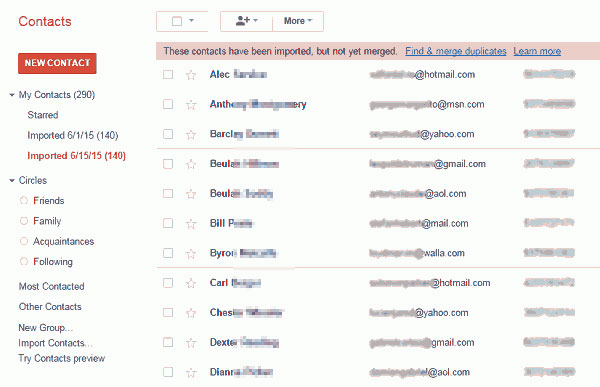 Can't Miss: How to Backup Android Contacts to Outlook
How to Save Android Contacts to SD Card?
Another alternative way to backup your Android contacts is to move them to your SD card. After that, you can easily make a copy for these files by yourself and retrieve it back as you like. What's more, this method doesn't require any additional program. Awesome, right? Now, let's check the detailed steps one by one:
Step 1. Unlock your Android phone and tap on "Contacts", then choose "Import/Export" option in the top menu bar.
Step 2. Select "Export to SD Card" to create a backup file of your contacts in the vCard format.
Step 3. Check the backed up vCard file on your SD card and you can move it to any other location as you like.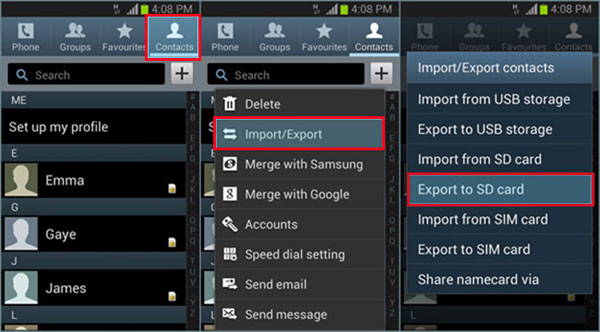 By the way, you're also allowed to export Android contacts to PC with a simple USB cable. To do it, you only need to select "Export to USB storage" in the above image, then connect your Android to PC with USB cable, then drag and drop the backed up .vcf file to PC easily.
How to Backup Android Contacts with Apps?
Taking a complete backup of contacts is quite easy with the help of all kinds of contacts backup apps, such as Super Backup & Restore, Contacts Backup and so on. These kinds of apps can always be downloaded from Google Play and no requirement of desktop computer. It can be installed on your Android phones and then backup and upload the contacts to cloud service easily.
Now, let's check two useful apps as follows:
1. Super Backup & Restore
This app is a multi-functional backup tool for Android devices, which allows users to backup not only contacts, but also SMS, Apps, call logs, calendars, bookmarks, etc. from Android to SD card as you like. You can also set the auto upload function to backup all your needed data to Google Drive or Gmail without any other operation. And you can download backup file from Google Drive to PC at your will.
Download Link: https://play.google.com/store/apps/details?id=com.idea.backup.smscontacts&hl=en_GB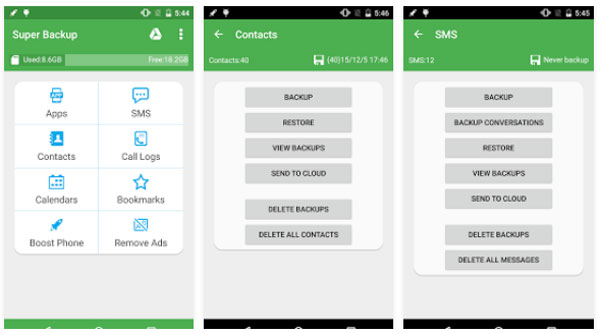 2. Contacts Backup
Contacts Backup is a simple app which is specially designed to help users backup their Android contacts. It is free with no ads, but requires a cloud account for saving the backup files. So, it can only backup and save the contacts onto the Cloud (Remote Server), and if you wish to save in SD card or other external disks, this app is not suitable for you.
Download Link: https://play.google.com/store/apps/details?id=com.rockstar.cloud&hl=en_GB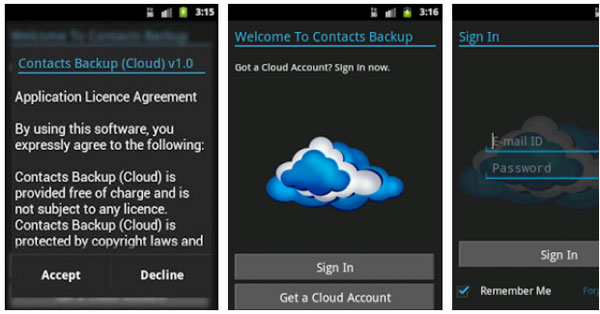 Choose the Best Solution for Backing Up Your Android Contacts!
Final Thought
There are four different ways to move and backup Android contacts, you can follow them to back up your contacts to PC/Mac, Google Gmail account (Cloud), SD card, USB storage, SIM card, etc. as you like. With these methods, we believe that your personal contacts can be protected well, and you'll never worry about the contacts losing issue from now on. And we really appreciate that you can discuss with us in the interaction area when you have any other ways to save Android contacts.
Related Articles:
How to Backup Android Text Messages to Gmail Account