How to Clone/Duplicate SIM Card? [4 Options Few People Know]
In certain situations, you may find yourself in need of cloning a SIM card. Whether it's for backup, data transfer, or simply ensuring uninterrupted communication, cloning a SIM card can be practical. It allows you to copy the information and functionality of one SIM card onto another, providing a convenient way to duplicate data and settings.
While this may sound complex, there are several methods available to accomplish this task. In the following passage, we will cover at least four ways to clone SIM cards and highlight their considerations.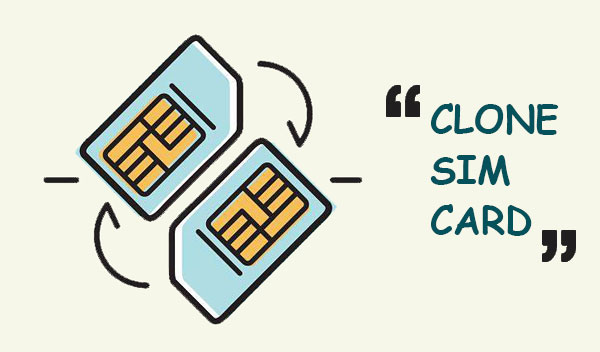 Part 1: What Is SIM Card Cloning?
SIM card cloning entails duplicating a subscriber identity module (SIM) card, enabling unauthorized utilization of mobile services. This illegal practice involves copying data from one SIM card to another and facilitating activities like making unapproved calls or accessing sensitive information. (Can you make phone calls from an iPad?) Mobile users should safeguard their SIM cards and promptly report suspicious activity to their service provider. Meanwhile, operators implement security measures to prevent SIM card cloning.
Other Options You Might Like:
Part 2: How to Tell SIM Card Cloning from SIM Card Swapping
SIM card cloning and SIM card swapping are two distinct concepts that involve different actions and implications. Here's how you can differentiate between them:
| | | |
| --- | --- | --- |
| | SIM Card Cloning | SIM Card Swapping |
| Definition | Creating a duplicate copy of a SIM card | Replacing one SIM card with another |
| Process | Extracting data and encryption keys from one SIM and transferring them to another | Physically removing and replacing a SIM card |
| Intent | Unauthorized access to mobile services | Legitimate purposes such as device upgrades, changing providers, etc |
Note: SIM card cloning is illegal and considered fraudulent, while SIM card swapping is a normal and legal process when done with the owner's consent.
Part 3: How to Clone a SIM Card with Only Phone Number
You can also clone a SIM card with the phone number. Before that, you should have a SIM card reader, a phone that supports phone clones, a mobile device with an SD card slot, and an app like CorsixTH. Learn how to duplicate SIM cards via a phone number:
Connect your phone to your computer with the SIM card reader attached.
Launch a clone app like CorsixTH for cloning the SIM card.
Choose your phone's IMEI number and press "Start Cloning". (How to find the IMEI number on iPhone?)
The app will prompt you to select a destination for the cloned SIM card on your computer.
Pick a location and follow the instructions.
After the cloning is done, remove the SIM card reader from your phone and unplug it from your computer.
How to clone a SIM card remotely? Certainly, it is indeed possible for someone to clone or hack your SIM card. However, such occurrences are not very common. As a matter of fact, a more prevalent practice among hackers is to install spyware on a victim's device.
Additional Reading:
Part 4: How to Clone SIM Card Using MOBILedit Forensic
MOBILedit Forensic helps reveal hidden or deleted data on phones, assisting law enforcement agencies in criminal investigations. It collects comprehensive details from the target device, including call history, contacts, messages, photos, etc. The retrieved data can be stored or printed for further analysis. Next, how to perform SIM card duplication via MOBILedit Forensic?
Download MOBILedit Forensic onto your computer.
Remove the SIM card from the device.
Insert the card into the SIM card clone device and connect it to the computer. (iPhone SIM Not Supported?)
Launch the SIM clone tool from the main toolbar.
The SIM Clone window will appear, indicating that you are ready to proceed with cloning the SIM card.
Click the "Read SIM" button to retrieve the content of the original SIM card.
The data will be extracted, allowing you to select the specific data you wish to copy.
Once the rewritable SIM card is inserted, the "Write SIM" button will become active. Wait patiently until the cloning is completed.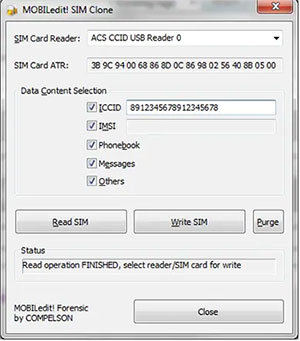 Part 5: How to Copy SIM Card with IMSI and KI Number
The SIM card contains the International Mobile Subscriber Identity (IMSI), which serves as an ID number to identify it with the operator. The IMSI is essential for the cloned SIM to work properly. Another important data is the Authentication Key (KI), which authenticates the subscriber with the operator and allows for SIM card cloning. Know how to clone SIM cards using IMSI and KI numbers:
Power off the device, remove the battery, and take out the SIM card.
Note down the IMSI number displayed on the SIM card.

Get a SIM card reader online and insert it into the SIM card slot.
Connect the SIM card reader to both your SIM card and computer.
This will allow the KI number to duplicate the content.
Once the process completes, the new SIM card will become an identical twin.
Insert it into your device and power it on to start using it.
Part 6: How to Clone a SIM Card via Programmable Cards
To back up data in case of a lost or stolen device, you can use a SIM card copier. (What if your phone is lost or stolen?) With programmable cards, cloning your SIM isn't that tough. You'll need a blank SIM programmable card, a SIM firmware writer, the target SIM, and a software tool for reading. See how to clone SIM cards using programmable cards:
Connect the SIM Reader and install Reader software, such as Woron. Proceed to configure the software.
Next, initiate the IMSI search and note the results as they appear.
Then, proceed to launch the ICC search.

Once the search is complete, write down the ICC number. Afterward, run the KI search and remove the SIM card upon completion.
Download the SIM-EMU software to write settings on the Blank SIM Card.
Insert the SIM card and run SIM-EMU. Go to the configuration tab and input all the data obtained from the scanning process, including ICC, KI, and IMSI. You can include the following information: Abbreviated Dialing No. (AND), No. of SMSes stored on the SIM (SMS), and Fixed Dialing No. (FDN).
Enter the values as AND/SMS/FDN# - for example, 140/10/4. Make sure to write the number in an International Format, such as +44 (UK) 7777777777.
Select the "Write to Disk" button and name the file SuperSIM.HEX. An EEPROM file window will appear.
Set the EEPROM name as SuperSIM_EP.HEX, then click the "Save" button.
Flash the file onto the Blank SIM Card and install the card using the card writer.

Fill in all the required fields. Run the file and click "Done". Your cloned SIM card is now ready.
Extra: How to Unlock iPhone Carrier When Your Phone Is SIM-locked
If you have a contract or carrier-locked iPhone, it's not feasible to use a SIM card from another provider. You can determine if your iDevice is locked by going to "Settings" > "General" > "About". If the "Carrier" section displays "No SIM restrictions", it means your device is unlocked. In case you encounter difficulties, fret not. You can utilize iOS Unlock to unlock your iPhone SIM without trouble.
Main characteristics of iOS Unlock:
Unlock iPhone carriers without limitations.
Instantly eliminate various screen locks on iPhones, including digital passwords, Face IDs, Touch IDs, and screen restrictions.
Easily remove your iCloud account and iCloud activation lock.
Bypass MDM on iPhone/iPad without data loss.
Conveniently remove your iTunes backup password.
Compatible with a wide range of iDevices, such as iPhone 14/14 Plus/14 Pro (Max), iPhone 13/13 Pro (Max)/13 mini/12/12 Pro (Max)/12 mini, iPhone 11/11 Pro/11 Pro Max, iPhone X/XR/Xs/Xs Max, iPhone 8/8 Plus, iPhone 7/7 Plus, iPhone 6/6S/6 Plus, iPod touch, iPad, and more.
It won't disclose your privacy.
Free download this intelligent program and follow the simple drill below to unlock a carried-locked SIM via iOS Unlock:
Download and install the program on a computer that you wish to use for unlocking your iPhone SIM card.
Launch this SIM unlock tool and then click "Unlock SIM Lock".

While being connected to the computer, click "Start" to finalize the verification process and select "Confirmed" so that you can continue.
The next screen will appear on your screen when you're done following the guide. Select "Next".
When a pop-up page appears, just close it and navigate to "Settings" > "Profile Download" > "Install".
Confirm the installation, and after that, navigate to "Settings" > "General".
Your iPhone will be unlocked, and you can then go ahead and use any SIM card you wish without any issue.
Closing Remarks
On the whole, by exploring the various approaches available to clone a SIM card, you can select the one that best suits your needs and technical expertise. However, it is important to note that cloning SIM cards should only be done in accordance with legal and ethical guidelines. Further, always ensure that you have the necessary permissions and adhere to the regulations governing SIM card usage in your region.
Related Articles:
How to Tell If iPhone Is Unlocked without SIM Card? 4 Methods in 2023
How to Transfer Contacts from SIM Card to iPhone 14/13/12/11/XS/XR/X/8?
Simple Ways to Erase SIM Card Memory with Android in 2023
4 Methods to Tell You How to Activate iPhone without SIM Easily
SIM Unlock: 4 Hot Tips to Unlock SIM Card on Android Mobile Phones
Change SIM Card on iPhone: Here's Everything You Want to Know.