4 Brilliant Techniques to Delete Contacts on Android Phone
When you manage your Android phone's contact list, you'll probably find that many people's info years ago has been invalidated. Keeping them there will only add to the length of your list, making it harder to search for other contacts available. And if you go further, there might be errors in the details within the duplicate contacts, including names, email addresses, physical addresses, departments, or even job titles.
Well, how to delete contacts on Android phones for the shortest period necessary? OK, this tutorial will explore the possible solutions to let you take a quick look through your contacts before deleting them flexibly.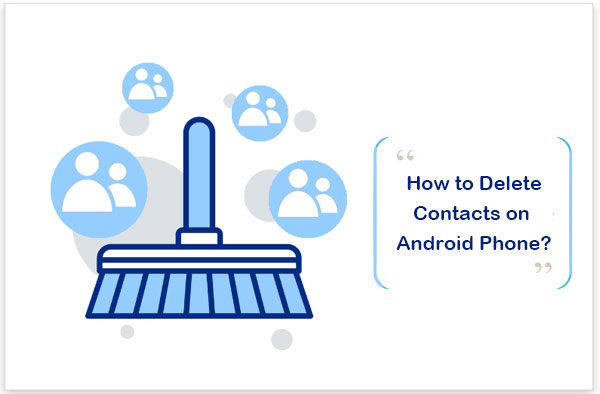 Method 1: Delete Contacts on Android Phone Flexibly with Assistant for Android
Few people would refuse to manage Android data on a larger screen. If you have many Android contacts and you want to check the numbers, addresses, emails, and other details before deleting them, you can choose a program like MobiKin Assistant for Android (Win and Mac) without hesitation. For a long time, this software has served hundreds of thousands of Android users, helping them complete Android phone management, data transmission, backup, restore as well as other services.
Core features of MobiKin Assistant for Android:
Delete one, multiple, or all contacts on your Android phone as you please.
Trouble-free to add, edit, export, and import contacts.
Manage Android data on a computer directly.
Transfer files between Android and PC/Mac.
One-click to back up and restore Android phones.
Support the items like contacts, text messages, call logs, photos, music, videos, documents, apps, etc.
Connection modes: Wi-Fi and USB.
Play functions on almost all Android phones/tablets, covering Samsung, Xiaomi, Huawei, Google, Motorola, LG, Sony, Vivo, etc.
It values your privacy.
How do I delete any numbers of contacts on my Android phone via Assistant for Android?
Step 1. Run the software on a computer
Run the installed software when you download and install it on a computer. Link Android to the computer via USB. Then enable USB debugging on the Android phone to get it detected.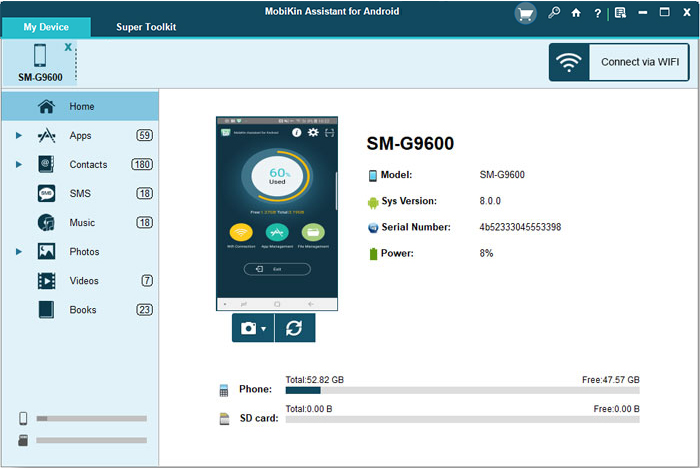 Step 2. Delete contacts on your Android phone
After the connection, please select "Contacts" > "All contacts" from the left sidebar of the screen. The program will soon load all your Android contacts on the right. Just choose whatever you want to remove and tap "Delete" to make them disappear from your phone.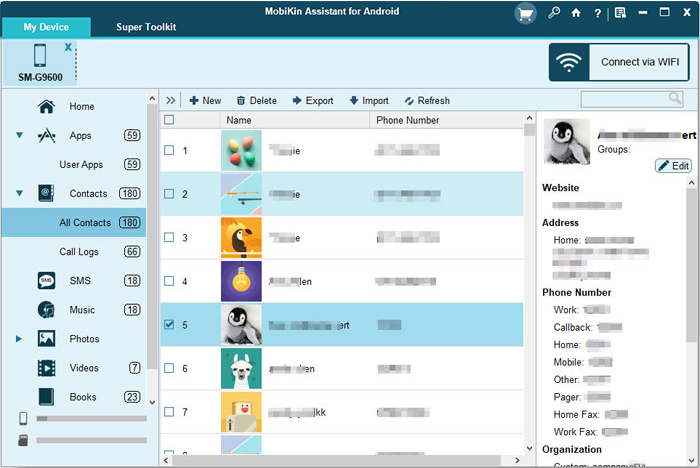 When the program identifies the connected phone, you can do the following on your computer directly: tap "Export" to copy contacts from Android to your computer; click "Import" to move contacts from the computer to Android; press "New" to add contacts to the smartphone; press "Edit" to modify your Android contacts.
Click to Learn:
Method 2: How to Delete Contacts on Android Selectively from Contacts App
By making full use of the features in the built-in Contact app on the phone, users can delete any Android apps at will. However, it may not be easy to find all the unpleasant contacts if there are tons of items on the smartphone. Next, how do I delete contacts from my phone with the Contacts app?
* Delete single contact from Android:
Run the "Contacts"/"People" app.
Scroll down contacts to locate the one you'd like to remove.
Press and hold the profile of the item and tap "Delete".

Press the "OK" button to delete the chosen contacts.
* Remove multiple Android contacts:
Open the "Contacts" app and go to the menu bar.
Press "Delete"/"Edit".
Check the contacts you wish to delete.
Hit "OK" > "Delete" to make the confirmation.
Tips: If you mistakenly select one or more contacts, click on the box near the items again to deselect them.
* Clean up all Android contacts:
Start the "Contacts" app.
Select "Edit"/"Delete" > "All".
Tap "Delete" to clear all Android contacts.
Method 3: How to Clear Contacts on Android from Google Contacts
Developed by Google Inc, Google Contacts serves as a great contact management service. It can be a decent app or web tool as part of Google Workspace. Contacts saved to any Google account would sync with Google Contacts and relevant Android mobiles. Here's how to delete phone contacts from Google Contacts:
Head to Google Contacts webpage from a browser on your computer.
Log in to the Google credential you use on your Android device. (How to Email address for Google account?)
Choose the contacts you don't want to keep on Google.
Tap on "More" > "Delete contacts".

Go to the Trash Bin at the top to wipe them completely.
Navigate to your Android phone's Settings.
Select Accounts > Google > tap the three vertical dots.
Finally, press "Sync now" to ensure that the items removed from Google Contacts won't appear on this Android device.
You May Also Be Interested in:
Method 4: How to Delete Contacts from Both Android Phone & Gmail Account
Do you want to permanently delete your phone numbers and other related info from both your phone and Gmail synced with all your devices? After deletion, you cannot access your unwanted contacts anymore. Now, please check the steps to learn how to delete all contacts from your Android phone & Google account:
Sign in with your Gmail account from a computer.
Go to the "Apps" section and click "Contacts".
Tap the first contact to mark the checkbox.
Do the same on the "Selected" option to choose "All the Contacts" associated with this Google account.

Tap the three-dot icon to find and tap "Delete".
Your device will soon automatically remove all its contacts.
Lastly, go to your phone's "Settings" > "Accounts" > "Google"> tap the three-dot sign > "Sync Now".
In doing so, you'll successfully delete all contacts from both your phone and Gmail account.
Extra: How to Prevent WhatsApp/Facebook from Syncing Contacts with Android?
Upon deleting Android contacts, making some changes on your Gmail account, as we just mentioned, can automatically keep your phone from syncing contacts with Google next time. Similarly, you're allowed to avoid WhatsApp or FB syncing contact info with your phone. Next, let's use WhatsApp as an example to illustrate this:
On your Android phone, go to its "Settings" > "Accounts" > "WhatsApp".
Toggle off the "Contacts" option to disable the auto-sync. Still, you can access your contacts by accessing WhatsApp or Facebook directly.
Closing Remarks
OK, we are coming to the end of this passage. Now, how do you clean up contacts on Android? Personally, MobiKin Assistant for Android is surely your go-to option if you have a lot of contacts to view and delete. With this program, you can remove contacts directly on a computer without making any changes to your Google account. And after the removal, you'll have the further ability to manage your Android device, such as adding or editing your contacts.
Related Articles:
Permanently Erase SIM Card from Android Phone
How to Merge and Remove Duplicate Contacts in Android Phones?
How to Import CSV Contacts to Android Phones with Simple Clicks?
How to Print out Contact List from Android Phone (Way 1 Is Incredible)
Where Are Contacts Stored on Android Phones & How to Export Them?
How to Recover Deleted WhatsApp Contacts on Android with/without Backup?