My Text Messages Disappeared on My Android? 13 Ultimate Solutions Here
When you occasionally find your text messages seem to act abnormally — vanishing without a trace, you'll grapple with the unnerving absence of your communication threads. However, you cannot find the Android recycle bin for messages, intensifying the challenge of recovering these mysteriously disappeared texts.
Well, this page endeavors to unravel the mystery of where did my messages go and aims to guide you through practical steps to fix text messages disappeared from Android. With this passage, you'll quickly retrieve your messages without navigating through any complexities.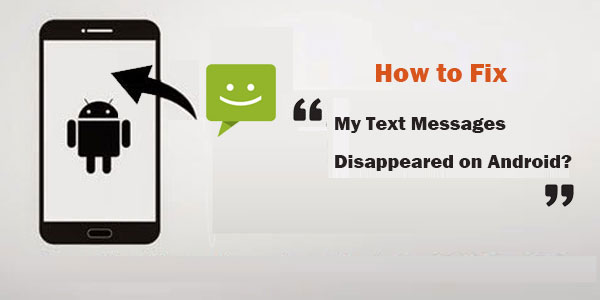 Part 1: Why Do My Text Messages Disappear from Android?
There is no definitive answer to this question, for there are multiple indicators that could lead to messages disappearing on Android. Nevertheless, users who have encountered this matter have commonly stated the following causes:
Why did all my text messages disappear on Android?
Google Messages App Bug: Some Android users may experience text message disappearance due to unforeseen bugs in the Google Messages app.
Incorrect App Updates: Text messages could vanish if an app update doesn't go as planned.
Incorrect Time and Date Settings: Messages may be lost if your device's time and date settings are inaccurate.
Accidental Deletion: It's common for messages to disappear when accidentally swiping left or deleting entire message threads.
Outdated Android Operating System: An outdated Android OS can lead to various issues, including the loss of text messages.
Old Message Deletion Option Enabled: Enabling the "Delete old messages" option in messaging settings may result in the automatic removal of older texts.
Other Reasons: recent app updates, auto-delete feature being set, virus attack, etc.
Where did my text messages go on Android? When a text message is deleted on an Android device, it's not immediately erased but stored in system folders until overwritten by new data. This poses a potential security risk, as deleted messages can be retrieved by those with phone access, such as law enforcement or IT personnel.
You Might Also Enjoy:
Part 2: How to Fix Text Messages Disappearing from Android [12 Hot Tips]
Tip 1: Reinstall the Messages App
Navigate to "Settings", then proceed to "Apps".
Locate "Messages" in the list and select it.
Tap on "Uninstall Updates" to remove recent updates, as complete uninstallation is not possible.
Wait briefly, and then reopen the Google Play Store to download and reinstall updates for the Messages App. (Can't download apps from Google Play Store?)
Tip 2: Update the Messages App
If the Messages app is malfunctioning due to outdated firmware when my text messages disappeared on my Android, resolve it by updating or reinstalling the app:
Open Google Play Store. Tap "Menu", then "My apps & games".

Choose "Updates" and tap "Update" next to "Messages".
Accept the terms of service to initiate the update.
Tip 3: Check the Date & Time
Incorrect date and time settings can lead to missing text messages on Android. To address this:
Go to "Settings" on your Android device.
Change the date and time settings to automatic time updates.
Tip 4: Clean Cache on the Messages App
Clearing the Messages app cache can prevent sluggish performance and resolve issues like missing text messages. To do this:
Navigate to "Settings" on your Android device and tap on "Apps".
Choose the Messages app from the list.
Tap on "Storage" and select "Clear cache"/"Cached data" to clear app cache and data.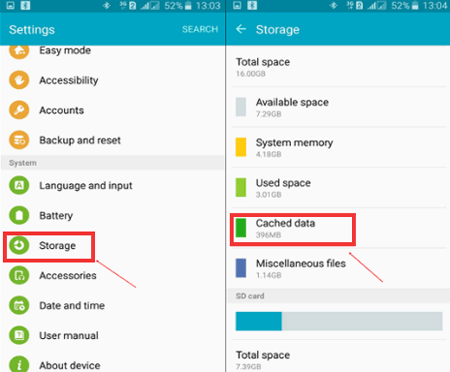 Tip 5: Force Quit the Messages App
The Messages app becomes corrupted, causing the disappearance of texts. Then, how do I retrieve text messages that disappeared by force stopping it?
Open the "Settings" app.
Select "Apps" or "Apps & notifications".
Scroll down, find, and tap on "Messages".
Choose the "Force stop" button.
Click for More:
Tip 6: Wipe Cache Partition
By wiping the cache partition, you'll clear temporary data cache and junk files to speed up your Android phone. Here are the steps:
Unlock your device by tapping the screen.
Power off your device by holding the "Power" key.
Boot into recovery mode using the key combination specified by your device's manufacturer (e.g., "Power + Volume Up + Volume Down").

Navigate the menu using the "Volume" key.
Select "Wipe cache partition" with the "Power" key.
Allow the process to complete and reboot your device when prompted.
After rebooting, check the Messages app to see if the issue is resolved.
Tip 7: Check the Messages' Settings
Verify your Messages app settings, as certain configurations may give rise to missing old text messages on Android. To do this, adhere to the instructions:
Open Messages and tap the three dots in the upper right.
Go to "Settings" > "General" > "Storage Settings".
Enable "Delete Old Messages".
Ensure no limits are set in "Text Message Limit" and "Multimedia Message Limit".
Tip 8: Operate Android in Safe Mode
All my text messages disappeared on Android? Try running your Android device in Safe Mode to recover your messages:
Hold down the "Power" button.
Continue holding and ignore any "Restart" or "Power" options on the screen.
When prompted, press "OK" to reboot in "Safe Mode".
Once restarted, a "Safe Mode" display will appear. (How to turn off Android safe mode?)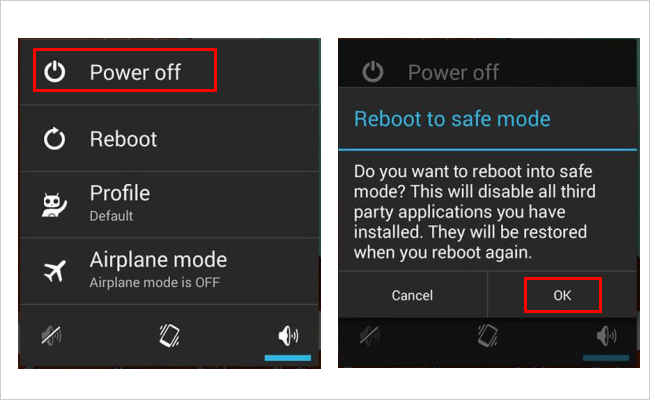 Tip 9: Update the Android OS
Update your Android OS to resolve the "my text messages disappeared on my Android phone", potentially preventing SMS from disappearing before you check them. Here's how to update:
Navigate to "Settings" and select "About Phone".
Click on "Software Updates" and tap "Download updates manually".

If a new version is available, download and install it.
The process may take some time, followed by a quick restart.
Check if the message disappearance issue is resolved.
Tip 10: Provide Feedback to the Developer
Open the Messages App.
Click the three dots in the upper right corner.
Choose "Help & Feedback" and select "Send Feedback".

Enter your feedback in the provided space and tap "Send".
Tip 11: Use Another Messaging App
Numerous apps offer similar or enhanced features compared to the built-in Messages app. Popular alternatives include Chomp SMS, Textra SMS, Pulse SMS, and more.
Tip 12: Restart or Force Restart Android Device
Force restarting your Android device is an effective solution if a quick restart doesn't work, particularly when the Android touch screen is not working. To force restart your phone, press and hold the "Power" button for a few seconds or simultaneously press the "Volume Down" key and "Power" key on some models.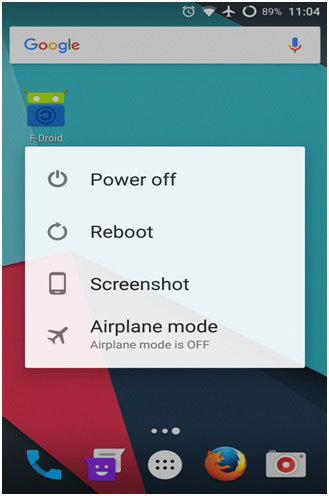 Part 3: How to Retrieve Text Messages That Disappeared from Android without Backup
Even if I knew the answer to the question, "Why are my text messages deleting themselves on my Android", I may still not get an exact result after trying the methods above.
Want to retrieve deleted SMS from Android easily without a backup? Don't hesitate to consider the dependable software known as MobiKin Doctor for Android (Windows and Mac). This smart software offers the ability to recover various types of Android files. While a rooted device is necessary for retrieving deleted texts (This feature is found in almost all existing counterparts), it boasts an impressive success rate for Android data recovery.
Core highlights of MobiKin Doctor for Android:
Recover text messages that disappeared from Android.
Restore deleted/lost files from Android SD card.
Besides working as an SMS recovery tool, it also plays a function on data types, such as contacts, call logs, photos, videos, audio, music, and documents.
Let you extract all Android items to a computer.
It won't let out your privacy.
How to recover text messages that disappeared on Android with MobiKin Doctor for Android?
Step 1. Start this software and attach your phone to a computer
Install and open the software, then link your Android phone to the computer. Follow on-screen instructions to ensure your connected phone is recognized. Once detected, you'll see the following interface.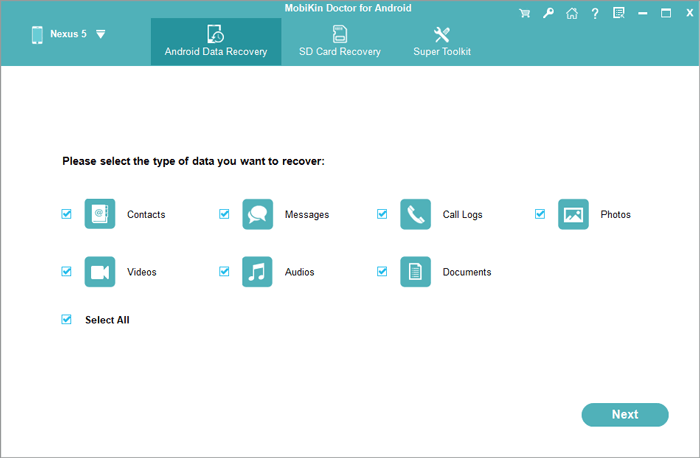 Step 2. Scan for all text messages on Android
On the main window, select the "Messages" category and click "Next". To recover SMS from Android internal memory, follow on-screen instructions to root your Android device before initiating a thorough scan.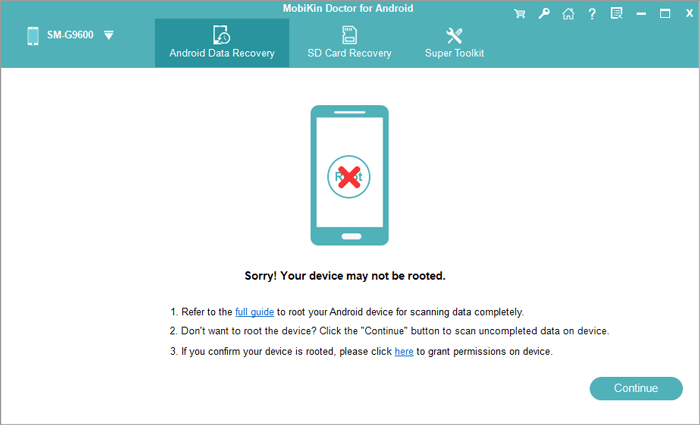 Step 3. Restore text messages disappeared on Android
Once complete, preview all deleted texts. Select the messages you want to recover and click the "Recover" button to restore the deleted messages from the connected device instantly.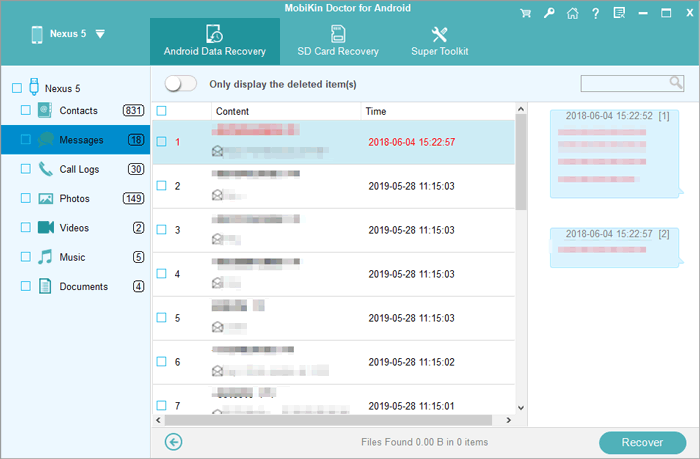 Extra: Tips to Avoid Disappearing Text Messages on Android Again
In addition to following the practices mentioned above, you can reduce the likelihood of experiencing disappearing SMS on your Android device.
Regularly back up your text messages using built-in features like Google or trusted 3rd-party apps like MobiKin Backup Manager for Android to ensure you have copies.
Review messaging app settings to avoid the automatic deletion of old messages and adjust storage settings for a longer message duration.
Use caution when clearing app cache or data to avoid unintentional loss of recent messages.
Choose stable and well-reviewed messaging apps from reputable developers to minimize the risk of issues.
Install reliable security software to protect your device from malware that could interfere with messaging functionality.
Monitor your device's storage space regularly to ensure there's enough room for new messages, preventing various issues.
Exercise caution when changing app or system settings, especially those related to messaging, to avoid unintended consequences.
Finalization
Now, we are very clear about - "why are my text messages disappearing on Samsung/Android". But even so, there is no way to ensure that we can recover these disappeared SMS 100%. Still, if you insist on quickly resolving how to get disappeared text messages back on Android, consider MobiKin Doctor for Android directly. Compared to other quick methods, it has a comparative advantage in terms of recovery success rate, which can be indirectly explained by its comments and download volume.
Related Articles:
How to Recover Data after Factory Reset Android with/without Backup? [Fixed]
6 Well-devised Ways to Transfer Text Messages/SMS from Android to Android
How to Retrieve WhatsApp Messages from Lost Phone without Backup? [iPhone/Android]
Can You Get iMessage on Android? Discover the 3 Little Known Ways Here
Can Facebook Retrieve Deleted Messages for Court? In-depth Handbook 2023
Why Won't My Text Messages Send on My Android? [12 Reasons & 16 Solutions]