How Can I Fix "My Text Messages Disappeared on My Android?"
"I woke up, and all of my Android text messages had vanished. Disappeared. HELP!" -- an Android phone user from Messages Help
We set great store by text messages on Android phones, along with the conversations, phone numbers, date and time, or even attached pics (MMS). There are times when we lose Android SMS unexpectedly, having no clue how to fix "my text messages disappeared on my Android".
Well, why did all my text messages disappear on Android? Where did they go from the device, and how can we get them back? OK, this page will outline almost all issues you care about on this topic.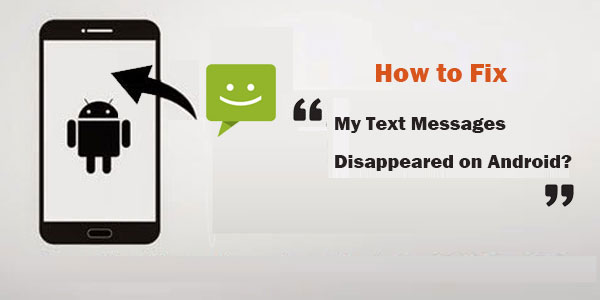 Part 1: Why Do My Text Messages Disappear on Android
Why are my text messages deleting themselves on my Android? You know, text messages don't vanish into thin air. Below we list some of the main reasons for the disappearance of Android SMS:
Accidental deletion.
Your Android phone is set to auto-delete.
Recent app updates.
Android system updates.
Phone restart.
The Date and Time setting is updated.
Unexpected bugs Google Messages app.
Virus attack.
See Also:
Part 2: Where Did My Text Messages Go from Android
Missing text messages from Android doesn't mean they disappear from your Android internal memory at once. Often, when a text message is gone, your device just instantly changes the file's record, marks it as "deleted", and then clears off the space it occupies. Notwithstanding the data is still there in an invisible status, it is apt to be overwritten by new content.
What's more, for those who send mass text messages with some platform, please ask the platform how they keep the customer interactions.
Part 3: How to Fix "My Text Messages Disappeared on My Android"
Way 1. Check the Settings on Messages App
All my text messages disappeared from Android? To settle this, you can first check if you activated Delete old messages feature or put limits on text messages.
Go to the Messages app on your Android phone.
On the right corner of the screen, tap the Menu icon.
Choose the Settings tab.
Tap the More settings option.

Disable "Delete old messages".
Do not set "Text message limit" and "Multimedia message limit".
Way 2. Clear Phone Cache
Clearing phone cache from Settings can largely tackle this problem. Note that some app data like account info won't be included in the phone cache removal process. Now, follow the steps to do it:
Go to your phone's Setting.
Tap Storage > Internal storage.
Select Cached data.
When a dialog box turns up asking if you wish to clear all app cache, tap OK. (have the need to wipe cache partition on Android? Tap here)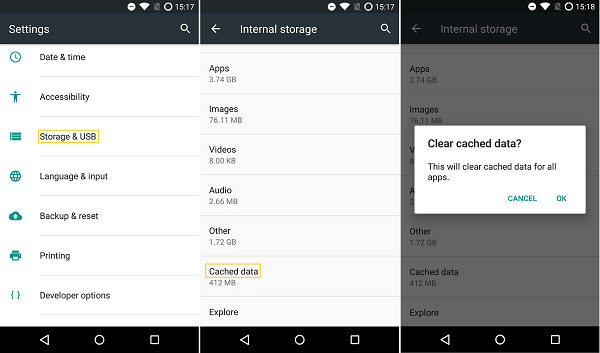 Way 3. Verify Data and Time
My text messages disappeared? An incorrect date and time may cause some apps not to load properly. You can cope with it by going to visit your device settings > update the date and time settings to automatic time update > launch the Messages app again to check if the messages are visible.
Way 4. Force Stop Messages App
You will find your SMS disappear from your phone if the Messages app corrupts. Force stopping it might resolve the issue on "Why did all my text messages disappear Android". Here's the manual:
Open your phone's Settings app.
Choose Apps/App info.
Scroll down to find and tap on Messages.
Choose Force stop.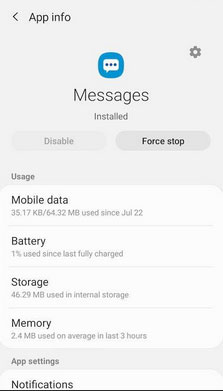 Know More:
Way 5. Run Android Device in Safe Mode
Open my text messages, but they disappeared? Try to put your Android device in safe mode:
Hold down the "Power" or suspend button on Android.
Do not tap the "Restart" or "Power on" option.
Instead, hold down the "Power off" prompt for a while.
This will then bring about the hints to safe mode rebooting.
Tap "OK" to proceed.

When the device loads up, it'll display the "safe mode".
This suggests that your phone is in this mode. If it doesn't work, get into the link to know more ways to run your Android device in safe mode.
Way 6. Uninstall Recent Updates or Reinstall Messages App
Uninstall recent updates:
On your Android device, tap Settings > Apps.
Choose Messages from the list of apps.
Tap the Uninstall Updates.
This will offload the recent version of the app.
Wait until this process is complete.
Run the Messages app and check whether the issue is now resolved.
Reinstall messages app:
Run Google Play Store on the Android phone.
Go to Menu > My apps & games.
Hit the Messages app and choose Uninstall.
Once done, select Install and log in to your Google account.

Way 7. Switch to Another Text Messaging App
All your messages are likely still on your device, but the Messages bug keeps them from showing up. So please switch to a bug-free app if you cannot fix the bug. You have lots of options available. Just pick the one you like and set it as the default app after the installation. With any luck, you should then gain access to your Android texts.
Way 8. Update Android OS
Some folks may disable Android OS update notifications to keep away from nasty pop-ups. After missing old text messages on Android, you can still update the OS manually. Here's how:
Open your phone's Settings app.
Scroll down to the button and tap System > About phone > System updates. (here, for some Android phones, you should go to Settings > System > Advanced > System updates.)

If there's a message saying updates are available to download, touch "Download updates".
After the download, click Install.
Lastly, run the Messages app to see if the SMS will reappear again.
Way 9. Restart Android device
To clear away unknown bugs leading to text messages disappeared from Android or let some settings take effect, you can reboot your Android phone as follows:
Press and hold the Power button until you see the power options.
Tap Restart from the screen.

Wait until the phone starts up.
Check if the messages "come back".
Way 10. Submit Feedback to Developer
My text messages disappeared on my Android phone? The last way to take is to submit feedback to the developer. To do so, launch the Messages > tap the three dots menu > select Help and Feedback > touch Send feedback > enter your feedback > tap Send.
Part 4: How to Recover Text Messages That Disappeared on Android without Backup
My text messages disappeared on my Android. It is still possible to restore them from your Android device before they get permanently erased from the system. MobiKin Doctor for Android (Win and Mac) is a magic software that can help do this job well. Here, it matters to know that you'd better not do anything on your phone when you find your desired texts are missing.
Key highlights of MobiKin Doctor for Android:
Recover text messages disappeared on Android internal memory or SD card.
Restore Android photos, videos, audio, documents, contacts, call logs, and more as well.
Preview details of the files to be retrieved.
Easy to use, fast/thorough scan, selective recovery, etc.
Work properly on 6000+ Android devices, including Samsung, Huawei, Motorola, Sony, LG, OPPO, Xiaomi, Vivo, Google, HTC, etc.
It won't let out your privacy.
Step 1. Connect your Android phone to a computer
Install Doctor for Android on your computer before you run it. Connect your Android phone to a computer via a USB cable. Next, enable USB debugging on Android to have your phone recognized by the program.
Step 2. Let the program scan your device
After the recognition, mark "Messages" and click "Next" on the screen. Then refer to the wizard to get your device scanned. And you will access all the text messages soon.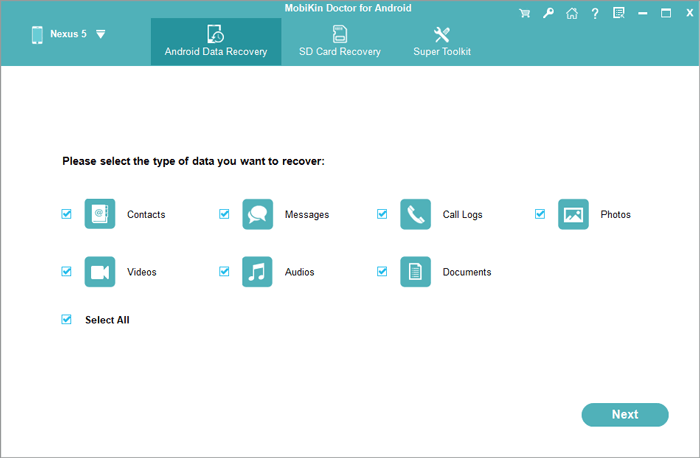 Note: The deleted text messages are somewhere in the phone's memory. In order to scan them out, please follow the prompts on the interface to root your device for a safe and complete scan.
Step 3. Recover text messages disappeared on my Android
Preview all the text messages on the program screen and choose your desired ones to retrieve. Finally, click "Recover" to initiate the Android SMS recovery. Once done, check the messages on your computer and keep them there for future use.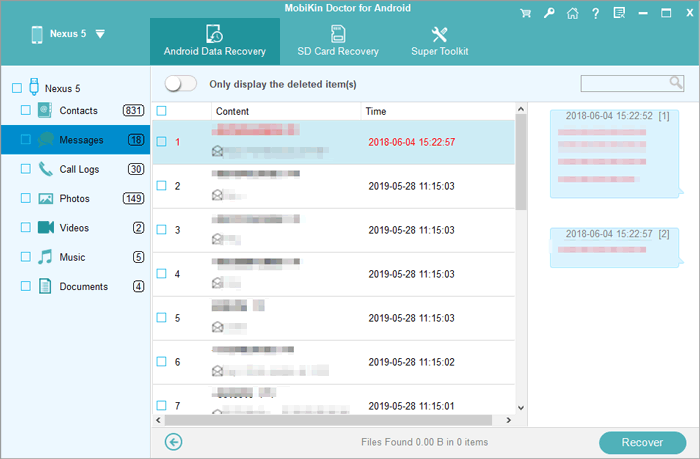 Part 5: How to Back Up Text Messages Stored on Android in Case of Loss
You don't have to worry about missing text messages from Android if you back up texts to Google Drive or a computer. Here, let's take Google Drive as an example to illustrate how to keep the messages on the Drive for backup:
Swipe down from the top of the device to see the notification shade.
Tap the Settings icon.
Swipe up to go to the bottom of the settings screen.
Tap Google > Backup > Back up now.
Your backups will then show up in the main menu of Google Drive.
The Bottom Line
We discussed the reasons for SMS loss, where they go, how to recover them with temporary measures and the professional tool, as well as how to take precautions against loss of texts. Now, we believe that missing old text messages from Android doesn't make any difference to you since you came to know MobiKin Doctor for Android, an specialized for Android data recovery.
Related Articles:
4 Ways to Transfer and Back Up Android Text Messages to Computer
[Fixed!] How to Send Text to Multiple Contacts without Group Message on Android?
How to View/Read Your Android Text Messages on A Computer Easily?
[Solved!] How to Transfer Text Messages from iPhone to Android?
How to Recover Data from Android Phone with Broken Screen?
[Solved] How to Recover Deleted SMS from 12/11/XR/Xs/X/8 Plus/8?