5 Simple Ways to Fix Android Phone Screen is Black
As an Android user, have you ever met the situations as below:
The notification light of your Android device keeps blinking but the device is not responding.
The phone screen is frozen frequently.
The Android mobile phone is rebooting or crashing very often.
The Android phone battery is draining very fast.
Your phone restarts by itself and get into a boot loop.
If you are facing one of the situations above, your Android must be suffering an Android black screen issue. Some people even complain that the phone works but screen is black. It sounds that this is a serious problem but take it easy since it is resolvable. You can go with the methods provided in this article to fix Android phone screen is black problem easily.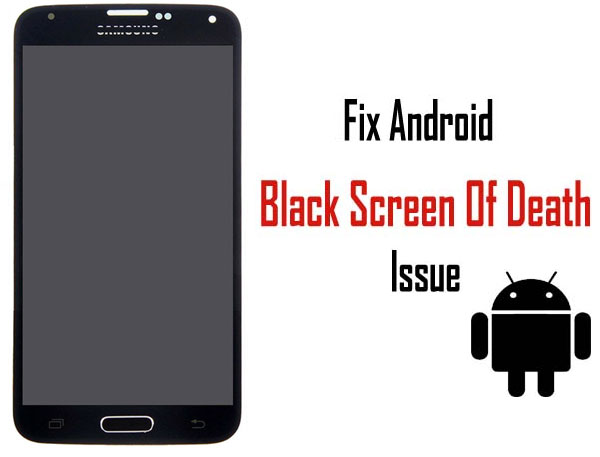 Part 1. Reasons for Android Black Screen of Death
Why does my screen go black on my phone? Normally, the issue that Android suffers a black screen is caused by:
Improper applications: Users might install some incompatible applications or Apps with virus or bugs.
Impertinent charging: If you keep mobile phone charged for long after it is fully charged, the device will also be damaged.
Unusable battery or charger: Your device will not be able to be charged when the charger or battery you used is too old or incompatible.
App caches: The applications you used might leave too many caches on the device, which would interrupt the running of the Android phone.
If your Android phone is experiencing one of the above situations, then it is likely that you will encounter a black screen of death Android problem. But you don't need to worry too much. Below we have listed a few methods to help you solve the problem of black screen of Android phone.
Part 2. Simple Tricks to Try Fixing Black Screen of Android
The easiest way to fix the black screen problem of your Android device is to reboot your device. Here, we list three different methods to restart your Android phone when it stuck at the black screen of death.
Method 1: You can hard reboot your Android device by holding down the "Home" and "Power" buttons simultaneously for 10 seconds, then releasing both buttons and holding down the "Power" button until the screen turns on.
Method 2: You can also wait for the Android phone to automatically shut down when the battery is exhausted. Then charge the phone, and press the "Power" button to turn it on.
Method 3: If the hard reboot fails, or if you do not have the patience to wait until the battery of the phone is exhausted, and the battery on your phone is removable, then you can directly remove the battery, reinstall it, and then turn on the phone.
Part 3. How to Fix Black Screen on Android Phone with Android Repair
[Best Way]
One of the most successful method to fix black phone screen issue so as to use your Android device normally again is using a professional Android system repair tool - Android Repair. It is user-friendly and easy to use. Just hook up to the program to see how simple it will complete the works for you.
Overview for Android Repair
- Fix the issue of your Android phone stuck in boot screen, black/dead screen, Android won't turn on or off, the apps are crashed, Android OTA update failure, Android system is crashed, bricked Android phones/tablets.
- Highest successful rate in the industry.
- Support AT&T, Verizon, T-Mobile, Sprint, Vodafone, Orange, etc.
- Widely support overall Android devices, including Samsung, HTC, Sony, Motorola, LG, Huawei, Xiaomi, Oppo, etc.

My phone screen is turning black? My phone screen went black but still works? Don't worry, follow the detailed steps in the below to fix Android black screen of death problem by using Android Repair.
Step 1. Launch the installed Android Repair program on your computer and choose the "Repair" tab from the primary interface.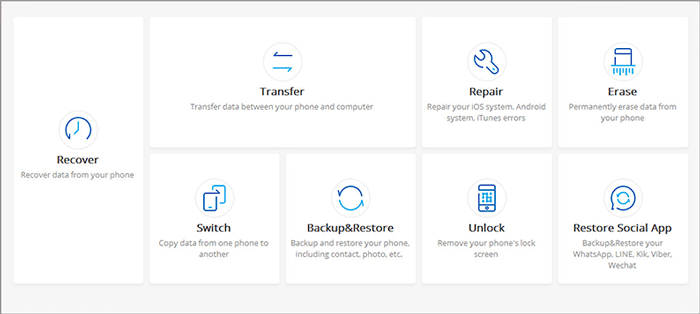 Step 2. Use a USB cable to connect your Android phone to the computer and go to the left side bar to click on "Android Repair" tab. The program will show you the Android problems it can fix. You can browse it and click the button of "Start".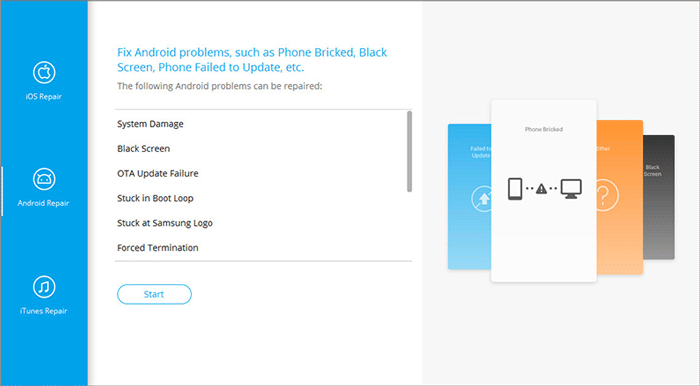 Step 3. Fill in your phone information in the space provided or you can click the drop-down menu to select the detailed info. The program will offer a customized fix package to repair your phone according to your Android phone info. Agree the warning and tap on "Next" to go to the next screen.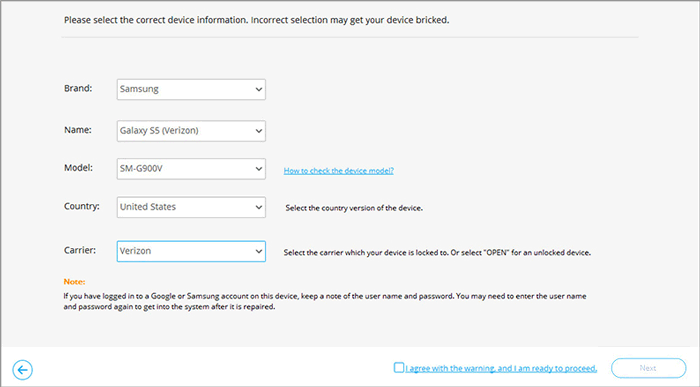 Step 4. Manually type in the number "000000" to the blank area and click "Confirm" button to continue. Please confirm that the system repair may erase all data on the device.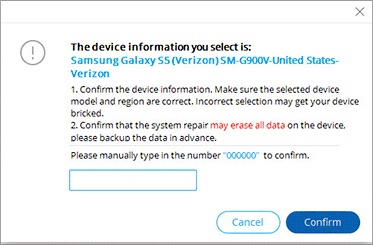 Step 5. Boot your Android device to download mode by following the instructions below:
Situation 1. Your Android phone has a Home button
Power off your Android phone/tablet.
Long press the Home, Power key, and Volume Down for 5s to 10s.
Release all buttons, and hold the Volume Up button to enter the download mode.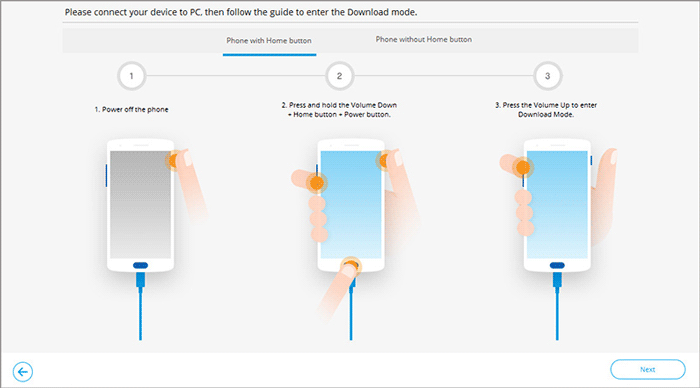 Situation 2. Your device hasn't a Home button
Power off your Android phone/tablet.
Long press the Bixby key, Power key, and Volume Down for 5s to 10s.
Release all buttons, and hold the Volume Up button to enter the download mode.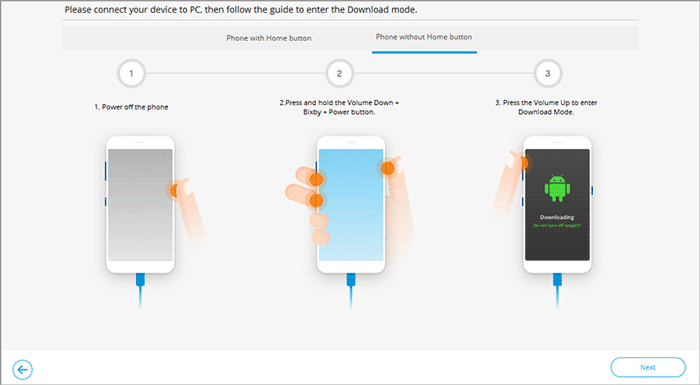 Step 6. After booting your Android phone to download mode, you should click on "Next" button and the program starts to download the repairing firmware for your phone. When the downloading is finished, the program will begin to fix your Android device.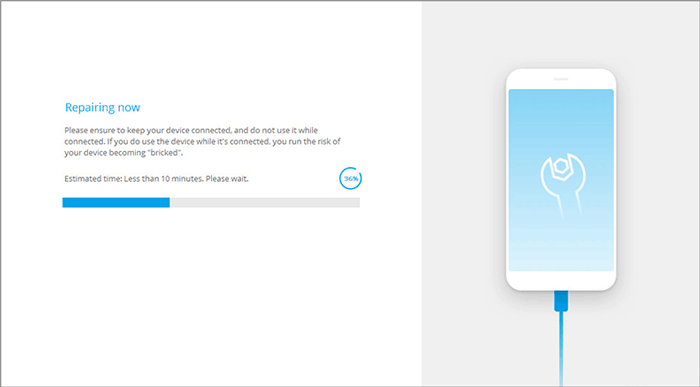 Step 7. Just wait for the repairing process to finish and then you can reboot your Android phone to normal situation. That's all about how to use Android Repair to fix Android black screen issue.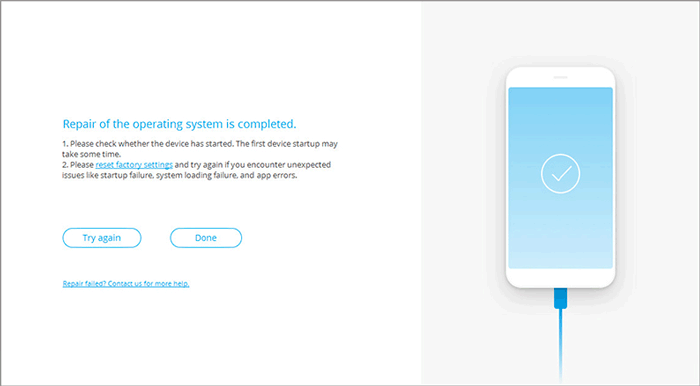 Can't Miss:
Part 4. How to Fix Black Screen of Death Android by Wiping Cache Partition
Clearing cache partition is a common but effective way to fix blank phone screen issue. That is because the caches on your phone would not only slow down the device but also interrupt the running the of the system. Thus, you can try to boot your phone into Recovery Mode and wipe the cache partition on the Android.
Firstly, power off your Android device by long pressing the "Power" button.
Secondly, press the "Power" and "Volume Down" buttons to enter the Recovery Mode.
Next, select the option "wipe cache partition" from the list on the screen and press the "Power" button to confirm your choice.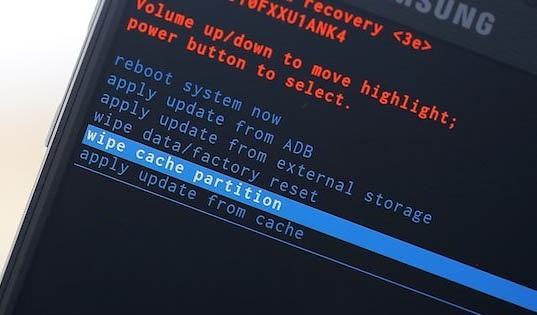 Finally, when the wiping process ends, you need to use the Volume Up/Down button to select "reboot system now" option to restart the device.
Part 5. Uninstall Incompatible Apps when Android Phone Screen Goes Black
A malware, incompatible App or improper installation would cause many Android issues. So, if you have installed application recently but it cannot run well, you need to uninstall it from the Safe Mode.
Step 1: Turn off your device at first. Then switch it back on. Here, when you see the boot logo, you need to press and hold the "Volume Down" button till the lock screen appears. After that, you can see a "Safe mode" written at the bottom of the screen, which means you have entered the Safe mode successfully;
Step 2: Navigate to "Settings" > "Application Manager" to select the application which you have installed in recent. Then click on the App to enter the "App Info" page. Just select the "Uninstall" option to remove it from your device.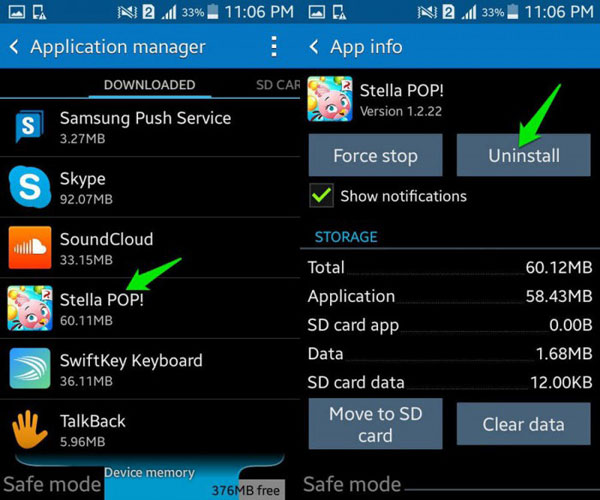 Step 3: At last, press the "Power" button to reboot your phone to normal mode.
Can't Miss:
Part 6. Factory Reset to Fix A Black Screen on An Android Phone
Another method to fix Android phone screen turning black problem is to factory reset the device. This would be the most powerful means to accomplish the fixing.
Step 1: Switch off your phone and then reboot it into Recovery Mode;
Step 2: Use the Volume Up or Down key to find out and select the option "wipe data/factory reset". Then press the Power button to confirm your selection;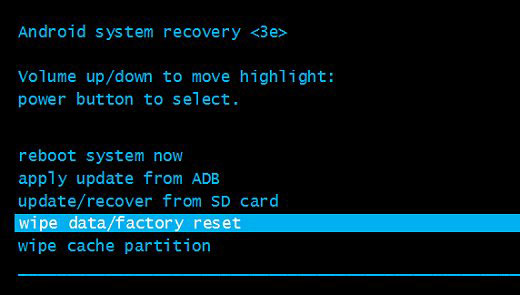 Step 3: While the factory reset finishes, the Android device will reboot automatically and the problem will be solved.
After the fixing, you will find that all the contents and settings on the device is wiped. Thus, remember to restore and backup your files beforehand.
The Bottom Line
The above are 5 different ways on how to fix black screen on Android phone. You can try them one by one until you find the one that solves your problem. No matter which brand of Android phone you are using, you can use Android Repair tool to fix Android black screen problem. It is the most ideal solution, because it can repair your mobile phone system with one-click operation. We kindly remind you to use an anti-virus application to protect your phone from viruses, and do not install unsafe applications. In addition, keep a good habit of backing up your Android phone data.

Related Articles:
Android App Keeps Crashing, How to Fix It? [Solved]
Android Phone Keeps Turning off? 3 Ways to Fix It!
How to Recover Data from Water Damaged Android Phone or Tablet?
How to Access Phone with Broken Screen with PC Easily & Safely?
Touch Screen Not Working on Android, How to Fix It?