Useful Tips & Tricks for Facebook You Can't Miss
There are millions of people login to Facebook and send messages, download/upload pictures, etc. on it every day. But even so, only a small amount of users know all the features of this application and make full use of it actually. This is really a waste! Hence, to better know Facebook and get more benefits from it, you need to learn some serviceable tips and tricks for Facebook and this is a tutorial for you- it will introduce 10 useful Facebook tips to you.
10 Tips & Tricks to Use Facebook
Here, 10 useful tips and tricks for Facebook will be introduced. You can pick up one or several of them to get more fun from the App. Now let's take a look together.
Trick 1. Appear Online Only to Selected Friends
If you are a frequent user of Facebook, you may like to chat with your friends on the App. But one problem would come out when you are chatting- many people find you at the same time but you have no time to reply all of them. To avoid this awkward situation, you can select to show your online status to certain friends so you can chat with them only. To complete that, you can:
Step 1. Open Facebook and find out the Chat option at the lower right side of the page.
Step 2. Next, you need to click on the gear icon and choose the advanced settings.
Step 3. After that, a window will pop up. And in this window, you can select Turn on chat for all friends, except... option and add the names for whom you don't want to appear online. Or you can choose the option Turn on chat for only some friends... to elect the friends that you want to talk to.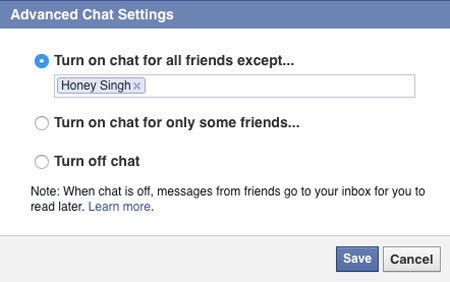 Trick 2. Hide A Friend's Feed
It is also possible that you are tired of reading someone's updates but do not want to unfriend or blocking them. Then how to hide a friend's feed without notifying him/her? In this case, you can go to your friend's page and tap on Following. Then you can select Unfollow. After that, you will never see their updates but they won't receive a notification.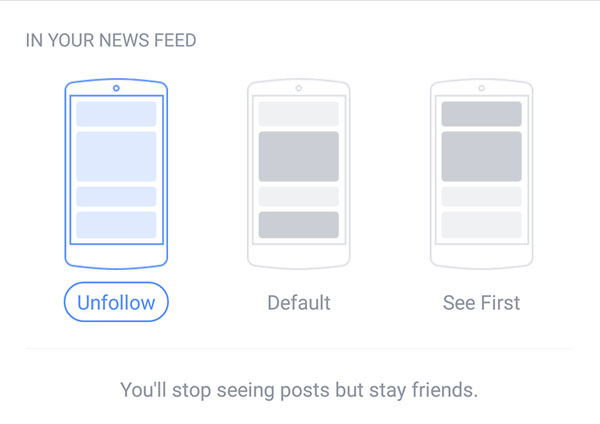 Can't miss:
How to Find Hidden Messages on Facebook?
Trick 3. Prioritize A Friend's Feed
On the contrary, you may not want to miss any update of a certain friend and wish to see his/her updates as soon as possible. This is also realizable on Facebook- you can prioritize your friend's feed so that you can see his/her updates before all others. To achieve this goal, you can go to his/her page and choose the Following button. And the next step is to check See First and then the updates posted by this friend will jump to the top of the news feed so that you can read them first.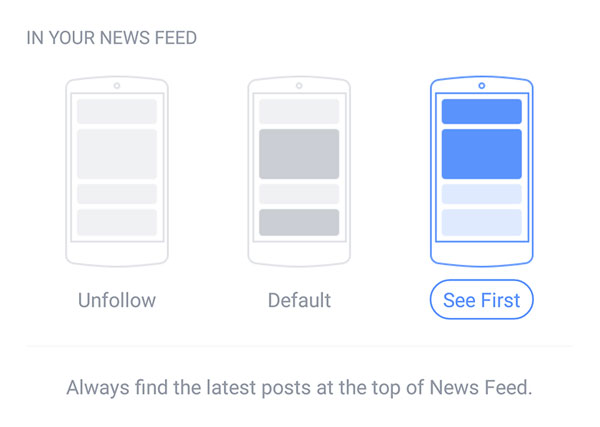 Trick 4. Inspect the Security of Your Account
Account security is another factor that most users care about. And on Facebook, you can ensure your account security by seeing your active sessions. You can check it by going to Account Settings> Security> Active Session. In this section, you can check if there is anything suspicious.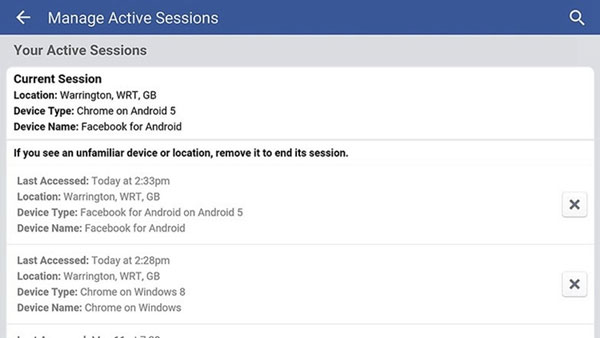 See also:
Things about Facebook Messages Encryption on Android
Trick 5. Disable Auto-play of Facebook videos
Facebook would auto play videos whenever you check the timeline. This would be useful for the users when their mobile phones are connecting to a stable Wi-fi network. But if you are using mobile data, it would become a trouble- it will consume a lot of phone data. So to save your money, you need to turn off the auto-play of Facebook.
Step 1. Navigate to Facebook Settings and tap on the Videos option.
Step 2. Next, just simply turn off the auto play of Facebook videos.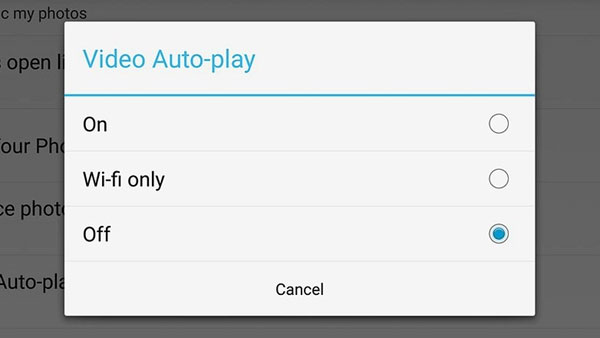 Here if the Wi-fi you used is very slow, you can also change the default quality from HD to SD.
Trick 6. Save Videos & Links for Later
Sometimes there might be too many feeds for you to browse in a day. In this case, you can save the videos and links for later. To accomplish this process, you can tap on the drop-down arrow next to the news feed post which contains a video or link. Then you can come back to the video or link when you are free.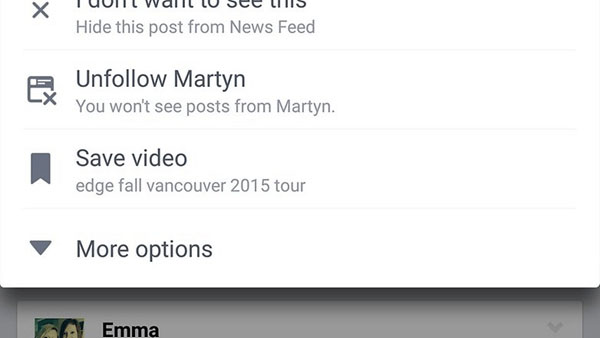 Trick 7. Share Files from Other Apps
You can also share some interesting or useful files from other applications to Facebook. For example, you can tap the Share button when you are viewing the photo gallery and getting an interesting image and then select Facebook from the listed social software to share the picture to Facebook timeline. Then all your Facebook friends can see this photo.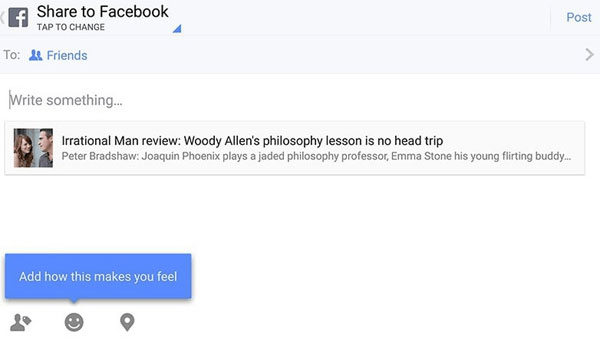 Trick 8. Make Use of Widget
Do you want to browse your friend's status update without launching the application? If you do, you can use the widget to easily achieve your goal. Facebook widget will give you a scrollable small window without advertisements or other baggage in the full App. And in this window, you can send/receive messages and access to the most important updates easily.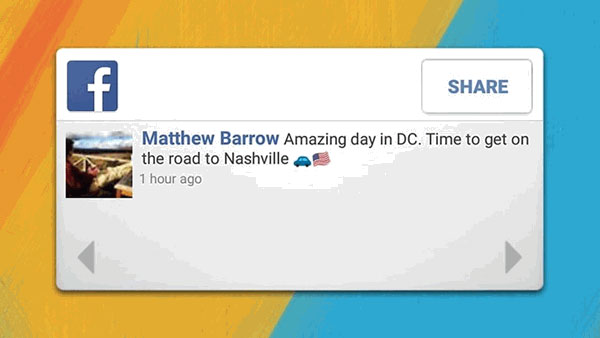 Trick 9. Filter the News Feed
It always takes you a lot of time to scroll down the page and read all news feed one by one? You can filter the news feed to save your time actually. Just head to the profile and tap Friends> Edit Friend List to customize the lists and tag your friends. However, if you want to add or remove the whole lists, you need to do that on your computer.
Trick 10. Manage the Facebook Notifications
Some users may like the Facebook notifications since they can notify you the important information from your friends or Facebook. But some of you might hate the notifications cause you think they are unless. So to meet all your requirements, Facebook allows users to enable or disable notifications according to their needs.
You just need to click on Setting widget of Facebook and then direct to Notification settings. In this section, you can turn on or switch off notifications of wall posts, messages, comments, friend requests, photo tags and invites.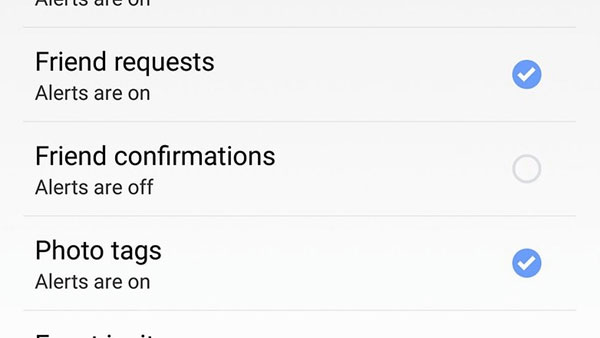 Related Articles:
Guide to Fix Facebook Crash on Android
Tips to Save Facebook Photos to Android
Recover Facebook Messages from Android
Ultimate Solution to Recover Deleted Contacts from Android
How to Transfer, Copy Text Messages from Samsung Galaxy to PC/Mac