[4 Ways] How to Fix Cannot Upload Videos to Facebook Issue?
Today, more and more people like to upload videos to Facebook so that they can share their daily lives with others. But during the uploading process, some users may meet one problem- the videos fail to be uploaded. This issue can be caused by many reasons like:
* A slow or bad network connection;
* Some software errors on Facebook;
* Improper video format;
* Sensitive or illegal videos;
* Damaged videos;
* ...
Thus, you need to fix cannot upload videos to Facebook issue according to the reasons. And now here are 4 solutions for your reference.
Check for Network Connection
While uploading videos to Facebook, you need to make sure that your computer or mobile phone is connected to stable or available network or you won't be able to complete the uploading process successfully. Then what can you do to inspect the network connection? We have several suggestions for you.
1. Check network connection on iPhone/Android
- Check the signal of the network: You can simply view the signal of the connected Wi-fi or phone data on your phone screen. If you find that the signal of the Wi-fi or cellular data is very weak, that means the uploading failure is very likely caused by the poor network connection and you need to take actions.
- Re-enable the Wi-fi or phone data: Just swipe down or up your phone screen to enter the notification center and then find out the icon of Wi-fi or cellular data. Next, you can tap on the icon to turn the feature off. After a few minutes, you can click on the icon once again to re-enable the Wi-fi or phone data.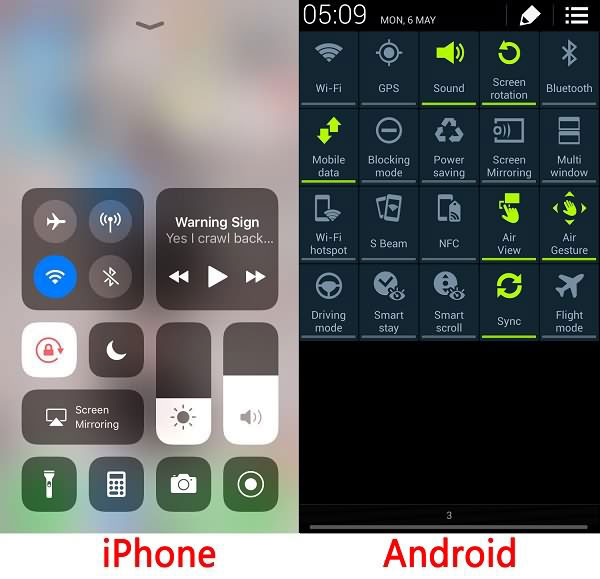 - Connect to another Wi-fi: It is possible that the Wi-fi you are connecting is invalid so you can try to link your phone to other available wireless network. You can go to Settings> Wi-fi to add the new network to your phone and try to upload the videos again.
- Reset network settings: If the network connection is still very weak after you try out all the methods above, you can attempt to reset the network settings on your phone.
For Android phone users, you need to navigate to Settings> Backup & Reset> Reset Network Settings and then tap on Reset Settings to confirm your option.
For iPhone users, you should go to Settings> General> Reset> Reset Network Settings.
After the resetting, all the networks that are saved on your phone will be erased so you need to re-add some usable networks to your iPhone or Android phone and then you can upload your videos to Facebook to check whether the problem is fixed or not.
Convert Video Format
Before uploading videos to Facebook, you need to know one thing- Facebook has video format requirements so no all the videos can be uploaded to the service. Here, the videos that you want to upload to Facebook should meet the requirements as below:
1. Supported video formats: 3g2, 3gp, 3gpp, asf, dat, divx, dv, f4v, flv, gif, m2ts, m4v, mkv, mod, mov, mp4, mpe, mpeg, mpeg4, mpg, mts, nsv, ogm, ogv, qt, tod, ts, vob and wmv.
2. The length and size: The maximum length of the video is 120 minutes and size of the video should not be more than 4GB.
3. Resolution: The video dimensions are in multiples of 16px and the large side of the video must be less than 1280px.
4. Frame rate: The frame rate is better to be kept between 25-30fps or your video would be inferior.
5. Aspect ratio: The aspect ratio must be within the scope of 9*16 to 16*9.
Now you can go to check if the video that you are going to upload can meet all the requirements above. If not, you need to covert the video into the supported format first and then upload the converted video to Facebook.
Also read:
Effective Ways to Fix Facebook Blank Pages Error
Cannot Send Messages on Facebook? 4 Methods to Fix It!
Reinstall Facebook App (For Android & iPhone Users Only)
If you are those users who use the Facebook application on your phone, you can try to solve the problem by reinstalling the App. That's because there might be something wrong with the application and a reinstallation can help to reset all settings to default settings. You can go with the steps below to perform the reinstallation.
1. Reinstall Facebook on Android phone
- Go to the Home page on your phone and find out the Facebook icon. Then you need to long press the icon until a "X" icon appears.
- Now you can tap on the "X" icon to remove the application from your phone.
- After that, you need to go to App Store to download and install the latest Facebook on your phone.
2. Reinstall Facebook on Android phone
- Navigate to Settings> Apps/Application Management and then a list of applications will be listed on the screen.
- Now you need to find out Facebook from the list and tap on it.
- Then you will be in the App info page. In this page, you can tap on the option Uninstall to remove the application.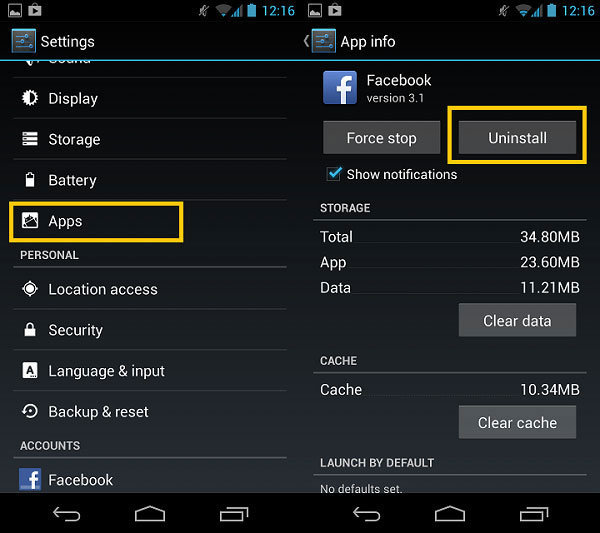 - Finally, you can go to Google Play Store to download the most recent Facebook version on your phone and then go with the instructions to properly install it.
Use Other Browsers
For the users who are used to using Facebook on browser, they can attempt to login their Facebook account on other browsers and then upload the videos. That's because the browser that you used might be incompatible with Facebook so you need to switch to another one. Here you can select a well-received browser like Internet Explorer, Google Chrome, Firefox, Safari, etc. to upload your videos.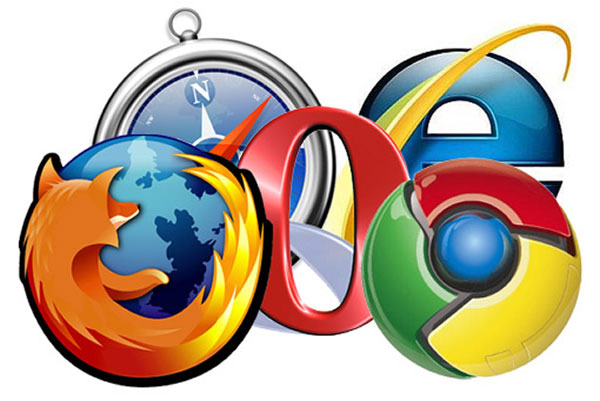 Related Articles:
Proven Ways to Stop YouTube Videos from Buffering
YouTube Keeps Freezing and Not Responding, How to Fix It? [Solved]
How to Fix Android Crash? 12 Common Solutions You Must Know
5 Simple Ways to Fix Android Phone Screen is Black