Cannot Send Messages on Facebook? 4 Methods to Fix It!
Q: I cannot send my messages today, but yesterday everything was ok. I could talk with my friends in Facebook but today everything is changed. When I send my message to my friend, it shows "failed to send" and also the notification is "There was a temporary error, please try again. Click to send again." After several minutes, I try again, but it still fails.
How could I do?
Some users may encounter the situation like above- fail to send messages to friends, families or co-workers on Facebook. But don't worry, this is not a serious or hard issue. On the contrary, it is a common problem that is often caused by many small errors like poor network connection, browser caches, incompatible add-ons or other reasons and you can solve it with some simple methods. For example, you can try to fix cannot send messages on Facebook issue by the methods below:
Adjust Your Network Connection
You must know that chatting on an application always requires a stable network connection. So when you fail to send messages on Facebook, the first thing you need to check is the network connection on your device. You can simply check the status of your network on the phone screen. Then if you find that the signal of the Wi-fi or phone data you are using is very weak, you need to take actions to manage the network:
Tip 1. Switch to wireless network or cellular data
At first, you can switch the network on your phone. That is to say, you can switch to the phone data if you are using Wi-fi or connect to Wi-fi if you are using cellular data. And this switch can be easily completed- you just need to swipe up or down your phone screen to enter the notification center and then tap on the icon of Wi-fi and phone data to enable or disable them.
Tip 2. Connect to another Wi-fi
Some users may not like to use the phone data due to the high cost and low speed. Then in this case, you can attempt to connect your phone to other stable wireless network. You can enter the Settings> Wi-fi to add the new usable Wi-fi on your phone and try to send messages on Facebook once again.
Tip 3. Reset network setting
You can also select to reset the Wi-fi settings on your phone. This means will wipe all the wireless network on your phone and you need to add some available Wi-fi to the device once again.
- On an iPhone, you can go to Settings> General> Reset> Reset Network Settings to delete the network settings on your phone.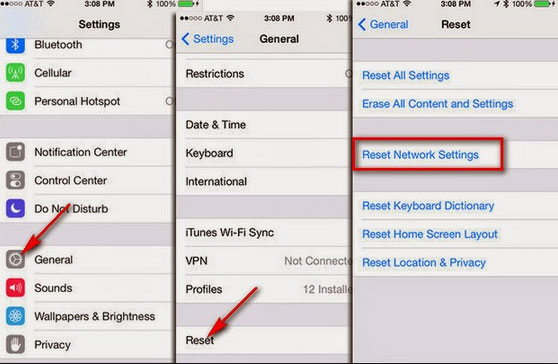 - On an Android phone, you should tap on Settings> Apps/Application Management> Settings> Backup and Reset. And then tap on Reset Network Settings and Rest Settings to confirm your option.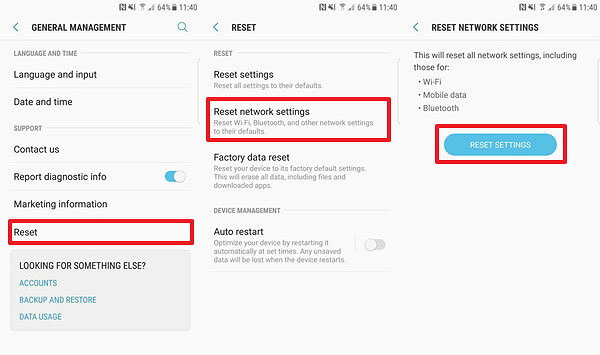 Re-login to Your Account
Sometimes there might be something wrong with your Facebook account so you can try to reconfigure the account- log out of the account and then re-login to it. This would be easy to perform. You can first open the Facebook App on your phone and then tap on the More icon to open the menu. Then in the menu, you can tap on Log out to log out your account.
After logging out your account, you can turn on the Facebook again and the type in your user name and password to enter the account again. Next, you can try to send a message to your friend to see whether it works or not.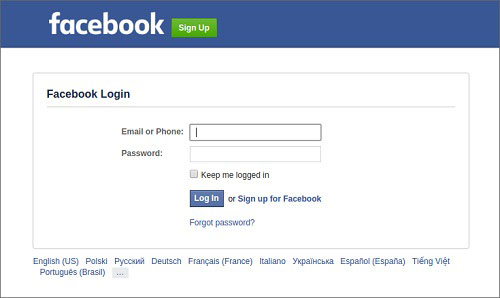 You can also read:
Effective Ways to Fix Facebook Blank Pages Error
Tips to Fix Common Facebook Issues on Android
Delete the Caches of Browser
The caches on browser would cause some problems as well. It would not only slow down the running of the browser but also effect other service. So here you are suggested to clear the caches of your browser. Let's take Google Chrome as an example!
- Enter "chrome://settings/clearBrowserData" in the address bar of Chrome.
- Next, a window with several options will pop up. In this window, you should select the options Browsing history, Download history, Cookies and other site and plug-in data and Cached images and files.
- Now you should tap on clear browsing data and wait till the clearing process ends.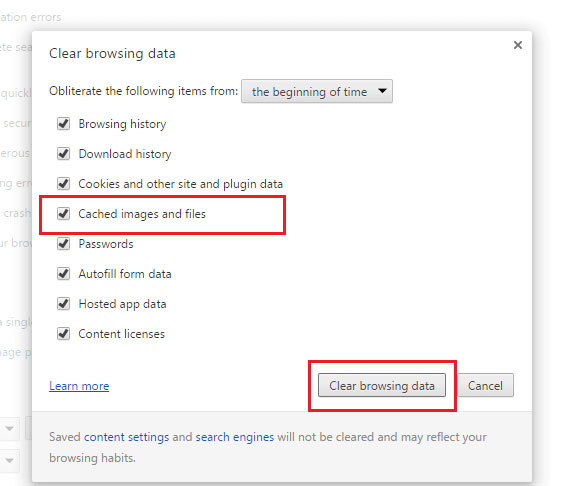 After that, you can close all the browser windows and re-open the browser and use Facebook on it.
Remove Incompatible Add-ons
Another possibility is that the add-ons on the browser is incompatible with Facebook so you need to remove them. To inspect that, you need to open Facebook in Incognito mode:
- Tap on Customize and control Google Chrome icon at the top right corner of Chrome.
- Then you will see a drop-down menu in which you can click on New Incognito Window.
Tip: You can use the keyboard shortcut "Ctrl + Shift + N" directly instead of the first two steps.
Here, if you are able to send Facebook messages in this mode, that means the issue that cannot send messages on Facebook might be caused by the add-ons. So you need to remove them from your browser. You can go with the following steps to complete the deletion:
- Click on the options Customize and control Google Chrome> More tools> Extensions.
- Locate the incompatible add-ons and remove them.
Try Another Browser
If you have tried out all the methods above but still fail to send Facebook messages, you can consider to use other browsers cause every browser has their own flaws. There are many high-rated browsers on the market, such as Internet Explorer, Firefox, Google Chrome, Safari and so on. You can select one of them and sign in your Facebook to try to send messages.
Related Articles:
How to Find Hidden Messages on Facebook?
Useful Tips & Tricks for Facebook You Can't Miss
Why Facebook Messenger Video Calling Not Working?
Easy Ways to Solve Facebook Messenger Not Responding Problem
YouTube Keeps Freezing and Not Responding, How to Fix It? [Solved]