How to Find Hidden Messages on Facebook?
In these years, more and more people select Facebook as their communication tool but less people know that this App has hidden some messages from them- the messages from strangers will be filtered by Facebook and users do not know that someone has sent messages to them. Then, how can you find the hidden messages on Facebook and how to check them? This tutorial will tell you the methods in details.
What are Filtered Messages on Facebook?
What are filtered messages? They are the messages sent by Facebook users who are not connected to you. In other words, if a non-friend sends a message to you or the received message is deemed to be a junk message, Facebook will put it into the filtered folder directly without notifying you. And normally, these messages will be saved in Message Requests folder which is not very obvious. Thus, we call these messages hidden messages.
Then, how can we find out the Message Requests folder and view the messages in it? Just read on to get the way.
See also:
How to Edit/Manage Facebook Messages on Android?
Recover Facebook Messages from Android
Detailed Steps to Find Hidden Facebook Messages on Computer
As we all know, users can login to Facebook on both computer and mobile phone. Since the means to use Facebook on PC and mobile phone are different, the ways to find the hidden Facebook messages on computer and phone are certainly disparate. So in this section, let's talk about seeking hidden Facebook messages on computer at first. This process should be completed on browser:
Step 1. Log in your Facebook account on the browser that you often use, such as Google Chrome, Firefox, Bing, etc.
Step 2. Tap on the Facebook Message icon on the top right column.
Step 3. Next, select Messages request folder from the list to get the messages sent from non-friends. If you find something important among these messages, you can click Accept to move them to your normal messages inbox.
Step 4. If you want to read more messages in this folder, you can click on See filtered request to view and accept the messages that are significant to you.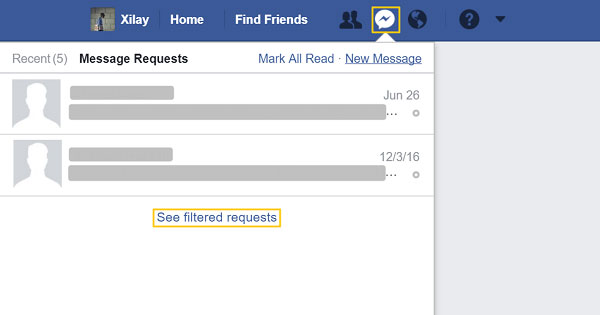 Notice: If you find some spam messages in the filtered messages folder, you can check the messages and click on Delete to remove it and you won't see the deleted messages anymore.
How to Check Filtered Messages on Android?
Besides computer, you can log in and use Facebook on Android phone or iPhone as well. Compared with the previous means, this method would be easier cause you can perform the finding process on the Facebook App directly:
Step 1. Run Facebook Messenger application on your Android phone.
Step 2. Then you need to tap on your profile icon on the top right corner.
Step 3. Next, just scroll down the page to look for People> Messages requests and choose See filtered requests under this section to bring out more messages.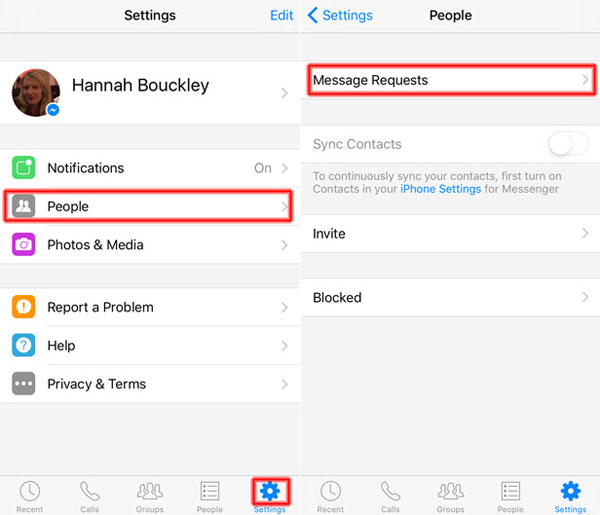 Step 4. And also, if you find any useful message in this folder, you can tap on the message and elect Accept to move it to your inbox. And if the message is useless, you can tap on Delete to remove them from the folder.
This means is appropriate for iPhone Facebook as well.
These two methods will help you to find out all the hidden messages on Facebook so that you can check, view and manage all the Facebook messages without ant hassle.
Related Articles:
Tips to Save Facebook Photos to Android
Things about Facebook Messages Encryption on Android
How to transfer videos from Android to Android?
[Solved] How to Transfer Text Messages from Android to Computer/PC?
How to Transfer Contacts from LG Phone to Computer? [4 Proven Ways]
Samsung Galaxy Backup - How to Backup Galaxy S8/S9/S10 with Ease?