[5 Awesome Tips] How Do I Recover Deleted Facebook Messenger Messages on Android?
There are countless conversations that occur on Facebook Messenger out there every day. These conversations can be something that has an impact on our life or work, including small talks, experience sharing, business messages, etc.
It could be a big headache for us when we delete critical FB messages by accident. Then How do I recover deleted Facebook Messenger messages on Android? Don't be confused! Here are five excellent methods in this passage. Just go through it and pick the one to get the problem addressed within a couple of taps.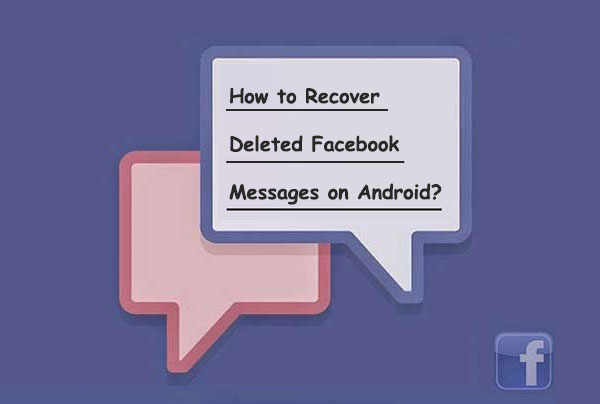 #1: Recover Deleted Facebook Messenger Messages on Android from Facebook Messenger
Once you have archived the significant messages on Facebook, it would be easy to check and restore afterward. (see how to archive Facebook Messenger messages?) This could be a simple yet useful way to back up and restore FB messages.
How to restore FB Messenger messages on/from Android mobile phone?
To start with, open up Facebook on your Android phone and tap on the Messenger icon.
Long press the conversation you want to archive and click "Archive" from the pop-up window.

After the archiving, the conversation will disappear, but you can access the archived one easily.
Launch Facebook and tap the search bar.
Enter the name of the contact you are finding.
Choose the person who has an archived conversation with you, and the messages should reappear.
Note: If you log in to your Facebook account on a web page, you can see the messages by going to Messages > More > Archived.
You May Be Interested in:
#2: Retrieve Deleted Messenger Messages on Android from Downloaded Facebook Data
Now that Facebook makes it easy to download a copy of Facebook info like messages, followers, friends, emails, chats, etc., retrieving messages from the downloaded Facebook data is also a great option for you. Nevertheless, to take this method, you need to make a copy of the Facebook messages first.
How to retrieve deleted Messenger messages on Android from the downloaded FB data?
Head to the Facebook website to log in to your Facebook account.
Navigate to Settings > General Account Settings > Download a copy of your Facebook data.
Just click the link below.

Tap on Start My Archive to copy the data. Here you will be asked to enter the password. Please type it in, and you will find an email in your mailbox.

Enter your mailbox to get the email and click the link to download the archive.

Tap Download Archive, and a zip file will be downloaded to your computer, where you can access all your Facebook info.
Finally, open the zip file and find out the folder with HTML files. Then select the files named "Messages" to retrieve your Facebook messages.
#3: Recover Deleted Facebook Messages on Android from Android Phone Memory
You can still retrieve your wanted info from Android phone memory, even if you do not archive any messages on Facebook. That's because FB always keeps a copy of Facebook data on your Android phone memory (Android internal storage is full?). Yet, it's a little difficult to access messages from memory without a file explorer application.
How to retrieve deleted messages on/in Messenger using Android phone memory?
Download and install a file explorer on your Android phone from Google Play. (B.T.W, for Apple users, just refer to the free iPhone file explorers here if you want to manage your device like a pro.)
When you finish the installation, run the explorer directly.
Navigate to Internal Storage > Android > data in the file explorer.
Next, find the "com.facebook.orca" folder, which records the info of Facebook Messenger.
Then click on cache > "fb_temp" in this folder to get all the backups automatically saved by Facebook Messenger.

Alternatively: Use a USB cable to connect your Android phone to a computer > open the device > go to SD card > Android > data > "com.facebook.orca"> cache > "fb_temp".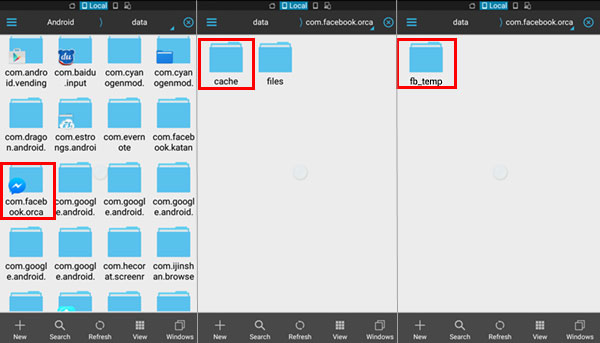 Read Also:
#4: Get Deleted Facebook Messages Back on Android by Setting Up Email Notification
When you mistakenly delete your messages from Facebook Messenger, your email notification can help you get the disappeared items back, assuming you have set it up properly.
How to read/recover deleted Facebook messages on Android by setting up the Email notification?
After logging in to your FB account on the desktop, go to the Menu > Settings > Notifications > Email.

Make sure you have enabled the option of "All notifications except the ones you unsubscribe from" to receive prompts.

By enabling the option as above, you could retrieve deleted messages on Messenger from email without a hitch.
If you don't know to which email your FB Messenger is connected, you can find it from your phone's Settings > General. And you can get an Android notification manager as well to better organize your phone.
#5: Restore Messenger Messages on Android by Asking the Interlocutor to Send a Copy of Messages
Do you know how to see deleted messages on the Messenger app from Android in the simplest possible way? As you probably guessed, you can fall back on the sender or receiver of the messages.
It's possible that your messages are deleted from Facebook Messenger, but they are still available to the interlocutor. So, just ask him or her to send you a copy of the messages or a screenshot of the particular chat. If they delete them manually, just try to recover the deleted ones with the method we just described above.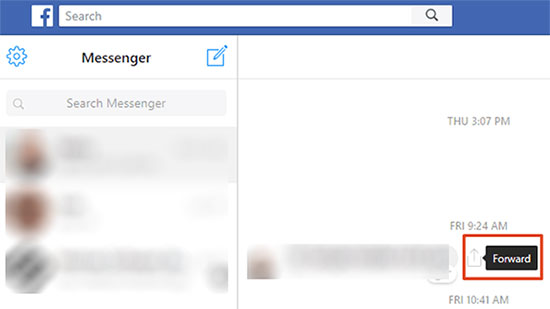 FAQs about Facebook Messenger Messages on Android
Q1. How to Recover Archived Messages on Messenger by Unarchiving them Directly?
Sign in to your Facebook account on the official website of Facebook.
Move to the messages placed on the left of the taskbar.
After that, a page will appear showing the contacts with whom you made the conversation previously.
Hit Search Messages from the top right corner.
Type in the user's name you wish to unarchive.

Go to the Action menu, which will show all the options you want to pick.
Under the menu, hit the Un-archive option to get back the deleted messages on your FB Messenger.
Q2. Can I Recover Deleted Secret Conversations on Messenger to Android?
Well, it depends. You can retrieve deleted secret conversations on Messenger only from the original device involved in the conversation if the Facebook cache isn't wiped off from this device.
Q3. Is There Any Android App to Recover Deleted Facebook Messages?
Unfortunately, there's hardly a reliable application of this kind to complete this task smoothly and securely.
In Conclusion
On the whole, we believe that you've got the hang of what archiving, unarchiving, cache deletion, and message backup mean to you. As for how to get deleted Facebook messages back on Android, we gathered several reliable approaches with clear steps, including built-in features on Facebook and quick solutions. You can now follow any of the methods for instant results.
Hopefully, these tips and tricks will be effective enough for you folks. Any questions? Please mention them in the comments below.
Related Articles:
4 Easy Ways to Recover Deleted Messages on Facebook Messenger on iPhone
Cannot Send Messages on Facebook? 4 Methods to Fix It!
Tips to Fix Common Facebook Issues on Android
What to Do If Facebook Keeps Freezing and Not Responding?
Things about Facebook Messages Encryption on Android
[2021] How to Retrieve Deleted WhatsApp Messages on Android?