Recover Facebook Messages from Android
Summary: This article aims to tell you different ways to recover Facebook messages. With it, you can get back your wanted and important conversations on Facebook Messenger effortlessly.
Every day, there are thousands of conversations occur on Facebook Messenger around the world. These conversations could be small talks between friends or details about work among colleagues. That means some important messages would be saved in the Facebook Messenger.
Then, it must be a big trouble for you when you lose these messages, right? But luckily, it is not an issue that can't be redeemed. Here are 3 methods that are able to recover Facebook messages from Android.
Method 1. Restore Archived Messages from Facebook Messenger Directly
If you have archived the significant messages on Facebook in advance, it would be easy to restore them. This could be a simple but useful way to backup and restore Facebook messages. To archive Facebook messages, you just need to:
- Open up Facebook application on your phone and tap on the messenger icon.
- Next, long press the conversation that you want to archive and then a pop-up window will appear. Just click on Archive.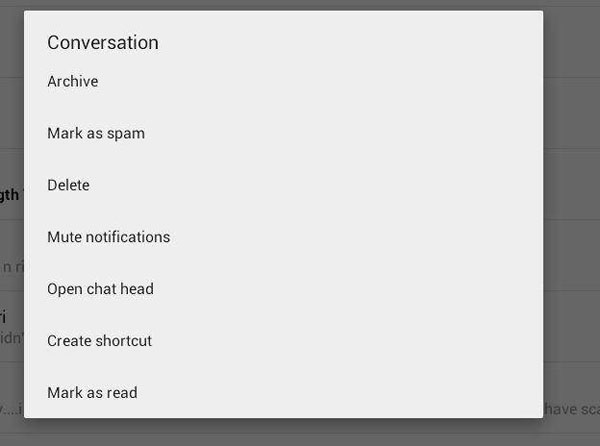 After archiving the messages, the conversation will disappear from the list but you can access the archived messages easily.
- Launch Facebook and tap on search bar.
- Type in the name of the contact that you are finding.
- Choose the person who have an archived conversation with you and the messages will be displayed.
Notice: If you are logging in your Facebook account on web page, you can view the messages by navigating to Messages> More> Archived.
See also:
How to Edit/Manage Facebook Messages on Android?

Things about Facebook Messages Encryption on Android
Method 2. Recover Facebook Messages from Android Phone Memory
For the users who do not archive any messages on Facebook, they can retrieve their wanted information from Android phone memory. That's because Facebook always keeps a copy of Facebook data on the Android phone memory. However, the process of accessing messages from phone memory is a little difficult so you need to go with the details below carefully.
- To begin with, you need to download and install a file explorer on your mobile phone from Google Play Store. When you finish the installation, you can launch the explorer directly.
- Go to Internal Storage> Android> data in the file explorer.
- Next, find out the "com.facebook.orca" folder which records the data of Facebook Messenger. Then, you need to click on cache> "fb_temp" in this folder to get all the backup files that are automatically saved by Facebook Messenger.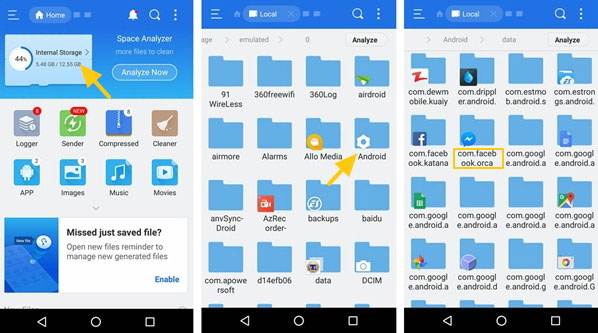 Alternative: You can get back the deleted Facebook messages by another means as well- use USB cable to connect your phone to computer and then open the device. Next, you can go to SD card> Android> data> "com.facebook.orca"> cache> "fb_temp".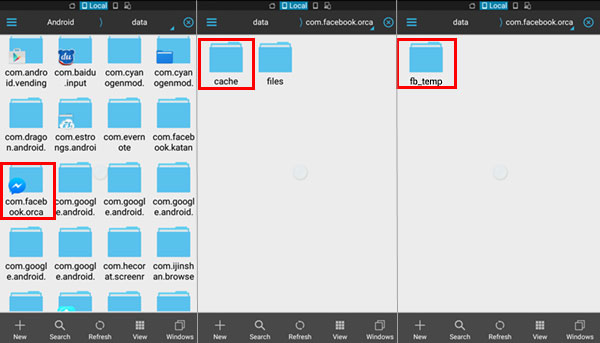 Method 3. Retrieve Messages from Downloaded Facebook Data
Since Facebook enables users to download a copy of Facebook info like messages, emails, followers, friends, chats and so on, recovering messages from downloaded Facebook data is also an option for you.
Nonetheless, by using this method, you need to make a copy for your Facebook at first.
- Go to the Facebook website to log in your Facebook account.

- Navigate to Settings> General Account Settings> Download a copy of your Facebook data. Just click the link here.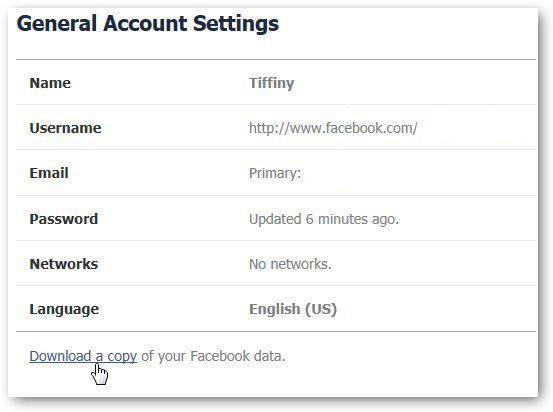 - Then tap on Start My Archive to copy the data. Here you will be asked to enter the password. Just type in the code and you will receive an email in your mailbox.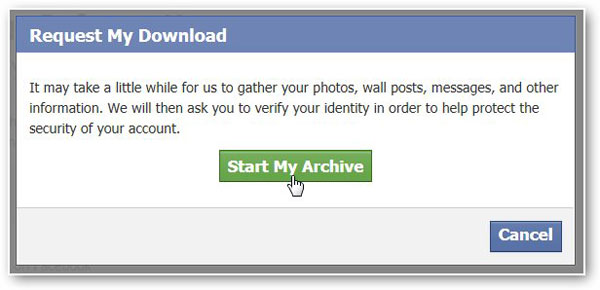 - Enter your mailbox and find out the email. Next, you need to click the link to download the archive.

- Tap on Download Archive and then a zip file will be downloaded to your computer. This file contains all your Facebook information.
Done! You can find the deleted messages from the files once your have the copy now. You only need to open the zip file and find out a folder with HTML files. Then elect the HTML files named "Messages" to get back your Facebook messages.
Attention: If you do not copy the information before deleting the messages, you will be unable to retrieve them cause they are not included.
Related Articles:
Tips to Save Facebook Photos to Android
Tips to Sync Skype and Facebook Contacts to Android Smart Phone