Top 5 Causes of Android Data Loss & How to Recover Lost Data
Data loss on your Android device feels worse than a heart attack. It's like the end of the world. Whether its contacts, those important SMSes, that indispensable image you had on your phone to your favorite song that you took such pains to find and download, to that video you shot that had precious memories of your past, it feels terrible right? So what exactly is the cause of this heartbreaking data loss? We have narrowed down and listed 5 main causes for data loss on Android devices. Read on to find out which one led to the deletion of your precious files and learn how to recover lost data from Android.
Reason 1. Updating your device
When you upgrade your Android version to a higher level operating system, you lose all your data, and in most cases, the backlog is so enormous that it's impossible to create a backup for all your files. Retrieving that data is a tedious process that takes hours to complete, and you can't even attain most of your data by that process.
Reason 2. Losing your device
If your Android device gets stolen, damaged in accidents, falls into the water or you just forget it somewhere, you lose all your data, and even though you can get a new device, you will not be able to get the data back.
Reason 3. Fat Fingers
This term is used to define data loss when you accidentally delete the wrong files, or just press the delete all button by mistake. This is just a human error, and even though it wasn't intentional, you ended up losing out on your valuable data.
Reason 4. Jailbreak
Some curious minds will want to get the most out of their Android devices and approach android experts for the same. While you can unlock many unbelievable features using their help, you may lose out on indispensable data in the bargain.
Reason 5. Battery replacement
sometimes a process as simple as battery replacement will cause your device to lose all your data, and your operating system may be reset to the original factory version.
Miscellaneous
Other causes include virus attacks, files getting corrupted due to repeated usage on different devices, rooting and flashing ROM.
After learning the main causes of Android data loss, you must concern about how to recover lost data from Android phones or tablets. So, in the following part, we will introduce a handy and powerful Android data recovery program to help you.
How to Recover Lost/Deleted Files from Android?
MobiKin Doctor for Android or its Mac version - Doctor for Android Mac is a ray of hope for the ones who have lost their data on the Android devices. Not just media files like images, videos and audio but this program will also enable you to retrieve your lost contacts, call logs with durations, email addresses, profiles, and SMS messages both sent and received.The user-friendly interface and easy to install and operate features make this tool the best one in the market.
We kindly suggest you backup Android data on computer from time to time, and if you find data lost on your Android and you want to recover them back, you must stop using the Android device to prevent data overwritten problem.
How to Recover Lost/Deleted Data from Android?
First of all, you should download, install and launch MobiKin Doctor for Android on your computer. Connect your Android device to the computer using a USB cable and the software will detect your Android phone/tablet.
Note: Ensure you have opened USB debugging mode on your Android device beforehand.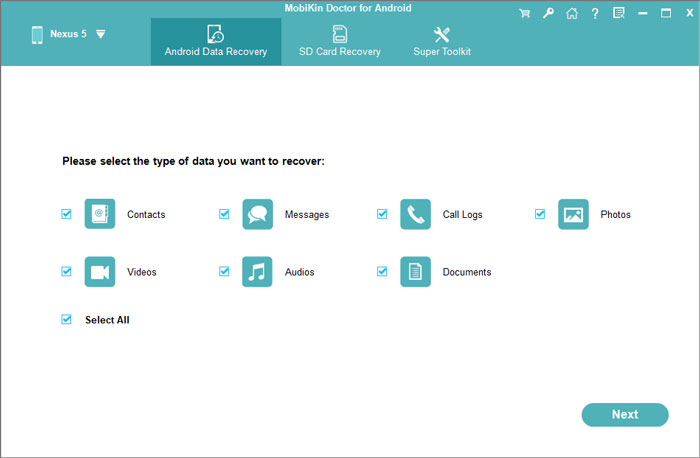 Next, you will be allowed to choose what types of data you want to recover. Contacts, SMS, photos, videos, music, call logs, etc. can be recovered by this program. The software scans your phone and all scanned out files displayed in list.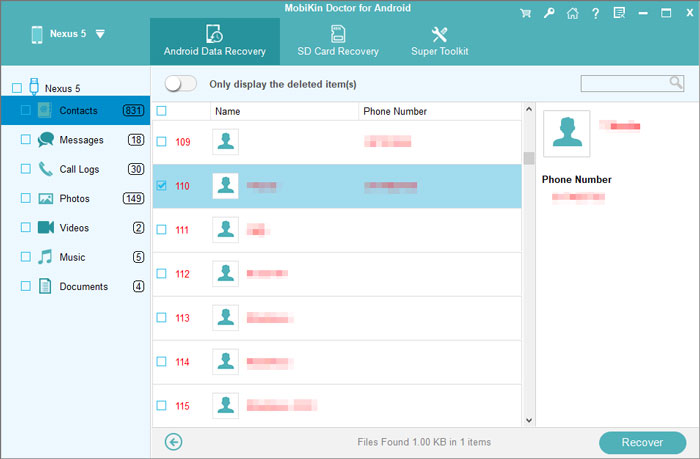 Finally, as your files are scanned, the lost ones display in red and the existing ones in black. Select the ones you want to keep and press on Recover. And your files will get retrieved as soon as you select on the destination folder and you can access them from there.
Related Articles
How to Recover Lost Videos from HTC Phones?
How to Recover Photos/Videos from Lenovo Phones?
Top 5 Android Photos Recovery Apps to Recover Deleted Photos on Android
Motorola Data Recovery - How to Recover Deleted Files from Motorola Phones
The Best SIM Card Data Recovery Tool in 2023 You Can't Miss