What to Do If YouTube Video Cannot Play?
Q: Whenever I go to YouTube, nothing plays. They all result in a black screen without a buffering bar or anything at the bottom. Can you please help?
Most of you may often meet such a situation: YouTube won't start, play or load videos when you try to open a video. But luckily, this is not a rare or serious problem. Then what to do if YouTube video cannot play, you may ask. To solve this problem, you need to figure out the reasons for the issue and then use the corresponding methods. Maybe this tutorial can help you to settle the error more quickly. Just read on.
Why YouTube Video Cannot Play?
The issue that YouTube cannot start, play or load videos can be caused by many reasons:
1. The bad internet connection
Connecting the device to a stable network connection is the primary condition of playing a video on YouTube. Hence, you need to check the internet connection on your computer or mobile phone first when the YouTube video cannot play error occurs. Except for that, here are also some other suggestions for you:
- Disable other applications: Using several applications on the device would take up some flow of the web so you can close down some of them to free up bandwidth and use a speed-testing tool to verify that the connection you are using is fast enough.
- Switch to a lower quality stream: A lower quality stream requires less network flow and slower internet speed so that you can attempt to switch the quality stream when the network is not stable. Just click on the quality button to change it.
2. The browser cache interrupts the running of YouTube
Another possible reason for the sluggish YouTube video loading or buffering is the browser cache. When the memory of the browser is full of temporary internet files, it will hold you up greatly. Thus, you'd better clear the browser caches regularly.
- On Android phones, you can navigate to the Settings> Apps/Application Management and then select the browser from the listed applications. On the next page, you can simply tap on the option Clear cache and Clear data to remove the browser caches.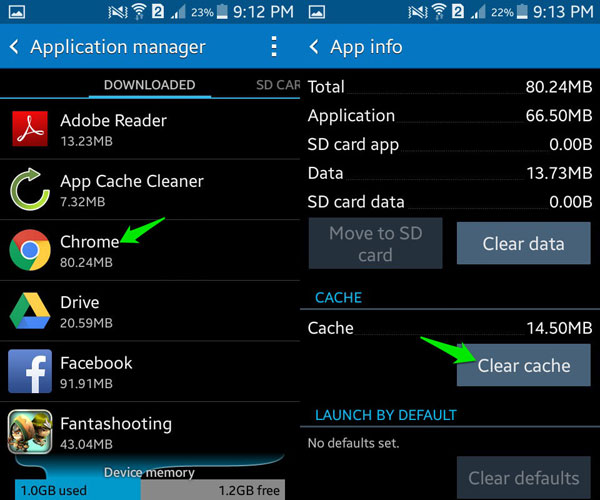 - On iPhone, you need to tap on the options Settings> Safari> Clear History and Website Data and then click on Clear History and Data to confirm your option.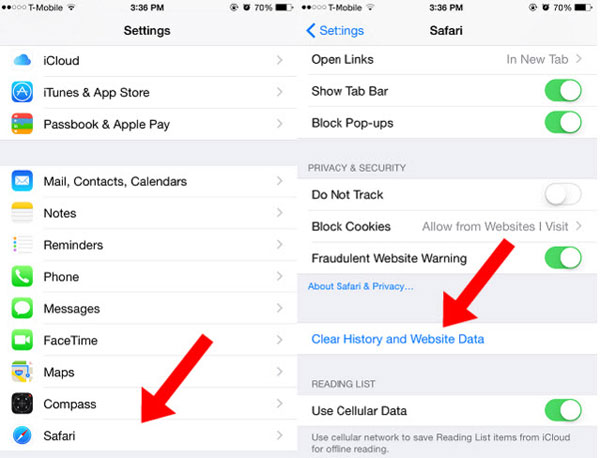 - On computer (take Mozilla Firefox as an example), you can go to Tools> Options> Clear Your Recent History (all) and Remove Individual Cookies.
3. Install Adobe Flash Player
Most YouTube videos require Adobe Flash Player plugin to be watched in a browser. If you do not install the Adobe Flash Player on your device, you can install one.
Just go to download the latest Adobe Flash Player and then go with the instructions to install it properly.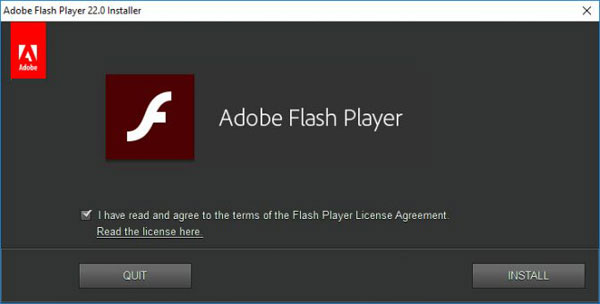 4. Firewalls or other security tool blocks YouTube
The firewalls on computer or security tool on the mobile phone can protect the safety of the device but it would block some applications like YouTube sometimes. So to solve this problem, you can check within your installed security software to make sure that YouTube is listed as an authorized website that is allowed to operate without interference.
5. Enable JavaScript
YouTube will become crappy if JavaScript is disabled on the device. That's because several components of YouTube work without reloading the page and require JavaScript so you need to turn it on to make the YouTube run normally. Normally, the methods to enable JavaScript in different browser are disparate. And here, we would like to take Firefox as an example:
* Type in "about:config" in the address bar and press Enter.
* Next, a warning message would appear. You just need to click "I'll be careful, I promise" to continue.
* Now you can search for "javascript.enabled" in the search box.
* Toggle the "javascript.enabled" preference (right click and select Toggle or double-click the preference) to change the value from "false" to "true".
* Click on the Reload current page button of the web browser to refresh the page.
6. The device is senescent
YouTube stops to support aging devices now so if your device is not supported by the YouTube anymore, your only option to fix the error is to upgrade the device.
How to Avoid YouTube Video Cannot Play Issue?
From above, you can see that find out the reasons for the YouTube video cannot play issue and fix it is not so easy and it would take some time. Therefore, you are strongly advised to do something to avoid the issue here. Here we have two suggestions for you:
1. Download videos from YouTube: downloading the wanted videos from YouTube to your iPhone, Android or other device can help you to watch the video more smoothly.
2. Stream HD or Ultra HD YouTube videos to iPad/iPhone.
Related Articles:
Upload Photos/Videos from Gallery to Instagram Story
[Fixed] Cannot Upload Videos to Instagram, How to Solve It?
How to Recover Lost Contacts from Samsung Galaxy
How to Recover Data from Water Damaged Android Phone or Tablet?
How to Access Phone with Broken Screen with PC Easily & Safely?