[Fixed] Cannot Upload Videos to Instagram, How to Solve It?
Help: I've been trying to upload a video to Instagram but it isn't working. I keep getting the message saying "There was an issue importing your video. Please try again". I tried, but still failed.
Anyone else having this problem?
Have you ever received a message like this when you are uploading videos to Instagram? If you have, you might be suffering an Instagram upload failure. But you do not need to worry for the reason that this is not a complicated problem and you can try to fix it on your own.
Here are several ways to fix cannot upload videos to Instagram issue. Just go with them and attempt to settle the problem.
Why Can't I Upload Videos to Instagram?
When you fail to upload videos to Instagram, you need to consider if:
- The network connection is weak or poor.
- Your Instagram account is banned, blocked or disabled.
- The video you are going to upload is overtime- only 60 seconds allowed.
- The contents of the video is violating the terms of Instagram.
- Instagram does not support the format of the uploaded video.
If the video or device has one of the problems above, you won't be able to upload videos to Instagram. But you can solve the problem according to the reasons.
See also:
Upload Photos/Videos from Gallery to Instagram Story
Different Ways to Save Instagram Photos on Android
Tips to Fix Cannot Upload Videos to Instagram Issue
The methods to fix the problem are some small and common tips actually. You can go with the following means one by one to have a try at first.
1. Connect your phone to a strong network
The first means you can try is to link your phone to a good and stable network. To adjust the network connection, you can go to Settings> Wi-fi or cellular data to turn the feature off and then enable them once again. This means can refresh the network that you are connecting. But if the signal of your connected Wi-fi or phone data is too weak, you need to use other connections in this case.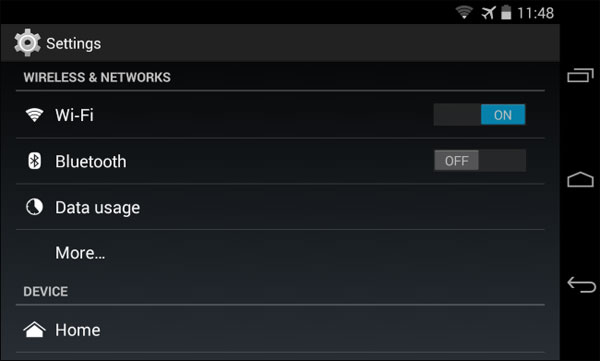 2. Restart your mobile phone
The second means is to reboot the device which can stop all the background applications and refresh the settings and data on the phone. This would be very simple- you only need to hold down the Power button of your phone and then press down the Power button once again to restart the device. After that, you can go to Instagram and try to upload a video on it to check whether it works now.
3. Clear caches of Instagram
The running of Instagram would create some caches in the device. And these caches would interrupt the operation the application sometimes. Thus, clearing the caches of Instagram is also a way to fix Instagram video upload fail. The detailed steps is to navigate to Settings> Apps> Instagram> Clear Caches. Just click on the option to delete the caches and make the App runs smoothly.
4. Re-install Instagram
Another possibility is that there are some bugs or problems with Instagram. To solve this problem, you can try to remove and re-install the application on your phone. Just go to Settings> Apps> Instagram> Uninstall to delete the program from the device. After that, you can go to Google Play Store to download and install the latest Instagram to your phone. Then you can open the installed App and upload videos on it without hassle.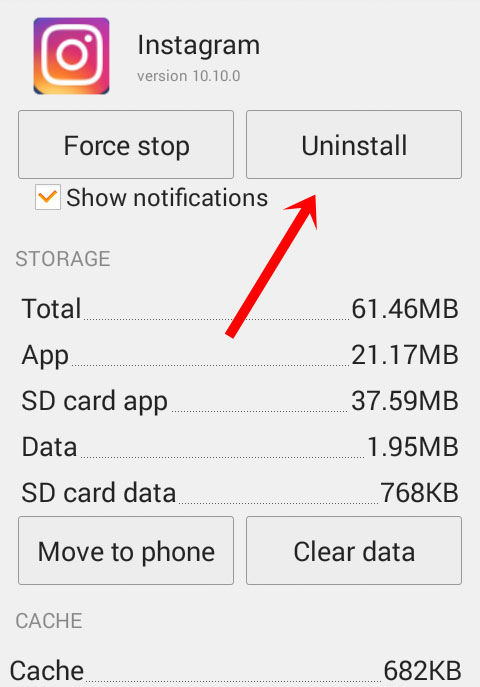 5. Reedit the video
If the video you choose to upload is longer than 60 seconds or shorter than 3 seconds, you need to reedit it cause Instagram only allows users to upload videos among 3 to 60 seconds. In addition, you should pay attention to the contents of the video. If it goes against the rules of Instagram, it will be banned as well.
6. Convert the format of the video
Before uploading the video, you should inspect its format in advance:
* Formats: H.264 codec/ MP4
* Resolution: maximum width 1080 pixels, namely 1080P
* Frame Rate: 29.96 frames per second
* Bit Rate: 3,500 kbps video bitrate
* Audio codec: AAC audio codec at 44.1 kHz monov
* Duration: 3 to 60 seconds
Once the video does not meet one of these requirements, you need to convert it to the coincident format.
Related Articles:
Wanna Save Instagram Photos on iPhone/PC? Here!