[Solved] How to See Deleted WhatsApp Messages without Any App [Android/iPhone]
WhatsApp is, without a doubt, one of the top-rated messaging apps today, with millions of active users. If you are a WhatsApp user, you have probably seen messages getting deleted after being sent. Perhaps the message was sent by mistake, or the content of the message isn't stated correctly. Just like others, you will be curious to learn what the sender conveyed that made them delete the communication. Luckily, there are workarounds to help you see any deleted WhatsApp chat, even if the sender doesn't want you to do that.
So, how to see deleted WhatsApp messages without any app? Is it possible? Since WhatsApp's privacy system isn't the safest, you can still see any deleted chat on your WhatsApp app. In this guide, we'll show you detailed and simpler steps on how to read already deleted WhatsApp messages without any app.
Part 1. Is It Possible to See Deleted WhatsApp Messages without an App?
Before we show you how to see deleted messages in WhatsApp without any app, it is of great importance we address this question: Can I restore deleted chats on WhatsApp without an app?
Well, it is possible, and a popular WhatsApp GB application makes that possible. WhatsApp GB is a modified version of WhatsApp, and it is similar to the original app in appearance but comes with many more features than the original app. This app lets users view their deleted messages, thus making it a very useful application. However, it needs more storage on your application than the regular WhatsApp. In that case, it will only help those with enough space on their devices.
Luckily, you can restore deleted messages on WhatsApp without the need to download WhatsApp GB. To see how, keep reading this article to discover it.
You May Take an Interest in:
Part 2. How Does Deleting Feature for WhatsApp Work?
WhatsApp is an awesome communication app with billions of users who use it for communication. But, some years back, WhatsApp introduced a feature for deleting messages. Indeed, this feature is quite beneficial for many users.
There are two message-deleting features: Delete for Everyone and Delete for Me. Let's see how these two features work.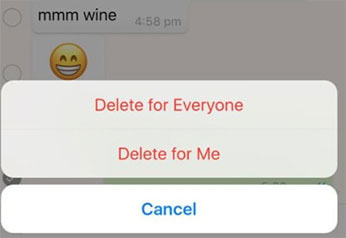 1. Delete for Everyone
This is an important delete feature that helps users delete specific chats sent to an individual or a group chat. Particularly, this feature is useful when you send messages to the wrong chat or the messages sent have mistakes.
When you delete a message via this option, you will see the message replaced with 'This message was deleted' in the recipient's chats. If the sender erased their messages for everyone, you'll see 'This message was deleted' in the message.
2. Delete for Me
On the other hand, the Delete for Me feature lets you delete chats you've sent/received from your device. It doesn't affect the recipients in any way. So, if you want to delete WhatsApp chats from your end, this is the feature to use. (How to View WhatsApp Chat History on PC?)
Part 3. How to Read Already Deleted WhatsApp Messages without Any App on iPhone
WhatsApp is a top communication app that is also available on iOS devices. Therefore, if you are an Apple user and wish to see the deleted messages on your device, you can still achieve that. iCloud and iTunes are the two best Apple services that can come to your aid if the WhatsApp messages are deleted and you want to recover them.
Way 1. Using iCloud Backup
iCloud is a helpful Apple cloud storage service that can be a great helper when you delete data from your device. The best part is that it is available on all iOS devices. Normally, iCloud saves iPhone chats by default. However, you can set it to create backups as well. This way, you can see the deleted messages by restoring the backup.
But iCloud works on iOS 7 and later, so ensure you check the device's version beforehand. Here's what to do to see the deleted WhatsApp chats on iPhone using iCloud:
Launch the WhatsApp app on your iPhone, then head to "Settings". Click on "Chat Backup", and you will see a popup window.

Press on the "Restore my Chat History" option. Wait until the Restoring… to disappear.
You should now be able to restore the deleted messages, then you'll find them in WhatsApp.
Way 2. Using iTunes
iTunes is another option to help check the deleted messages. It is a remarkable tool for iPhone owners as it enables them to link phones to computers and other services. It is useful as it helps in recovering deleted chats on WhatsApp.
Install the iTunes application on the computer after downloading it. Launch iTunes app from the Start Menu.
Link iPhone to the PC. After that, tap on the Device icon from the iTunes application.
Head to Backups, then locate the Manually BackUp & Restore option and press on the Restore Backup… option. After that, tap on the Done option from the lower right corner of your screen.
Now, launch the WhatsApp app, and all the deleted messages will appear.
Way 3. Using iPhone Data Recovery
It doesn't matter how your WhatsApp messages got deleted on your iPhone. Whether it is due to a damaged phone, you can still get them back without much hassle. With iPhone Data Recovery, you do not need to fret about any issues with your iPhone. Apart from WhatsApp messages, you can also restore contacts, text messages, videos, photos, notes, call history, and more. The best part? Your data won't be lost. This fantastic data recovery tool will come to your aid at any time. You don't need to worry about anything. It is super easy and fast to use.
iPhone WhatsApp Recovery Method's Noteworthy Pros:
Recover lost/deleted WhatsApp messages, photos, videos, calls etc from iPhone.
Restore more than 35 data types from iOS devices, including text messages, contacts, call history, notes, calendars, reminders, voice memos, Safari history, and more.
No data backup is needed to recover deleted files.
Clean and safe to use.
It is compatible with almost every iOS device, covering iPhone 14/14 Plus/14 Pro (Max), iPhone 13/13 Pro (Max)/13 mini/12/12 Pro (Max)/12 mini, iPhone 11/11 Pro/11 Pro Max, iPhone X/XR/Xs/Xs Max, iPhone 8/8 Plus, iPhone 7/7 Plus, iPhone 6/6S/6 Plus, iPod touch, iPad Pro, iPad Air, iPad mini, iPad 4, iPad 3, iPad 2, etc.
It protects your privacy at all times.
Check the steps below on how to restore deleted WhatsApp messages with iPhone Data Recovery.
Step 1. Install iPhone Data Recovery on then computer. Launch it and plug in your iPhone to computer via a lightning cable. Unlock your iPhone and click on "Trust".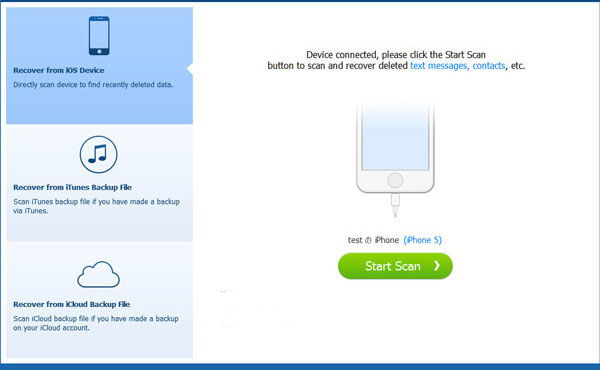 Step 2. Select "Recover from the iOS Device", then tap "Start Scan" to initiate the scanning of the deleted files.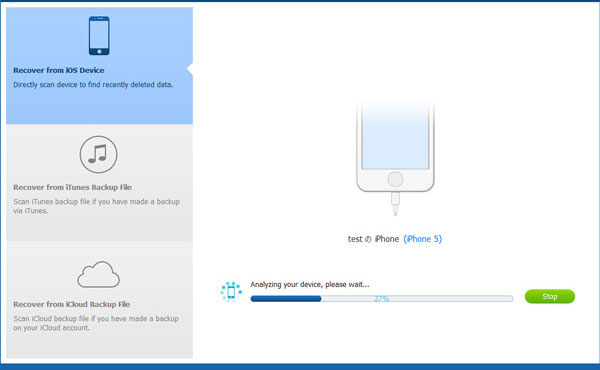 Step 3. Choose WhatsApp messages from the left panel and preview the detailed information. Select WhatsApp messages you want and click the "Recover" icon. Your data will be exported to the computer.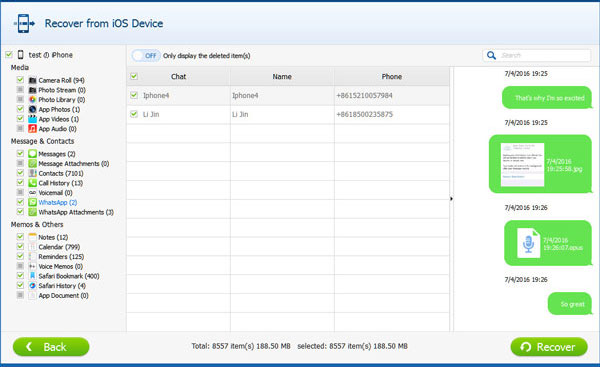 You May Take an Interest in:
Part 4. How to See Deleted Messages in WhatsApp without Any App on Android
Whether you mistakenly deleted messages on your WhatsApp or you received a message on WhatsApp but the sender deleted it, you can still read them on an Android devices. Since Androids are user-friendly devices, you may still check the deleted messages without much struggle. The tricks mentioned here will make that possible without even requiring an additional app. Below are the suitable ways to do that.
Way 1. Using Notification Log
With an Android device, you don't need to download any application before checking the deleted messages. You can use a built-in program available on your device. All Android devices have a Notification Log, which helps in keeping track of notifications you may find at the upper bar. It can be helpful when you delete WhatsApp chats unknowingly, or you are curious to know the contents of a message sent by someone.
Thus, to access deleted messages, you need to follow these simple steps:
Long press on a space on the phone's home screen and click on the Widgets option when it appears.
Locate Settings Shortcut Widget, then hold it.
When Settings shortcut shows up, scroll down to Notifications Log and tap on it.

Browse to locate WhatsApp messages or notifications.
However, note that this option allows only access to messages after only a few day. Older messages may not be easily recoverable this way. Despite that, it is the easiest way to restore any lost messages from WhatsApp and read them.
Way 2. Using a Local Backup
WhatsApp always backs up your data, such as messages, automatically to a location hard drive each day at 2 a.m. So, if you realize your relevant chat is missing, you can check the messages from the local backup. Below are the steps to follow:
Open the File Manager app on your Android phone and go to WhatsApp Folder. Open the Database folder.
Choose msgstore.db.crypt12 file, then rename it with msgstore backup.db.crypt12.
Open Google Drive on Android and click on three dots from the top of the screen. Click on the Backup option, then press the Delete backup option.
Delete the WhatsApp app from your phone and tap on the Restore button to restore WhatsApp.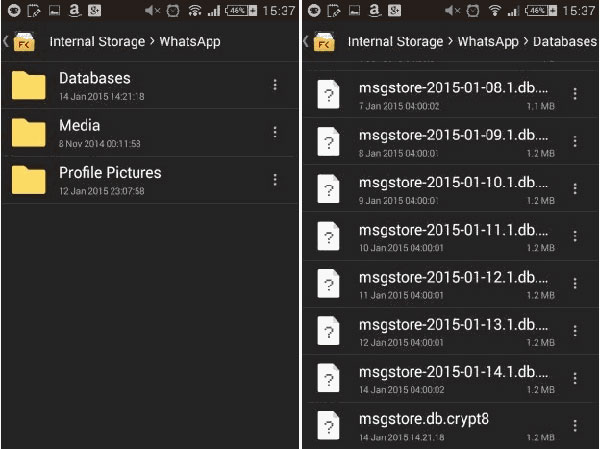 Way 3. Using Android Data Recovery
Did you delete or lose important WhatsApp messages on your Android and now want to get them back? Android Data Recovery has your back. This is a professional software that recovers any deleted data from Android devices and SD cards quickly. It doesn't matter how the files were deleted; it works smoothly and efficiently to ensure you have your files back.
Key features of Android Data Recovery:
Recovers WhatsApp files, videos, contacts, photos, etc from Android to computer.
Enables users to selectively choose files to recover and preview content before recovery.
Restores data from SD cards.
Restored files without quality loss.
Easy and safe to use.
Steps to recover WhatsApp messages on Android using Android Data Recovery:
Step 1. Launch the program on the PC after downloading it. Select the Android Data Recovery option from the main interface to restore the deleted files.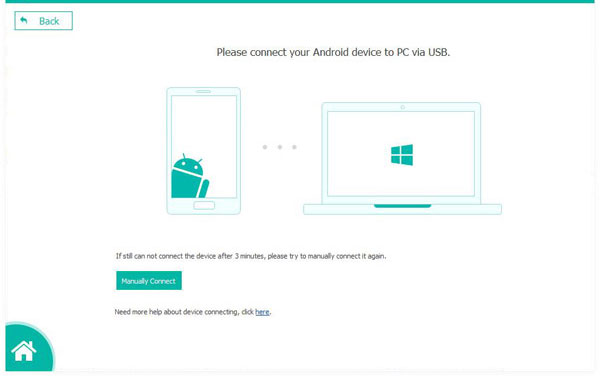 Step 2. Step 2. Connect the phone to a PC with USB, and the software will detect your phone automatically. Enable USB debugging after that. Choose WhatsApp from the interface and tap the Next button afterward to start the scanning process.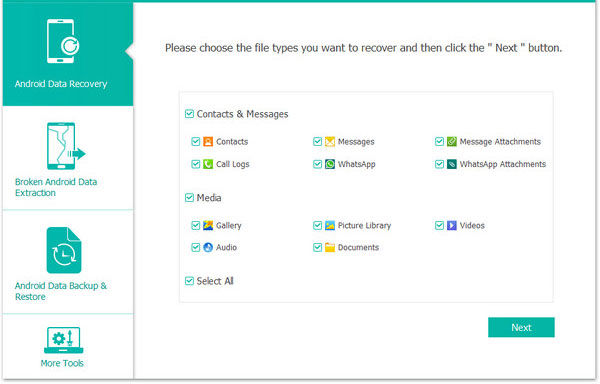 Step 3. After the scan, preview and select all the WhatsApp messages you want back, and click on "Recover" to save them onto your computer.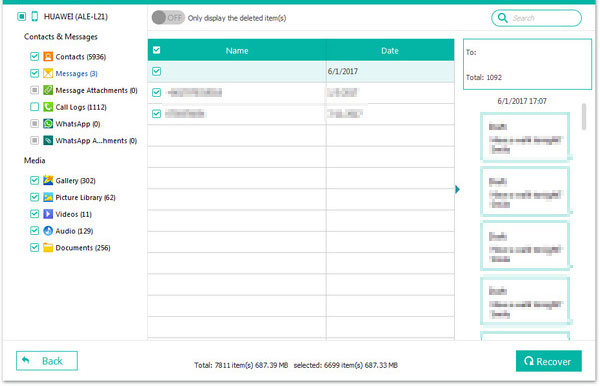 Conclusion
From this guide, you have learned how to read deleted messages in WhatsApp without any app. Follow these steps correctly to see the deleted chats on WhatsApp. Hopefully, this post has assisted you in solving the problem.
If you want an easier way to recover deleted WhatsApp messages on Android, Android Data Recovery is the tool to use. On the other hand, iPhone Data Recovery is the best tool to recover deleted WhatsApp messages on iOS devices.
Related Articles:
Can Facebook Retrieve Deleted Messages for Court? In-depth Handbook 2023
3 Well-tried Ways to Restore Text Messages from iCloud - iCloud Messages Recovery
8 Best Contact Recovery Software/Apps for Android [Few People Know]
Android Message Recovery - How to Retrieve Deleted Text Messages on Android
[Fixed] Where Are WhatsApp Messages Stored on Android/iPhone/PC?
How to Transfer WhatsApp Stickers to New Phone (Android/iOS)?