5 Ways to Restore WhatsApp Chat after Uninstall/Reinstall with or without Backup
It's not uncommon to uninstall apps for various reasons, including WhatsApp. However, there are instances when we realize the importance of those deleted WhatsApp chats and desperately want to restore them. If you find yourself in this situation, fret not, as this guide will deliver the necessary methods and steps to restore WhatsApp chat after uninstalling, with or without a backup. Now let's talk more about WhatsApp data recovery.
Part 1: What Happens If You Accidentally Uninstall WhatsApp?
When you uninstall WhatsApp from your device, the following consequences generally occur:
The WhatsApp application will be completely removed from your device. (Can I move WhatsApp to an SD card before uninstalling the app?)
WhatsApp will remove your account and delete all associated chats from their servers.
Uninstalling WhatsApp does not automatically deactivate your WhatsApp account, but you will no longer have access to it.
All your WhatsApp message history will be deleted, including text conversations, media files, and other data.
You will be deleted from the WhatsApp contact lists of your friends and contacts.
You will be removed from any groups you have joined on WhatsApp.
Any payment information associated with your WhatsApp account will also be deleted.
Even if you reactivate your WhatsApp account in the future, you will not be able to see old messages that were deleted during the uninstallation.
On Android 11 or later versions, your local backup of WhatsApp data will be removed.
As you know, WhatsApp messages are gone after reinstallation. But it's important to note that if you have backed up your WhatsApp chats using local backups or cloud services, you may be able to restore your data after you uninstall WhatsApp in the future.
Click to Know:
Part 2: How to Restore WhatsApp after Deleting App via Local Backup (Android)
Android devices automatically store WhatsApp local backup files for up to the past seven days in the internal storage folders. You can transfer these files directly to your new device, allowing you to restore your WhatsApp conversations without relying on cloud backups.
Can I retrieve WhatsApp messages after uninstalling from a local backup? Sure! Check out the following steps:
Download and install a file manager app on your new device.
Open the file manager app and navigate to the "/sdcard/WhatsApp/Databases" folder.
Check the "Databases" folder within the internal storage if not found.
Locate and copy the file that contains the chats you want to transfer.
On your new device, navigate to the local storage's "Databases" folder using the file manager app.
Paste the copied file into your new device's "Databases" folder.
Install and open WhatsApp on your new device.
Verify your phone number on the new device during the WhatsApp setup process.
When prompted to restore chats and media from a local backup, tap on the "RESTORE" option.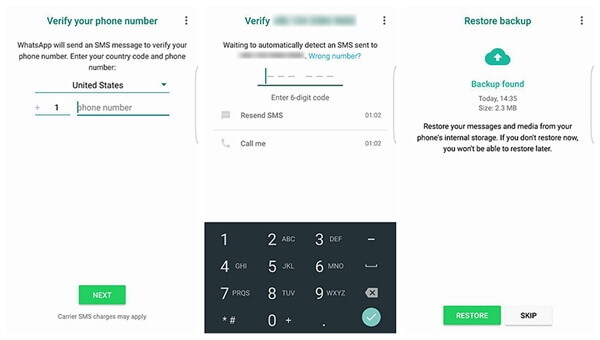 Part 3: How to Recover Deleted WhatsApp Messages after Uninstall via Google Drive (Android)
If you have accidentally deleted WhatsApp chat on your Android device, there is a way to restore it using Google Drive. However, it's important to note that this method is only applicable if you have previously backed up Android WhatsApp using Google Drive storage.
How to recover WhatsApp chat after uninstalling with Google Drive?
Reinstall WhatsApp from the Google Play Store on your Android device.
Enter your phone number when prompted and verify it by entering the verification code received via SMS.
On the "Restore backup" screen, tap "RESTORE" to initiate the restoration of your WhatsApp data from your Google Drive backup. (Can you restore WhatsApp backup from Google Drive to iPhone?)

Wait for the restore to complete. The duration will depend on the size of your backup file and may take a few minutes.
Once finished, complete the setup by entering your name and profile picture.
You Might Be Interested in:
Part 4: How to Restore WhatsApp Chat after Uninstall without Backup (Android)
"I uninstalled WhatsApp without backup; how can I get my chats back?" Well, losing important WhatsApp messages can be troublesome, especially if you haven't created any backups. It's understandable that Android users are eager to find a reliable solution for WhatsApp recovery. To save your time, we're here to help by introducing Android Data Recovery, the most trustworthy tool for recovering WhatsApp chats currently available.
Why pick Android Data Recovery?
Easily restore WhatsApp chat after uninstalling without backup.
Recover deleted files from Android internal memory, SD card, and SIM card, covering a wide range of data types such as WhatsApp, WhatsApp attachments, contacts, messages, call logs, gallery, videos, audio, documents, etc.
Preview and selectively check specific files before initiating the recovery, giving you full control over the data you want to recover.
Compatible with almost all Android phones and tablets, such as Samsung, Google, Xiaomi, Huawei, OnePlus LG, Sony, Motorola, HTC, DELL, OPPO, and more.
It doesn't let out your privacy.
How to recover deleted WhatsApp messages after uninstalling without backup?
Step 1. Run the program on a computer
Install and launch the data recovery software on your computer. Connect your Android device to the computer using a USB cable. The software will automatically detect the connected device. Select the "Android Data Recovery" module.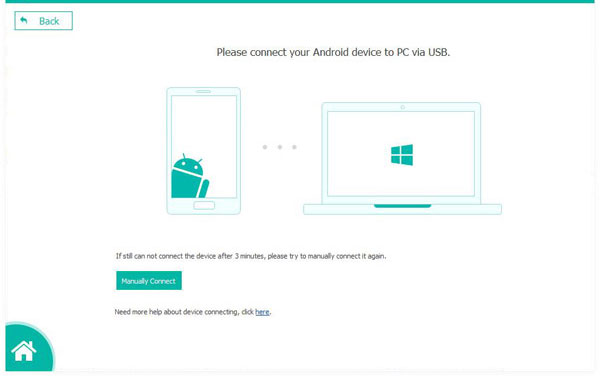 Step 2. Mark WhatsApp and WhatsApp attachments for scanning
On your Android device, when prompted with a pop-up message, enable USB Debugging to let the tool recognize your phone. Next, you can select "WhatsApp"/"WhatsApp Attachments" and click "Next" to proceed.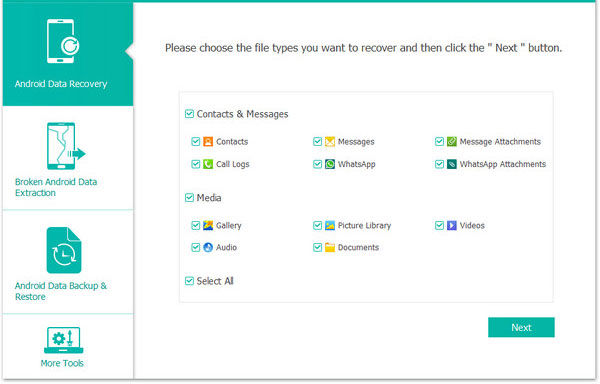 Step 3. Instantly restore WhatsApp chat after uninstall
The software will now scan Android for the selected file types. Once the scan is complete, all your WhatsApp chats will be displayed. You can preview them and select the specific ones you want to recover. After that, click "Recover" to save them onto your computer.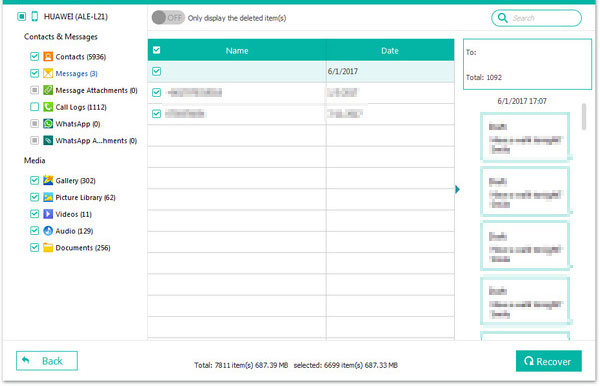 Part 5: How to Retrieve WhatsApp Messages after Uninstalling via iCloud Backup (iPhone)
When you back up WhatsApp on your iPhone using iCloud, you can retrieve chat history from that backup after accidentally deleting the chats from your phone. Before going any further, please review the requirements:
Use the same phone number that was associated with the backup.
Check the backup you want to restore is the most recent one available.
Keep your iPhone connected to a power source during the restore to avoid low battery issues.
Ensure that you have enough iPhone storage available to accommodate the WhatsApp backup.
Next, let's delve into how to restore WhatsApp chat after uninstall via iCloud backup:
Uninstall WhatsApp from your iPhone.
Reinstall the app from the App Store on this device.
Enter your phone number when prompted and verify it by entering the verification code received via text messages.
On the "Chat Backup" screen, tap "Restore Chat History" to initiate the restoration of your WhatsApp data from your iCloud backup.

Wait for the restore process to complete. And after that, you can start using WhatsApp on your iPhone.
FAQs on WhatsApp Messages Restore
Q1: How to recover 1-year-old WhatsApp messages without backup?
Regardless of the age of the WhatsApp messages, Android users can easily restore them using MobiKin Recovery for WhatsApp. iPhone users can opt for MobiKin Doctor for iOS. (For more details, please get into the page - How to recover 1 year old WhatsApp messages without backup?)
Q2: How to avoid losing WhatsApp chats after uninstalling?
Back up your WhatsApp chats regularly.
In the WhatsApp settings, enable the automatic backup feature.
Utilize cloud storage services like Google Drive (Android) or iCloud (iPhone).
Regularly update WhatsApp to the latest version available.
Explore third-party apps or software that offer comprehensive backup solutions for WhatsApp.
Q3: How to view deleted WhatsApp messages?
If you have a copy of your WhatsApp conversations, you can access WhatsApp backup on local, Google Drive, & iCloud without trouble. And assuming there's no backup available, just try to use a 3rd-party program to view the lost files.
Summary
Whether you accidentally uninstalled WhatsApp or intentionally removed it without realizing the significance of your chat history, this guide is here to assist you.
To recover your WhatsApp data in the absence of a backup, we highly recommend picking Android Data Recovery. This powerful tool is specifically designed to directly retrieve deleted WhatsApp messages, attachments, contacts, and more from Android devices. With its advanced recovery algorithms, this product ensures a seamless and efficient solution for restoring your WhatsApp conversations. So, get this trusted companion on your computer and enjoy your pleasant journey anytime.
Related Articles:
How to Uninstall Apps on Android Phone from Computer [2023 Updated]
Where Is WhatsApp Backup Stored on Different Platforms? [Exact Locations]
4 Ways to Permanently Delete Games/Apps on iPhone/iPad
Useful Tips to Read WhatsApp Backup from Google Drive on PC/Android/iPhone
How to Transfer WhatsApp Stickers to New Phone (Android/iOS)
[Fixed] Where Are WhatsApp Messages Stored on Android/iPhone/PC