How to Delete WhatsApp Chat History on Android/Samsung
WhatsApp is one of the most popular instant messaging applications today. The latest version of WhatsApp even allows you to have live video chats with your friends. However, for some reasons you need to delete chat history on WhatsApp. For example, WhatsApp takes up a lot of space on your phone, in order to store new data, you need to delete some WhatsApp chat conversations. In addition, if you plan to change to a new mobile phone and want to resell your old Samsung Galaxy phone, you need to delete the WhatsApp chat history on your old phone first, because you may have stored some private information in the chatting, such as bank account, phone number and home address.
This article will walk you through four ways to clean WhatsApp chat history from your Android phone. Friends in need can continue reading!
Solution 1. Selectively Delete Whatsapp Chat History
The procedure of removing WhatsApp conversations from an Android phone selectively is very simple and you can follow the below steps.
1. Turn on your Android phone, such as Samsung Galaxy S9/S8, and open the WhatsApp app.
2. Go to "CHATS" tab and choose a contact.
3. Select a message that you want to delete and long tap on it. Then, you will find the recycle bin appears on the top.
4. Tap on the recycle bin and click on "DELETE" option on the pop-up dialog.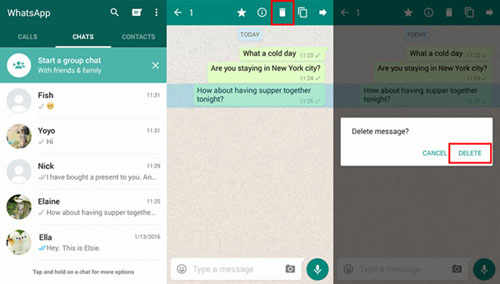 Solution 2. How to Delete WhatsApp Contact
1. Turn on your Android phone, such as Samsung Galaxy S9/S8, and open the WhatsApp app.
2. Go to "CHATS" tab and choose a contact.
3. Long tap on the contact and there will be a pop-up dialog with a list of options for your selection.
4. Choose "Delete chat" and click on "DELETE" button on the next pop-up note.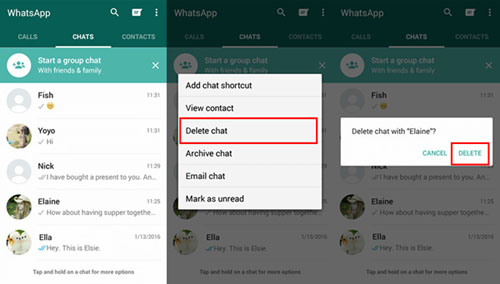 Maybe You are Interested in:
How to Wipe Photos off Samsung Galaxy
How to Clear Junk Files on Android Phone
Solution 3. Clear/Delete All WhatsApp Chats
1. Launch WhatsApp on your Android phone and go to click the menu button and choose "Settings" > "Chats and calls" > "Chat history".
2. To delete all messages at once, you can choose the option of "Clear all chats". Then, you can choose to delete all messages, messages older than 30 days, or messages older than 6 months.
3. To clear all WhatsApp conversations in bulk, you can select "Deleted all chats". Then, there will be a pop-up dialog, from where you can click "OK" to delete all chat history and messages in bulk.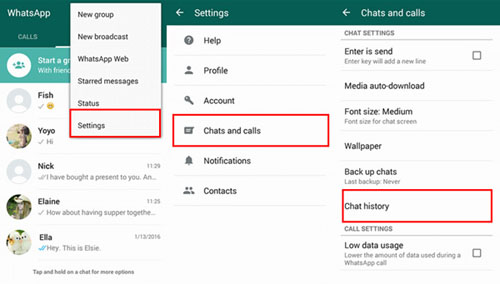 Warning: The three deletion methods above won't erase WhatsApp chat permanently, which means the deleted chat history can still be recovered easily by using special data recovery tool. If you want to permanently erase WhatsApp chat on Android/Samsung phone, you can keep on reading the solution 4.
Solution 4. Permanently Erase WhatsApp Chat on Android/Samsung
In this final part, we will discuss how to delete WhatsApp chats on Samsung Galaxy S9/S8/S7 or any other Android smartphone beyond recovery. The tool you need is Android Data Eraser, which is an effective program to erase WhatsApp data from your Android devices permanently and make it unrecoverable. You can also use it to delete other data off Android device, such as photos, videos, contacts, text messages, and so on. It will provide users with 3 different erasing levels to wipe the whole contents & settings on your phone.
The Android Data Eraser software supports all popular Android phones and tablets like Samsung, LG, Sony, HTC, ZTE, Huawei, etc. You can get it by clicking on the download buttons below. Then, follow the steps to delete whatsApp chats permanently by using Android Data Eraser.
Step 1. Launch Android Data Eraser on your computer
Download the latest version of the software on your computer, install and launch it. Then, connect your Android phone to this PC via a USB cable. Then the program will detect the connected device automatically.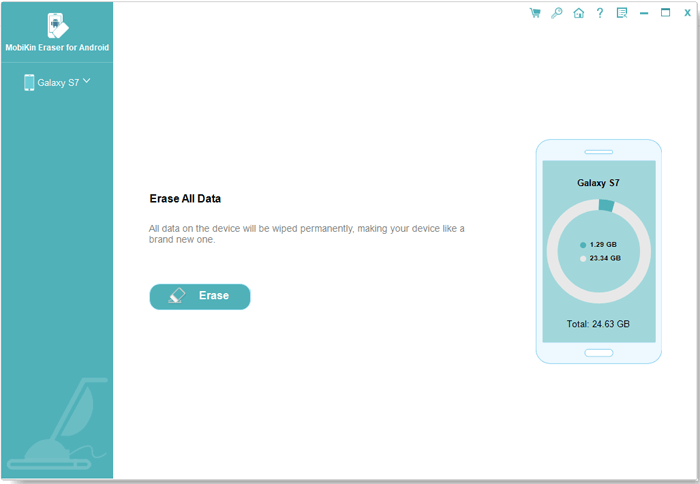 Step 2. Select erasing mode
You could click "Erase All Data" mode and choose "Erase Now" button to erase all Android files, including the WhatsApp chats.
Note: you might want to take a backup of essential data from your phone and then opt to delete all data from the device permanently.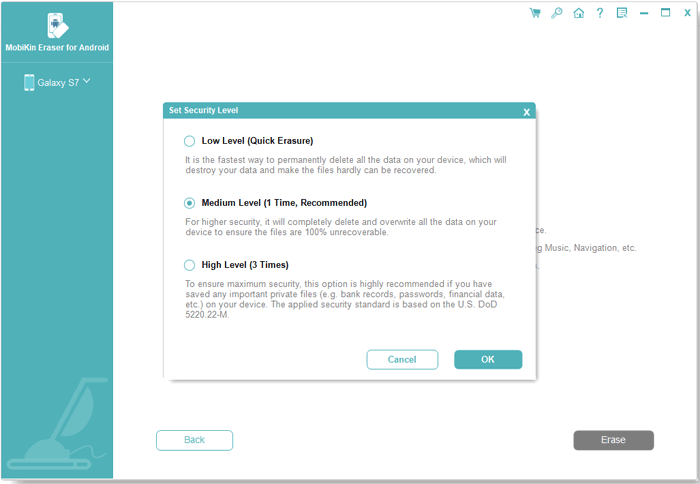 Step 3. Start to delete WhatsApp chat history
After you hit on the Erase Now button, you should then type the "delete" to confirm the process to delete everything on your Android phone.
All WhatsApp chat history will be erased from your Android device permanently without recovery possibility. If you are selling or handing your phone to anyone else, then Android Data Eraser is your best assistant to erase data from your phone so as to protect your private information from leaking.
Related Articles:
[Fixed!] How to Permanently Delete Text Messages on iPhone?
User Guide: How to Delete Music from Android Phone/Tablet Effectively?