How to Delete Music from Android Phone/Tablet?
You have an Android phone or tablet which you have filled with all sort of song among other audio files. Then gradually, you don't have space and need to clear up the storage for some reasons. When deleting music, songs and other audio files from Android device, however, there are problems would arise to obstruct you. Some of these problems are; It is hard to delete songs permanently from a device without deleting it from the library. When deleting songs from an album, some single songs don't delete and remain on the machine. It is not easy for those who just want to erase it from the device and not from the main library. You cannot delete individual song to create space without deleting the entire album.
If you have encountered with those problems above and wish to solve them effortlessly, it's time to have a try with the MobiKin Assistant for Android or Assistant for Android (Mac Version), which is software that transfer, export, import, delete, backup and manages the applications, contacts, text messages, photos, videos, music among others in an Android phone or tablet and deals with it in one place on your personal computer. It works with overall Android devices, including Samsung, HTC, Motorola, LG, Sony, Huawei, ZTE, Lenovo, etc. It allows you to delete or back up your valuable data and stuff from Android to your personal computer hence allowing more space for other things that you need at that moment.
You may also want to know:
How to Delete Contacts on HTC One M8/M9?
How to Delete Duplicate Contacts on Samsung?
Android devices tend to fill up fast as you continue adding audio files, apps, videos, photos among other things. With this Assistant for Android on your computer, you will be in a good position to manage your Android device comfortably and more efficiently without any problem or hassles. The steps of deleting music files from Android are easy to follow:
Easy Way to Delete Music/Songs on Android Devices
Step 1. Connect your Android device to your computer
Start your Android music manager - Assistant for Android on your computer and link it on your Android tablet or phone using a data cable. The Android program will recognize your device and display it on the main window showing all the data in the left panel.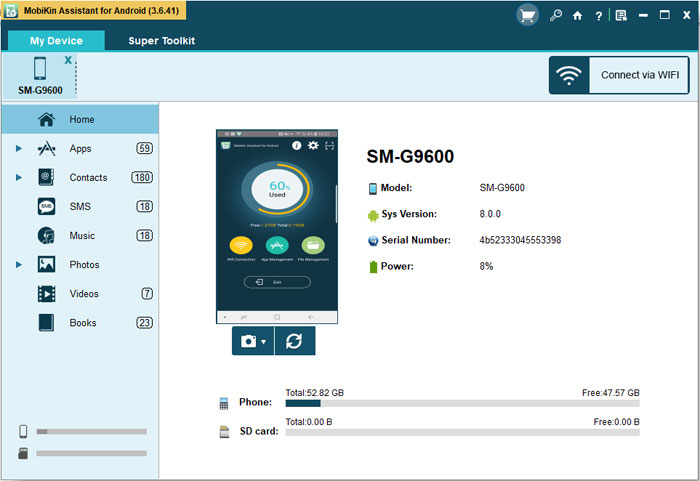 Tips: if you haven't enabled the USB debugging on your phone, the Android data managing tool will be failed to detect your phone. Therefore, you have to follow the instructions below to open USB debugging on your phone.
For Android 2.3 or older, Go: "Settings" < Click "Applications" < Click "Development" < Check "USB debugging".
For Android 3.0 to 4.1: Enter "Settings" < Click "Developer options" < Check "USB debugging".
For Android 4.2 or newer: Enter "Settings" < Click "About Phone" < Tap "Build number" for several times until getting a note "You are under developer mode" < Back to "Settings" < Click "Developer options" < Check "USB debugging"
Step 2. Delete music from Android
Click on Music option from the left to show all the audio files on your device on the right side window. Preview and select the music files you want to remove from your Android device and give a click on "Delete" button from the top menu bar.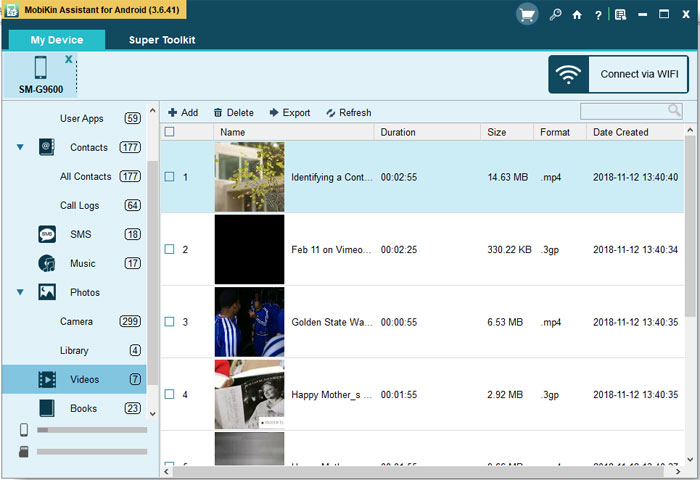 By the way, you can also click on Export button to move the specified music files from your device to the computer and select the New button to download and transfer music from the computer to your device.
Related Articles
How to Edit Samsung Contacts on PC or Mac
How to Export Android Phone Contacts to Excel