User Guide: How to Delete/Clear Crash Files from Android Phone
When an Android phone is still brand new and all shiny, it offers an open invitation to test its prowess. At that time, you are still curious about how fast it can do what other phones cannot do, and how smoothly it runs. But after a couple of weeks, it will start to slag and freeze temporarily. The reason for this is due to the accumulation of some files called "Crash Files"- when an App encounters an error and suddenly crashes, all the data that it was handling will remain hanging around the phone memory. And in this case, you need to clear crash files from Android then you can use the device smoothly. If you dismiss it for the first few days, the buildup will eventually reach a breaking point when the phone takes "forever" to load even the simplest of apps.
Then how to delete these crash files from Android? Just read on to get the solutions!
Use Android Crash Cleaner to Delete Crash Files from Android Phone Easily (For PC)
In most situations, this kind of crash files will occupy a large amount of space on your phone's internal memory, and for most people, it could be useless in the daily life. So in order to keeps your Android phone runs smoothly all the time, you're required to delete crash files on Android phone regularly.
Thanks to Android Data Cleaner, you can reach it within few clicks. It can effectively search the storage space for redundant files, old links, useless shortcuts and crash files. Moreover, it can kill applications that are taking too much operating space or simply dragging the performance down to the speed of a snail. With it, you can quickly delete the data you need without any complicated operation. In addition, it is highly compatible- it supports almost all the Android models, including Samsung, LG, HTC, Motorola, Huawei and so on.
Now, just click the icon below to download the software and then use it to delete your unneeded crash files on Android mobile phone as you like.
Step 1. Be sure the suggested program has been installed on your computer. If not, then you need to download and install it at first. After that, connect your Android phone to the computer and install the MobileGo connector on your Android device according to the screen.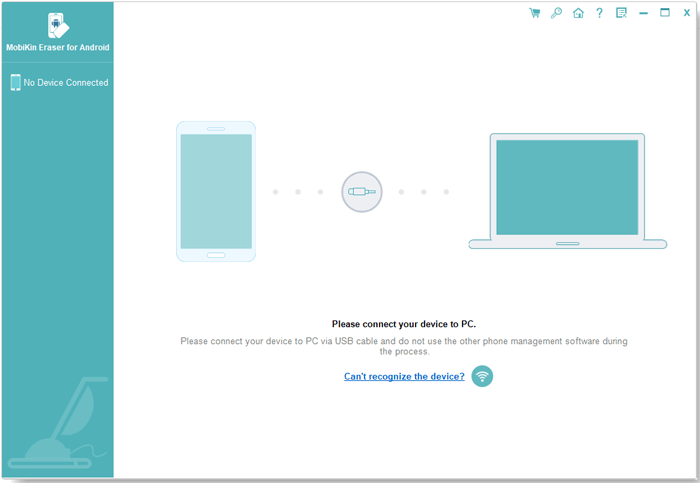 Step 2. When your device has been detected by the program, select the Erase All Data mode to go on.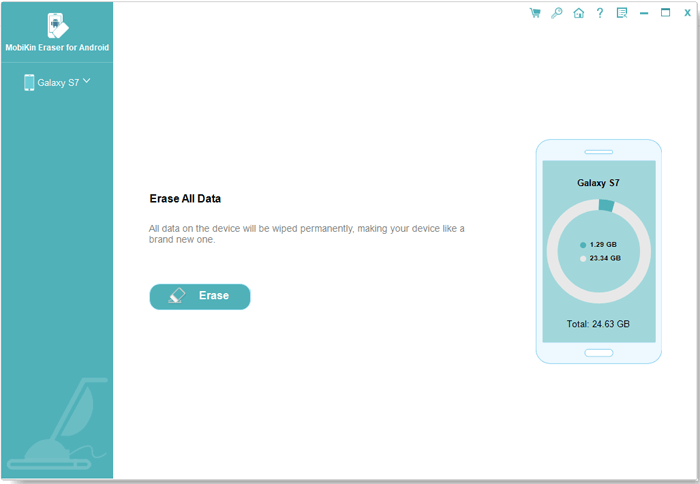 For Android devices, the program now only supports the Erase All Data mode, so it is suggested to backup your important data on your Android device in case of unexpected data lost. And the software will be soon improved with more functions for Android.
Step 3. Then hit Erase Now button and type "delete" on the new window to confirm your action and begin to remove the crash files on Android immediately.
To clean up your Android phone, you can also learn:
How to Delete Backup on Android?
How to Clear App Caches and Data on Android?
3 High-rated Cleaner Apps for Android
If you don't want to connect your phone to computer or do not have a computer at the moment, you can select to install a cleaner application on your phone directly. This won't be difficult cause there are thousands of Android cleaning Apps on the market. But how to get the suitable one from these programs? For your reference, we will introduce you three high-rated cleaner applications for Android in this part.
1. Clean Master
Clean Master is a popular Android cleaner application around the world. It can help you to analyze and safely remove the junk files that take up your storage space and kill off buggy applications that slow down your device and steal memory. Except for that, you can also use it to protect the device safety- prevent your personal information from revealing. With it, the removing process will be more effective and easier and your phone will be safer at the same time.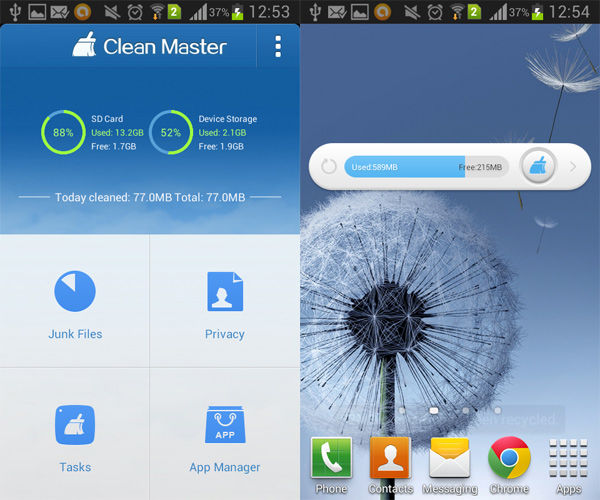 2. Power Clean
Power Clean is another helpful cleaner application for Android, which possesses 2 million user ratings on Play Store. This software is light, fast and smart. With it, you can clean up junk files and optimize your phone storage in depth without any hassle- it allows you to boost up the phone with one single tap. And apart from the cleaning feature, it equips many other useful functions. For example, it enables you to block junk notifications, uninstall, backup or share application.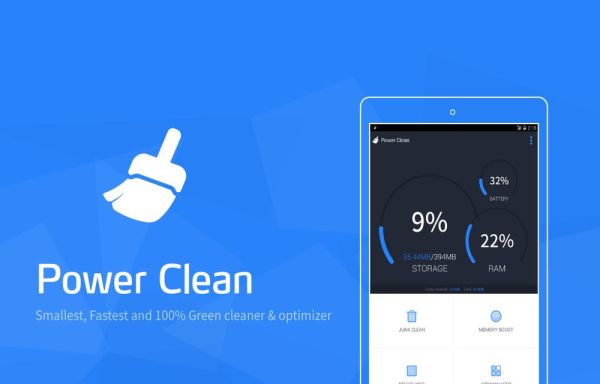 3. Ace Cleaner
Now let's learn the last recommended application- Ace Cleaner. This is one of the simplest but effective Android cleaner Apps. After installing it on your phone, you are free to use its powerful features like Ace Clean, Ace Boost, Quiet Notification, Battery save, CPU Cooler and so on. With it, you will find that removing crash files or other useless data on Android phone is totally easy.
These are the details about three well-received Android cleaner applications. And if you want to get more useful applications, you can click here to get the details.
Wrap Up
Compared with deleting crash files in Android settings, using third-party software to clear the useless data would be more effective and thorough. Therefore, you are strongly advised to download one tool introduced above to help you clean the phone and make it run more smoothly.
If you have any problem while following the steps above, please write a comment below to let us know!
Related Articles:
How to Erase iPhone Data without Restoring Permanently?
3 Ways to Help You Clean Cookies on Android Phone Faster
How to Manage Storage on Android?