Top 14 Android Cleaner Apps You'd Better Know
In our daily life, we usually have the habit of cleaning up mobile data. On the one hand, we want to release more phone memory and make it run smoothly. On the other hand, we want to protect the privacy brought by personal browsing or operating the gadget. At a time when we need to thoroughly clean up our mobiles before we sell them or after we buy second-hand ones. At this time, we need to find the best Android phone cleaner app.
But, how can we choose a suitable tool after searching keywords like "clean up phone app" on Google? Well, to classify cleaning apps for Android tablet or phone, this post will show you 14 apps, and will give their comprehensive features for reference. Please note that no matter which cleaning tool you choose in the end, don't forget to back up your Android phone first to prevent losing important data.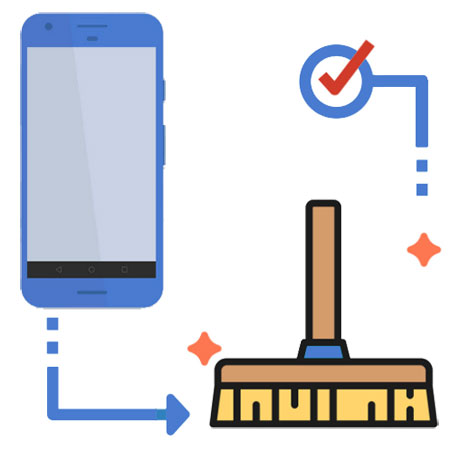 Introductions: 14 Best Android Cleaner Apps
1. MobiKin Assistant for Android (Android Version)
Are you searching for the best Android cleaner app without ads? Well, you can look no further than MobiKin Assistant for Android (Android Version), which is regarded as the best Android cleaner in 2020. It can not only clean up your phone's memory, but also manage your phone content very well.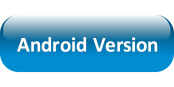 Main features:
A booster and cleaner app to delete all unnecessary data from the Android device with one click.
Free up memory space on your Android phone to improve its performance.
View and copy pictures, music, videos, documents and more from Android to computer selectively.
Uninstall apps from your Android phone if you don't need them any more.
A good assistant when you use the desktop version of Assistant for Android to manage Android on computer.
It is compatible with almost all Android devices as Samsung, LG, Huawei, Xiaomi, Motorola, HTC, Sony, OPPO, etc.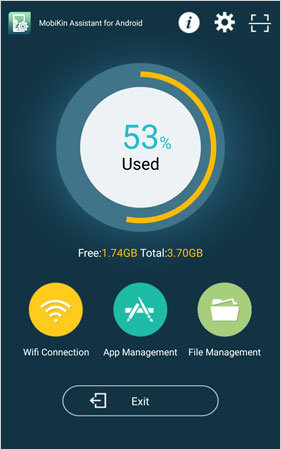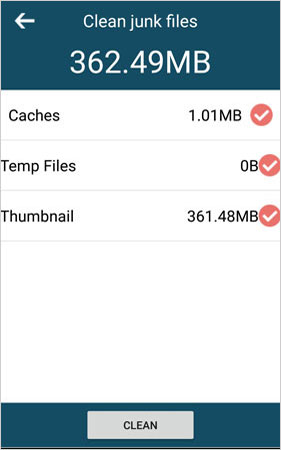 PROS: With no ads, 1-click to clean your Android phone easily.
CONS: Not found yet.
Related Posts:
2. Clean Master
By deleting files, Clean Master creates space to ensure that your device is not delayed. This clean master app for Android is available in many languages, so anyone in the world can benefit from its various features. They can not only clean up old files and programs, but also discover the privacy leakage of phone. (with this app, you can prevent people from tracking your browsing history, prevent unwanted intruders, and protect sensitive data.) It can quickly scan more than 1000 programs and delete unnecessary files. Moreover, it also has a computer version for windows.
PROS: Scan and remove unwanted junk files and come with a Privacy Clean option.
CONS: Its regular version doesn't have many features.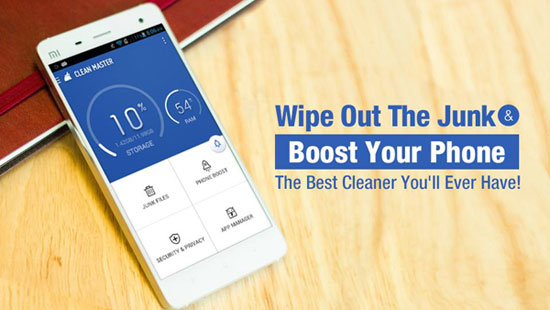 3. All-In-One Toolbox
All-In-One Toolbox is published by AIO software technology Ltd. It is suitable for Android 4.3 or above operating system, and supports multi-language download. It's a veritable Android toolkit that make sure your Android device is running in good condition. Besides, it has many built-in tools, and among others, you will see an auto cache cleaner tool for clearing cache on Android phone, a browser history cleanup tool, and a cleanup tool that allows you to erase the program APK not installed in the device folder or SD card. In addition, with the built-in task finalizer, you can terminate any task at any time.
PROS: Small, fast and effective.
CONS: Its driver installation is a bit complicated.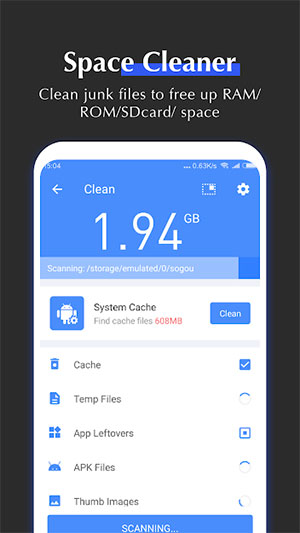 4. Norton Clean
As one of the best Android cleaner and optimizer, Norton Clean is to allow users to free up extra memory and delete any unnecessary files from their phone. It is a respected network security software provider. In order to improve operation efficiency, damaged folders or partitions can also be addressed. It is much easier to use this tool to manage apps and identify specific programs that may have a negative impact on memory space. Any file can be analyzed by its users. Before cleaning, you can also perform a clean scan, which is another effective way to release additional memory space.
PROS: The ability to quickly identify and remove junk files.
CONS: It does not support older mobile operating systems.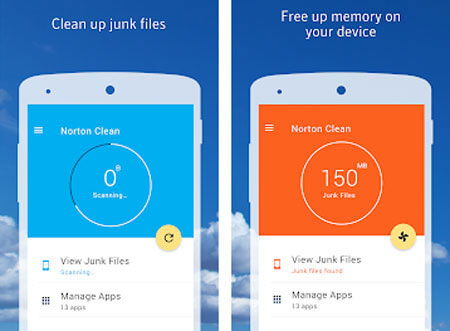 Related Posts:
5. Advanced Task Manager
Mobile phones support multitasking with their advantages. Among other possibilities, Advanced Task Manager can simplify the basic procedures of the system. Yet, you don't know you can consume all the running log terminals. So, to avoid this, some sub-programs, such as the senior task manager, an interesting task manager, allow you to free memory, list all the apps in progress, and selectively stop them.
In addition to stopping processes and applications, its senior task manager can list active services, know the most memory intensive processes, and even decrypt apps directly from the program environment.
PROS: Allow to stop process selectively, memory consumption sample, and allow programs to be deleted.
CONS: Some functions need roots, and the function of the decryption program is very slow.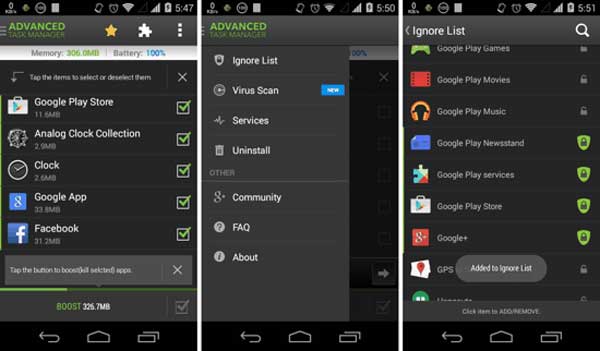 6. Go Speed
If you get an old Samsung, Samsung cleaning app may be your good helper. Go Speed, for Samsung and most other Android phones, cleans up background processes, stops applications running in stealth mode, and disables annoying auto start applications. It runs on Android 4.1 or later. First, it helps you see what's happening in the system, even if you don't use some apps that occupy your phone memory. You can also choose to lock out any program that might restrict access, such as WhatsApp and Facebook messenger. While using it, you can remove unwanted photos, videos, music, documents, and others.
PROS: Excellent way of controlling access to some apps while allowing it for others.
CONS: Use some system resource in its own right.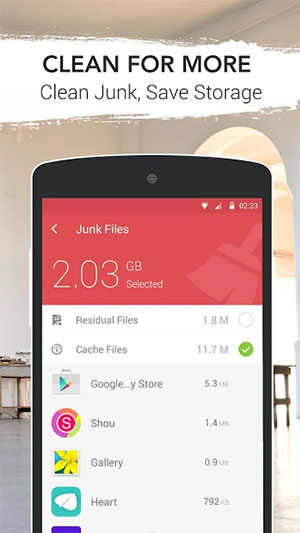 7. Cleaner
Want a mobile phone utility, do a lot of different things, Cleaner is another utility to let your Android phone run smoothly, it is built by VPN main laboratory, providing a good basic system cleaning features, a basic garbage File Cleaner and Task Killer, also providing a CPU cooler and anti-virus scanner in its quick access menu. You can create application white lists, set up notifications of high memory usage to remind you to clean your phone, quickly view storage usage statistics, find duplicate photos and large files, etc. As long as you run it, you can see the free memory space, check out the application manager, create the white list, and so on.
PROS: Create a white list of apps while cleaning phone cache.
CONS: Have no new version for a long time and some functions are limited.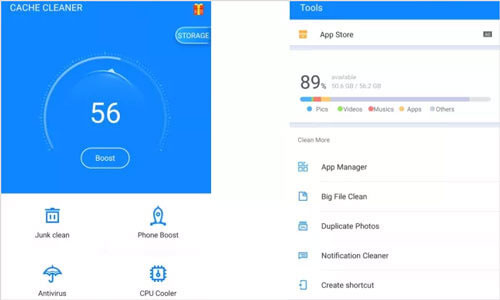 Related Posts:
8. Ace Cleaner
With unique ace cleaning and supercharging engine maximizes the performance of your phone, Ace Cleaner, one of the storage cleaner apps, supports scanning and deleting advertising trash, remaining info, cache junk, memory nugae, APK files, etc. You can also delete photos, videos, documents and other multimedia files. One click completely improves all stubborn auto start apps. Optimizing phone system and program will protect sensitive info from disclosure of privacy. It can also uninstall unwanted apps and backup important data.
PROS: Perform a thorough file scan.
CONS: The scanning speed is slow and the software itself binds some ads.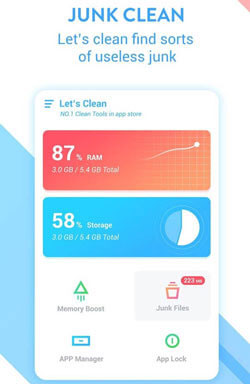 9. App Cache Cleaner
Its main function is to clean the cache in the application installed on the mobile phone or tablet, so as to free space and memory. App Cache Cleaner can set the automatic cleaning time, such as running automatically every six hours, or running when getting up in the morning. It also can view details about other apps that have been installed, or even removed. What's more, it's simple to use. First, wait for it to load the list of programs, check the apps you are running and the memory it occupies, and then click "Clear All" button.
PROS: set auto cleanup time.
CONS: only cache files can be erased.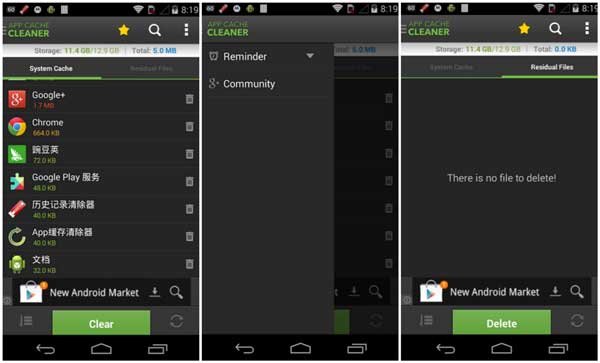 10. 1Tap Cleaner
Different from other software, 1Tap Cleaner has been released recently, so it has not been evaluated so much yet, and there are fewer users, but its ability to clear cache and history logs cannot be ignored. Cache Cleaner, History Cleaner and Call or Text log Cleaner can help free your phone from unwanted and junk info. By the way, notify that whether the cache size of the app is large than the specified value, and list applications by either cache, data, code, total size or app name. Besides, it also can be used to uninstall apps and show their details without ads.
PROS: clear cache and history logs deeply.
CONS: only for Android 9.0 or above.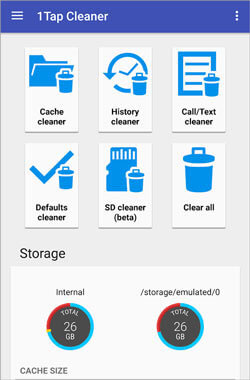 Related Posts:
11. Droid Optimizer
It is only applicable to Android, providing higher speed and memory for smartphones. Droid Optimizer, another Android junk cleaner, is available for Android 2.3 or later OS. You can obtain it in English, Spanish, German and other languages, and use it safely without advertisements. Apart from that, it can protect your privacy very well and save valuable battery power. The integrated night planner can automatically disable WLAN or mobile connection and other functions in a customizable period of time. In addition, it can also install apps, downloaded files, photos, music, videos, etc.
PROS: Save the power consumption of cell phone battery.
CONS: The interface requires too many taps.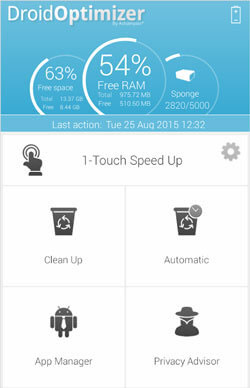 12. History Eraser
Just now we mentioned several software that can record history. The following one - History Eraser is also about clearing history and cache. The most important feature is it can clean up clipboard data and email history, and of course other caches. With one click, it can help you free up internal storage space without root permission. However, due to the change of Google's broadcast policy, this software can no longer provide SMS and call record cleaning functions.
PROS: Clear data on clipboard.
CONS: Some info like SMS, and contacts in the phone cannot be cleared.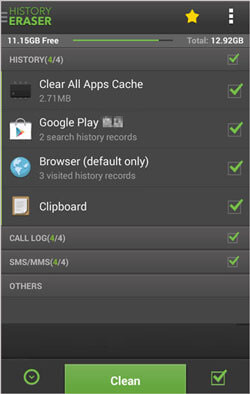 13. Magisk
It is a good Android rooting solution for clearing Android data to obtain root permission. Magisk won't change the form of content to modify system files. It allows you to further customize the system of your Android device. As most users know, to implement the root directory on Android, it can flash through custom recovery such as twrp. After refreshing the magisk zip file through it, you can process front-end activities, including but not limited to manager root access by an app called Magisk Manager. You can also use it to install custom modules, such as ad blockers, Emoji replacements, and so on. Those are what make the software unique.
PROS: No visible system changes and constantly updated.
CONS: Clash with any other rooting app on your device and cannot be placed in external storage.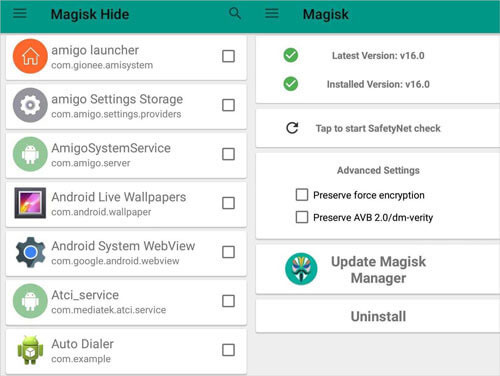 14. Greenify (Root Required)
We have learned 13 Android system cleaners to clear almost all kinds of data from Android phone. These apps basically erase or delete the unused data in phones in depth for the purpose of smooth operation. Here, Greenify to be mentioned below is to kill the uncommon applications by saving the battery consumption of mobile phone, so that these programs can generate as little junk info as possible. That is to say, the software can not only make the phone stand-by longer, but also make some useless apps hibernate or shut down in some cases.
PROS: Improve the endurance of Android phone and reduce the generation of mobile caches.
CONS: Need root phone to get permissions.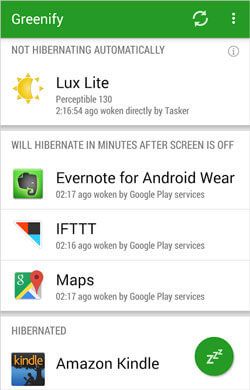 Closing Remarks
After learning these 16 best Android phone cleaner apps, have you got a general impression on them in your mind? Those apps provide services for your Android phone cleaning from different perspectives, and these services can be complementary with each other to a large extent. At this point, I'd like to say MobiKin Assistant for Android (Android Version) is the best Android memory cleaner because it integrates nearly all the superiorities of other memory cleaner apps and it is the most worth trying. Finally, If you have any other questions about your phone, please post them on the comment section.
Related Articles:
What to Do If I Fail to Erase Android Data?
Speed Up Android Phones with A Cleaning Software
2 Simple Ways to Wipe Android Data Remotely
[3 Methods] How to Wipe/Erase Samsung Phone Permanently?
[Up to Date] How to Wipe Android Phone Completely before Selling?