How to Easily Wipe out Android System
No matter how hard you've tried to fix your Android, it just give no response to any actions? In this way, you might need to wipe out Android system so as to restore your Android device back to normal. Actually, in our daily life, there are many causes which may lead to an unresponsive Android device. For example, your iPhone may be infected with virus or simply suffer a corrupted OS upgrade. So how could you easily wipe out Android system within simple clicks?
Actually, before wiping out Android system, you are highly suggested to make a phone backup of important files saved on your Android device in case of sudden data losses due to various reasons. Then you might want to know:
- How to Transfer Files from Android to Computer
- How to Back up Android Phone to External Hard Drive
- Easily Back up Data on Android Phone via Wifi
Then, just follow the below guide to begin the process. Generally speaking, Android partitions include /boot, /system, /recovery, /data, /cache/ and /misc. And wiping Android systems simply means deleting the OS and available applications. So even after removing the already installed OS from your Android device, you can still enter the bootable menu to install a new fresh ROM and OS. Below is step-by-step guide to easily wipe Android system.
1. Guide on How to Easily Wipe out Android System
2. How to Permanently Erase or Wipe Out Android System Data (Recommended)
1. Guide on How to Easily Wipe out Android System
(Note: Different mobile phones display different interfaces, we've taken three devices as examples.)
Step 1.If you did not make a phone backup as instructed in the above, you can now back up your device within the settings. Just go to the "Settings" tab on your Android device.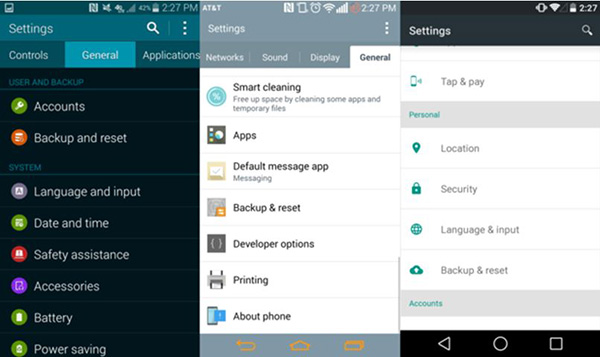 Step 2. Then scroll down to the interface and choose the option of "Backup & Reset" to continue the process.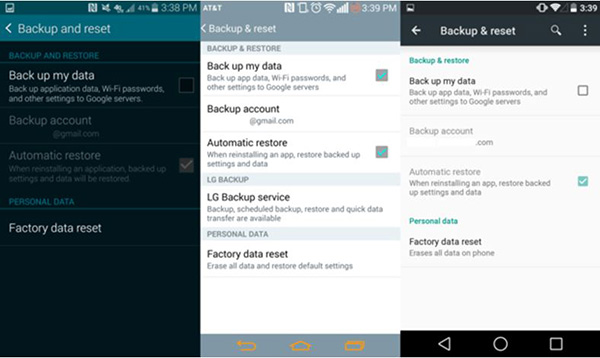 Step 3. Then click on the option of "Factory data reset". Then it will open a new screen that informs you about further action. The option means deleting the entire data from the device, including all Google account, system settings, applications, app data, and any other information present on the device.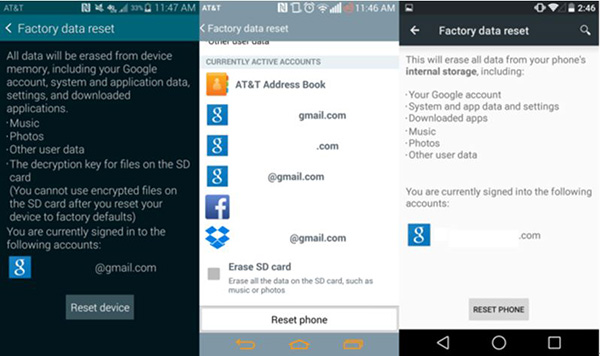 (Tips: If you are using an external SD card on your device, you need to hit the "Erase SD Card" option to erase all data on SD card.)
Step 4. Press the "Reset Phone" or "Reset Device" key to start the process to wipe out Android system. Finally, just wait patiently for the process to get completed within a little while. Now, the device will reboot itself to the original condition and is ready to be set up as a new device.

2. How to Permanently Erase or Wipe Out Android System Data (Recommended)
Through a factory reset, both your Android operating system and all saved data will all be gone. And in some cases when the OS is running well, you probably just need to permanently remove all files from your Android device, then this Android System Data Eraser software surely can't be missed.
With this all-in-one tool, you can erase any saved files from your device once and for all, including contacts, messages, photos, videos, apps, documents and many more. Files deleted with this software will have no chance of getting recovered. And it boasts of a simple user interface, allowing to permanently wipe out any files from Android devices within 1-2-3 step.
Here is the download icons that you can get the free app on your computer and follow the guide to erase Android data. Please make a backup of your device in order to avoid data lost.
Here is the guide:
Step 1. Run the software on your computer and link your device to PC with a USB cable. Then you might be asked to install the MobileGo connector on your device, just install it.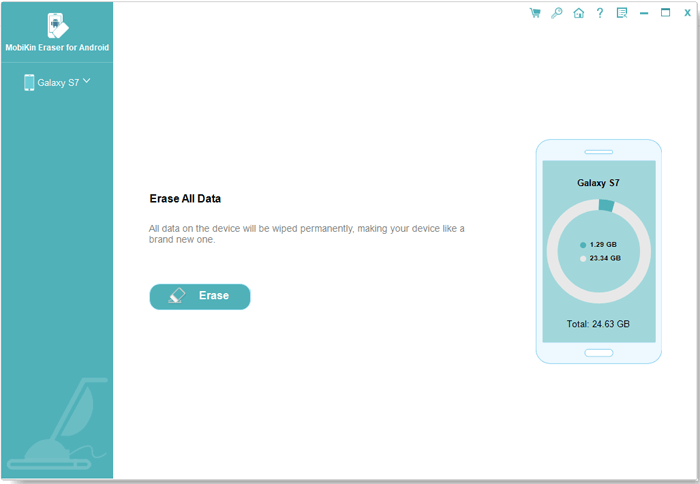 Step 2. Choose "Erase All Data" option on the interface and type "delete" to the box to confirm your action.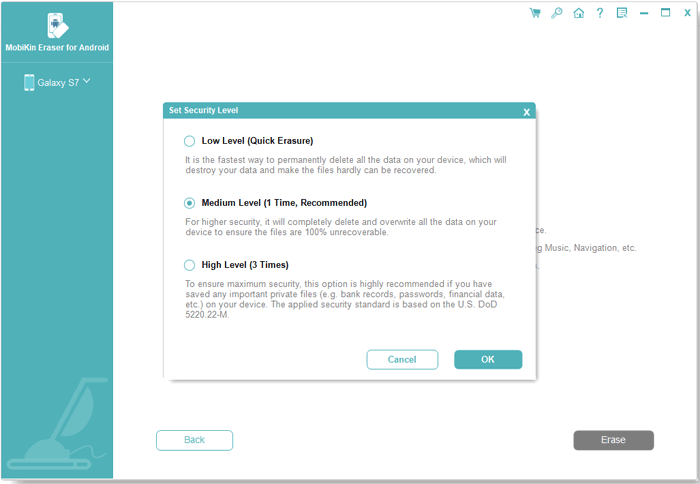 Thus the Android system data will be deleted successfully after the erasing process.
Related Articles:
Tips to Delete Picasa Pictures from Android