How to Manage Storage on Android
In this technological era, mobile phones have an essential appliance in our daily life, which can be used to make phone calls, text messages, take photos, shoot videos and do many other things. With more and more files and documents like contacts, messages, photos, videos, apps, movies accumulated on your Android device, you will find yourself in a desperate need for more space.
To create more space on your device, you need to focus on both external storage and internal storage. As to the external storage, you can insert an external SD card of 4 GB, 8GB, 16GB or of larger capacity to expand the storage space. But that's not all! You also need to free up as much space on your Android internal storage.
Tutorial: How to Easily Manage Storage on Android Devices
To manage storage on Android devices, you can turn to the following two handy tools for help.
1. MobiKin Cleaner for Android (Windows/Mac)
When you are downloading apps, sharing files or surfing the internet with your Android device, useless junk files like app caches, download temp files, photo caches, user storage files and many more will be generated and stored in your device. Such files do nothing good but occupy precious storage space on your Android device, and therefore you have every valid reasons to clean them up. Here, this Mobikin Cleaner for Android is specially designed to clear all junk files from Android, free up space and optimize the device to the best.
This software is able to detect all junk files and remove them in one click. More importantly, this software is fully compatible with all devices of Android operating systems. So one single tool is the lifelong data cleaner for your Android phones.
Also Read: How to Wipe out Android System
Powerful as this software is, it has a simple user interface allowing you to operate this software within 1-2-3 steps:
- Open the installed software on the computer and link your Android device to the computer via the USB cord.
- Choose the wanted erasing level to continue the process. Then let this software scan through your device.
- All file folders will be arranged on the main interface. Enter the right one to preview more detailed file information. And while previewing, select the files you want to delete and then hit the Erase option to begin.
2. MobiKin Assistant for Android
This is another Android storage manager to help you manage storage on Android phones. With this software, you can easily delete any unused files from your device in a batch, so as to create enough space for your device. Also, if you simply want to free up enough space but don't want to delete files from your device, then you can rely on this Android storage manager to back up important files beforehand and then delete them. In this way, you won't have to bid farewell to these unused but useful files. Instead, you just move these files to a safer place.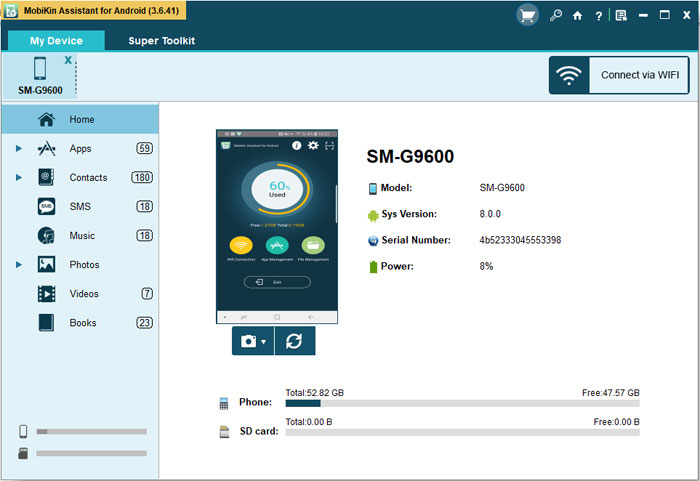 Extra Bonus: How to Check Android Storage Status
For most Android users, you may have no idea how much storage is left on your device until you received an alert message saying not enough space is available. But this could be pretty dispirited especially when you are downloading files you've expected for a long time. Now, follow the below tutorial to learn how to check Android storage status, so that you can schedule a plan for managing storage on your Android device.
Step 1. Go to the Settings tab of your Android Phone.
Step 2. Then navigate to the phone & SD storage section. It will provide you with the total internal storage status of the device and you will get all the internal or external storage status along with available free space.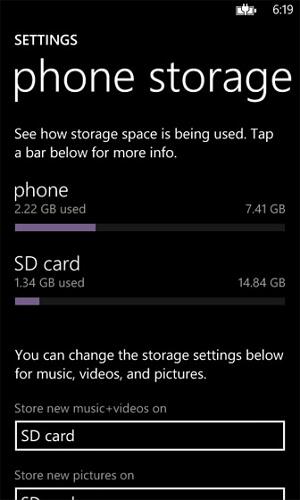 Related Articles:
How to Delete Bookmarks on Android Phone