8 Best Android Data Eraser Software and Apps (Overview & Reviews)
In the age of "information explosion", data security has become one of the main focuses of public concern. Android device content is no exception. At times, we intend to erase data with Android data eraser software/apps to protect our privacy or keep from malicious intent. Generally, we want to wipe out the mobile phone in the following situations:
Why Do We Need to Erase Android Data?
Donate or resell an Android device.
Throw away the old phone.
Avoid privacy leakage in case of phones slipping into other's hands.
Free up Android space in depth.
Get a second-hand device.
Make space for important new data.
Since we take our privacy seriously, is there any software to wipe an Android phone permanently? To save our readers' time, here we list the 8 best Android data erasers and hope this page helps.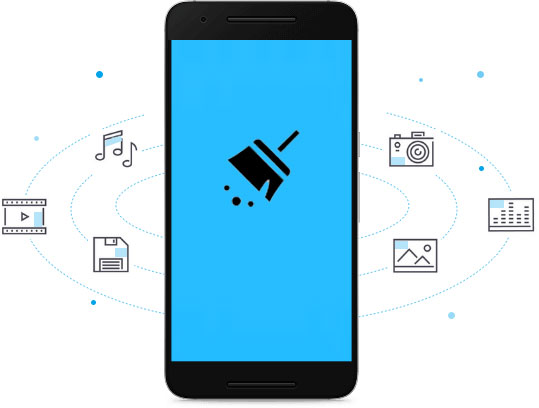 Part 1: MobiKin Eraser for Android
Want to get the best software for formatting Android phones without leaving a pinch of your secrets? MobiKin Eraser for Android, the best Android data eraser, can do this job well. This program has long been serving million of its users to wipe all Android content, gaining fame and popularity day by day.
With its built-in 3 wiping options giving its fans more flexible choices, it can overwrite your device as per your needs, making the items completely irrecoverable.
Main Features of MobiKin Eraser for Android:
Erase everything from your Android phone permanently, including text messages, contacts, call logs, photos, videos, audio, apps, phone settings, and others.
3 security levels to choose from: Low Level, Medium Level and High Level.
Easy to connect, quick scan, and fast erasing.
Work for overall Android phones and tablets, such as Samsung, Huawei, Xiaomi, Motorola, LG, Sony, Google, Realme, OPPO, Vivo, Lenovo, Blackberry, etc.
It will always guard your privacy.
This download is virus-free (100% secure).

Cons:
It is not free, but definitely affordable software.
Review:
"Thanks very much for the help. I've been telling anyone looking for an Android Eraser tool to check this one out. You are making my data erasing very easy. Trust me; not all data eraser are the same! With MobiKin, I'm confident of an excellent product at a very reasonable price with outstanding service. I recommend MobiKin Eraser to all of my friends. Many, many thanks!" (by Moses)
How to use the best Android data eraser software?
Step 1. Connect your Android phone to a PC
Launch the tool on your computer after you get it installed. Connect your Android device to the computer via a USB cable. Then the tool will cue you to enable USB debugging on your Android phone.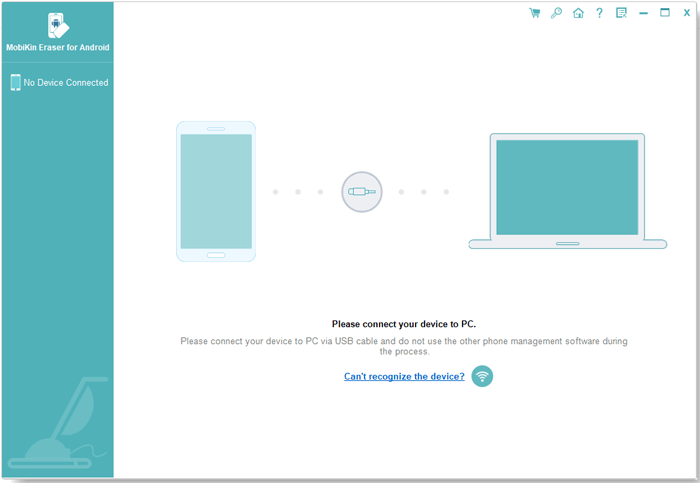 Step 2. Let the software recognize your Android phone
Follow the on-screen direction to have your Android phone detected. After that, you will see the interface as below. You should then click on "Erase" to continue.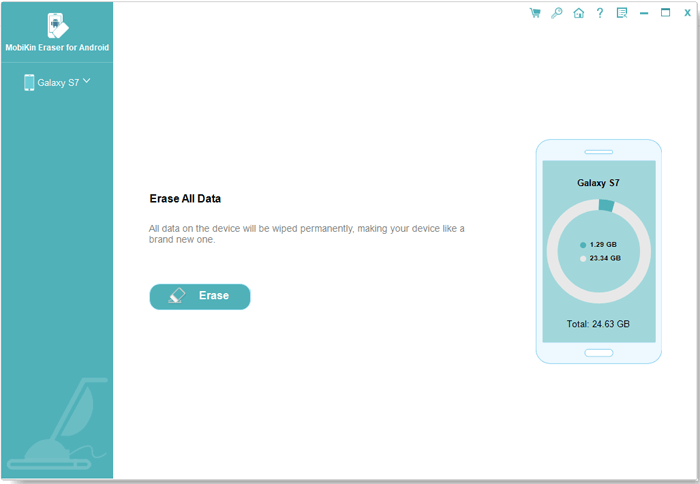 Step 3. Select the security level
Now, you need to select a security level (choose one from the three options) and input the word "delete" into the box to confirm. Then, tap on "Erase" to run a scan on your device.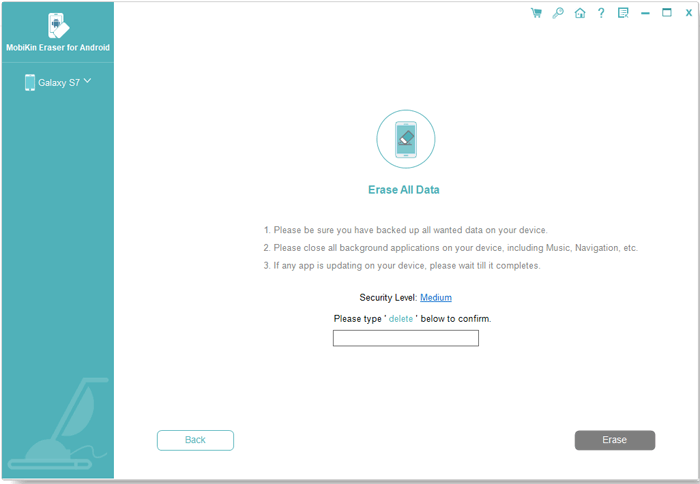 Tips: You can choose any of the security levels as per your requirements.
"Low Level": The program will erase the data quickly, and it is impossible to recover the deleted data.
"Medium Level": The tool will overwrite your Android phone one time and the files are 100% unrecoverable.
"High Level": Your Android phone will be overwritten 3 times, to ensure a maximum safety.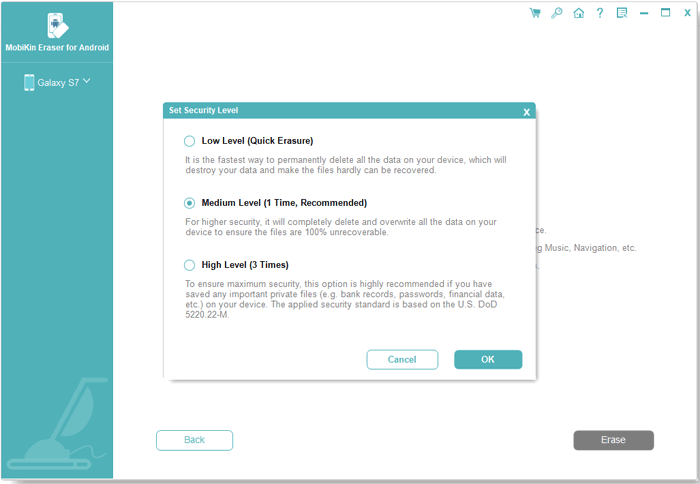 Step 4. Erase data and overwrite your phone
After the scan, the program will start to erase Android data automatically. Once accomplished, it will overwrite the Android phone based on the selected security level.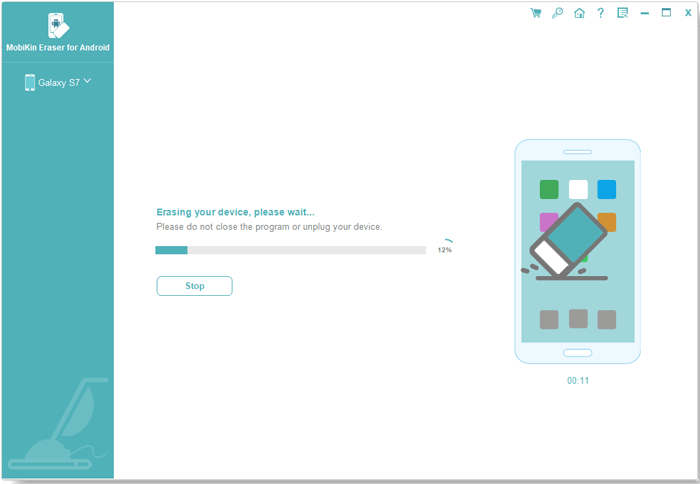 Step 5. Factory reset your Android device
To clear the system data and Settings, you might as well factory reset your Android phone. Simply follow the hints to do it. After that, click on "Continue", and your Android data is now wiped away permanently.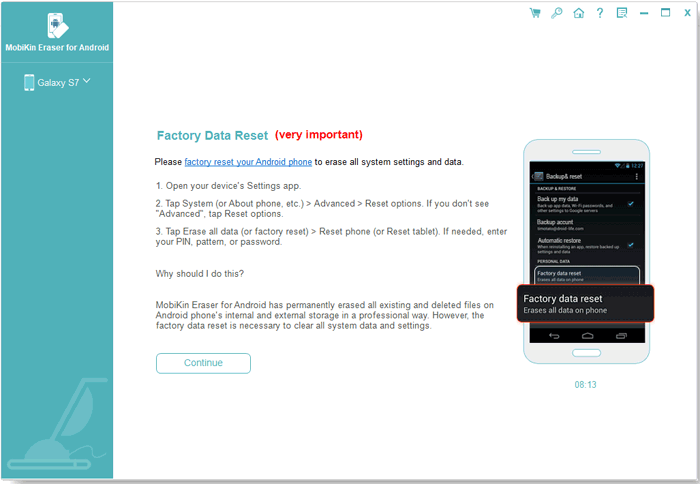 See Also:
Part 2: Dr.Fone - Data Eraser
Aside from the best software we've mentioned, Dr.Fone - Data Eraser is one of the products worthy of minor recommendation. It is a great Android eraser to permanently wipe all private with no data being retained or leaked. And all the files won't be able to recover after erasing.
Cons:
Comparatively, it takes a longer time to wipe out data.
Review:
"This is an awesome app, but the thing is you have to buy the app before it works." (by Musiclover)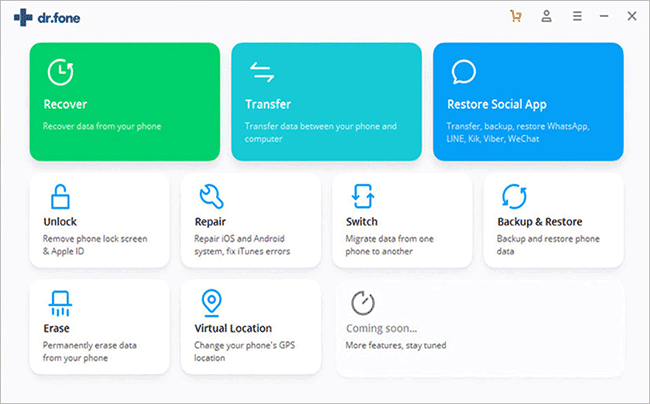 Part 3: Jihosoft Mobile Privacy Eraser
With 3 options "Erase Deleted Data", "Erase Existing Data", and "Erase All Data", Jihosoft Mobile Privacy Eraser can be used to clear all sensitive and other data, covering contacts, videos, pictures, messages, apps, call logs, etc. It applies to overall Android devices.
Cons:
It is more expensive than ever before, but the new version has no amazing features.
Review:
"This helped me greatly with my Samsung. It found lots of junk files and temporary files on my phone. Most importantly, I can find and wipe the deleted data so that they can't be recovered. Thanks!" (by Michelle)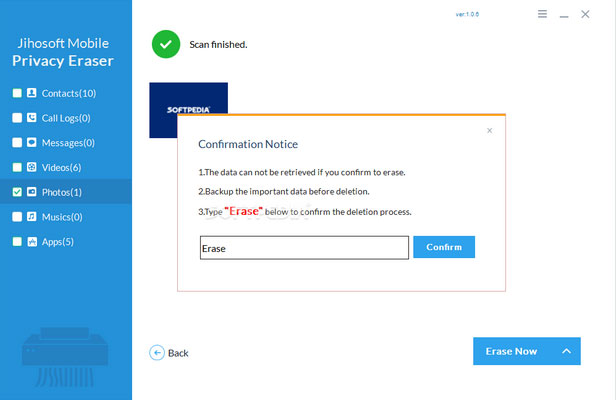 Part 4: iSkysoft Data Eraser
Embedded with an algorithm that makes sure any data wiped away from your Android phone, iSkysoft Data Eraser always makes deleted content unrecoverable. It is a secure Android phone format tool that can prevent your device from digital attacks.
Cons:
There is no optional security level to select from for data erasure.
Review:
"I'm having a problem with my phone, so I just want to restart it all over, but I don't know how. they helped me with how to backups all the chats and restore it. It's so helpful, so THANKS!" (by Nahda)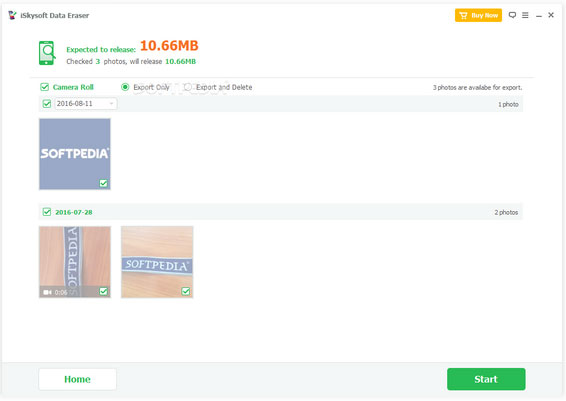 Check if You Need:
Part 5: TunesBro DroidWiper
TunesBro DroidWiper, the fifth Android wipe software, is compatible with more than 1500 Android devices and devotes itself to wiping everything permanently. It lets you delete either your private data or app data. You can perform easy steps with it to erase your Android in one go. Yet, its free trial is almost a sideshow.
Cons:
It cannot erase all the Android data, according to some reviews.
Review:
"I am very happy to buy this tool because I can now safely erase everything from my phone." (by Alfred Dinkins)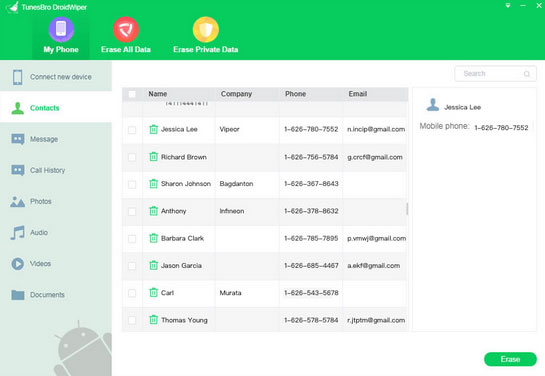 Part 6: SafeWiper for Android
SafeWiper for Android, a sleek cell phone data eraser software, is able to scan your phone deeply and wipe the data completely from both Android internal memory and SD card, including all your confidential files and folders. And it delivers 0% odds of recovery after erasing.
Cons:
The scanning may take a long time, and the interface might get stuck at times.
Review:
"I have tested the program in many ways, and it is guaranteed that no data can be recovered ever again. A great tool to organize your phone." (by Kassin)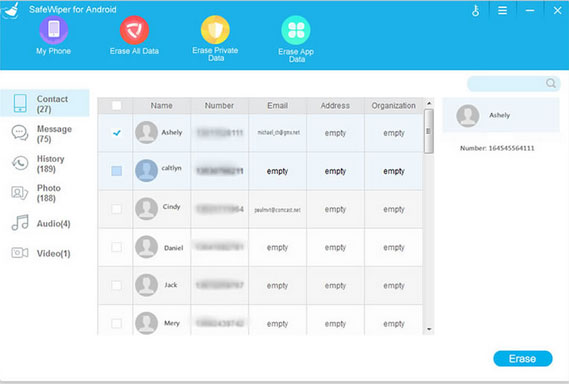 Part 7: Vipre Mobile Security
We covered 6 Android eraser software. Next, let's learn about one of the Android phone eraser apps - Vipre Mobile Security. It plays its role in helping you monitor the security of your Android phone, track where your device is, and erase Android data remotely. It is a brilliant Android eraser, but it's been a long time since the last update.
Cons:
This application doesn't work on some Android devices.
Review:
"I purchased the lifetime Vipre Security for my Google Pixel, and sometimes it works, and sometimes it does not." (by Allan of Crest)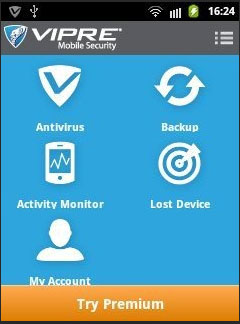 Part 8: Secure Eraser
The other app to format Android phones is Secure Eraser. It hammers at wiping Android device thoroughly. You can download it from Google Play and clean your Android folders, drives, traces of surfing or recycle bin, etc., without restrictions. Besides, this app takes easy operation to work with.
Cons:
It is unable to detect certain apps installed on Android devices.
Review:
"In my phone, there are 238 files and 311 Apps. When it makes full scan in my phone the results are only between 228 to 289 files and Apps together, WHY?" (by Utrecht)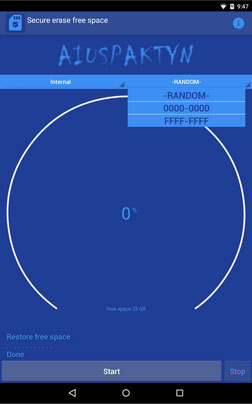 Closing Remarks
Well, we sketched out 8 best Android data eraser software. On the whole, 5 features are the most important factors in picking a suitable Android phone wipe software/apps, according to some Android data eraser reviews. They are permanent deletion, zero chance for recovery, reasonable price, simple operation, user privacy protection.
All this being said, MobiKin Eraser for Android is your best bet. It takes pride in secure deletion for Android phones or tablets. And the data is impossible to be retrieved, even with the most cutting-edge utilities.

Related Articles:
3 Solutions to Wipe Cache Partition on Android Phone
How to Delete WhatsApp Chat History on Android
Guide on How to Delete Downloads on Android
Simple Way to Clean up Android Photo Caches