Different Methods to Add Contacts to WhatsApp on iPhone
Nowadays, more and more people would tend to use WhatsApp Messenger, a freeware and cross-platform instant messaging service, to contact with others. With this service, users are able to receive messages, audio files and video information from their friends, families or workmates. It could make the exchange more convenient and funny. This is why it becomes so popular around the world.
However, for iPhone users, they may meet a problem before using this service- how to add the contacts on their iPhone to WhatsApp? This is an issue you must solve before using the application or you are not capable of contacting with anybody. Thus, this article will provide several methods for you to settle the problem.
Can't miss:
How to Sync iPhone Contacts to Gmail Easily?
Method 1. Add Contacts to WhatsApp from iPhone Address Book
All the contacts on your iPhone are stored in Address Book where has recorded the detailed information of the contacts. Therefore, if you want to sync the contacts, you must find the Address Book and add them to the WhatsApp. The adding process won't be complicated and you can follow the specific steps listed below to accomplish the transmission.
1. Click Settings app on the screen and then go to "Privacy"> "Contacts" and turn on the "WhatsApp" option under this folder to share the Address Book to WhatsApp list;
2. Open up WhatsApp and then go to Contacts in this service;
3. Tap on the "+" button at the top right corner;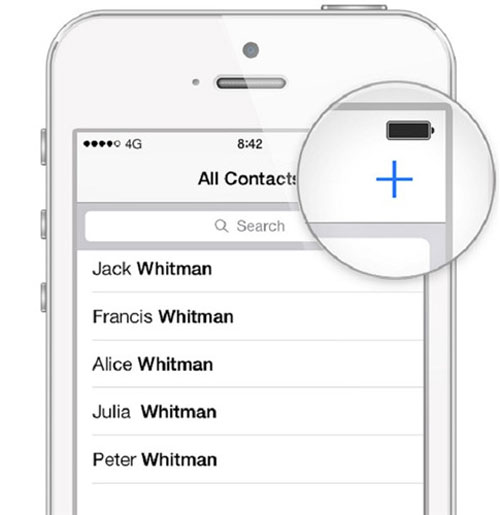 4. Enter the detailed information of the contact when you see a new interface;
Attention: the number must be saved in international format, namely + [Country Code] [Full Phone Number] or the contact you added will not be displayed in "Favorites".
5. Finally tap on "Done" on the top right and you will see the newly added contacts listed in Favorites.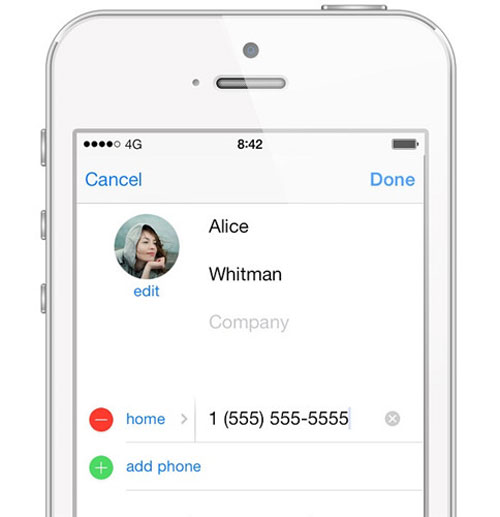 Method 2. How to Sync Contacts Only in Message to WhatsApp
It is possible that you do not add the contact that you are not so familiar with and you must wonder how can you sync this kind of contacts to WhatsApp. Don't worry! There is another way to sync contacts to the service. But the premise of using this way is that you must receive at least one message from that person. The specific operation is like below:
1. Launch WhatsApp and navigate to the message you have receive from the contact that is not saved in your Address Book;
2. Under the text message, you will see two options: "Report Spam and Block" and "Not Spam. Add to Contacts". Just select the latter option;
3. Then you will be asked whether to "Create a New Contact" or "Add to Existing Contact". Just make a decision per your need.
4. In the end, enter contact name, phone number, email, etc. and click on "Done" to finish the syncing process.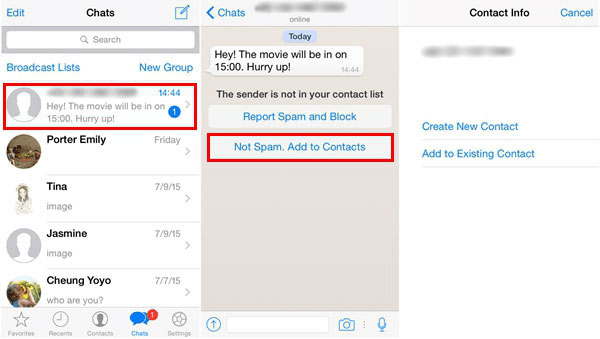 Useful Way to Restore Deleted WhatsApp Contacts on iPhone
Now you have sync the contacts to WhatsApp but it is very likely that you delete them accidently. In this case, you are still able to get them back. In this case, you can turn to iPhone WhatsApp Recovery. It can retrieve many data like WhatsApp contacts, messages, photos, music, videos, etc. from iPhone, iTunes or iCloud backups without hassle.
Now you can download the free trial version to have a try.
1. Use USB cable to connect your phone to the computer and choose the "Recover from iOS Device" mode;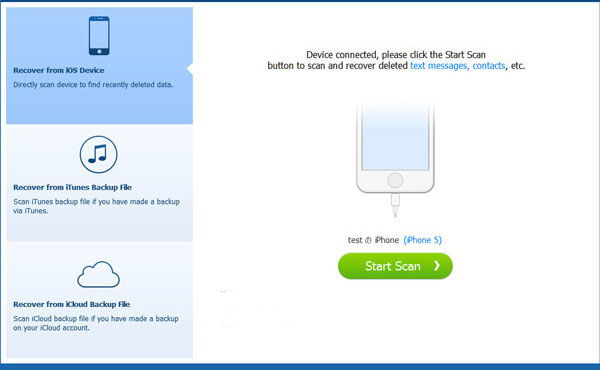 2. Tap on "Start Scan" button to deeply scan the data on your iPhone;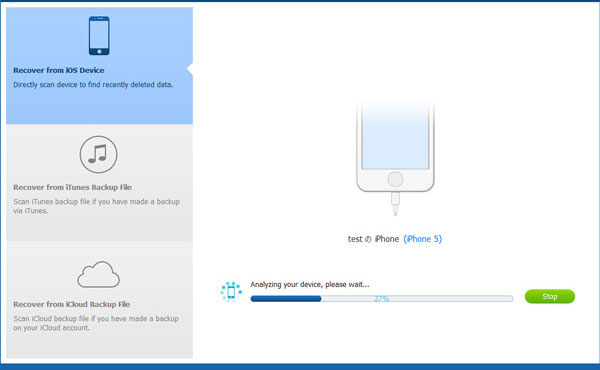 3. Find out the "WhatsApp Attachment" category in the left pane and click on it to locate the whole folder;
4. Tick the contacts that you wish to recover and click "Recover" button to save the deleted WhatsApp contacts on your computer.
Related Articles:
Restore Deleted WhatsApp Messages on iPhone 14/13/12/11/X/8 Plus/8/7/6
How to Sync Contacts with iPhone 14/13/12/11/X/8 Plus/8/7/6
6 Ways to Transfer Photos from Computer to iPhone Effectively
Easy Ways to Transfer Files from Lenovo to iPhone
How to View iPhone Text Messages on Computer/Mac?