Can't Add Songs to iPhone with iTunes? Here're Best Solutions!
"How do I remove songs from my phone, without permanently deleting them from my iTunes library?"
Recently, there has been a heated discussion on "can't add music to iPhone with iTunes" in Apple forum. Some iPhone users offer an amount of makeshift, and some are with insufficient scientific basis. Thus, it is necessary to sort out this issue in an all-round way.
Now, read this article to learn about the causes why songs won't sync to iPhone, how to fix it scientifically, as well as an ultimate alternative to iTunes to help you transfer music to iPhone smoothly without iTunes.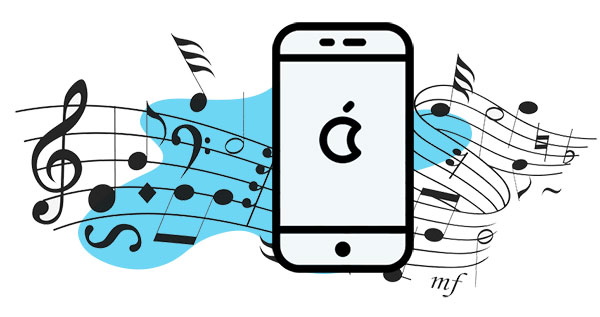 Part 1: Reasons Why iTunes Won't Transfer Music to iPhone?
While finding iTunes won't add music to iPhone with/without unexpected iTunes errors? Just take it easy! For the most part, it has a close bearing on iTunes, iPhone and connection modes. Now, let's get right to it.
Key Influence Factors of iTunes Unable to Add Music to iPhone:
Advise you to turn off iTunes auto sync option before adding songs, for iTunes would automatically wipe away the existing iPhone items while syncing songs. And it's not wise to run iTunes with the connected iPhone, unless you make sure the iTunes Library save all the tracks you want.
You May Also Like:
Part 2: Can't Add Music to iPhone with iTunes? Here're 10 Fixes
Below are 10 solutions to solve the Can't add music to iPhone problem. Some of the fixes also work for iPhone unable to connect to iTunes issues.
Fix 1. See if Songs Are checked before Sync
After ticking off the "Sync Music" option on iTunes, you might begin adding music to iPhone right away. But before that, do remember to mark the box of "Entire Music Library". To fix songs not transferring to iPhone in full, just tick on this box please.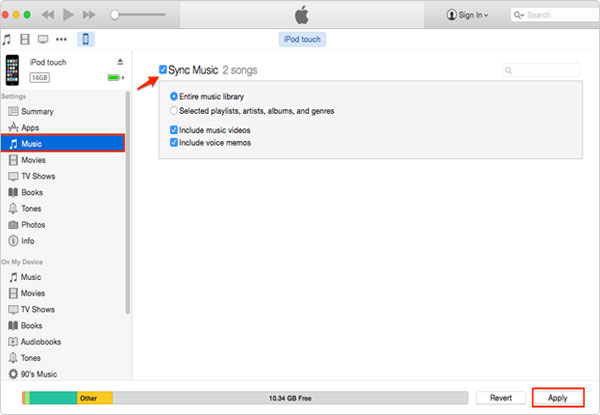 Fix 2. Check the Available Memory Space on iPhone
Sometimes, the insufficient memory space might be the culprit for this circumstance, especially when you're to transfer a great deal of HD lossless music. To check the iPhone's storage, you can head to Setting > General > Usage > Manage Storage to see the memory usage. If you want to enlarge the memory space on iPhone, here is a guide telling you how to free up space on your iPhone.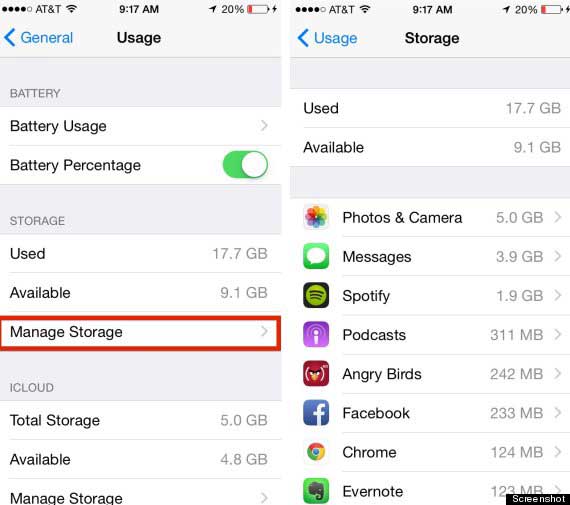 Fix 3. Check the Audio Format
iTunes is widely compatible with audio formats like MP3, MP4, AIFF, WAV, MPEG-4 and AAC, etc. but not FLAC, OGG and APE. If you have these 3 formats, you'll find them grayed out on the screen, and thus cannot be added and played back. To check the formats, just right-click the file and choose "Get info".
Fix 4. Check the USB Cable or Wi-Fi Network
USB cable and Wi-Fi network can be the 2 connection modes to choose from before adding songs to iPhone with iTunes. If you do the task with the former, just unplug it and try another one instead. Assume you do that over WiFi, ensure you have set it up. Then check whether the iPhone and computer are within the same WiFi network.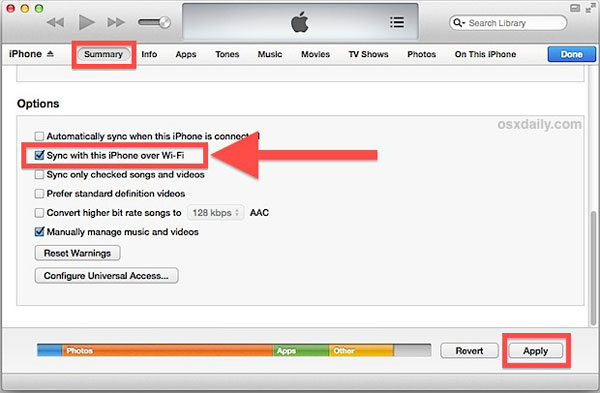 Fix 5. Switch off iTunes Match
If you're not sure whether you've turned it off, you can navigate to Settings on iPhone, then choose iTunes & App Store > [your Apple ID] > Subscriptions. Now you should find the iTunes Match option there. If it is enabled, you need to touch Cancel Subscription to disable it. This would ensure the subscription won't be automatically renewed.
Fix 6. Turn off iCloud Music Library
Activating iCloud Music Library will prevent you from manually adding songs to iPhone. To toggle it off, go to Settings > Music from your iPhone. Then find and disable iCloud Music Library option. But then again, this action will keep you from listening to the songs from the Library.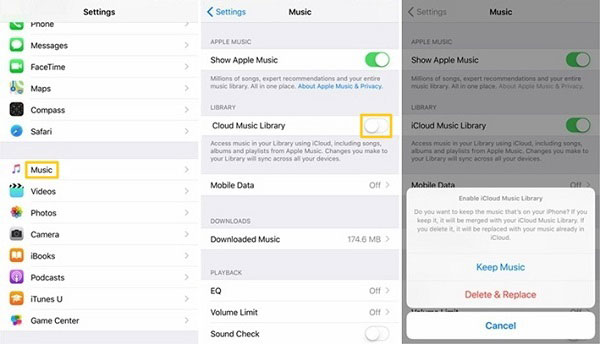 Fix 7. Turn on Manually Manage Music and Videos
Click your iPhone's name on the main screen of iTunes. Then go to Summary tab, and tick on the checkbox nearby "Manually manage music and videos". Now, you can drag & drop your songs that you'd like to add to iPhone. And it might work.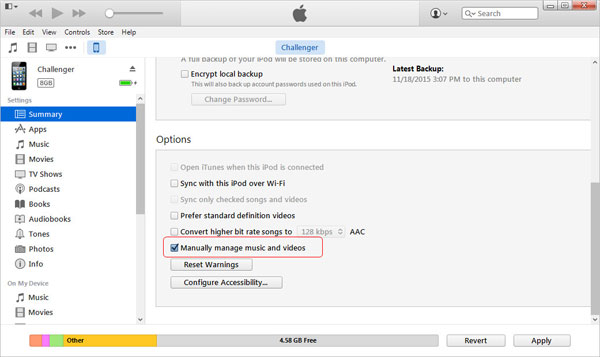 Fix 8. Make a Custom Playlist with Music
If you still can't add music to iPhone from iTunes, try creating a custom playlist, and then sync them to iPhone automatically. To do this, you should add desired songs to playlist, and plug iPhone into computer via a USB cable. Then go to device tab > Music. After that, choose the playlist you've just created and click "Autofill" at last.
Fix 9. Reboot or Force Restart iPhone
None of the above works, right? Maybe you should reboot your iPhone to let some Settings take effect. To do so, just press and hold the wake/sleep key until you see a slider. Then power your iPhone off by sliding it. Subsequently, hold the wake/sleep button again to restart your device.
Fix 10. Install the Latest Version of iTunes
Finally, check if you're using the latest version of iTunes. If not, go right to Help from the top menu of the iTunes, and select Check for Updates from the pull-down list. Once done, you have to restart your computer to let the service components come into force.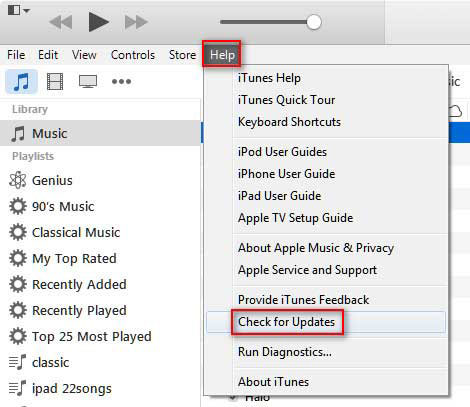 See Also:
Part 3: Can't Add Songs to iPhone with iTunes? Try the Best iTunes Alternative
Some folks may find songs won't transfer from iTunes to iPhone all along, after trying the above 10 solutions out. Well, indeed, this could happen for some underlying reasons, but for the problem solver - iOS Transfer, it is just a cinch to add songs. It's able to add music to iPhone without erasing the previous data on the device.
Furthermore, it also supports data transfer among iOS devices, computers, as well as iTunes. And when it comes to music management, it's much more professional than iTunes.
Main Features of iOS Transfer:
Let's go over how to add music to iPhone via iOS Transfer:
Step 1. Download and install the software before opening it on computer. Then attach your iPhone to the computer with a USB cable. Then, the program will detect the iPhone automatically.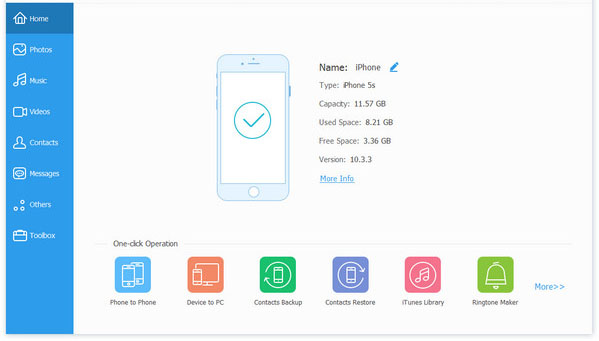 Step 2. Here, you should click the "Music" option from the left side interface to go to the Music tab. You can see all songs on your iPhone will be displayed on the right panel.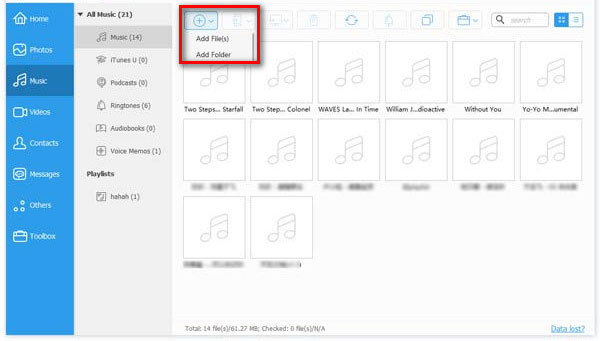 Step 3. Navigate to the top menu to click on the "+" icon. The Explorer window will pop up, from which you can locate to the music files or folders you want and add them to iPhone instantly.
Once the music transfer finishes, you can enjoy your favorite songs on your iPhone anytime and anywhere.
The End
We have sorted out, literally, most forum threads, coupled with our team's hands-on experience, providing you with 10 comprehensive fixes. Now, suppose you can't add music to iPhone from iTunes with the given tips, simply go for iOS Transfer as the convincing alternative. And as you know, it is a reassuring all-rounder.
Hopefully, you guys find this review helpful, and feel free to share it with your friends. Chances are they will get a convenient solution.
Related Articles:
Tutorial to Transfer Music from iTunes to Motorola
How to Retrieve Deleted Music from iPhone 11/11 Pro/XR/XS?
How to Delete Songs from iPhone But Keep Them on iTunes?
How to Fix iPhone Not Showing Up in iTunes
3 Simple Ways to Transfer from SD Card to iPhone
[Easy & Fast] How to Transfer Photos from iPhone to PC without iTunes?