How to Change the Phone Number of WhatsApp on iPhone?
Q: Hi guys! I am using WhatsApp on my iPhone 6 now but I don't know how to change my phone number. Can you help me please? Thank you so much!
You may have the same problem with the above users when you use a new phone number for your new job or a new city and want to give up your old phone number. So in this case, what can you do to change the phone number of WhatsApp on iPhone without losing any WhatsApp data associated with your old account? This tutorial will tell you the tips and you can switch the phone number of WhatsApp without any hassle.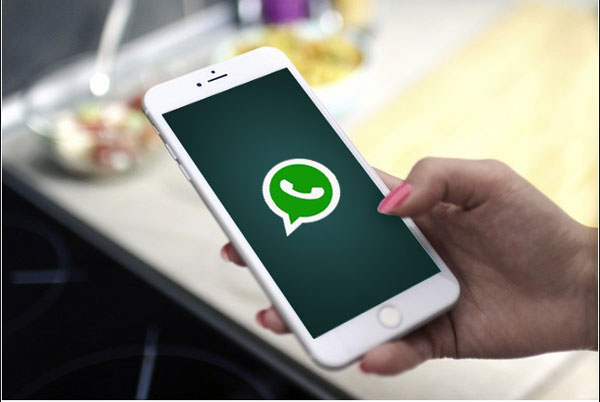 Part 1. What are You Suggested to Do Before the WhatsApp Phone Number Change?
In fact, except for the number associated with your WhatsApp, nothing will be changed after switching the WhatsApp number. That means your profile information, groups and setting will be unchanged. In addition, the old number will be deleted so you have no need of worrying someone may find and add your old phone number. It seems perfect and you do not need to do anything before the switching process.
However, you are still be recommended to backup your WhatsApp data in advance. Data lost is unforeseen so it is very possible that you lose the WhatsApp files one day without any warning. Thus, to avoid this issue, you'd better backup your WhatsApp data regularly so that you can find them back once data losing occurs. Here, you can simply backup them via WhatsApp. Below are the details for your reference:
- Launch "WhatsApp" on iPhone.
- Navigate to "Settings"> "Chats"> "Chats Backup".
- Hit "Back Up Now" button to save them.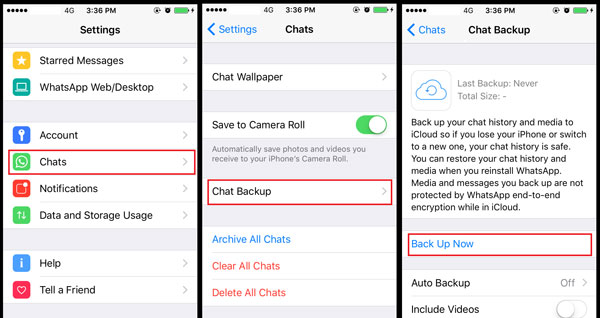 See also:
Methods to Backup WhatsApp Messages for Android and iPhone
Part 2. How to Change the Phone Number of WhatsApp on iPhone?
In this part, two methods to change the WhatsApp phone number on iPhone will be introduced- with or without SIM card. Let's take a look now.
1. Change WhatsApp number with SIM card
Before using this means, you need to ensure that you are able to receive messages or phone calls for the reason that WhatsApp will send verification code to you. In addition, your new phone number must be saved in the phone address book of WhatsApp contacts. If you are sure that your device matches these two conditions, you can begin to switch the number now.
- Launch "WhatsApp" on you iPhone.
- Go to Settings and select "Account" under this folder.
- Choose "Change Number" and tap "Next" to continue.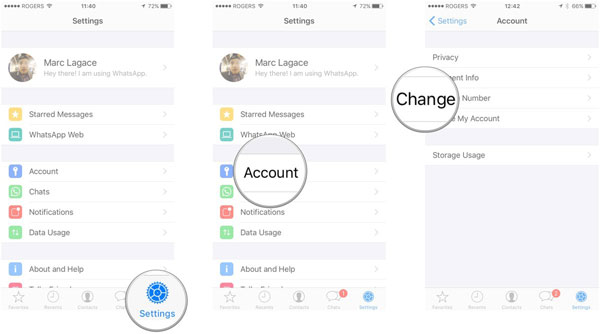 - Type in your old number in the upper column and the new one in the below column. (Don't forget to change the country code if you have move to another country.)
- Tap on "Done" and confirm the number.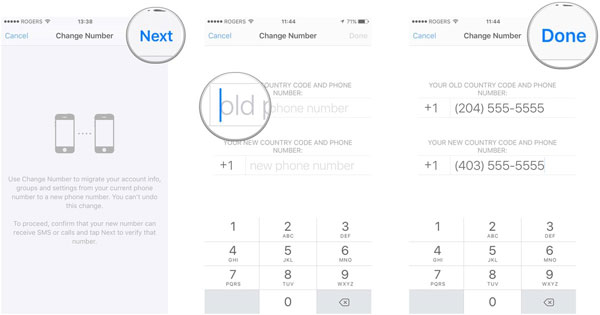 - Type in the verification code that you have received from WhatsApp.
2. Switch WhatsApp phone number without SIM card
If you don't take along the new card, you could turn to Text Now Which is used to receive the verification code.
- Download and install the Text Now on your device.
- Open up the tool and associated it with your new phone number.
- Go to WhatsApp> Settings> Account> Change Number> Next.
- Enter both your old and new phone number.
- You will receive a verification code from WhatsApp now. Just wait until it fails.
- WhatsApp will call you and please listen carefully and write down the verification code this time. Then type in it on WhatsApp to change the phone number.
Part 3. WhatsApp Data Recovery
In your daily life, you may mistakenly delete some wanted WhatsApp files. In this case, you might want to find them back but do not back them up before. So what you can do now is to give up those data? Not exactly! iPhone WhatsApp Recovery can help you recover these lost data on WhatsApp easily. With it, you can retrieve almost all WhatsApp data like contacts, messages, videos, photos, etc. simply and effectively. It is worth a shot.
You can download its free trial and go with the following steps to recover the files.
- Connect your iPhone to computer and select the "Recover from iOS Device" mode;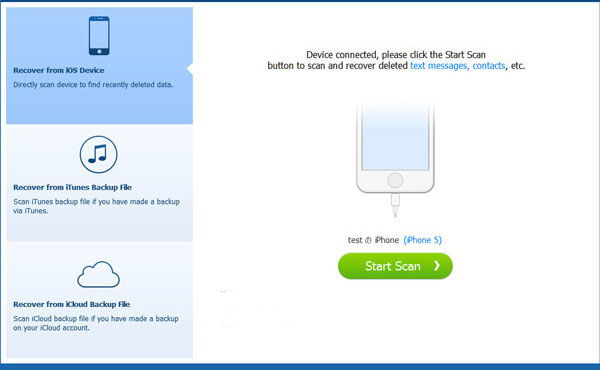 - Tap on "Start Scan" button to deeply scan the data on your iPhone;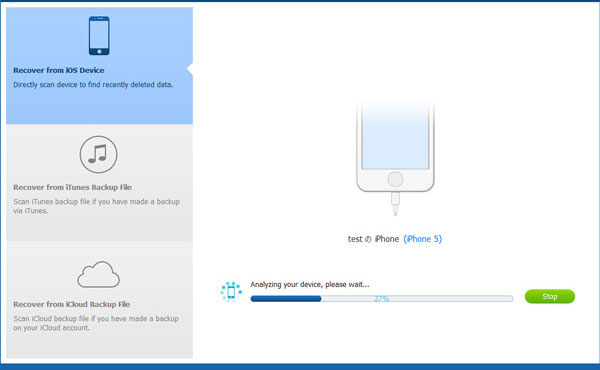 - Several categories will be listed on the interface. Just find out the "WhatsApp Attachment" folder and click on it to locate the whole file;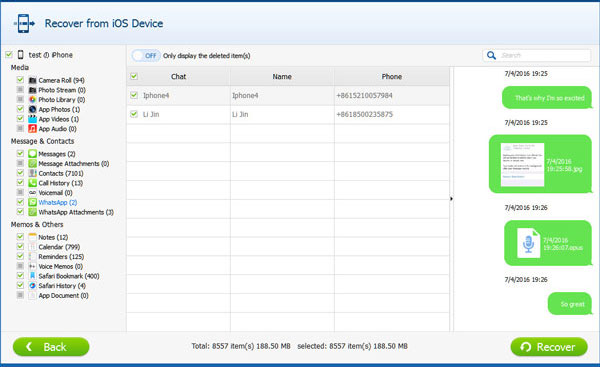 - Tick the files that you wish to recover and click "Recover" button to save the deleted WhatsApp data on your computer.
Related Articles:
Restore Deleted WhatsApp Messages on iPhone X/8 Plus/8/7/6S/6/5S
How to Recover WhatsApp Images/Pictures on iPhone Selectively?