Free Online Screen Recorders for iOS
Recording game video or other video on your iPhone has become a new way to share your life with your friends on the Facebook, Twitter or other social networks. But iPhone users complained that recording iOS screen is not a simple task for them unless they can find a practical screen recorder program for iPhone or iPad. Actually, there are many ways to record your iPhone or iPad screen, but some are complicated and may require that you jailbreak your device while others require advanced technical knowledge. So, finding an easy-to-use yet reliable iPhone screen recorder can help all of you improve efficiency, that's also why we have picked up 3 different free online screen recorders for iPhone, iPad or iPod touch users.
For iOS 11 users, you can also take the below ways to record an iPhone screen video:
#1 - QuickTime Player
QuickTime Player comes in first place for several reasons.
- First, it not only records your iPhone or iPad screen but also functions as a media player.
- Second, it is developed by Apple, hence making it easily compatible with a wide range of iOS devices.
- Finally, it is a better free online screen recorder app than most.
However, this app is only can be used on your Mac computer. So, for Windows users, please skip it and check the following two apps directly. Now, turn to QuickTime Player. It gives your computer access to your iPhone or iPad by creating a mirror of whatever is happening on your device's screen. The data are transmitted in real time, and both the video and audio are recorded in high definition. Additionally, as a media player, QuickTime Player is capable of decoding a wide range of video and audio file formats.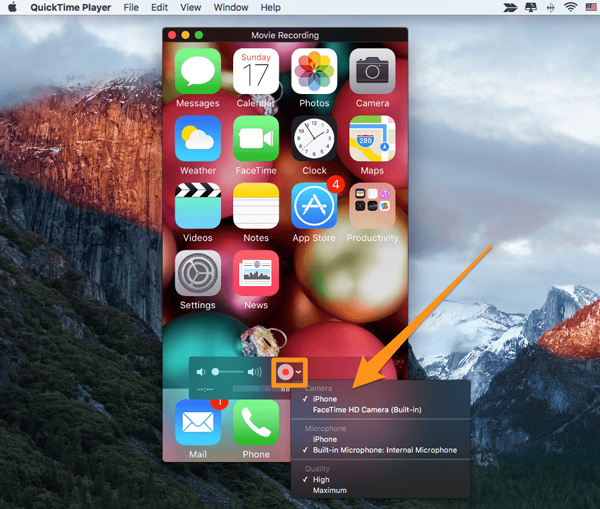 Let's have a brief look on the detailed features of QuickTime Player:
Pro
- Recording iOS screen videos in HD quality
QuickTime Player captures your screen's activity in HD, and both the video and file formats are crystal-clear. What's more, it is capable of recording in a wide range of file formats thanks to its sophisticated media player.
- Quick Processing
QuickTime Player records all your screen's activities in real time without any lags or glitches. It also processes videos quickly when recording and using the in-built media player so that you can review and share them in an instant.
- Sophisticated Encryption
QuickTime Player is protected by the latest encryption technology to ensure that your data stays safe and private. What's more, it doesn't leave any footprint on your iOS device as it runs solely on Mac.
Cons
- Only works on Mac.
- More than a free screen recorder for iPhone and iPad, it also functions as a media player. However, the extra features may make it feel cumbersome at first, especially for new users.
#2 - AirServer
One of the interesting things about AirServer is designed for PCs, both Windows and Mac, so it enables you to transmit whatever you are doing on your iPhone or iPad onto your PC thanks to its inbuilt Aircast feature. It streams all your activity in real-time, and you can initiate recording by a simple press of a button. It also comes with many other features besides recording, and its advantages far outweigh any shortcomings.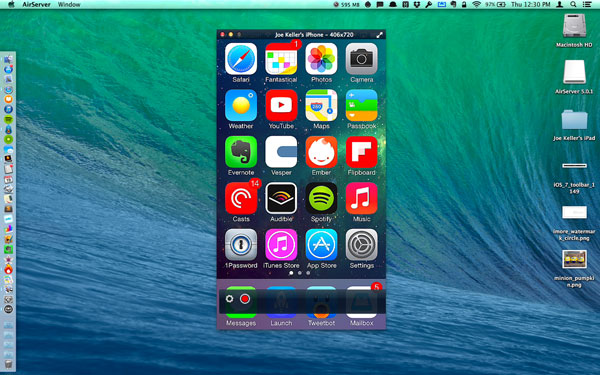 Pros
- Recording videos in HD
The best thing about AirServer are that it transmits all your activities on your iPhone or iPad in HD. This means that your recordings will be crystal-clear and detailed. The quality may even be better than your iPhone's or iPad's. Additionally, this app also records any audio data in clear details to complement the HD video recordings.
- Zero footprint
Since AirServer runs on your PC instead of your iPhone or iPad, it leaves zero footprints on your iOS device. This means that it does not eat up space or put unnecessary strain on your device's performance.
- Encrypted transmission
You don't have to worry about hackers when using AirServer. The app is designed to encrypt transmissions and guarantee you full privacy of all your activities.
Cons
The only downside of this app is that you have to have your PC with you to record whatever you are doing on your iPhone, iPad or iPod touch. This is frustrating if you are recording on the go.
#3 - AirShou
AirShou, as a free online screen recorder for iOS has often been described as basic, but it is actually designed to be simple. This makes it easy to use for everyone, including users with basic technical knowledge of the iDevices. Unlike the prior two screen recording apps, AirShou does not work with a PC. Instead, all of the recording is done through the device where you the app is installed.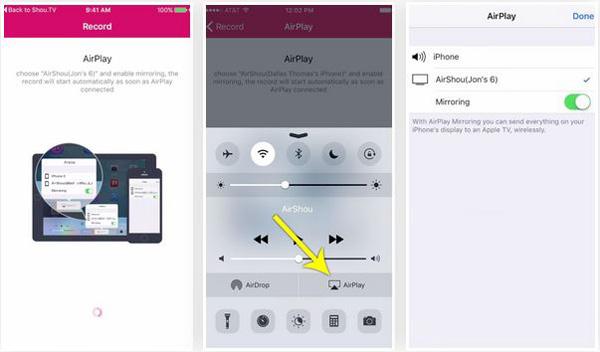 Pros
- Video recording in multiple resolutions
AirShou does not record activity in HD like the prior apps. However, it lets you determine the recording quality that you desire from several options including 720P and 1080P – 1080P records are just as good as HD, after all.
- Stereo sound recording
AirShou also captures all audio data to go with your video recordings. Both video and audio data is recorded in real-time to avoid lag, and audio data is recorded in stereo sound.
- Easy to use
The best thing about AirShou's simple design is that it is easy to use even for users with basic technical skills.
Cons
- Although AirShou is easy to use, it may take some time to set up especially if you don't have prior experience with iEmulators app store.
- AirShou's simple design makes it seem somewhat basic and lacks the visual appeals of the prior apps.
Conclusion
Recording activity on your iPhone or iPad screen has never been easier thanks to these apps. The best thing is that they are not only the best, but they are also absolutely free to download and use. So, if you wish to record or capture an iPhone or iPad screen video, just pick up one of the app as your assistant.
Related Articles:
How to Record iPad Screen in Different Ways
How to Capture iPhone Screen Video
Free iPhone File Explorer/Manager to Browse iOS Data on PC/Mac
3 Simple Methods to Transfer MP3 to iPhone 14/13/12/11/XS Max/8
Transfer to New iPhone from Old iPhone/Android/PC [Definitive]