All My Photos Disappeared from My Android? 5 Fixes Here!
The recently launched Samsung S20 Ultra has a pixel size of 100 million. This is just a microcosm of the increasing FHD of today's smartphones. Apparently, Android phones play the role of DC to a large extent. But for many reasons, photos disappeared from Android phone, which is a problem many folks had encountered. For example, you might delete pictures from cellphone or chat records when you clean up Android space.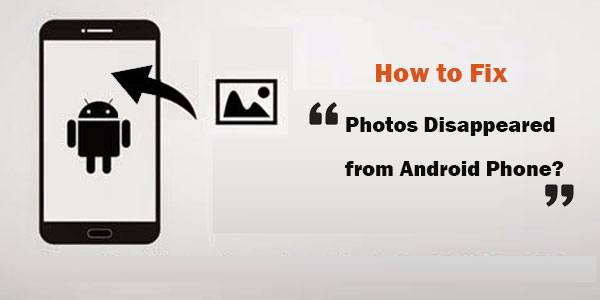 Well, this post offers 5 scientific methods to help quickly retrieve Android missing photos. Before going any further, first, let's see:
Why My Pictures Disappeared from My Phone?
Delete photos from Android by mistake.
There is not enough memory on Android to display some photos.
Factory reset Android phone without backup.
Android OS upgrading or downgrading.
Photos are hidden.
Where Did My Photos Go?
They are kept in some cache in the phone's memory, where the data is used to store files marked as useless. When no new data is overwritten to this area, the pictures can still be recovered.
Way 1: Fix All My Photos Disappeared from My Android by Clearing Cache Files
You may be frustrated by the loss of pictures. But at the same time, you may have a glimmer of hope that you can restore it directly. Then you can try this means, for cache error is a possible cause of Android photos disappeared from gallery. Here are the steps:
Step 1. Slide the notification tray from the top of your Android phone, and tap the gear icon or navigate to Settings.
Step 2. Go for the Application Manager option. Then scroll down for Gallery and hit it.
Step 3. Here, you can press Clear cache. Subsequently, back to the main screen to close all the background applications. And finally, reboot your device.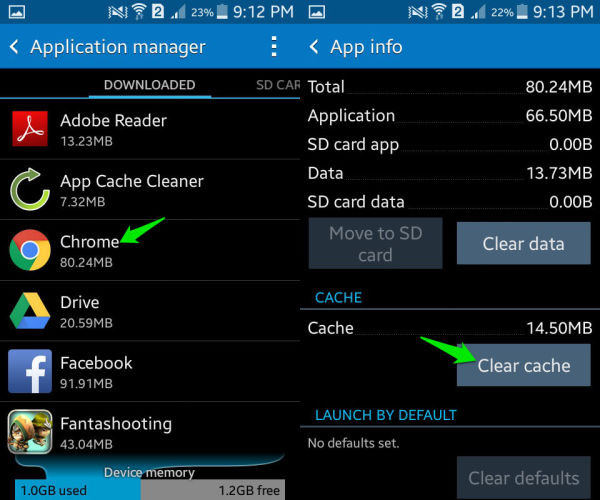 You May Also Like:
Way 2: View Android Photos Disappeared from ".Nomedia" Folder
My pictures disappeared from my phone? Try rename ".Nomedia" folder if Way 1 doesn't work. Nomedia is used to block files scanned by media apps.
If you rename or delete it, then it won't be able to play its own role. That's to say, Android phone can display the content of media files, including photos normally the moment you view them. Here'are the means:
Step 1. Open Android phone and go to File Manager, and look for the folder with the name of .nomedia.
Step 2. Rename it to any name as you wish, and then restart your device.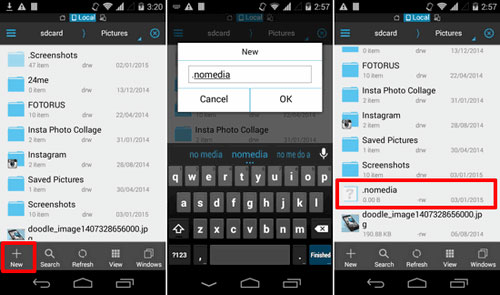 Step 3. Go to your phone's gallery to check if the missing photos are there.
Way 3: Retrieve Android Missing Photos from Local Backup
All of my pictures on my Android are gone? In this case, one of the viable solutions is to restore from the backup file, if you have made that before. Here, we take the LG phone as an example to show you how to restore lost photos on Android from local backup:
Step 1. Open the Settings app on your Android device. Then go for Backup & Reset > LG Backup Service.
Step 2. Tap on Backup & Restore > File restore & management.
Step 3. Now you can choose the latest backup file, and hit Restore to fetch the pictures from the previous backup.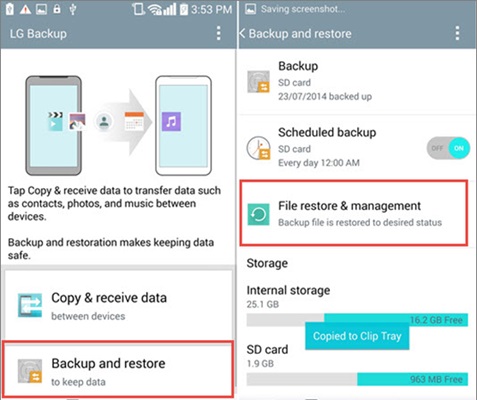 Further Reading:
Way 4: Get Back Android Gallery Missing Photos from Cloud Backup
Some pictures or the entire photo album disappeared from Android? Now, if you have already activated some cloud storage service, like Google Drive or Google Photos, these missing photos can be restored within 60 days before they disappear. That is, they will be permanently deleted on Day 61.
- Recover Android Photos from Google Drive
Start Google Drive on your Android phone, and press the Menu icon.
Touch the Trash section, and then you can check all the deleted stuff there.
Choose the images you'd like to recover, and hit Restore.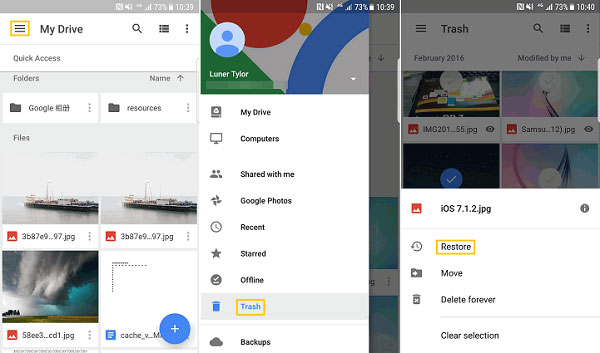 - Restore Android Pictures from Google Photos
Run Google Photos application on Android phone, and press three lines icon from the top left.
Choose the Trash option to check the deleted pictures.
Select your wanted images and touch Restore to get them back.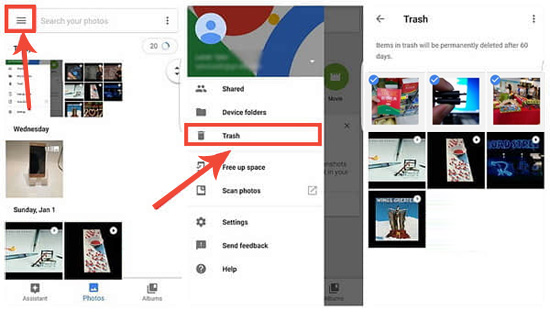 Way 5: Fix Photos Disappeared from Android Phone via Doctor for Android (No Backup Required)
The downloaded pictures disappear from Android, or even all my pictures on my phone are gone? Still, we can recover them with no previous backup by using MobiKin Doctor for Android (Win and Mac). This cutting-edge software enables you to preview and rescue all of your lost files without effort. Again, there's a trial version of this ultimate Android data recovery tool.
Main Highlights of MobiKin Doctor for Android:
Recover all the lost or deleted content from Android internal memory or SD card without backup.
The supported data types include photos, videos, movies, audio, music, call logs, contacts, SMS and more.
You're allowed to preview all the images before recovery.
Virus-free, easy to use and high success rate.
Full compatible with overall Android phones and tablets, covering Samsung, Huawei, Sony, Google, Motorola, HTC, DELL, ASUS, Xiaomi, OPPO, Vivo, etc.
All your privacy will be fully protected.
How to recover Android missing photos using Doctor for Android?
Step 1. Download and install Doctor for Android on your computer, and link your phone to the same computer with a USB cable. Launch the program, and do as the on-screen hints to get the device recognized. Then an interface will appear as below.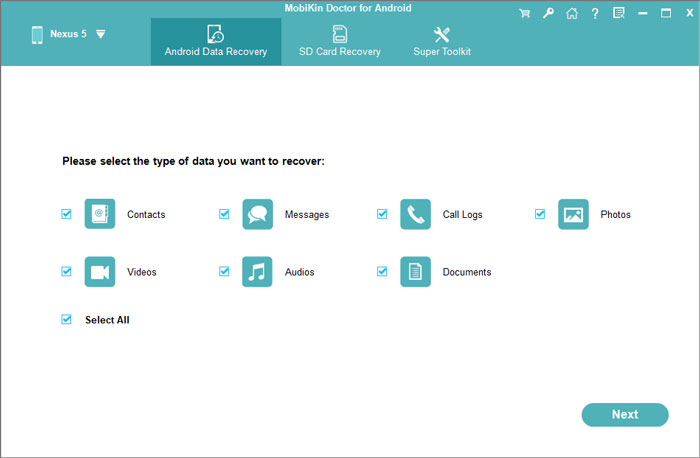 Step 2. To recover Android gallery missing photos, you ought to choose Photos from the interface and click Next to scan for the lost pictures. Once done, just preview the photos from the screen.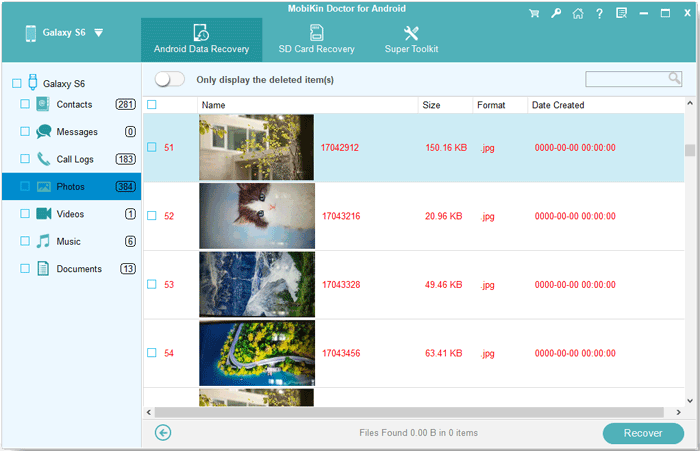 Note: If you find the lost photos cannot be scanned out directly, simply root your Android phone for a deep scan before you get all the pictures on the screen.
Step 3. Choose the photos you want for recovery. Then click the Recover button to start retrieving them. Here, you can save all the stuff on your computer.
Ending Words
Do you remember what we mentioned at the beginning? For some reason, the user synced the photos to Google Photos but later couldn't find them there, making it impossible to recover lost items from the cloud storage. Well, in everyday life, many Android users may not even develop the habit of phone backup. While in terms of recovering them, ways through clearing cache files or renaming .Nomedia folder. are expedient only and may be in vain often.
Given these points, MobiKin Doctor for Android, an all-around software, is the invariable protector for photos and other data on your Android phone.
Related Articles:
7 Ways to Transfer Photos/Pictures from Computer to Phone (iOS & Android)
3 Easy Ways to Recover Deleted Files from Android in 2020
How to Recover Photos & Videos from Android Black Screen
Practical Guide: How to Recover Deleted Videos from Android SD Card
What to Do If I Cannot View Pictures in Android Gallery?