[Fixed] How to Transfer Songs from iPhone to iPhone Using AirDrop
For many iPhone or Mac users, Apple Music is an important source to access to songs. It is not unusual to share those tracks with friends, colleagues or family. And AirDrop is a common tool for sharing, which is embedded in some apps, allowing you to transfer music from Mac to iPhone, or between iPhones, etc. But it isn't compatible with all iOSes, and some setup may need to be done before the use.
To make more folks aware of how to transfer songs from iPhone to iPhone using AirDrop, we'll gather some ins and outs about this in today's article.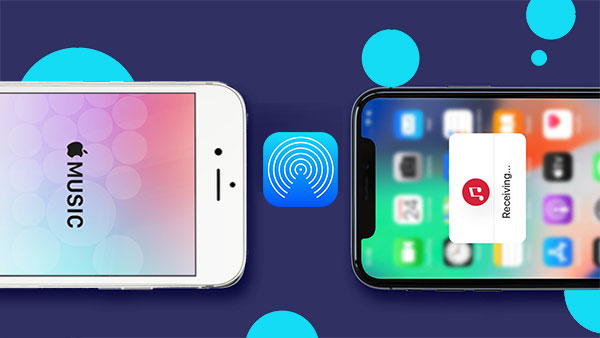 Part 1: Can You AirDrop Music from iPhone to iPhone?
1. Is It Possible to AirDrop Music Files between iPhones?
Generally, the answer is absolutely Yes. Yet what AirDrop shares from the source iPhone is not entire playable content, but links to songs. In addition, if you want to listen to these tracks on your target iPhone, you have to check if your songs are in line with the following conditions.
2. What Kind of Songs Can Be Moved via AirDrop?
Primarily, the songs to be shared must be from Apple Music only, and the iPhone user who receives music should subscribe to Apple Music Service in advance. Secondly, you have to save the songs to iCloud via iTunes Match. Want to know how does Apple iCloud work on iPhone/iPad/iPod? Here's the trick.
Now that we have a rough understanding of AirDrop, let's move on to see how to AirDrop songs between iPhone devices.
Part 2: How to Transfer Songs from iPhone to iPhone Using AirDrop
Prior to learning how to share music with AirDrop, we ought to do something first to make this procedure as smooth as possible.
- Preparations:
Ensure that the songs to be moved meet the requirements (as mentioned in Part 1).
Be sure that your iPhones are running on iOS 7 or above.
Enable both Bluetooth and WiFi on the devices beforehand. (as AirDrop is a kind of Bluetooth-like service.)
Check AirDrop Settings. Head to Settings > General > AirDrop to see Receiving Off, Contacts Only and Everyone. (suppose the source iPhone is a contact of the target phone, select Contacts Only; otherwise, choose Everyone.)
Make sure the power of both devices is no less than 50%.
Put your iPhones within 30 feet.
To AirDrop music from iPhone to iPhone:
- Quick Look:
Turn on AirDrop on both two iPhones.
Tap 3-dots icon on the bottom right of the screen.
Select Share Song from the options available.
Choose the destination iPhone to move the music to.
Press View on the receiving device.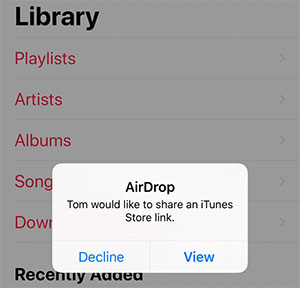 You May Also Like:
- Detailed Steps:
Step 1. Slide up from the bottom of both iPhones to go to Control Center. Then enable AirDrop from the devices respectively.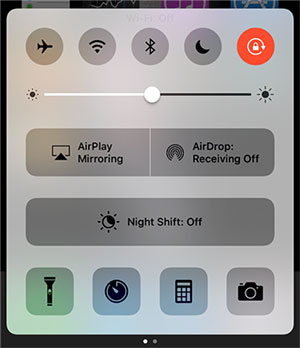 Step 2. Once done, open the Music app on source iPhone to locate the song you want to share. Then touch 3-dots icon to open share menu when the music is being played.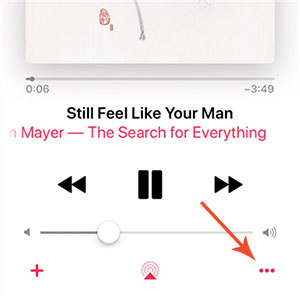 Step 3. Tap on the item saying Share Song... from the incoming list. This will enable you to share the music with another iPhone.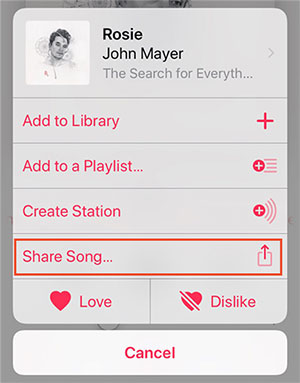 Step 4. You'll now see a list of iPhones with owners' names that you can move the stuff to. Next, hit the iPhone you'd like to share with.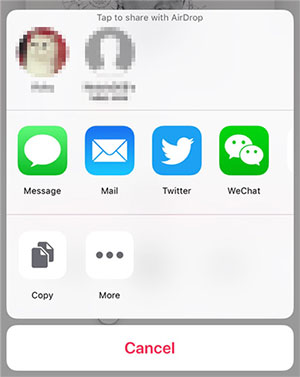 Step 5. On the destination device, a hint will then turn up asking if "XXX would like to share an iTunes Store link". Just press View to check the link. That's it!
Attention: It is recommended that you turn off AirDrop when you are not using it, so as to avoid receiving unnecessary or unsafe files from others nearby.
Can't Miss:
Part 3: Problems That May Occur When Sharing Music with AirDrop (Solutions Included)
Sometimes you may encounter problems on AirDrop not working. For instance, AirDrop is unable to find the contact list, get stuck before the end of the transfer, or even cannot move files at all, etc. Well, the following is an emergency plan for these phenomena.
Solution 1: Reset Network Settings
Before the reset, just disable personal hotspot on both iPhones, for it'll force WiFi to shut down. (to do this: go to Control Center; then press and hold the tray with Wi-Fi symbol.) Next, open your devices and head to Settings > General > Reset > Reset Network Settings.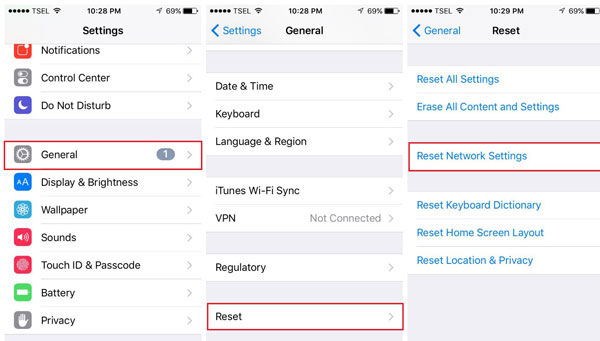 Solution 2: Adjust AirDrop
If you have gone with the steps mentioned in Preparations, but no contact shows up in the screen of AirDrop. You probably have set the search pattern as Contacts Only. If so, simply change it to Everyone and try again to see if the target iPhone is visible.
Solution 3: Update iOS
To check the iOS for update, on your iPhone, go to Settings > General > Software Update, and install the available update. This will allow your devices to perform just fine, and be more compatible with AirDrop. After that, restart both iPhones, and your AirDrop should work properly then.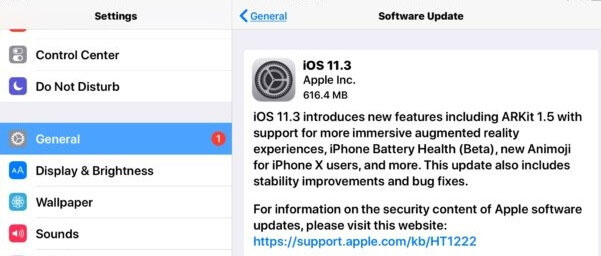 Part 4: AirDrop Not Working? Try the Best AirDrop Alternative
If the songs on the iPhone are not downloaded from Apple Music, and no relevant service has been subscribed, how can I transfer songs from iPhone to iPhone? Just take it easy. Phone Transfer (iPhone 14 & iOS 16 supported) gives you full access to all the music from song albums. It's able to transfer various data freely between different mobiles after simple connection and clicks.
What can Phone Transfer do for you?
Transfer content between two devices, no matter they are running Android or iOS.
Migrate data like songs, videos, movies, ringtones, pictures, contacts, text messages, apps, etc. from one iPhone to another.
Enable you to back up a dead or smashed device to a functioning one.
Move data with no data loss, keeping the whole task risk-free.
It never tracks privacy of any users.
Get along well with overall iOS devices, including iPhone 14/13/12/11/11 Pro (Max), iPhone X/XR/XS/XS Max, iPhone 8/8 Plus, iPhone 7/7 Plus, iPhone 6/6s/6 Plus, iPad Pro/the new iPad/iPad mini/iPad Air, and so on.
How to transfer songs from iPhone to iPhone via Phone Transfer?
Step 1. Have the utility downloaded before you install and open it on computer. Plug iPhones into this computer via USB cables. Next, follow the directions on the interface to let the program identify the devices automatically.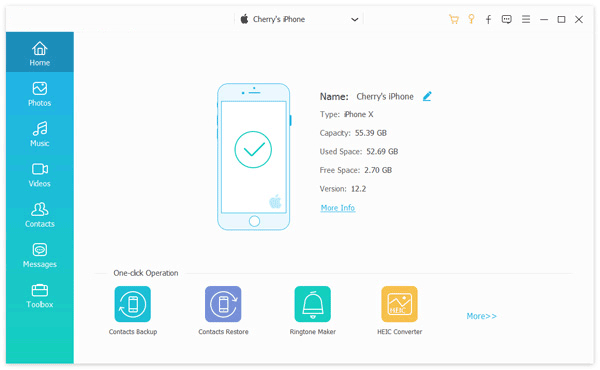 Step 2. While the connection is made, the main screen will appear then. Make sure that the source iPhone is displayed in the screen. Otherwise, just click the dropdown to choose the source device.
Step 3. To transfer music files, just choose the "Music" folder to share music from iPhone to iPhone.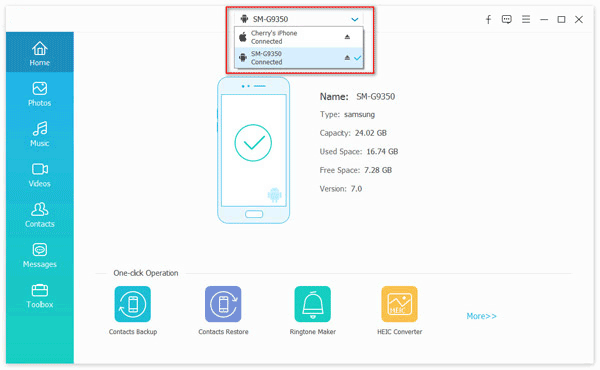 Step 4. Finally, tap on the "Export to Device" option to get the task started. This procedure should be over soon.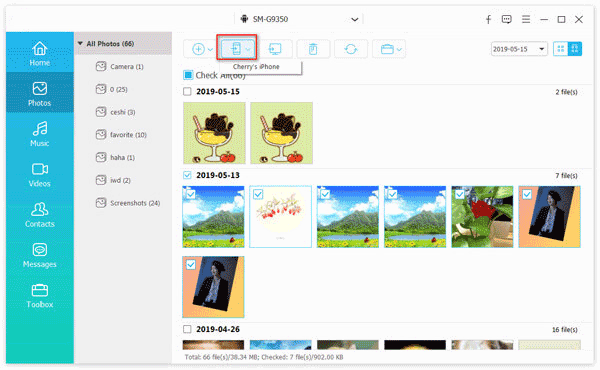 Conclusion
As a whole, concerning how to AirDrop songs from one iPhone to another, bear in mind that your iPhone is on iOS 7 and up, Bluetooth & WiFi is enabled, and AirDrop Settings is checked, etc.
Assume you're confronted with the following situation, don't hesitate to pick Phone Transfer instead, for it'll make you get twice the result with half the effort.
The available WiFi network is unstable.
Some songs in the source phone are not from Apple Music.
There is no subscription for Apple music service in the target iPhone.
There's some physical damage to the source iPhone.
You want to take a more secure and efficient transfer experience.
...
Related Articles:
How to Transfer/Send Files from iPhone to Android with or without Apps
AirDrop Alternatives for Windows and Android
[Easy Guide] How to Transfer Files from Mac/Macbook/iMac to iPad?
How to Transfer Music from Android to iPhone In Minutes?
iPhone Music Transfer: How to Transfer Music from iPhone to iCloud?
How to Transfer Photos from iPhone to iPhone without iCloud?