How to Transfer Music from iPod touch/nano/shuffle to Android
Listening to music while you're happy, sad or boring is a good way to vent your emotions, and in the past years, Apple's iPod have been regarded as the ideal device for enjoying music in the daily life or work, but with the popularity of Android devices, things have been changed. Sometimes people may own iPod and Android phone or tablet at the same time, and in some situation, they may need to share the same contents between iPod and Android for some specific situations.
Consideration about Transferring Music from iPod to Android:
When you get a new a new Android phone, you may wish to copy some favorite songs from your iPod touch to the new phone as ringtones, or you'd like to sync all iPod music to Android for the coming journey, so that you can only take your one portable device to enjoy your whole holiday. Fantastic, right? So if you have an iPod and Android device at the same time, you really need to read this article to learn how to transfer music from iPod to Android or from Android device to iPod touch/nano/shuffle within clicks.
Since the iPod and Android phone or tablet are running on different operating system, so you can't use a simple iOS or Android manager software to solve the problem. That's why iTunes or tools like Samsung Kies, HTC Sync Manager, etc. always useless here. When you need to copy iPod songs to Android, or sync Android music to iPod touch, you'd better to ask for help from a multi-functional program, which supports iOS and Android operating system at the same time.
Recommended Tool to Transfer Songs from iPod to Android:
If you have no idea about this kinds of program, here we could like to strongly recommend Mobile Phone Data Transfer for your reference. With it, you can quickly export and sync the whole music folder from iPod touch, iPod nano or iPod shuffle to Android devices. And if you wish to copy songs from Android back to iPod, the program also can satisfy your needs.
Below, I'll show you exactly how to move any and all music from your iPod to your Android phone in minutes. But to begin with, you need to download and install the powerful program on your computer.
Easy Steps to Transfer or Sync Music from iPod to Android Phone
First of all, let's have a brief look on the primary window of the powerful iPod to Android Music Transfer: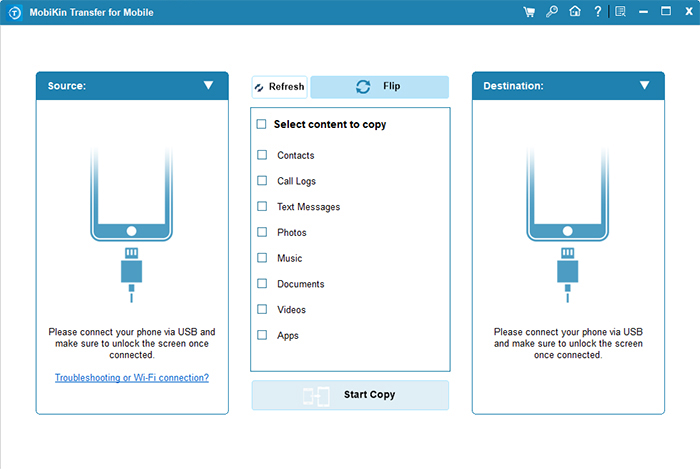 From the above interface, you may have found that the program is not a simple phone to phone transfer tool, it also have lots of other features, such as erase old device data, restore backup file to any device and so on. So according to your needs, here you're recommended to choose "Phone to Phone Transfer".
After that, it is time for you to connect both iPod and Android phone with your computer via USB cable. Then the program will detect your device and show them in the program like below: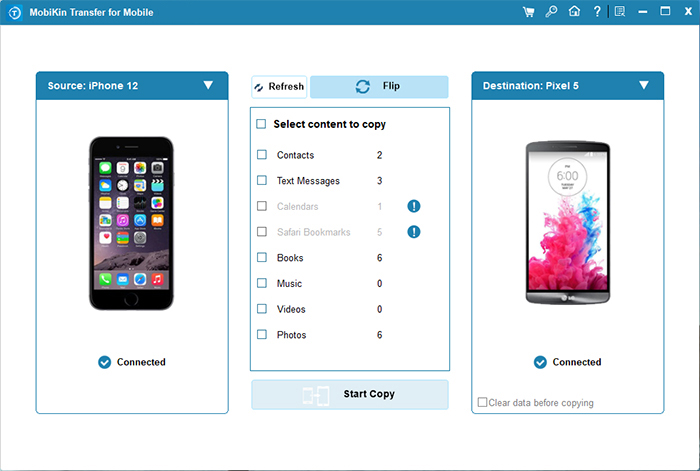 You can select and mark "Music" option in the program, and then click "Start Transfer" button to begin the transferring process as you like. Here, you can check the whole process as you like.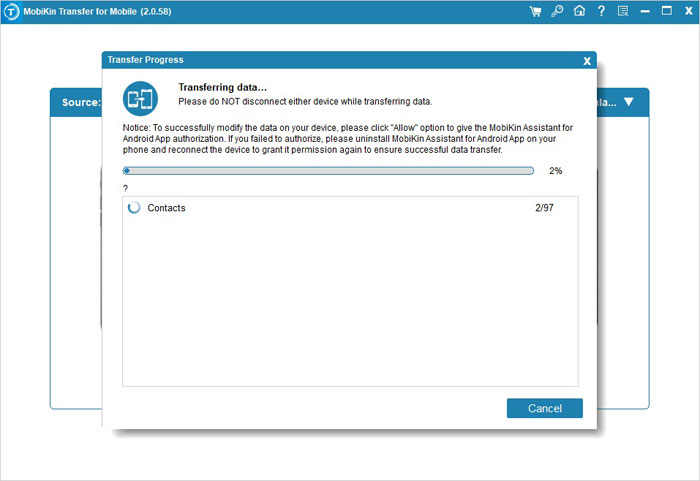 Related Articles:
Easy Way to Transfer Contacts between iPhone and Android
How to Transfer Data between Android and iPhone 6/5S/5