Finding Methods to Connect iPhone to iTunes? Here!
For iPhone users, iTunes is a significant tool to backup and transfer files. However, some of them cannot find the way to establish a good connection between iPhone and iTunes and are puzzled by this issue. Therefore, this article will afford several useful tips and the method to use a third-party program to help users link their iPhone to iTunes easily so that they can move the files between them without any bother.
Part 1. Tips to Connect iPhone to iTunes
Part 2. How to Link iPhone to iTunes Effectively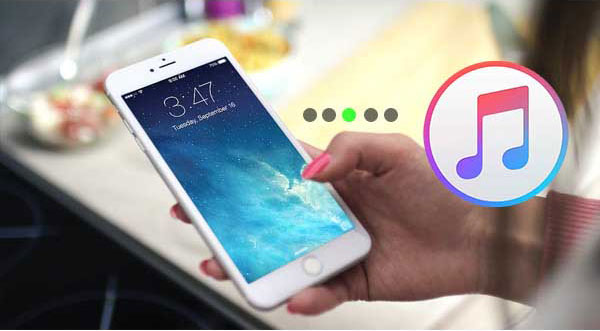 Part 1. Tips to Connect iPhone to iTunes
Under normal circumstances, connecting iPhone to iTunes can be simple and rapidly. However, you must pay attention to the details or you are very likely to receive a failing result for the reason that most failures of this kind of connection are caused by users' incaution and poor status of the tool. Hence, it is vital to know the tips about iPhone and iTunes connection. If you can follow the tips, you may find that linking iPhone to iTunes and transferring data between them is an enjoyment.
See also:
How to Fix iPhone Not Showing Up in iTunes?
How to Fix iPhone "Cannot Connect to iTunes"?
1. Set up the connection in a stable network

It is certain that your iPhone fails to link to iTunes when the signal of the internet you use is weak or even unusable so that you'd better check the status of the internet before you start the connection. That is to say making sure that you are in the range or the signal strength is good when you are using a Wi-fi network. But if you are in a surroundings without available Wi-fi network, ensure that you have turn on the cellular data. To inspect the cellular, you can go to Settings> Cellular.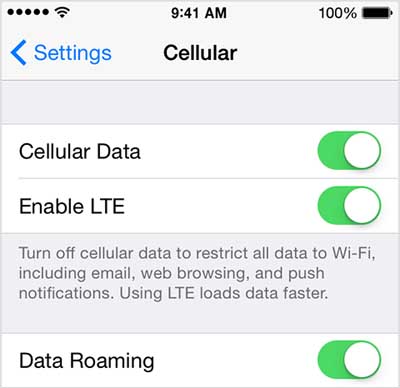 2. Use available USB cable

The quality of USB port and USB cable has a great influence on iPhone and iTunes connection. Therefore, checking for the coupled condition to assure that the USB cable has link your device to the computer well is suggested. However, sometimes it still shows that the USB is incapable of being detected. In this case, you can attempt to use a new USB port because the old one may be damaged but you do not know that.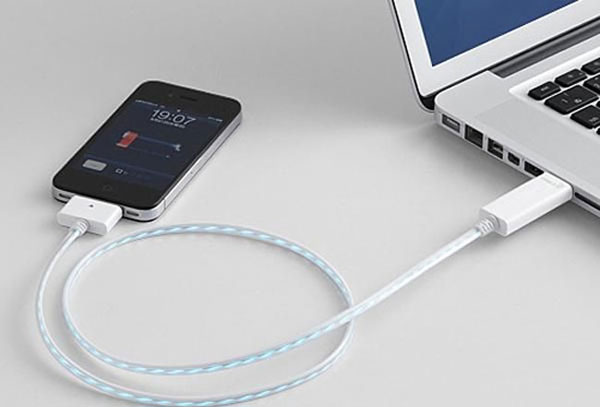 3. Trust the computer
"Trust this Computer" is the essential step to link your iPhone to computer. This pop-up prompt will appear when you link the phone to computer. At this moment, if you ignore this message or select "Don't Trust" option, you will receive an unsuccessful detection. Hence, trusting the computer is an indispensable operation. Nonetheless, if you find that it doesn't work even when you have selected the option, you can click here to know all details about "Trust" or "Don't Trust" a computer on iPhone/iPad.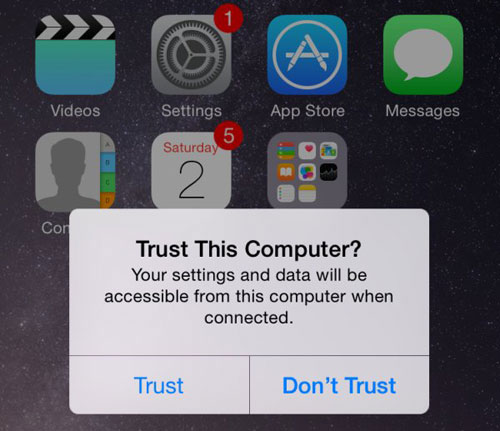 4. Update the iOS version
As we all know, the iOS version changes quickly. Therefore, you'd better check the update information frequently or it may impede the connection because a good link between iPhone and iTunes requires users to download the most recent iOS version. To inspect the version, you can go to "Settings" and then elect "General" option. Next you ought to choose "Software Update" to check it. If the version is not the latest one, you need to update and install it.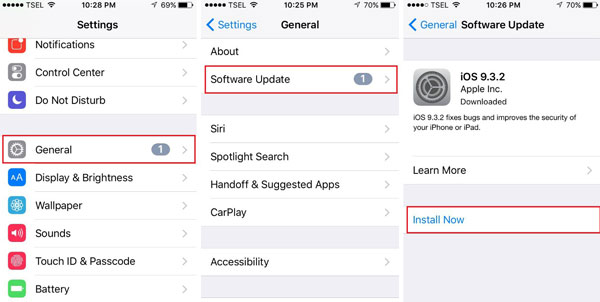 Learn more:
How to Download and Install iOS 10.3 on iPhone/iPad?
5. Update iTunes version
Using the latest iTunes version is the requirement of running it. So it is necessary to check and download the most recent version of iTunes. To check the updates of iTunes, you can tap on "Help" and then choose "Check for updates". If it shows that updates are available, please download and install it on your computer. Sometimes you may find that you still fail to link your phone to iTunes even if you have downloaded and installed the latest iTunes version. In this case, you can select to uninstall your original iTunes and download and install the newest iTunes again.
Part 2. How to Link iPhone to iTunes Effectively
Except the means that we have mentioned above, you also can use iOS Data Transfer Tool to tether iTunes to iPhone and transmit the data between them rapidly, expediently and safely. If you are not sure that this program is secure and serviceable, you can know something about it at first.
This software is a professional management tool for iPhone, iPad and iPod devices. With it, linking iPhone to iTunes is just a mere thing. Except that, you are not only allowed to transfer files like videos, photos, music, etc. from/to iPhone, but also able to back up and manage them with simple clicks. What's more, it is compatible with almost all models of iDevice. Now let's begin our cozy way to connect iPhone 7/6s/6/5s/5 to iTunes.
- Connect your iPhone to the computer via USB cable, and make sure that the device is detected by the computer well.
- Launch the program and then it will detect the connected iPhone automatically, and display all its files as below.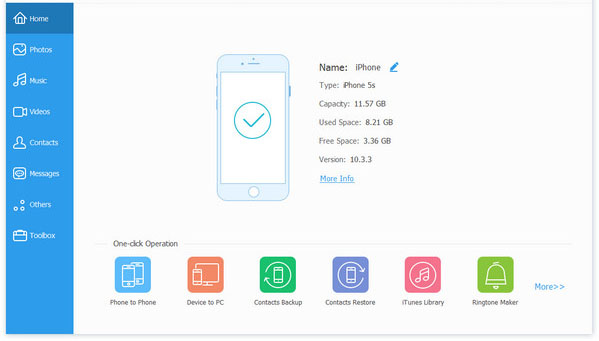 - Select a folder on the top menu, then you can see different categories of this file in the left panel. Just choose one of them and tick your wanted files. Then select the option of "Export" > "Export to iTunes" button to move the selected files to iTunes library easily.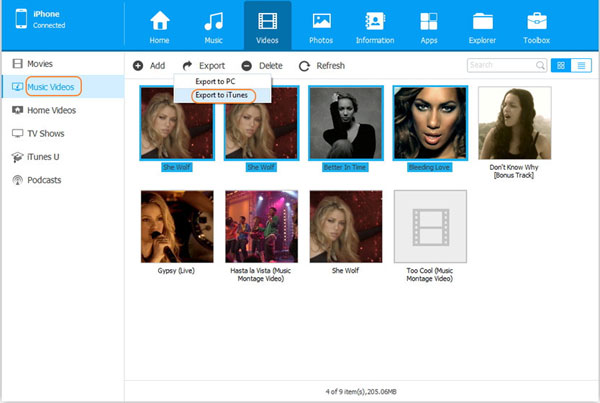 Related Articles:
How to Export iTunes Playlist with Music Files?
How to Back up Data from iPhone by Using iTunes?
Everything You Should Know about iTunes WiFi Sync
iPhone Won't Connect to WiFi, How to Fix It? [Solved]
How to Transfer Samsung/Android Data Wirelessly
How to Remove iCloud Account from iPhone/iPad without Password? [Fixed]