5 Recommended Methods to Save Text Messages/Texts on iPhone 14/13/12/11/X/8
Text messages take up a sizable amount of memory in the iPhone. They keep valuable memories, vital information, and sentimental exchanges. However, with limited storage on the device and the risk of accidental deletion or device malfunction, users may rush to find ways to keep records for legal or professional purposes or simply ensure texts are safe in case of unforeseen scenarios.
Well, this guide aims to figure out how to save text messages on iPhone by providing users with five optional methods to save text messages on their iPhones safely. These techniques range from built-in features to 3rd-party tools, each catering to different preferences and needs, dedicated to maintaining an intact copy of iPhone SMS.
Part 1: Is There a Way to Save Messages on iPhone?
You can take screenshots of individual messages or entire conversations.
It also makes sense to forward text conversations to yourself or someone else via iMessage or SMS.
Apple can officially let you personalize your text messages using iTunes.
Apple's iCloud, though less efficient, is one of the most popular ways to save text messages on your phone.
In addition, there is a simple service - email, one of the most direct ways that can help you complete text backup. (Know how to back up iPhone text messages to Gmail?)
Please note that some of these methods might not be the most efficient for saving a large number of messages or entire conversation threads. For more comprehensive backup solutions, consider using professional 3rd-party software designed for this purpose. Now, below we shall let you know one of the most trusted tools of this kind.
Click to Explore:
Part 2: How to Save Text Messages on iPhone to Computer in One Click
As powerful software, MobiKin Assistant for iOS (Win and Mac) allows you to manage your iPhone data seamlessly. One of its notable features is its ability to save messages from an iPhone to a computer effortlessly. With just a few simple steps, users can connect their iPhones to the computer and export the chosen messages to their desired output location. Besides, it even offers options to save files in different formats for added convenience.
Check out more features of MobiKin Assistant for iOS:
The most rewarding way to save text messages on iPhone impeccably.
Copy files from a PC/Mac to an iDevice with ease.
One click to back up and restore iOS devices without delay. (Can you undo a restore on your iPhone?)
Apply to a wide range of data types, including SMS, photos, videos, contacts, music, notes, bookmarks, books, calendars, and more.
Manage your iOS files on your computer without iTunes.
Compatible with practically all iOS devices, including iPhone 14/14 Plus/14 Pro (Max), iPhone 13/13 Pro (Max)/13 mini/12/12 Pro (Max)/12 mini, iPhone 11/11 Pro/11 Pro Max, iPhone X/XR/Xs/Xs Max, iPhone 8/8 Plus, iPhone 7/7 Plus, iPhone 6/6S/6 Plus, iPod touch, iPad, etc.
It values your privacy.
How do I save text messages on my iPhone with Assistant for iOS?
Step 1. Start by connecting your iPhone to your computer and launching the Assistant for iOS program, ensuring it's installed. Follow the simple on-screen guidelines, and the tool will successfully detect your device.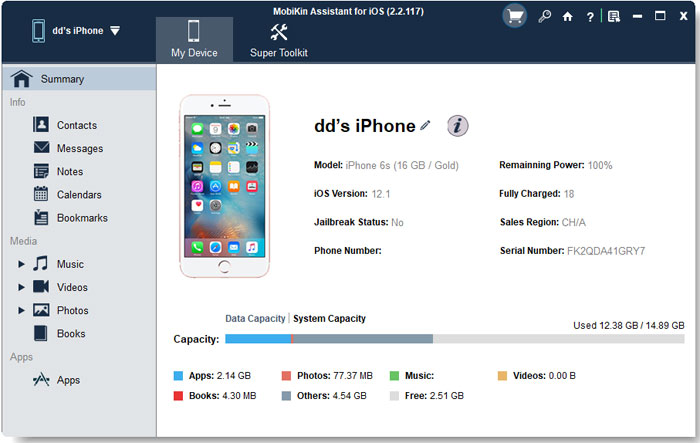 Step 2. The program will present all your iPhone files organized into categories on the left panel. Navigate to the "Messages" tab to preview all your SMS conversations on the right. You can select the specific ones you wish to back up.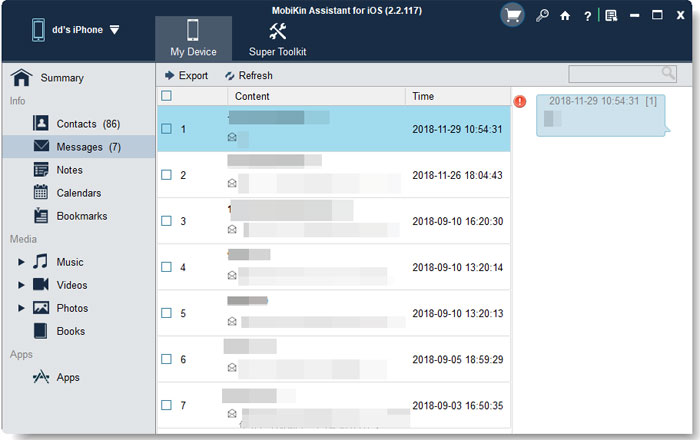 Step 3. Click the "Export" button and choose your preferred output location. At the same time, you can opt for an appropriate file format before saving the files to your computer.
This intelligent program also lets you can also take a bulk backup of your iPhone, including your texts. To make it, click on "Super Toolkit" from the main screen of the program > select "iTunes Backup & Restore" > choose "Backup" from the top menu > choose your iPhone from the list of devices > specify a backup location and click "OK".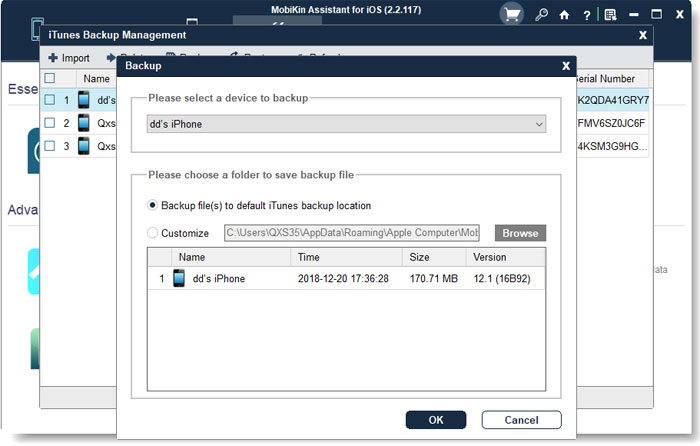 Part 3: How to Save Messages on iPhone Locally by Taking Screenshots
For settling matters using messages, take screenshots and save them locally. To do this, on older iPhones, hold the "sleep/wake" and "home" buttons until the screenshot appears in your photo roll. On newer iPhones without a home button, press the "side" button and the "volume up" button together, then release to see the screenshot in your photo roll. (In doing so, you can also print text messages from your iPhone) Next, how do I permanently save text messages from my iPhone by taking screenshots?
Open the Messages app and tap the message you wish to save.
Do as we just mentioned to take a screenshot of your desired messages.
Once the screenshot is captured, tap "Done" in the top left corner of the screen.
Select "Save to Photos" to save the screenshot to your Photos app.

Congratulations! You have now successfully preserved your iPhone messages in the Photos app.
Further Reading:
Part 4: How to Save iPhone Text Messages to iTunes
iTunes keeps various iOS files, not just texts. Syncing your iPhone with iTunes will automatically save texts and iMessages. However, the backup isn't accessible directly, and restoring it erases current data. Learn how to save all text messages iPhone onto iTunes:
Download and install the most recent version of iTunes on your computer.
Connect your iPhone to the computer and unlock it. If prompted, click "Trust This Computer".
Open iTunes and click on the iPhone icon. Then navigate to the "Summary" section.
Check the option "This Computer" and click "Back Up Now". Be patient and wait for the backup process to complete. After that, you can extract text messages from the iPhone backup as necessary.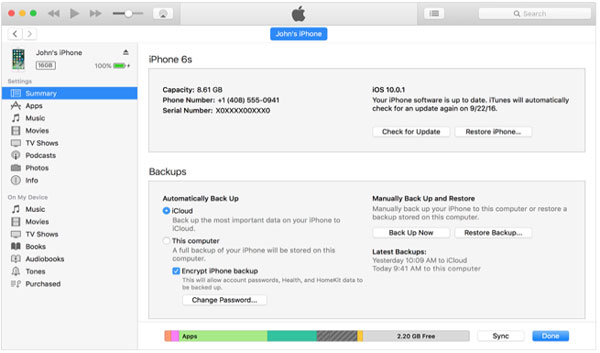 Part 5: How to Save Texts on iPhone to iCloud
iCloud offers backup for various data like text messages, contacts, notes, photos, and more. Using "Messages" in iCloud allows you to save all your messages to the storage, making them accessible across devices with the same Apple ID. However, the limitation is that it provides only 5GB of free space. Next, let's see how to back up text messages on iPhone to iCloud:
Connect your iPhone to a Wi-Fi network.
Open the "Settings" menu on your device.
Tap on your name or image at the top of the screen.
Select the "iCloud" tab in a new window.
Scroll down to find "Messages" and toggle the green switch to activate it. (How to recover iMessages from iCloud backup flexibly?)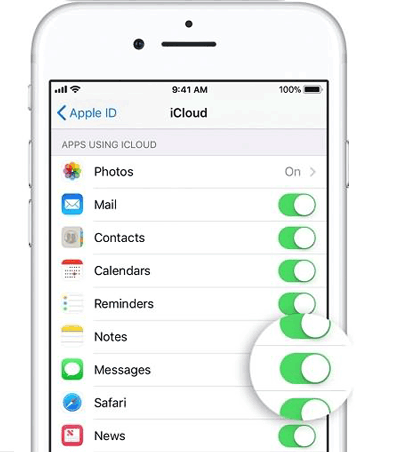 If you have an iPhone running iOS 11 or earlier, here are the steps to enable iCloud Backup: Follow the steps mentioned earlier to go to the "iCloud" tab > Scroll down and locate "Backup" > Toggle on "iCloud Backup" > Tap on "Back Up Now" to initiate the backup.
Part 6: How to Save All Text Messages on iPhone to Email
This service provides an excellent way to back up text messages on iPhone without iCloud. If you're switching to a new phone, simply forward the text messages to the new number. Alternatively, you can forward the messages to an email address. To learn how to save text messages on iPhone to Email, you can:
Tap the "Settings" icon on your iPhone's home screen.
Select the "Messages" option from the page.
Locate and click on the "Text Message Forwarding" option.

Enter the email address where you want to forward the text messages. (You can also enable synchronization with other devices to ensure the text messages are available on those devices as well.)
Finally, you'll notice an upload arrow indicating that the SMS messages are being backed up to the email address you offered.
Additional Tips: How to Save Text Messages into PDFs
Converting screenshots of text messages into a PDF is a useful way to organize them like a book, ensuring they don't get lost in a cluttered photo library. This method becomes especially valuable if you need to print out iPhone text messages for legal or other purposes. Here's how to save texts into PDFs:
Take screenshots of the messages you want to save.
Open the "Photos" app and tap "Select" in the top-right corner.
Choose all the screenshots you wish to convert.
Tap the "Share" button at the bottom and select "Save to Files" from the options.
Pick the destination folder in the Files app for your screenshots and click "Save".
Your PDFs are now created and stored in the designated folder within the Files app.
Closing Remarks
By exploring those avenues above, you'll discover effective ones to protect your precious text messages from accidental loss, device upgrades, or any unforeseen situations. And to provide you with the most seamless and flexible solution, we attach importance to MobiKin Assistant for iOS, a reliable program that offers trouble-free SMS backup and ensures your messages remain safe and accessible whenever needed. Finally, any queries? Please add a comment below.
Related Articles:
Back Up Text Messages on Android without Apps: Practical Tips for Easy Transfer
Helpful Tips to View Text Messages on iCloud from PC/Mac/iPhone [2023]
Messenger Backup: How to Back Up Facebook Messengers for iPhone/Android?
4 Marvelous Ways to Delete Messages from iCloud Storage [Quick Guide]
Definitive Guide: Find Hidden or Deleted Messages on iPhone 14/13/12/11/X/8/7/6
10 Methods to Troubleshoot Downloading Messages from iCloud Stuck