Step-by-step Tutorial to View Text Messages on iCloud
iCloud is one of the commonly used backup resources. Apple users can backup different types of files like messages to this service and restore them when needed. But sometimes a user just needs to view the saved files without restoring, which often leads to most people wondering about how to view text messages on iCloud.
Is It Possible to Read iPhone Text Messages on iCloud Online?
While iCloud makes it easy to copy all your contents, viewing them becomes a bit more challenging especially when it comes to messages. Other types of files like videos can be easily viewed online but the messages cannot be directly viewed. The main reason behind this is thought to be security.
Sometimes people get access to your phone for checking the contents without your knowledge or permission. They may have different intentions but some may be malicious. Protecting your phone is therefore important especially when it comes to messages that often have more sensitive contents. When you don't have messages in your iPhone, iCloud becomes the next target. The inability to read messages online denies wrongful access in case someone has your iCloud login credentials.
It doesn't mean that the messages aren't there. They are stored on iCloud's servers as well as Apple's server. You just need to download them before viewing them or view them using a Mac or computer. Then how to achieve this goal? Just read on to get the easiest solution.
If needed, you can also click to learn:
How to View iPhone Messages on Computer?
How to View iPhone Contacts on Computer/Mac?
How to View/Access Text Messages on iCloud? (Easiest Way)
To view messages on iCloud, you can turn to a software called iPhone Data Extractor. This powerful program can assist you to extract various kinds of files from iOS devices, iCloud or iTunes backup to computer. The recoverable file types include text messages, contacts, call history, photos, notes, calendars, etc. And before the extraction, you are able to preview the data without restriction. So here, you can use it to download the iCloud backup containing the messages you want to view to the program and then access them easily.
Now just click the icon below to get the tool and then go with the steps to access text messages on iCloud.
Step 1. Properly install the downloaded software on your computer and then launch it.
Step 2. Choose the "Recover from iCloud Backup File" mode and continue to sign in your iCloud.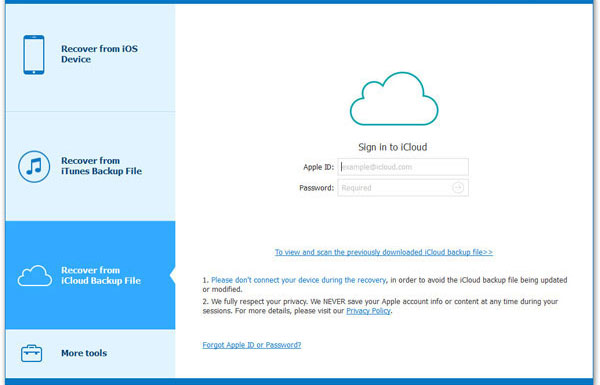 Step 3. After entering your iCloud, you will see a list of iCloud backup files on the screen. Just view and select the backup file containing the messages you want to read and then click "Download" to get the data saved in iCloud.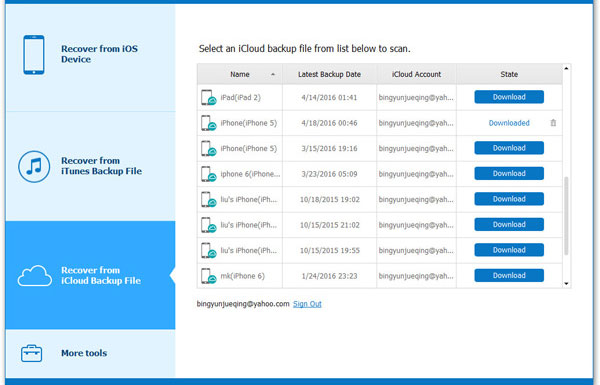 Step 4. Once downloaded, please click the "Messages" and "Messages Attachments" categories in the left column. Then you can read the text messages saved in iCloud freely.
See, only 4 steps can you view the text messages on iCloud easily. And if you wish to retrieve these messages, you can simply click the "Recover" button at the bottom right corner. This will help you to restore the existing as well as deleted messages from iCloud.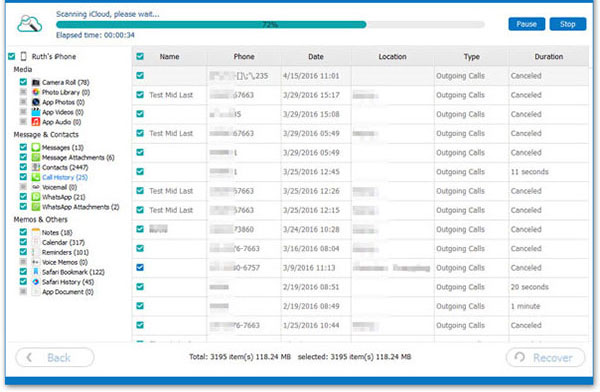 You are also recommended to read:
How to Find Old Text Messages on iPhone? 4 Easy Solutions for Your Needs!
How to Find & View iTunes Backup Files on PC/Mac?
How to Save Text Messages to iCloud?
To view and extract text messages on iCloud, you need to save them to the cloud at first. By saving messages to iCloud, you can ensure the security of your privacy information as well as keep your messages intact without worrying about data loss.
To complete the iCloud messages sync, you can directly:
Step 1. Check to see if your iPhone has enough power so as to make the process smooth and to prevent power shortage interruptions. If not, connect it to a power source.
Step 2. Connect your mobile phone to a stable Wi-Fi network.
Step 3. Enable "iCloud Backup" feature in "Settings" section.
- On iOS 10 or earlier versions, please go to "Settings" > "iCloud" > "iCloud Backup" and then toggle on the "iCloud Backup" button.
- On iOS 11.4 or later versions, please navigate to "Settings" > click on your name > "iCloud" > "iCloud Backup" > toggle on the "iCloud Backup" button.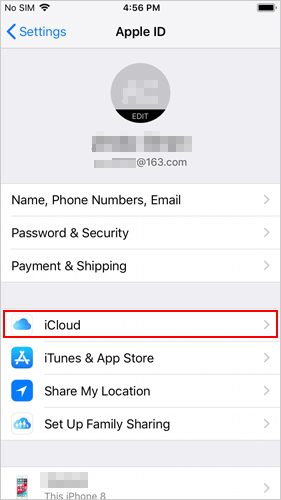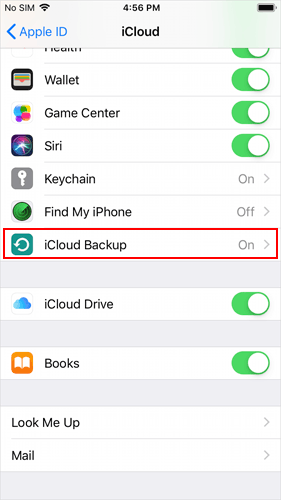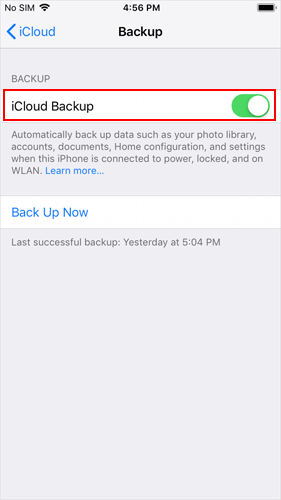 This will not only store your iPhone messages to iCloud, but also save other file types, including contacts, applications in App Store, autofill information in Safari, calendar accounts and events, call history, camera roll, account passwords, mail accounts, settings, bookmarks, web caches, notes, music, etc.
Write in the End
Saving messages or other iPhone data to iCloud is doubtlessly can prevent your data from losing. However, you can only check them after a restoration. Now with the steps above, you view messages on iCloud easily whenever you want to. If you are the one who just want to access the text messages on iCloud without restoring them, this should be a helpful tutorial for you. Supposed that you have any problem during the process, please feel free to contact us.
Related Articles:
User Guide: How to Backup Photos to iCloud Effortlessly?
iPhone Music Transfer: How to Transfer Music from iPhone to iCloud?
How to Transfer Contacts from iPhone to PC?
How to Transfer Text Messages from iPhone to Computer?
Send Long/Large Videos on iPhone: The Definitive Guide (7 Ways Included)