Full Guide on How to Set Up Email & Voicemail on iPhone
Many people tend to use Email or Voicemail on their iPhone to send or receive information, especially office workers. However, to make full use of these two services, the first thing you should learn is to set up Email and Voicemail on your device. Then how to do that? Don't worry! This tutorial will show you the setting process step by step and you can have a better understanding on Email and Voicemail at the same time.
Part 1. What Can Email and Voicemail Do?
Except sending and receiving messages, these two services have some other features which can make our conversation more simple. Let's take a look on them!
The features of iPhone Email:
- Send and receive messages anytime and anywhere as you like;
- Transfer documents like photos, videos, Excel, etc.;
- Support all the popular Emails of the world, such as Gmail, Exchange, Outlook, Yahoo and so on;
- Manually add the email that does not been shown in the list.
The feature of iPhone Voicemail:
- Exchange personal voice messages;
- Select and deliver voice information;
- Save, retransmit and extract voice messages;
- The service would delete voicemail regularly.
Tips for Using iPhone Email & Voicemail:
1. Remember the password or it is difficult the find them back.
2. Check the emails or voicemails termly so that you won't miss any important information.
3. Frequently update the services so that you can get some new features of them.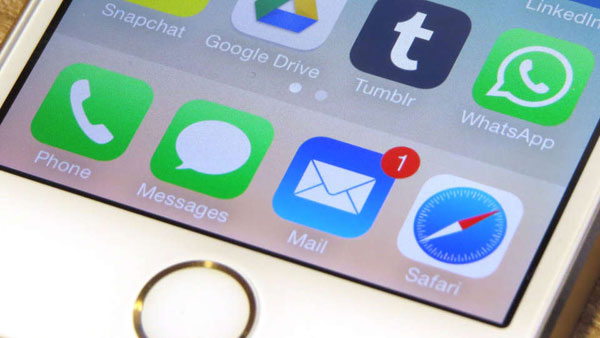 Part 2. How to Set Up Email on iPhone?
Now let's begin our journey of iPhone Email setting. This process can be completed within several clicks. So, it is very straightforward and time-saving. Below is the detail for your reference:
Step 1. Tap on the icon of "Settings" on your iPhone screen.
Step 2. After entering the "Settings", you will see there are many categories listed on the screen. Just click on "Mail, Contacts, Calendars" option and select "Add Account".
Step 3. Now you will see several Emails are displayed on the interface, just elect the one you are using and fill in the required information, including Name, Email, Password and Description.
Step 4. Slip the slider next to "Mail" from left to right to turn it on.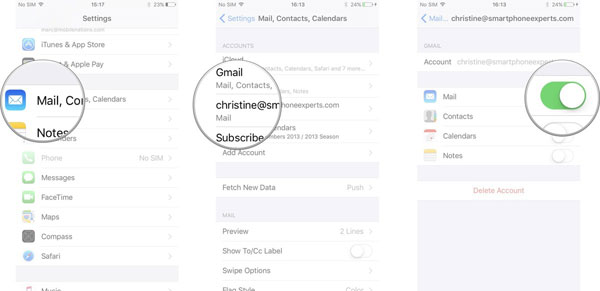 From now on, you can use the Email service on your iPhone easily. You can send and receive emails, delete outdated or junk messages, add information, etc. It is really convenient.
See also:
How to Email iPhone Photos/Videos?
How to Transfer Voicemail from iPhone to Computer Easily?
Part 3. Connect Voicemail to iPhone
Now, let's learn how to connect voicemail to iPhone. Also, just follow the details below to active the service.
Step 1. Tap the "Phone" icon on your iPhone Home screen to launch the process.
Step 2. Select "Voicemail" in the menu bar at the bottom right corner.

Step 3. Click on "Set Up Now" and then you need to create a password for your voicemail. Next tap on "Done".
Step 4. Enter the password that you have created just now and tap "Done" to confirm it.
Step 5. Select "Custom" or "Default" option. If you elect "Custom" here, you will be able to record a new greeting.
That's all! You can save and extract the voicemails on your iPhone according to your need and no any important voicemail would be missed now.
Related Articles:
Things You Must Know about "Reset All Settings" on iPhone
Tutorial on How to Use Siri on iPhone/iPad
How to Transfer WhatsApp Data from iPhone to iPhone?
Top 4 Ways on How to Transfer Photos from Laptop to iPhone
How to Transfer Photos from iPhone to Samsung?
[Top 5 Methods] How to Transfer Music from Android to iPhone