How to Transfer Photos from iPad to MacBook/MacBook Pro/iMac?
Thanks to iPad's excellent screen and the display effect, high-resolution HDR photography works can be absolutely gorgeous demonstrated on the iPad. While for Mac users, sometimes they need to move images from iPad to their Mac, for they have to convert or organize pictures on it, or simply free up the memory of their iPad. So, a query - how to transfer photos from iPad to Mac might bother them.
In general, the most classic approach is to pick Photos/iPhotos app. Yet is there any other solutions apart from this? OK, in today's how-to guide, we'll cover 5 great ways on how to import photos from iPad to Mac.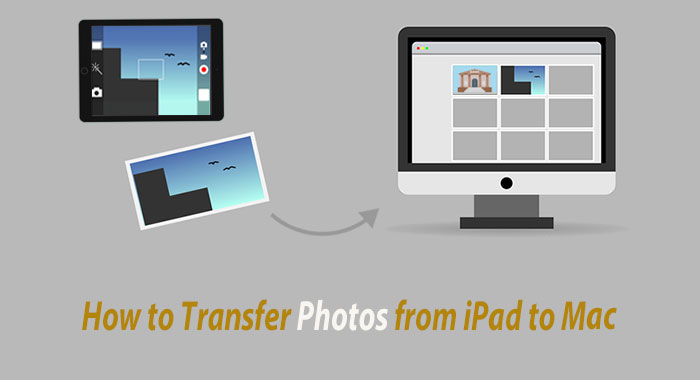 Way 1: How to Upload Photos from iPad to Mac with Photos/iPhotos App
This means has proven to be the easiest one. After open Photos app on Mac, just select desired pics to import them to your Mac. Yet for some Mac computers with old macOSes, there's no built-in Photos app in it. But you can choose iPhotos instead. And the steps to use the both are almost identical.
Here's how to transfer photos from iPad mini/Air to MacBook Pro/iMac with Photos app:
Plug your iPad into Mac computer through a USB or Lightning cable.
Photos app should start automatically. (if not in actual fact, hold down "Option-Command" and double-click the "Photos" icon to launch it)
Tap iPad icon under the Devices header. Then choose the images you'd like to import, click on "Import" and specify a location on Mac.
Click "Import Selected" to get photos to Mac. Assume you want to import all the stuff, just tap "Import All New Items" button.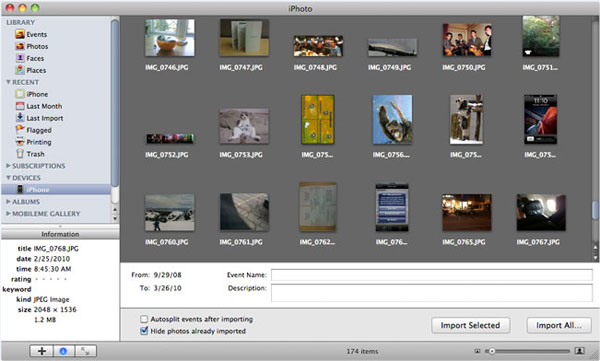 Way 2: How to Transfer Photos from iPad to Mac with Assistant for iOS
To move photos from iPad to iMac can certainly make the most out of your iPad. And this also serves the purpose of taking a safe backup for iPad pictures. But during this process, many people need to manage photos or other data on Mac, such as deleting media files, uninstalling app or managing the backup of iTunes.
Well it's a piece of cake for MobiKin Assistant for iOS (Mac and Windows) to do those. Again, when you avail of it, you can go to the search box, typing in keywords to easily find and manipulate iDevice data you want.
Some Core Features of MobiKin Assistant for iOS:
Move data from iPad/iPhone/iPod to MacBook/MacBook Pro/iMac or PC totally or selectively.
The supported types of files: Photo, Video, Music, eBook, Contacts, SMS, Notes, Podcast, Ringtone, Playlist, Safari Bookmarks, Voice Memo, etc.
Give full control over iOS data like photos, contacts, notes, videos, etc, on computer.
Back up, restore and delete iTunes Backups on Mac/PC.
Intuitive directions on screen to ensure error-free operations.
It doesn't track any of your privacy, so you can make use of it without any worries.
Work well on various iDevices, including iPad Pro, iPad Air, iPad mini, iPad 4, the new iPad (iPad 3), iPad 2, etc.
Let's look in more detail at how to transfer photos from iPad to iMac with Assistant for iOS:
Step 1. Connect iPad to Mac and launch the program
After you download and install Assistant for iOS on Mac, just connect iPad to this Mac via a USB cable and then open the tool. Touch "Trust" button to trust this computer on your iPad, then the interface will appear on the Mac.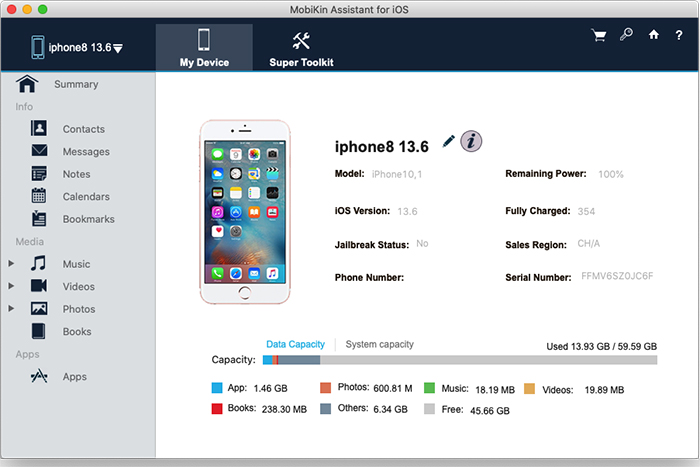 Step 2. Preview and choose desired images for transfer
You can see all the data types of iPad categorized on the left panel. Simply click "Photos" tab, and all images on your iPad will be detected. Then preview the pics, and select the ones you need to move to Mac.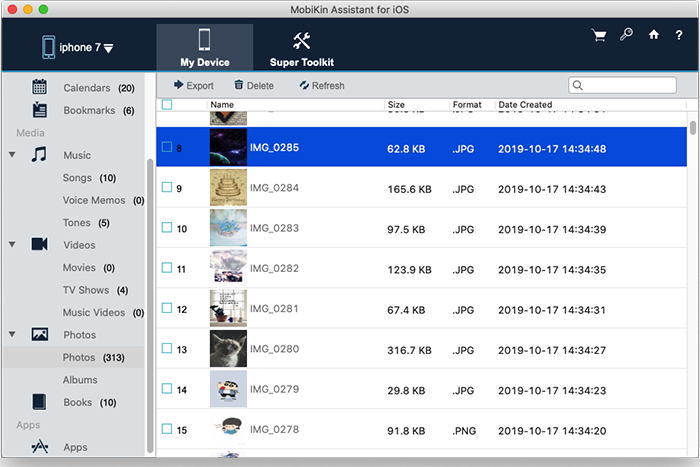 Step 3. Move photos from iPad to Mac
After the selection, press the "Export" button from the top menu. Then choose a location on Mac from the drop-down items. This software will now transfer your pictures over in no time.
Be careful not to pull out the cable until the procedure ends, as this might result in data loss, and you'll have to restart the task.
Related Posts:
Way 3: How to Import Photos from iPad to Mac via iCloud Photos
iCloud Photos (Library) enables you to upload photos from iPad to Mac over WiFi network. During the use, please log in with the same Apple ID on both iPad and Mac. To get these things done: go to "Settings > [your name] > iCloud" (on iPad), and navigate to "System Preferences > iCloud" (on Mac).
How do I transfer photos from iPad to Mac via iCloud Photos:
Step 1. On your iPad, head to "Settings" > "Photos" to turn on "iCloud Photos"/"iCloud Photos Library" switch.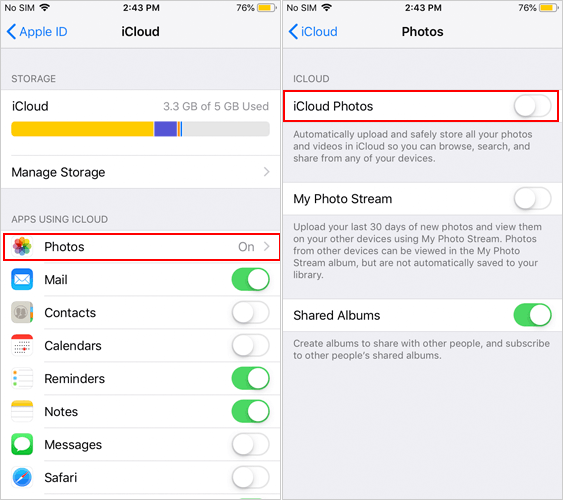 Step 2. It's also necessary to enable iCloud Photos on Mac. To do this, go to click the Apple icon at the top left, and go to "System Preferences" > "iCloud" > "Photos" > "Options" > iCloud Photos/iCloud Photo Library.
Step 3. Click "Done" to start transferring photos from iPad to Mac. Then exit the iCloud options window.
Way 4: How to Move Photos from iPad to Mac via AirDrop
Turn on AirDrop, WiFi, and Bluetooth features on both devices before the use. Then set the transfer permissions, select the photos for migration, and share them with your Mac computer. After the transfer, advise you to switch off AirDrop on both iPad and Mac.
Note that AirDrop only works for a fourth-generation iPad or newer, or a Mac computer running OS X Yosemite and higher.
How to move photos from iPad to MacBook using AirDrop:
Open AirDrop on iPad: go to "Settings > General > scroll to AirDrop"; then choose "Everyone" option from the drop-down list to enable this feature.
Toggle on AirDrop on Mac: open "Finder > Go > AirDrop"; and ensure AirDrop is switched on by choosing "Everyone" from the pull-down menu.
Open "Photos" app from iPad, and select the images you wish to send to Mac. Afterwards, choose "Share" from the bottom.
Choose your Mac as the receiver, and accept the transfer request to "Save" the incoming pictures on Mac.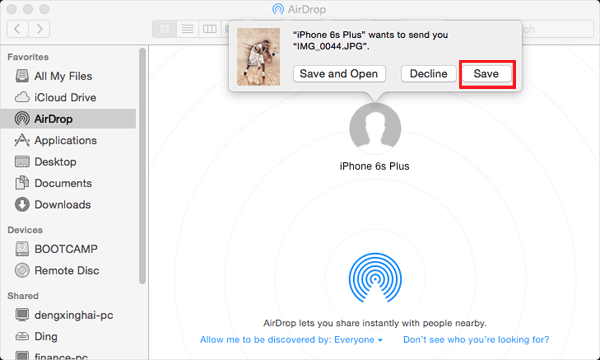 Please turn off the "Personal hotspot" in both iPad and Mac while picking this method. Besides, if you find the data cannot be moved, please restart Bluetooth & Wi-Fi, and transfer photos in stages.
More Related:
Way 5: How to Transfer Photos from iPad to iMac Computer Using Image Capture
Image Capture comes integrated with any macOS devices. It offers no organizational tools like Photos/iPhotos app, yet is helpful for collating images from various sources with no need for any drivers. And among others, it lets you transfer photos to Mac from iPad with ease.
How to download photos from iPad to MacBook using image capture:
Link your iPad to Mac via a USB cord.
Start the Image Capture app from your Mac computer.
Choose your iPad from the device list, and choose the images you need to import to Mac.
Choose the location where you'd like to save the pictures.
Tap on "Import" or "Import All" to migrate photos from iPad to Mac.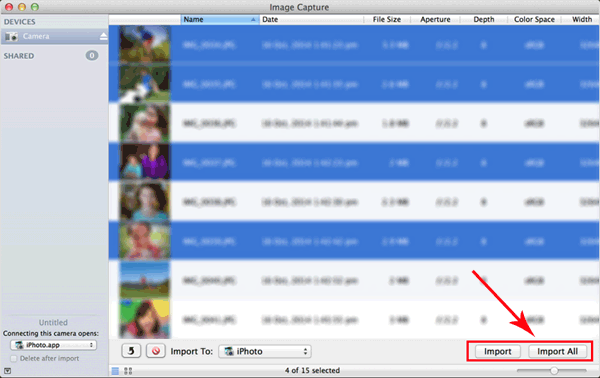 After the completion, you can check the photos you imported just now. They should be tagged as green check marks.
Note: Image Capture will add 1.5MB of empty data to every single file during use, which will cause unnecessary space waste for Mac computer.
Final Words
That's all there is to today's article. Concerning how to download photos from iPad to MacBook Pro/MacBook/iMac, safe, fast and flexible is the priority for most people honestly. In this sense, MobiKin Assistant for iOS (Mac) can fully meet your requirements. Whichever approach you go for, hope you will have a good time in doing this.
Finally, here's an extra tip: Mac is a smart photo manager; in addition to allowing you to edit pictures, it also gives you the freedom to create intelligent gallery, or make physical albums, calendars, cards, etc.
Related Articles:
How to Edit/Manage iPhone Contacts on PC? [Top Tips for 2021]
[100% Success] How to Back up iPhone/iPad to External Hard Drive
4 Easy Approaches to Export Text Messages from iPhone to PDF
[Fast Transfer] How to Transfer Music from iPhone to Android?
How to Sync Contacts from iPhone to iPad? 4 Ways for You!