3 Tested Methods to Transfer Word Documents to iPhone/iPad
As a portable device, iPhone allows us to browse Word Doc, Excel, and other files anytime and anywhere, as long as we install the Microsoft Office program in advance. Well, if you have many Word documents on your computer, is there a direct way to transfer Word Doc to iPhone? OK, the answer is No. But that doesn't mean it's difficult to receive and access Word documents on an iPhone.
In today's passage, you will learn how to transfer Doc to iPhone via Google Drive, Email, and iTunes. Here, you may say that iTunes does not support syncing Word Doc to iPhone if you are an iPhone veteran. Yet, in fact, iTunes can surely do this in certain conditions. OK, just read on to get more.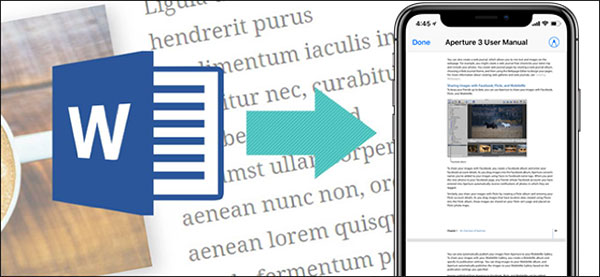 Part 1: How to Transfer Word Doc to iPhone with Google Drive
There are several options to transfer Word Doc to iPhone out there. Cloud storage like Google Drive could be one of the best means.
You can back up your iPhone content to Google Drive, including photos, videos, audio, archives, texts, XML, Excel files, PowerPoint files, as well as Word documents, and so on. For this topic, just upload .doc/.docx files from your iPhone to the Drive. Then log in to the Drive on your iPhone and get your wanted stuff there.
Let's go over how to put word documents on iPhone with Google Drive?
Visit drive.google.com from any web browser on your computer.
Log in to your Google account and tap "New" from the top left.
Choose File upload or Folder upload to copy your wanted Word Doc files to the Drive.

Once done, you can see the files on the Drive account at once.
Download and install Google Drive on this iPhone.
Open the Drive and log in to the same Google credentials.
Finally, you can get into the "Google Drive" folder to check and download the Word documents.
Pros:
It's easy to use.
You can view, edit, or download the Word documents on your iPhone directly.
Cons:
Google Drive only offers 5 GB of free storage, so ensure you have enough memory before uploading your documents, or you'll have to pay for additional space.
It's paid storage is a bit more expensive than other services.
You May Need:
Part 2: How to Transfer Doc to iPhone Using Email
If you have an email account related to Gmail, Hotmail, Yahoo, etc., then it's easy to save Word documents on your iPhone in this way. Here, let's take Gmail as an example to explain the tutorial:
How to transfer Word Doc to iPhone using Email?
Go to accounts.google.com from any browser on your computer.
Log in to your Gmail account on the webpage.
Send an email with an attachment of Word Doc files you want to transfer to your iPhone.
Sign in to the same Gmail account on this iPhone.
Now you can access the attachment with Word documents.
Just view the files from the Gmail screen directly.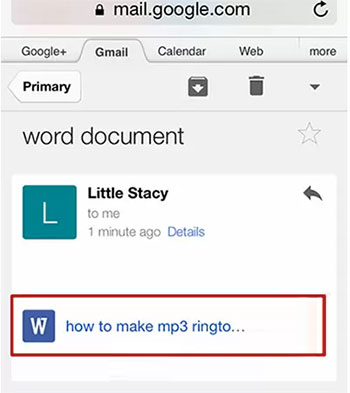 Pros:
You can view Word documents on any other device as long as you connect it to the Internet and log in to your email.
It is totally free.
Cons:
Email doesn't allow you to save or edit the documents on your iPhone.
It can handle no more than 20 or 25MB of attachments at a time.
Part 3: How to Save Word Document on iPhone via iTunes
Word documents on your computer can be synced to your iPhone by iTunes (version: 12.3 and earlier), according to the test from the Apple Support webpage. So, if you have the old version of iTunes installed on your computer, you can try this method.
To transfer document to iPhone 12/11/XS/XR/X via iTunes:
Run the older iTunes on your computer.
Connect your iPhone to this PC with an applicable USB cable.
Head to "Store" > "Authorise This Computer…".
Input your Apple ID and passcode as required. (iPhone doesn't show up in iTunes? Click here)
Click your iPhone icon from the iTunes interface.
Tap on "Apps" under "Settings".
Scroll down to the bottom of the screen.
Choose "Word" > "Add File…" at the right corner.
Opt for the Word documents from the PC to transfer and hit "Open".
All the doc files will be loaded to the main panel.
Hit "Sync" to transfer them to the connected iPhone.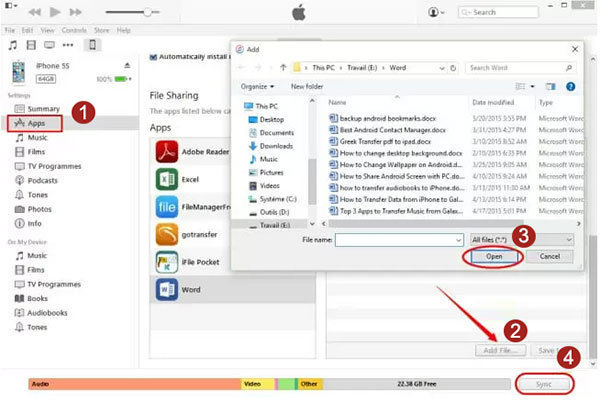 Pros:
iTunes doesn't rely on WiFi to connect.
Cons:
This method can only be used to operate on iTunes 12.3 and earlier.
You need to select the corresponding apps while transferring various kinds of documents.
iTunes supports limited file formats.
Can't Miss:
Bonus: Tips to Convert Word Doc to PDF via iPhone Built-in Feature
Since PDF files are more universally supported on almost all kinds of devices, many iPhone users tend to convert Word documents to PDF for convenience.
Well, there is an inbuilt tool for Doc to PDF conversion in iOS 10 and newer. And you can make your Word documents into PDF directly on your iPhone. Now, here's how:
On your iPhone, open the Word document and hit the "Share" button.
Tap "Print" shown at the bottom of your iPhone's share sheet.
Skip the printer option displayed at the top.
Proceed to the preview image at the bottom of the phone screen.
Tap and zoom out on the preview thumbnail to convert the Word Doc to PDF.
At last, you can press "New Share" to save, export, or share the newly-created PDF.
Words in the End
So, How do we choose among the 3 methods mentioned above? OK, here are some practical suggestions:
Generally, you can compare their advantages and disadvantages before picking a method.
Want to view Word documents on your iPhone only? It is recommended that you transfer Doc with Email.
Need to download or edit Word Doc on your iPhone? Google Drive can be a better choice.
Before using email or Google Drive, make sure your WiFi or cellular data works properly.
If you get an old version of iTunes installed on your computer, you can use the original iPhone charging cable to connect the phone to your computer prior to doing the task with this tool.
Can you transfer Word Doc to iPhone now? Welcome to drop a line below if you have any questions during use.
Related Articles:
How to Transfer Books from Samsung to iPhone?
How to Get Free Books on iPhone, iPad, or iPod touch?
How to Put PDF on iPhone/iPad in 6 Methods? (Simple Steps with Pics)
How to Transfer Data from iPhone to iPhone without iCloud?
Want to Transfer CSV from PC to iPhone? Solutions Are Here!
How to Transfer Files from PC or Mac to iPhone 12/11/XR/XS/X/SE/8/7?