Upload iPhone Videos: How to Upload Videos from iPhone to YouTube?
YouTube provides us a platform to upload, view, rate, share and add videos. This video-sharing website is well-received around the world and a large proportion of users are likely to download YouTube videos to their iPhone so that they are able to view them more freely. However, what if you want to share some funny videos on YouTube? Do you know how to upload videos from iPhone to YouTube? If you don't get the answer yet, you can read this article to get the solutions of uploading videos to YouTube.
To upload videos from iPhone to YouTube, there are two ways available. But before starting the uploading, you should know what kinds of video format are supported by YouTube. Normally, YouTube can support the videos which are in MOV, MPEG4, MP4, AVI, WMV, MPEG, FLV, 3GP, WebM formats. Therefore, please check the video formats in advance. Otherwise, you would fail to accomplish the uploading when the format of your video is not correct.
See also:
How to Download Twitter Videos in iPhone/iPad?
How to Download Facebook Videos on iPhone?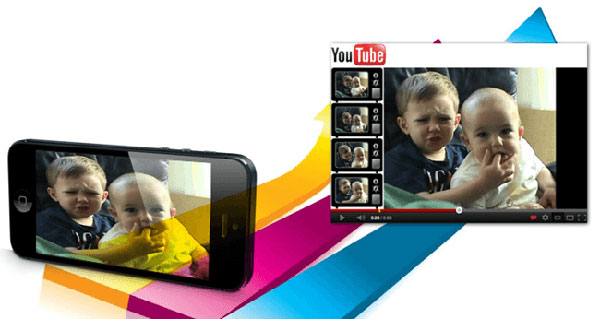 How to Upload iPhone Videos to YouTube from Camera Roll Directly?
The first means is to upload the videos from iPhone Camera roll directly. By using this method, you have no need of downloading any application or uploading software. In addition, the process is very straightforward and effortless. You can have a try and it won't take you too much time.
The detailed steps will be displayed below, you can go with them.
1. Click on the icon of "Photos" on iPhone screen and then go to Camera Roll> Videos folder.
2. Select the videos that you want to upload and tap on the "Share" button at the left corner. Then click on "Next".
3. After that, a small box will pop up from the bottom with different options, such as YouTube, Facebook, Vimeo, etc. Just elect "YouTube" to share your videos.
4. Now you need to log in your YouTube account. Just type in your username and password.
5. Next you need to add a description for the uploaded video and choose the quality, category and right audience of the video.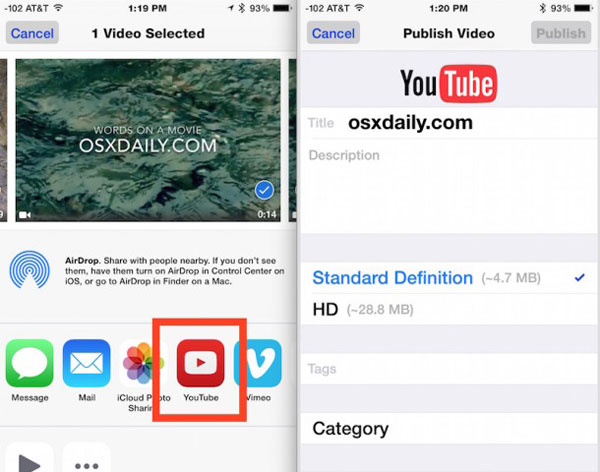 6. Confirm the contents of the videos and tap "Publish" to finish the uploading.
Upload Videos to YouTube via YouTube App
Apart from uploading iPhone videos to YouTube by Camera Roll, you have another option- making use of YouTube Application. Compared with the first means, this method is just to exchange the sequence. The followings are also the particular steps for your reference.
1. Open YouTube on your iPhone. If you do not have one, you need to download it from App Store and then install it on your device.
2. Sign in YouTube by typing in your username and passcode.
3. Click the "Menu" button at the upper left corner and a drop-down list will appear.
4. Tap "Upload" button which is next to "My Channel".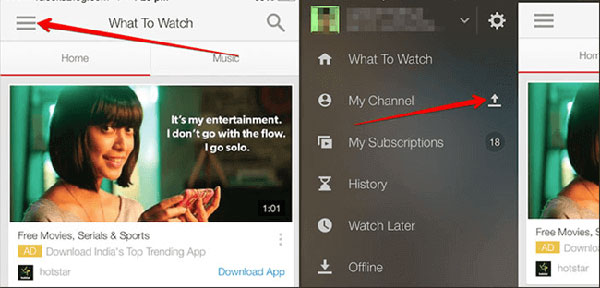 5. Select the videos you want to share from Camera Roll. Then fill in the specific information of your video like description, category and right audience.
6. Finally tap on "Upload" button at the right hand corner to upload the video.
That's it! It is not so difficult, right? Just try it if you have the need!
Related Articles:
How to Email iPhone Videos/Photos?
How to Transfer Videos from iPhone to Computer?
iPhone Battery Draining Fast After Upgrading, How to Fix It?