Definitive Guide: How to Back Up iPhone with Broken Screen?
"Hey, I just broke my screen of my iPhone X, but I don't want to lose all the stuff I had on the device. I tried to back it up, but iTunes won't recognize my iPhone before entering the password. How to back up iPhone with broken screen, HELP!" -- from Apple Forum
Got your iPhone cracked like above? OK, you might find its screen is not damaged too much. But with frequent use, you're likely to have to repair the screen or buy a new phone soon. Suppose there are obvious fragments of glass, it is damaged seriously. In either case, it's urgent to back up your iPhone to keep its content safe.
Well, let's assume your iPhone screen is broken badly so that you can't wake it up for backup. We will now compile 4 easy ways to help you back up your broken iPhone blithely.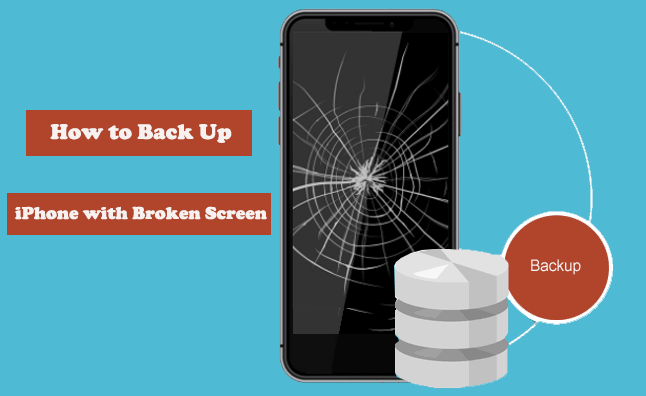 Way 1: How to Back Up iPhone with Broken Screen via Assistant for iOS
If your iPhone has trusted your computer, you can back up the device safely and quickly through MobiKin Assistant for iOS (Win and Mac). This program is specially designed for iOS device backup and management.
You can utilize it to back up your iPhone data selectively or in batches over and over again, and the previous backups won't thus be covered. It also allows you to manage your iOS files with ease. For instance, you can preview, add, delete or edit your iOS content on your computer directly.
Key features of MobiKin Assistant for iOS:
Transfer iPhone content to computer quickly, covering contacts, SMS, photos, music, videos, eBooks, notes, Safari Bookmarks, voice memos, podcasts, ringtones, etc.
Back up iPhones with the broken screen to the trusted computers.
Copy data among iPhone/iPad/iPod, iTunes and computers easily.
Restore any iTunes backups for iOS devices in one touch.
Take control over your iOS content on PC/Mac with ease.
Work for various iOS devices, such as iPhone 12, iPhone 11/11 Pro/11 Pro Max, iPhone X/XR/XS/XS Max, iPhone 8/8 Plus, iPhone 7/7 Plus, iPhone 6/6S/6 Plus, iPod, iPad, etc.
It can well protect your privacy.
How to back up iPhone when screen is broken using Assistant for iOS?
Step 1. Connect broken iPhone to computer
Give Assistant for iOS a download on a computer and launch it after the installation. Use a USB cord to link your broken iPhone to the computer, and it'll be detected by this computer soon.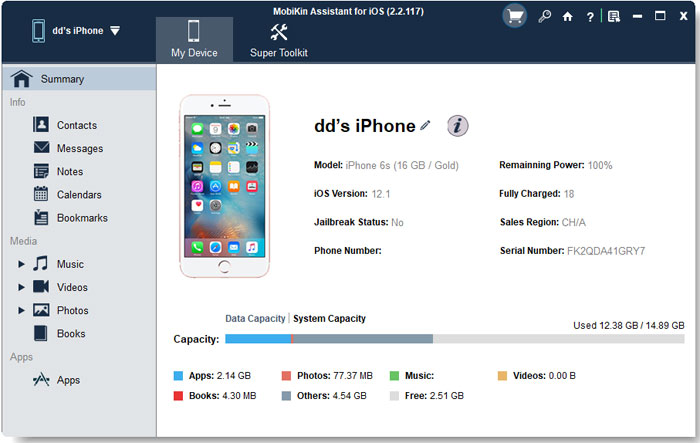 Step 2. Select your desired content to backup
Choose data types you need from the left menu, and the tool will categorize all the specific iPhone content on the right. Now, you can preview and tick on any wanted items.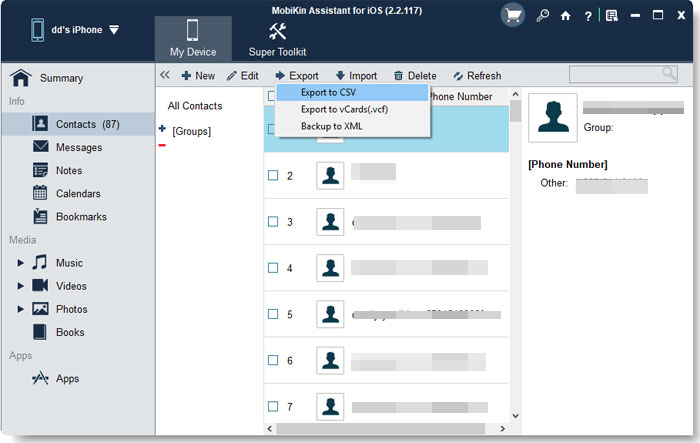 Step 3. Back up iPhone with broken screen to computer
After the selection, tap on "Export" from the top interface to save all the chosen files to any folder of your computer.
B.T.W, this program also lets you back up & restore your broken iPhone with its 1-click Backup & Restore feature. To do this, highlight "Super Toolkit" > choose "iTunes Backup & Restore" > tap "Backup" > specify a folder on your computer to store the stuff.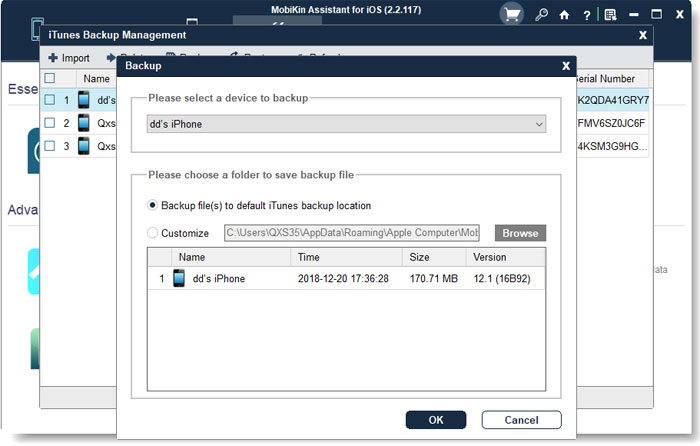 You May Wonder:
Way 2: How to Back Up Broken iPhone via iTunes
You can also use iTunes for backup if your iPhone has trusted any computer. It's not hard to do the task, yet note that when you restore the backup to any iPhone, iTunes will replace all the data with the backup on this device.
How to back up iPhone if screen is broken using iTunes?
Launch the latest version of iTunes on the computer that has been trusted by the broken iPhone.
Connect your broken iPhone to the trusted computer via a USB cable.
Select the iPhone icon from the top left of the iTunes interface.
Choose "This Computer" from the "Backups" section.
Tap "Back Up Now" to commence. (Click here if you encounter iTunes errors while backing up the broken iPhone)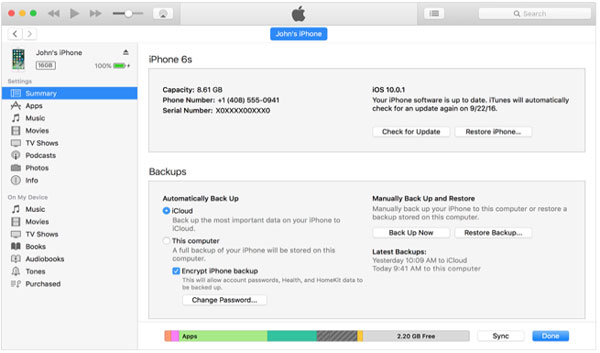 Way 3: How to Back Up iPhone When Screen Is Broken Using Bluetooth Keyboard
Suppose your iPhone didn't trust any computer, and now the iPhone screen is broken, unfortunately, then how can we back up the phone without any trouble? OK, you may fix the issue using a Bluetooth keyboard. Before the operation, you should shop for a wireless Bluetooth keyboard first. And if your computer is not Bluetooth-capable, you need to buy an additional Bluetooth USB adapter.
To access iPhone with the broken screen and thus back it up with Bluetooth Keyboard:
Activate Siri and tell it to "enable VoiceOver". (How to use Siri on my iPhone? Tap here)
Link your lightning to a USB adapter to your iPhone and plug your keyboard into it.
Tell Siri to open Bluetooth Settings and ask it to "turn Bluetooth on".

Enable the Bluetooth keyboard and put it in pairing mode when necessary.
Go to the keyboard in the coming list.
Press the right cursor key on the USB keyboard until you cannot go any further.
Now you can tell by listening to VoiceOver's audio prompts.
Ensure the Bluetooth keyboard is highlighted.
VoiceOver should then automatically confirm this with a notification.
Unplug your USB keyboard and connect your iPhone to your computer with a charging cable.
A message will cue you to trust the computer.
Press the right cursor key twice to choose "Trust" by pressing Ctrl-Alt-Space on the Bluetooth keyboard.
Confirm that you intend to trust this computer by using it to input your phone's passcode or PIN.

After that, you can back up your iPhone with the broken screen via MobiKin Assistant for iOS described in Way 1.
Read Also:
Way 4: How to Back Up iPhone with Broken Screen and Passcode via iCloud
If it's not convenient for you to buy a Bluetooth keyboard and your iPhone hasn't trusted any computer, you can try to do the job with iCloud.
Preparations:
A USB keyboard.
A smooth WiFi network.
Lightning to USB adaptor.
An iCloud account with enough storage space.
Next, let's check out how to back up iPhone 12/11/X/XR/XS with Broken screen via iCloud:
Ask Siri to enable VoiceOver.
Connect the lightning to USB adaptor to the broken iPhone and plug the USB keyboard in.
Ask Siri to open iCloud settings.
Ensure the "Apple ID" section is selected. Otherwise, move down the list of Settings to choose it by hitting the Right cursor key on the keyboard.
Press the cursor key 22 times to get to iCloud Backup. Each entry would be read aloud when you navigate.
Tap the iCloud Backup item by pressing Ctrl-Alt-Space on the keyboard.
On your iPhone with the broken screen, iCloud Backup should be enabled now.

To find if it is on, press the right cursor key 3 times. Then you'll hear "iCloud Backup on" or "iCloud Backup off".
If the option is off, press Ctrl-Alt-Space again.
Connect your iPhone to a WiFi network.
Press the right cursor key twice, followed by "Ctrl-Alt-Space".
This will help you press the "Back Up Now" button.
A progress bar will appear with an estimate of the time remaining.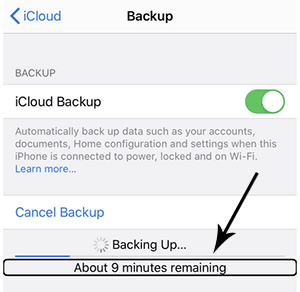 If you cannot see the progress bar, you can get the info by pressing the right cursor key to listen to the info from VoiceOver.
The End
Too often, it seems that many may be yet to think about the backups until it's too late. In fact, you know, it's not difficult to back up a broken iPhone if it has trusted your computer.
If not, you can use a Bluetooth keyboard to complete the task. Then pick MobiKin Assistant for iOS or iTunes to perform the backup. Yet considering the content on the iPhone would be covered when the backup is restored by iTunes, the former is the more practical approach. Again, you can also take iCloud into account, but its operation is more complex and less secure than taking the task on a computer.
Finally, it is suggested that you accomplish the backup first before sending your iPhone for repair or get a new one.
Related Articles:
3 Best Ways to Backup and Restore iPhone (#3 is Excellent)
How to Backup iPhone to MacBook Pro/Air, iMac, Mac Pro, etc.?
10 Best iPhone Backup Software in 2021 for Windows PC/Mac
How to Recover Lost Data from iPhone 12/11/11 Pro/XR/XS
Ways to Freeze Screen While Sharing iPhone Photos with Friends
Quick Guide: How to Backup Android Phone with Broken Screen?