[11 Ways Offered] How to Unfreeze iPhone Screen in Minutes
Despite being a mainstream mobile phone brand, an Apple iPhone cannot always remain smooth and functional. For instance, when its screen freezes, it is no different from a model machine to you, except for the occasional short response. So you start to press all the buttons on it crazily, tap any corner of the screen and even restart it many times, but to no avail.
OK, what causes a frozen iPhone? Any idea how to unfreeze iPhone at short notice? Take it easy; we will walk you through possible reasons and solutions in the following.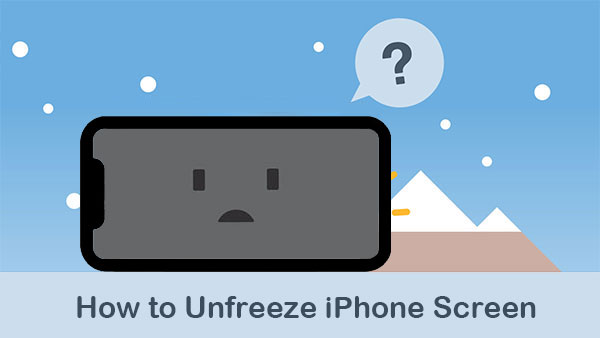 Part 1: Why Do I Unfreeze My iPhone?
This situation is probably caused by system issues, abnormal apps, or limited memory space on your iPhone. Next, let's make a list of several important reasons:
An older iOS version with glitches.
Insufficient iPhone storage space.
Overheated or supercooled iPhone.
Unupdated or buggy apps.
Infrequent iPhone reboots.
Your iPhone is with low battery.
You May Like:
Part 2: How to Unfreeze iPhone in 10 Quick Ways
Usually, when an iPhone is frozen, i.e., touch doesn't unlock the phone. Well, if its screen can still respond occasionally, remember to take the opportunity to back up your iPhone to iCloud, keeping the existing iOS content intact. (Quick Navigation: equip your iPhone with a smooth Wi-Fi network. Go to its "Settings" > [your name] > "iCloud" > toggle on "iCloud Backup" > "Back Up Now".) Next, how do you unfreeze an iPhone? Check the possible solutions below:
Way 1: Charge your iPhone
When you aren't sure whether a battery that is about to run out is causing the symptom, charging your iPhone before shutting down and restarting it later might work. (iPhone battery draining fast?)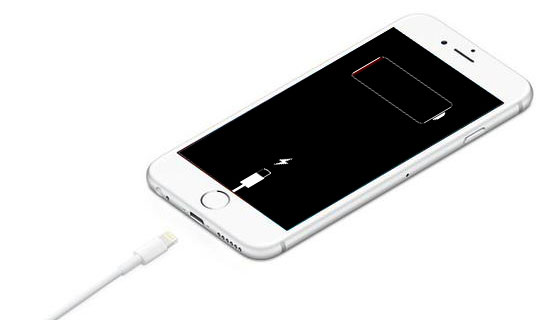 Way 2: Reset all settings
Making it won't do anything to the iOS data, but reset your settings to their defaults, including network settings, location settings, keyboard dictionary, privacy settings, Apple Pay card, etc. Here are the steps:
Proceed to iPhone's "Settings" > "General".
Choose "Transfer or Reset iPhone" > "Reset" > "Reset All Settings".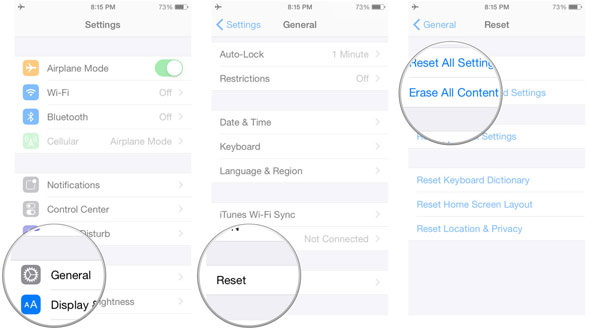 Way 3: Update apps
Download a new app from App Store right before the iPhone freezes? Check if it is an outmoded one and update it as required. How do I unfreeze my iPhone by updating apps?
Run App Store and tap the "Account" tab.
Scroll down to locate all apps with updates available.
Press "UPDATE"/"UPDATE ALL" to get the single/all apps updated.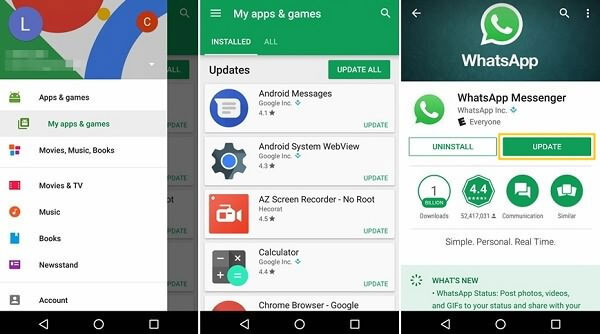 Way 4: Delete faulty apps
If the app update doesn't eliminate the problem, just remove it from your iPhone if it's not important:
Hold down the app you wish to delete.
Choose "Remove App" > "Delete App" when a menu with options turns up.
Finally, press "Delete" to confirm the action.
You Might Also Need:
Way 5: Free up iPhone storage
Once alerts pop up frequently from your iPhone screen, telling you there's not enough storage. Please free up space by going to its "Settings" > "General" > "iPhone Storage". Then create more memory by uninstalling unwanted apps and deleting unnecessary files.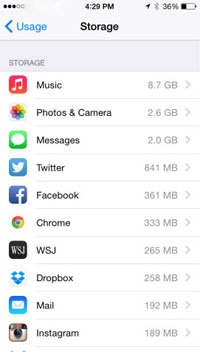 Way 6: DFU restore your iPhone
DFU (Device Firmware Update), an advanced recovery mode, gives you the ability to reinstall all software and firmware on your device. Yet this mode will erase all your iOS content afterward. Wonder how to unfreeze the iPhone screen in this way? There are specific steps on how to restore iPhone via DFU mode in this article - Fix iPhone stuck on Apple logo.
Way 7: Check diagnostics & usage
"I restarted my iPhone, and now it's frozen". It's time to check diagnostics and the usage as follows:
Proceed to iPhone's "Settings" > "Privacy" > "Analytics" > "Analytics Data".

Some apps and services may be listed over and over again, or any apps are displayed nearby LatestCrash; delete or offload them.
Way 8: Update iOS
An outdated iOS version may lock you out of many features, and keeping it updated might give the phone an opportunity to come back to life. So, just follow the steps to update your iOS to the latest version:
Start by tapping your device's "Settings" > "General".
Choose "Software Update" before you get a notification if there's an update available.
Finally, click "Download and Install".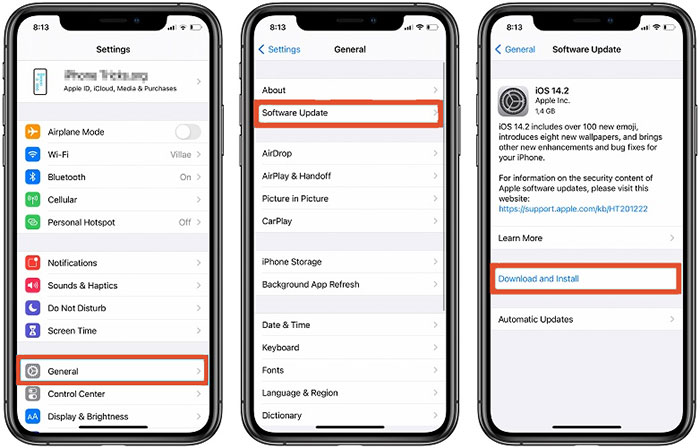 Way 9: Restore from iTunes
Designed to manage your iOS files, iTunes is also capable of restoring your device by erasing it and resetting it to factory settings. Here's how to get iPhone unfrozen by restoring it from iTunes:
Link your iPhone to your computer through USB.
Install the latest version of iTunes on the same computer.
After your phone is recognized, select the "device" icon.
Go to "Summary" > "Restore iPhone".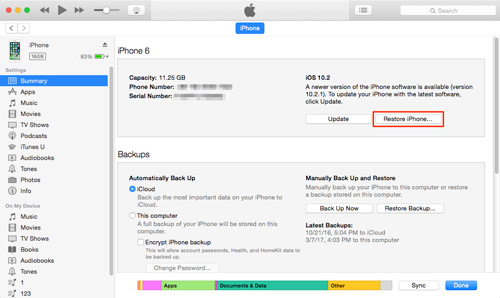 Way 10: Hard reset iPhone
Doing a hard reset on your iPhone will restore its setting to the initial configuration. Here are the instructions:
On your iPhone 8 or newer: Press and quickly release the "Volume up" key; do the same on "Volume down"; press and hold "Side" until the Apple logo turns up.
On your iPhone 7/7 Plus: Press and hold both the "Side" and "Volume down" buttons when you see the Apple logo.
On your iPhone 6s and older: Press and hold the "Home" and "Side"/"Top" buttons until the Apple logo appears.
Part 3: iPhone Is Still Frozen? Try the Best Way to Unfreeze iPhone Screen without Restore
Are you still struggling to find a solution for your iPhone that doesn't work? Unable to create a backup for your phone because it has been unresponsive, always unresponsive? Leave this headache to this professional tool - iOS System Recovery. As one of the most popular iPhone repair software, it lets you fix your iDevice with just simple clicks. And it won't damage the content within.
iOS System Recovery can make the following impeccable:
Quickly unfreeze iPhone with no data loss.
Troubleshoot 50+ iOS system issues, including Touch ID not working, iPhone stuck on Apple logo, iTunes keeps crashing, and even upgrade/downgrade iOS to the proper versions.
Deliver two repairing modes, helping fix your iOS to normal.
Compatible with almost all iOS devices, including iPhone 13/13 Pro (Max)/13 mini/12/12 Pro (Max)/12 mini, iPhone 11/11 Pro/11 Pro Max, iPhone X/XR/Xs/Xs Max, iPhone 8/8 Plus, iPhone 7/7 Plus, iPhone 6/6S/6 Plus, iPod touch, iPad, etc.
It won't let out your privacy.
How to unfreeze iPhone with iOS System Recovery?
Step 1. Free download the program and install it on a computer. Then open it and go to its "More Tools" > "iOS System Recovery".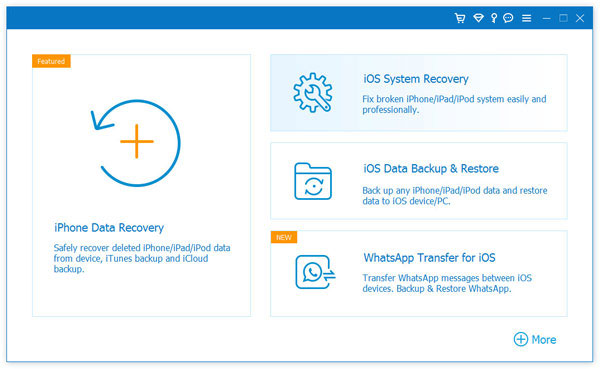 Step 2. Press "Start" and follow directions on the screen to boot iPhone into Recovery/DFU mode. You can press the "Home" and "Power" buttons at the same time for 10 seconds. Then let go of the latter to fix the frozen iPhone.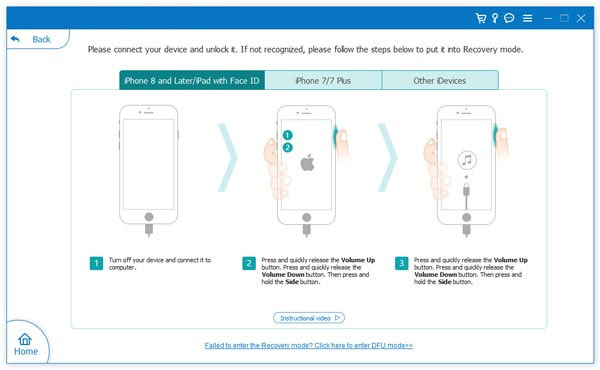 Step 3. Select the correct iPhone info and iOS version before clicking "Repair". The tool will download the plug-ins for repair. After that, it'll start unfreezing your iPhone without restoration.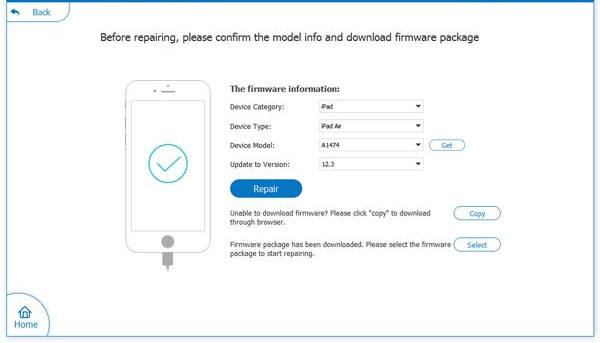 Final Part
That's all for today. We sincerely hope that the content above can help you out. The ten quick solutions mentioned just now seem simple and easy to use, yet funnily enough, sometimes, even if you know what is responsible for this problem, the possible fixes won't get you out of trouble. Fortunately, you've got to know iOS System Recovery; one can revive your iPhone and keep its content unaltered after repair.
Related Articles:
Full Solutions to Fix The device is Unreachable Error for iPhone
Where Is Trash on iPhone? How to Clear or Recover Items from iPhone Recycle Bin?
[Full Guide] How to Transfer Videos from PC/Mac to iPhone?
5 Popular Ways to Mirror iPhone/iPad to Windows 10 [2023 Latest]
How to Back Up iPhone to Windows 11/10/8/7? [Way 1 Is the Quickest]
iPhone Storage Full? How to Free Up Space on Your iPhone in 11 Tips