What Happens If You Delete a Backup? Get Some Helpful Tips Here
"What will happen if I tap 'delete backup' to delete the iCloud backups from my sister's iPhone off my device. Will it delete everything on her phone?" -- from Apple Support Community.
iCloud, as a representative of "incremental backup", has always provided Apple users with choices in its way, despite its sluggishness and inconvenience. That's why each backup may not be too bloated compared with iTunes, a "non-incremental backup" tool. Therefore, when more and more old backups occupy limited iCloud storage, you might need to clear its space before you can upload new items to the Cloud.
OK, what happens if you delete a backup? What important information do I need to know before and after the backup removal? Well, good question! Today's post is the ultimate guide to answering queries about the topic you want to know about.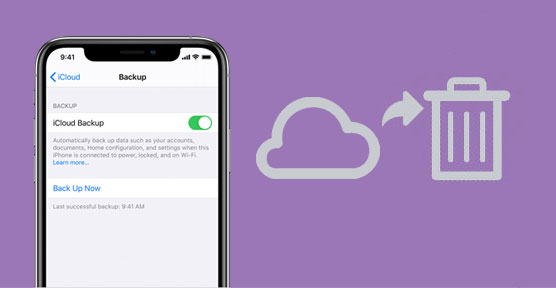 Part 1: Is It OK to Delete an iCloud backup?
Firstly, here's a question - should I delete my iCloud backup? Well, it depends. If you have several iCloud backup records and the storage is approaching the critical point, you can delete some earlier backups. Assuming you only have one, you should be prudent because deleting it means some items will be lost, including photos, videos, music, apps, etc. Once something goes wrong with your iOS device, you cannot restore it directly from the backup.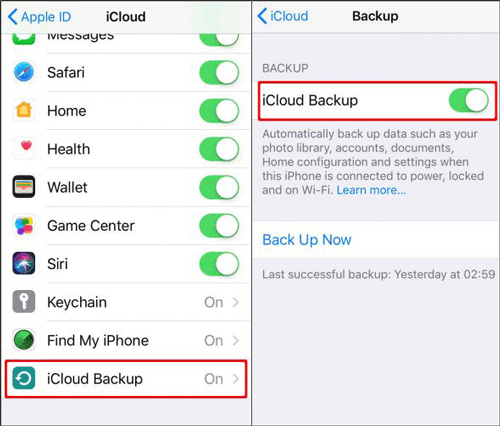 Learn More:
Part 2: Will Deleting iCloud Erase Everything?
Before we answer that question, let's look at this: what does deleting a backup mean/do? To take it further - If I delete an iCloud backup, will I lose everything? Well, the short answer is NO! When deleting a backup, you will lose the following files: iDevice Settings, Home screen, app organization/data, iMessage, SMS, MMS, media files, ringtones, purchase items from Apple services, Visual Voicemail password, and Apple Watch backups.
The above may lead to the query - What does an iCloud backup not include? Get into the link to see what is excluded from the backup. And this might provide a comprehensive trade-off before you make a decision.
Part 3: How to Delete an iCloud Backup
Managing backups on iCloud with only 5GB of free storage is a hassle. When you need to optimize the memory space of iCloud or encounter the iCloud backup failed, it is necessary to delete unnecessary backups. Next, we will let you know how to make it:
Go to your iDevice's "Settings" > tap [your name]/"Apple ID".
Head to "iCloud" > "Manage Storage".
Click "Backup" and determine the device you don't want to keep the backup of.
Lastly, hit "Delete Backup".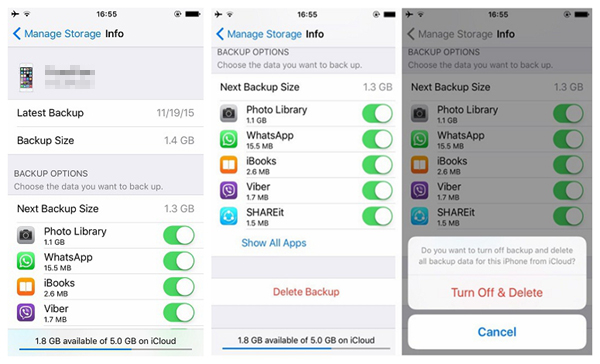 Can I delete an iCloud backup from a PC/Mac? Sure!
Quick Look: On Windows, head to iCloud for Windows > tap "Storage" > "Backups" > choose your device's name and the backup > "Delete"; on Mac, choose Apple menu > "System Preferences" > "iCloud" > "Manage" > "Backups" > select this iDevice > pick your unwanted backup > "Delete".
Extended Reading:
Part 4: What Happens If/When You Delete an iCloud Backup
As you know, by turning on the iCloud backup option on an iOS device, the new backup would be updated at some point. Often, it occurs automatically whenever your iDevice is working with a smooth Wi-Fi network if it is connected to power. So what happens if I delete an iCloud backup? OK, here are the clues:
The iCloud backup won't protect your iOS content anymore.
The backup copy will be wiped out immediately with little chance of recovery.
The iCloud Backup option will be disabled automatically in your iPhone/iPad Settings.
It will clear up your iCloud storage other than the one on your iDevice.
Normally, you have the ability to check iCloud Photos and Contacts on iCloud.com.
To view if your Messages and Photos are still available, please go to "Manage Storage" from iCloud Settings and see if their buttons are on.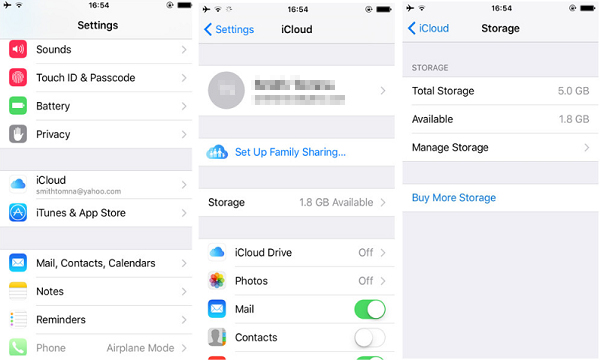 Although deleting the backup won't adversely affect the existing content on your device, we recommend that you make a backup for it, let's say, back up your iPhone to Windows 10. OK, that's all for "what happens if I delete a backup from iCloud/iPhone".
Attention: If you are restoring the iCloud backup content to your iPhone or iPad, please remember not to delete the backup first. That's because it'll not only interrupt the restoration but may clear the existing iOS data and the one in the backup.
Part 5: iCloud Backup Takes Up Much Storage? Try the Best iCloud Alternative
It is an indisputable fact that the original iCloud storage limits the number of backups for iDevices. Relatively, if you take a computer, a large storage space, as the storage location, you can freely and safely manage your copies without worrying about the negative effects of deleting old backups. In this regard, MobiKin Assistant for iOS (Win and Mac) (iOS 15 supported), a great replacement for iCloud, could be at the top of your list when backing up any iOS devices.
A brief introduction to MobiKin Assistant for iOS:
Back up iOS devices to a PC/Mac selectively.
One-click to batch back up and restore iPhone/iPad/iPod touch.
You don't have to worry too much when you decide to delete old backups.
Work for such files as contacts, text messages, photos, videos, music, eBook, Safari history, bookmarks, notes, voice memos, podcasts, ringtones, playlists, etc.
Copy data between iDevices and iTunes/computers.
The best iTunes alternative to flexibly manage iOS content on a computer directly.
Compatible with almost all iOS devices, covering iPhone 13/13 Pro (Max)/13 mini/12/12 Pro (Max)/12 mini, iPhone 11/11 Pro/11 Pro Max, iPhone X/XR/Xs/Xs Max, iPhone 8/8 Plus, iPhone 7/7 Plus, iPhone 6/6S/6 Plus, iPod touch, iPad, etc.
How to use Assistant for iOS to back up iOS data to a computer?
Step 1. Run the utility on your computer after the free download and installation. Link your iDevice to this computer via a workable USB cord. Next, get your device detected by the program following the easy on-screen instructions.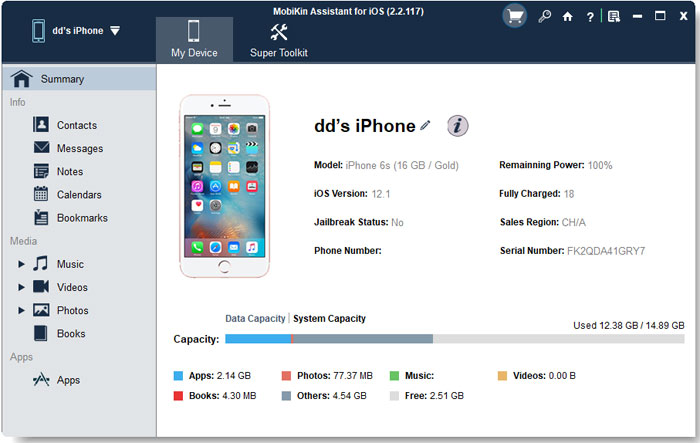 Step 2. Once identified, select your desired data types from the left menu and view the concrete files on the right. Subsequently, select what you want to before backing up to the computer.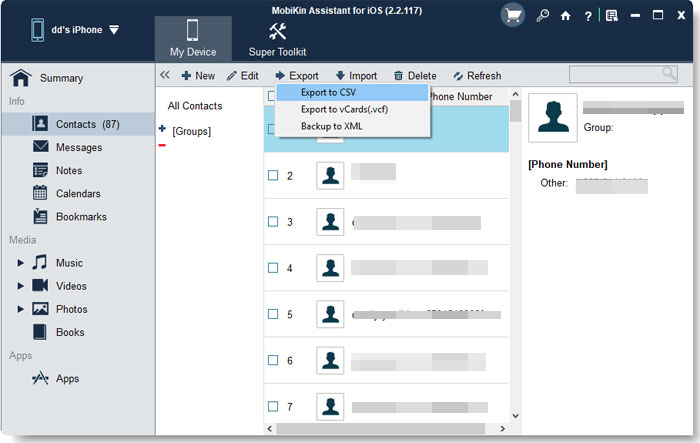 Step 3. At last, click on "Export" from the top screen to copy the selected iOS items to the computer. Once accomplished, all your wanted files will be on the machine.
Note: Alternatively, you can batch back up your iOS device by going to the program's "Super Toolkit" > "iTunes Backup & Restore" > "Backup" > select your device > choose a location to save the backup > "OK". Afterward, it's easy for you to restore your iPhone/iPad from the backup you just made whenever needed.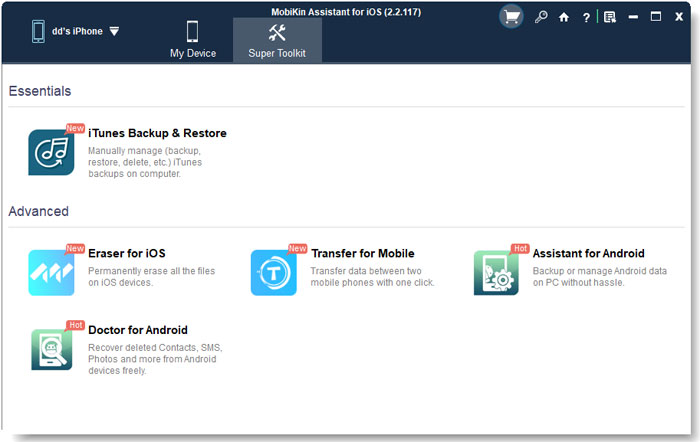 Closing Remarks
Last but not least, as we said in the foreword, iCloud comes with an incremental mechanism, which means that each new backup will not contain the existing content in the old one. Therefore, before you decide to delete a backup, you ought to carefully check its time and review whether it includes indispensable items you may need in the future. Finally, if you don't want to think too hard about deleting old backups, try taking MobiKin Assistant for iOS to back up your content to your PC/Mac.
Related Articles:
4 Best Ways to Back Up iPad Air/Pro/mini/4/3/2 to Mac/MacBook
How to Restore iPad from iPhone Backup? 3 Worry-free Options Here
How Long Does It Take to Back Up iPhone to iCloud/iTunes? Here's The Answer
6 Best Alternatives to iCloud for Android (Creative Tools for You)
iCloud Backup Taking Hours? Here're the Efficient Solutions
How to Restore iPhone from iCloud without Resetting [2022 Update]