How to Fix iPhone Clicking/Pressing on Its Own? 10 Solutions to Try
"How do I stop my iPhone X from pressing buttons on its own? I don't know what to do! Please help me." -- from Apple Support Community
Recently, there was a highly concerned thread on Apple Forum concerning iPhone clicking on its own. The complainant said his iPhone keeps pressing itself with no manipulation at all. Admittedly, emerging as one of the sticky problems on some Apple devices, this problem has become commonly acknowledged, especially for an iPhone 14/13/12/11/XS/XR.
So, why is my phone pressing buttons by itself? For Apple, a top-of-the-line company, are there any ways to settle the matter officially? Worry not! Today's post covers the 10 most viable solutions to assist you in getting your phone's screen to behave properly.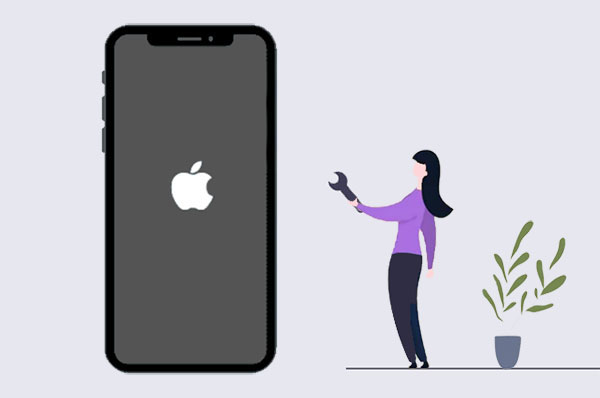 Part 1: Why Is My iPhone Clicking Things on Its Own?
Well, the weird behavior of the iPhone is termed "Ghost touch". Since it's so tricky, some may wonder - why is my iPhone doing things on its own? OK, we've gathered a few reasons, and here are the main ones:
The screen is damaged from a severe drop or liquid spill. (Can I recover data from a water-damaged iPhone?)
Your iPhone may often get stuck and thus not respond.
There's something foreign on the phone screen.
You have an unqualified charging cable.
Some accessories may render the issue.
The screen has been replaced.
An outmoded operating system may give rise to the problem.
Your iPhone has some defects when it leaves the factory.
Click to Know:
Part 2: Try the 9 Quick Fixes to "iPhone Clicking on Its Own"
Fix 1: Remove iPhone's Accessories
To start with, please keep the screen try and peel off the protector. Then take off any other accessories like earphones, cell phone case, etc. This is because they may affect the heat dissipation of your iPhone, resulting in abnormal operation. (My iPhone is getting hot?)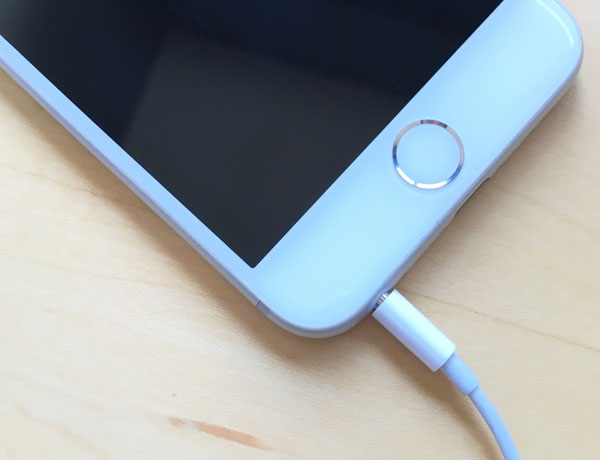 Fix 2: Clean iPhone's Display
After removing all accessories, the iPhone screen keeps pressing itself. Well, any impurity on the screen can play a magical role. You can turn off the device, wet the microfiber cloth with some water, wipe off the particles on the screen surface, and dry the surface with another cloth.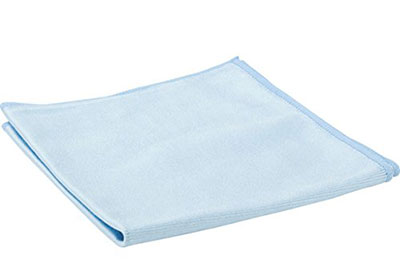 Fix 3: Restart Your iPhone
For iPhone with a Home button: Hold down the "Top"/"Side" button until the "Slide to power off" slider turns up; swipe the "Power off" slider to the right; once powered off, hold the "Top"/"Side" button until you see the Apple logo.
For iPhone without a Home button: Hold the "Side" and any of the "Volume" buttons until you reach the "Slide to power off"; swipe the "Power off" slider to the right; after that, hold the "Side" until you see the Apple logo.
Fix 4: Reset iPhone Settings
To fix the iPhone screen doing things on its own, try to reset your iPhone Settings but not erase your iPhone completely. In doing so, you'll erase only the current customized Settings that might contain bugs. Now, let's see the steps:
Go to your iPhone's "Settings" > "General".
Head to "Reset" > "Reset All Settings" to trigger the task.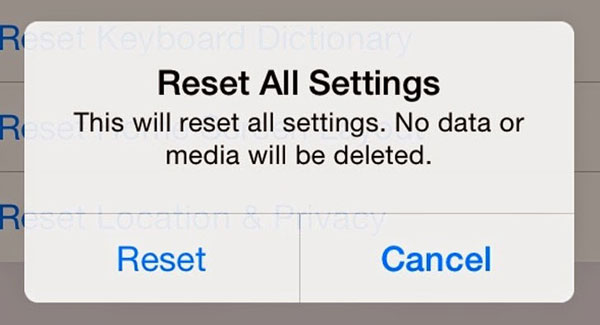 Extended Reading:
Fix 5: Update Apps
The "Ghost touch" might be caused by a break-down application. You can try to update it to fix its errors or glitches. To begin with, please make sure your iPhone is working with a stable network. Then follow the instructions to make it:
Open your iPhone and run its "App Store".
At the bottom of the screen, please tap "Updates".
You will see some pending updates.
Go to the list of applications and go for "Update" or "Update All" as required.
Fix 6: Update iOS to Its Latest Version
Apple's constantly updated operating system always gets some annoying errors fixed. So, the most recent iOS may help get around the "iPhone X/11/12 randomly clicking things". Yet, your iPhone battery may drain fast after an iOS update. Still, it's still a good way to go for:
Open your iPhone's "Settings" > "General".
Choose "Software Update".

Select "Download and Install" if there's an update available.
Fix 7: Force Restart iPhone
Noticeably more drastic than rebooting an iPhone, doing a hard reset/force reboot lets fix more unknown system glitches, second only to restoring your device to factory settings. Here we go:
On an iPhone 8 or higher, press and quickly release the "Volume Up" button; do the same on the "Volume Down" button; hold the "Side" and let go of it until you see the Apple logo.
On an iPhone 7/7 Plus, hold the "Volume Down" and "Sleep/Wake" buttons; release both when the Apple logo comes out.
On an iPhone 6/6 Plus or earlier, hold the "Sleep"/"Wake" and "Home" buttons; release both when you see the Apple logo.
Fix 8: Factory Reset iPhone
As the most common tool for restoring iPhone to factory settings, iTunes can make your iOS content and Settings almost the same as when you first got it. Therefore, you can transfer your iPhone data to a computer for backup. Next, please adhere to the steps below if you are ready:
Connect your iPhone to a computer through USB.
Start the latest version of iTunes on the same computer.
Choose your device icon when it appears in the iTunes program.
Select "Restore iPhone" after going for "Summary".

Once completed, you can check if the iPhone clicking on its own persists.
Fix 9: Ask for Apple Support
The last quick way is to contact Apple Support. Please tell them your situation and provide relevant vouchers. Then send your iPhone to Apple Store for repair or simply go there in person. Plus, you can also go to a trusted third-party repair shop if your device is out of warranty.
Part 3: Troubleshoot "iPhone Pressing Buttons on Its Own" with the Ultimate Fix
Did your iPhone run into difficulties caused by device issues, screen issues, iOS mode issues, or even iTunes issues? Just give iOS System Recovery a shot. As the industry's leading iOS repair program, it can help you troubleshoot more than 50 problems with just a few clicks. If you want to get out of the mess quickly and leave your iOS items undamaged, just get to know this product now.
A Phenomenal iPhone Repair Tool - iOS System Recovery:
Fix iPhone clicking/pressing on its own without data loss.
Offer two repairing modes to handle various system issues, covering iPhone error 56, iPhone keeps restarting, iPhone keeps crashing, iPhone grey screen of death, and a lot more.
Upgrade/downgrade iOS to your phone's supported versions.
Work for various Apple devices, including iPhone 14/14 Pro/14 Pro Max/14 Plus, iPhone 13/13 Pro (Max)/13 mini/12/12 Pro (Max)/12 mini, iPhone 11/11 Pro/11 Pro Max, iPhone X/XR/Xs/Xs Max, iPhone 8/8 Plus, iPhone 7/7 Plus, iPhone 6/6S/6 Plus, iPod touch, iPad, etc.
It values your privacy.
Next, let's see how to fix the iPhone clicking on its own with iOS System Recovery:
Step 1. Open the program on a computer
Install and start the program on your computer after the free download. From its primary screen, choose "More Tools" > "iOS System Recovery".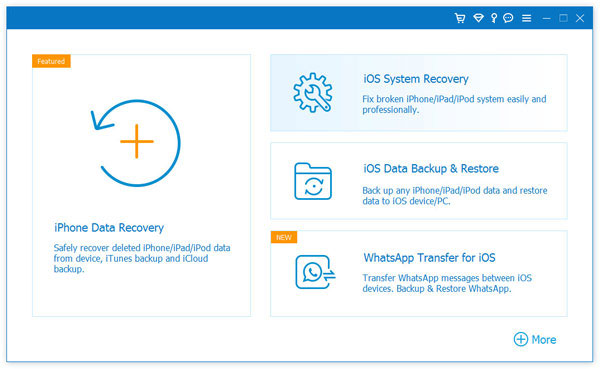 Step 2. Get your iPhone into DFU/Recovery mode
Attach your iPhone to the computer via USB and click "Start". Subsequently, follow the simple instructions on the screen to boot your iDevice into DFU or Recovery mode.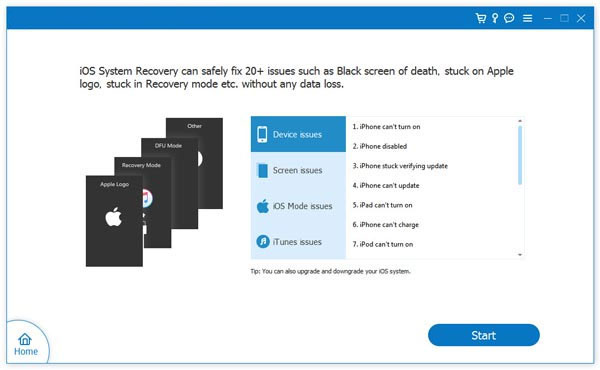 Step 3. Fix iPhone clicking on its own
Confirm the info about your iPhone and hit "Repair" to download the proper firmware. Once down, the system repair will automatically start. And after that, please restart your iPhone.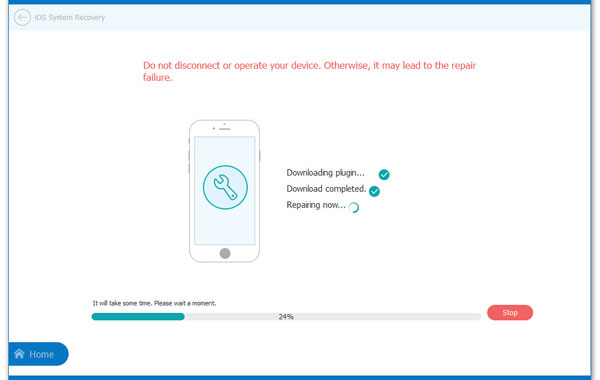 Words in the End
Among the ten solutions we just described today, methods 1, 2, and 9 are applied to iPhone hardware failure. When you don't have to think about them, you can try the remaining step-by-step approaches one by one. However, some of them may end up losing your important iOS content. So, you are recommended to pick iOS System Recovery directly if you don't want to waste time on attempts that may not go into effect. Finally, download the software and try it out now.
Related Articles:
Why Does My iPhone Keep Restarting? Reasons and 13 Great Solutions for You
How to Tell If iPhone Is Unlocked without SIM Card? 4 Methods in 2023
7 iPhone Photo Recovery Apps Help Restore Pictures Easily [iOS 16 Supported]
iPhone Internal Storage is Empty on Windows 11/10/8/7? 10 Solutions Offered
7 Useful Ways to Fix iPhone Stuck on Restore Screen in 2023
Android Phone Keeps Turning/Shutting off? You Can Now Fix It Like a Pro