iPhone Black Screen but Still On? Fix It in 6 Useful Solutions
Is your iPhone screen black, but the device is still powered on? Don't worry! We've some methods to help you out. This guide explores various methods to solve the mystery behind your iPhone's black screen. From easy troubleshooting steps to more advanced solutions, we'll take you on an exciting journey to restore iPhone screen not working but phone is on. Get ready to uncover the secrets and bring your iPhone back to life quickly!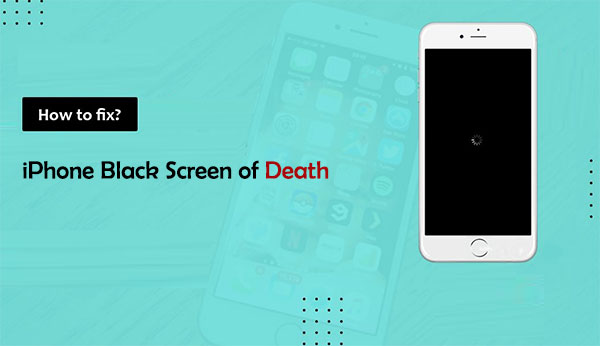 Part 1. Why is My iPhone Screen Black but Still On
It is sad when you are just ready to use your iPhone and get stuck with iPhone working but screen black. Sometimes having an idea why the screen is black may save you the agony of taking your iPhone to a repair shop. Below are some of the reasons of iPhone display not working but phone is on:
Hardware problems can lead to a black screen on an iPhone - This includes physical damage, such as water exposure, which may have caused corrosion or shorts in the device's circuitry.
Software glitches - A corrupted system file could cause this, an operating system issue, or even an application crash.
Apps Using All the Memory - an app that's using up all the memory may cause your iPhone's screen to go black.
Low Battery - A low battery can cause an iPhone's screen to go black if not plugged in for charging.
Know More:
Part 2. What to Do When iPhone Screen is Black but Phone is On
Have you just woken up to find my iPhone screen went black but the phone still works? Don't panic just yet! Do the following to fix my iPhone screen is black but the phone is on:
1. Force Restart iPhone
If your iPhone is fully charged, force restarting it should be your first step. This will help to reset any software problems that may be causing the issue.
iPhone 8 or later: Press and release the Vol + button quickly, press and Vol - button quickly, long press the Side/Power button. release it when the Apple logo displays on the screen.
iPhone 7 and & 7 Plus: Press the Side/Power and Volume Down buttons simultaneously until the Apple logo appears.
iPhone 6S and the older versions: Press and hold both the Side/Power and Home buttons simultaneously—release when the logo appears.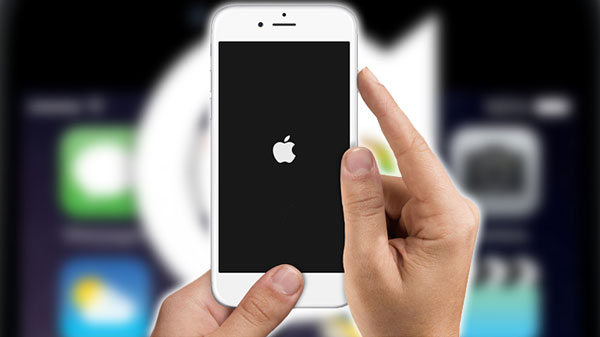 2. Charge iPhone
Plug your device into a power source to see if this helps to get your screen working again. If your battery is low, it may cause your black screen. Leave the device charging for several minutes.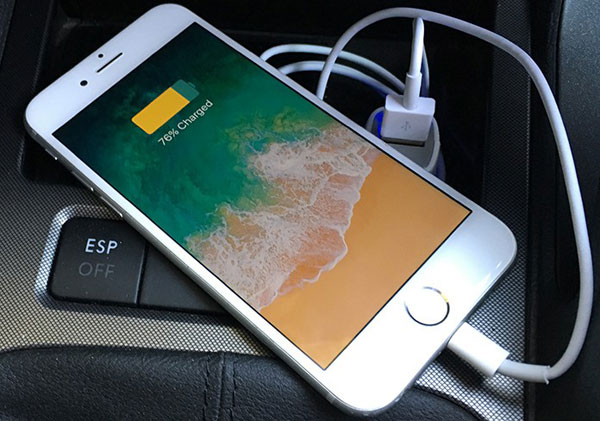 3. Restore iPhone via iTunes
Do you know that you can restore your iPhone via iTunes? This process erases all of your phone's existing data. However, resolving the issue with a black screen may be necessary. To perform an iTunes restore: (iPhone won't restore?)
Connect your iPhone to the PC using its USB cable and launch iTunes if it does not open automatically.
Wait for iTunes to sync with your iPhone.
Once the sync is complete, click on the device icon in iTunes.
Click Restore Backup - from the Summary menu and then select the most recent Backup from the drop-down menu to restore your phone's data.
Once the restore is finished, try unlocking your iPhone to see if it has fixed the issue.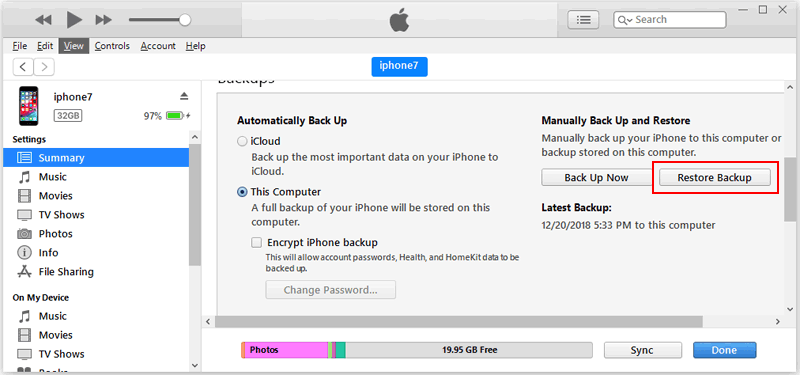 4. Try DFU Restore with iTunes
DFU stands for Device Firmware Update, which is used to update or reinstall your device's firmware. Steps to follow:
Connect your iPhone to a computer using a USB cable. Ensure you are running the latest version of iTunes. The app will recognize your device.
Check the summary of your iPhone on the iTunes app. Back up your device data to prevent any data loss.
Now, press and hold down the Home and Power buttons until the screen turns black.
Let go of the power but keep holding the "Home" button. Wait for the iTunes message popup saying, "iTunes has detected an iPhone in recovery mode."
After that, select the "Restore iPhone" option and wait for the DFU restore process to finish.
Once it is complete, your device will start like new. Now it is time to configure your settings.

5. Consult Apple Support
Have you tried everything and still didn't get the desired result? Then it is recommended to contact Apple Support for assistance. You can either call Apple Support or chat with them online. The support agents can guide you through the troubleshooting process and help resolve the issue.
Further Reading:
Part 3. How to Fix iPhone Black Screen but Still On with iOS System Recovery
iOS System Recovery is a powerful tool designed to help iPhone users overcome various system issues, including the infamous iPhone screen went black but still works. It works by repairing the iOS system without causing data loss, ensuring your personal information remains secure. It is a professional tool with an intuitive interface and comprehensive features. This makes it a perfect choice for repairing black screen on iphone but still works.
Here are Key Functions of iOS System Recovery:
Fix all kinds of system issues. Besides fixing black screen problems, it can also help with other issues such as a white screen of death, being stuck in recovery mode, and iTunes error codes.
Restore the device to its original factory settings without erasing data.
Use standard protocols to guarantee a secure connection between your device and the computer.
Preview and selectively restore lost files after system recovery is complete.
Support all iOS devices such as iPhone 14/13/12 Pro Max/12 Pro/12/11 Pro/11 Pro Max/11/XS Max/XR/XS/X and more.
It won't let out your privacy.
Here's a step-by-step guide on how to use iOS System Recovery to fix iPhone is on but screen is black:
Step 1. Launch the software and Select "iOS System Recovery"
Install and launch iOS System Recovery. Connect your iPhone to the computer using a USB cable. Select "iOS System Recovery" from the main interface.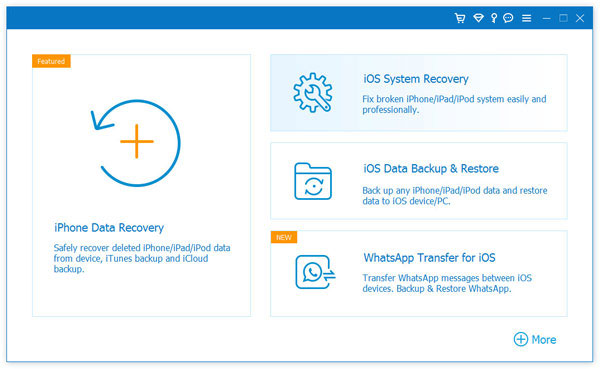 Step 2. Enter the iOS Device into DFU Mode
The software will automatically detect the "iPhone Screen is Black" situation. This will take you into DFU mode or Recovery mode. Carefully follow the on-screen instructions to enter DFU or Recovery Mode:
For iPhone 8 and later: Quickly press and release the 'Volume Up' button, then the 'Volume Down' button. Press and hold the 'Side' button until the screen goes black.
For iPhone 7 and 7 Plus: Press the 'Volume Down' and 'Side' buttons simultaneously until the screen turns black.
For iPhone 6S and earlier models: Press and hold the 'Home' and 'Top (or Side)' buttons until the screen turns black. Remember, the key is to follow the precise button combinations as the software indicates.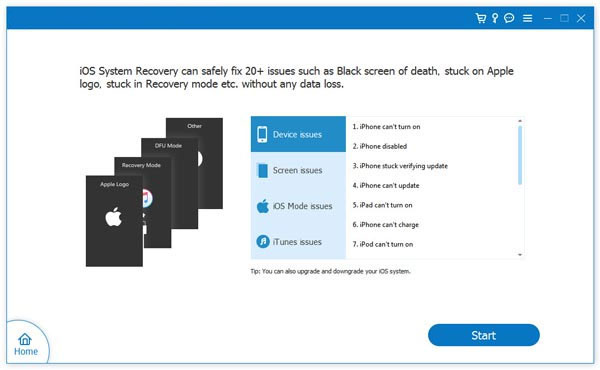 Step 3. Download the iPhone Firmware
Firmware issues can be the cause of this problem. Hit the 'Repair' button to download the firmware after your device is detected successfully. This will repair the iOS system and resolve your black screen issue. Ensure you have a stable internet connection and select the correct device model and firmware information.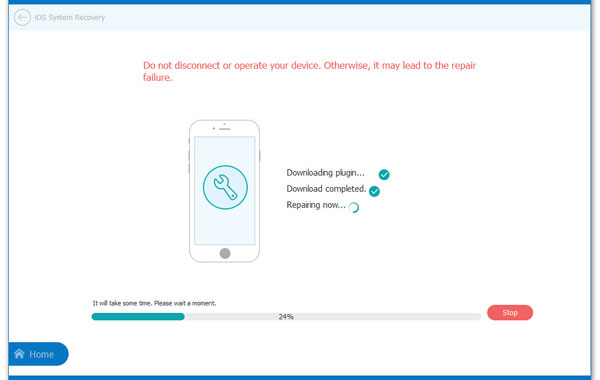 Step 4. Repair or Restore your iPhone OS
Once the download is complete, the iOS System Recovery will start repairing or restoring the iOS system. Wait for about 5-10 minutes for the process to complete. After your iPhone returns to normal, you can restore your backup or set it up as a new device.
Not only can iOS System Recovery be used to fix the iPhone on but black screen issue, but it can also be used to solve many other iOS system-related problems. So why not try it and see how this handy tool can help you? It has a user-friendly interface and powerful features. Thus you can fix my iphone screen went black, but the phone still works quickly and easily. No technical skills are required.
The Bottom Line
In summary, the iPhone black screen but still on the issue can be quite annoying. However, this should be fine, as we've explored some great methods to bring your device back to life. From simple restarts and charging tricks to advanced troubleshooting techniques, there's a solution for every iPhone owner. Don't let a black screen dim your spirits - get ready to unveil the secrets that will revive your beloved device and light up your world again.
Related Articles:
How to Fix Green Lines on iPhone Screen Easily and Quickly?
How to Control iPhone with Broken Screen Effortlessly? [Ultimate Guide]
7 Useful Ways to Fix iPhone Stuck on Restore Screen in 2023
How to Record iPhone Screen without Jailbreak?
Definitive Guide: How to Back Up iPhone with Broken Screen?
How to Transfer Data from iPhone to Android? It's a Piece of Cake