How to Fix Green Lines on iPhone Screen Easily and Quickly?
The OLED display is ultra-sensitive, crisp, and clean, applied to iPhone X and newer. With the super retina display feature, iDevices can provide its users with many vivid images and display effects. But this advanced functionality also spells trouble for Apple devices. For example, you might have ever found the green line across your device screen.
Well, do you know how to fix green lines on iPhone screen without effort? OK, just check this page out, and you'll find the best solution among a dozen methods.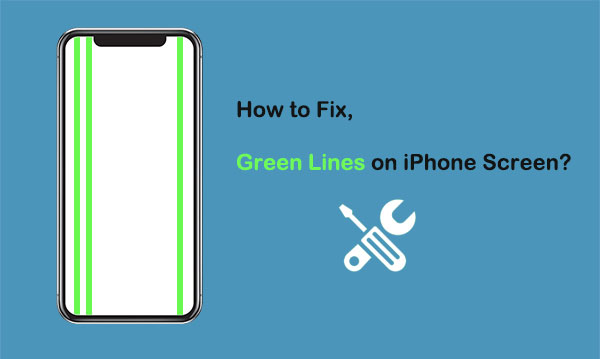 Part 1: Why Is There a Green Line on My iPhone?
This problem is most likely to manifest on iPhones with OLED screens such as iPhone X/11/12/13, etc. Apple is yet to give an explanation to green lines on an iDevice. Generally, it can be caused by both hardware and software issues, according to some professionals. Specifically, they are:
Application conflicts or bugs. (How to uninstall apps on iPhone?)
iOS system glitches.
An electrical fault in your iPhone.
There's something at the edge of the display.
Water damage or external pressure.
The screen display is physically damaged.
You Might Need:
Part 2: How to Fix Green Lines on iPhone Screen in 12 Workarounds
Solution 1: Check iPhone for Wetness or Moisture
How to fix the green line on phone screen the moment we find the green lines on the device? Just check your iPhone if it has been wet or moist as below:
Let your device dry out first before using it.
Turn off the device and remove the battery and all accessories from the device.
Dry the phone with towels and a vacuum cleaner.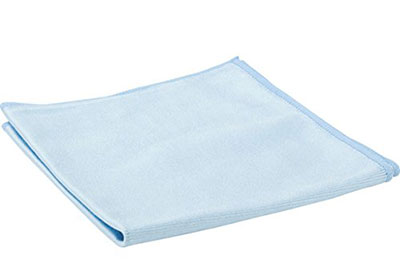 Solution 2: Increase Display Brightness
Well, you're also advised to increase display brightness from Settings as long as your device screen isn't broken. (What if iPhone touch ID is not working?)
Open the "Settings" on your iPhone.
Scroll down to "Display Brightness" and tap this option.
Use the "Brightness" slider to adjust your iPhone screen brightness.
Solution 3: Turn off Night Shift
Also, you may be able to eliminate the green line on iPhone X/XR/Xs/11/12/13/14 by going to your iPhone Settings and disabling Night Shift:
Start the "Settings" on your iPhone.
Scroll down to "Display Brightness" and tap it.
Tap "Night Shift" on the "Display Brightness" menu screen.
From here, you can turn off "Night Shift" by tapping the "Scheduled" slider.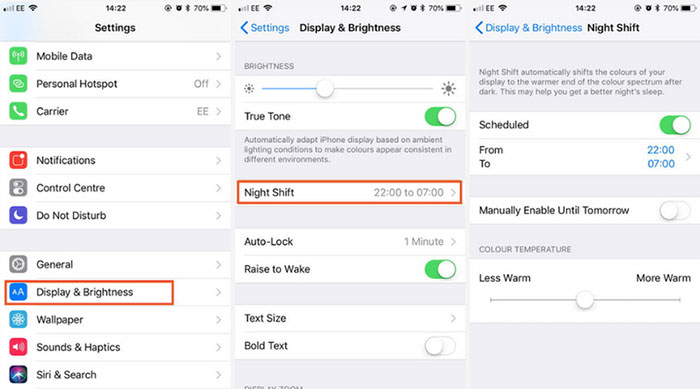 Solution 4: Turn off Dark Mode
Some may find that they can remove the green line through the iPhone screen by turning off the "Dark Mode". Please follow the steps below to do it:
Open the "Settings" on your iPhone.
Scroll down find and press "Display Brightness".
At the top of the "Display Brightness" screen, there are two iPhone images with labels for "Light" and "Dark".
Tap the former to disable "Dark Mode".
Solution 5: Restart Your iPhone
Press and hold the "Power On/Off" button simultaneously for a few seconds.
Swipe the "Slide" to the power off icon from left to right.
After the iPhone completely turns off, press the "Power" button again to turn on the device.
Enter the iPhone's passcode when prompted.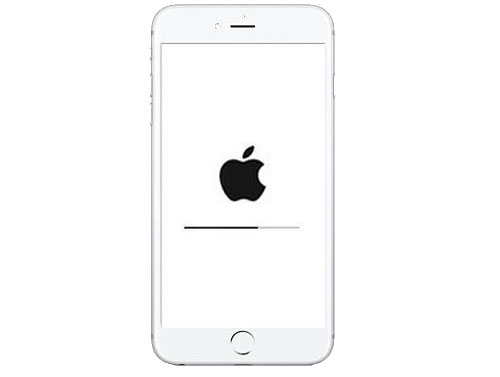 Solution 6: Update iPhone Software to the Latest Version
One of the easiest ways to delete the green line down on the iPhone screen is to update iOS to the latest version. Here's how:
On your iPhone device, head to "Settings".
Tap on "General" > "Software Update".
Press "Download and Install" if there are updates available.

Wait until the OS installation is complete and restart your device.
Solution 7: Run iPhone in Recovery Mode
By putting your device into recovery mode, you may eventually get rid of the green screen of death on iPhone. If you have an iPhone 8/XR/Xs/X/11/12/13, you can do as the drill implies below:
Connect your iPhone to your computer and launch iTunes.
Start by pressing the "Volume Up" button and proceed to the "Volume Down" button.
Please press and release both of them, respectively.
Hold down the "Side" button until the screen displays the "Connect to iTunes" logo. (Do not release the button even as you see the Apple logo.)

A message saying, "There is a problem with the iPhone that requires it to be updated or restored" should pop up on iTunes.
Finally, select "Update" from the given options.
Solution 8: Reset All Settings on iPhone
Tap iPhone "Settings" from the Home screen.
Tap "General" > "Reset".
Select the "Reset All Settings" option.

Enter your device's passcode if prompted.
Then tap the option to confirm the action.
As soon as the device boots up, please enable the features you want using WiFi connections.
Solution 9: Erase All Content and Settings
Likewise, you might be able to remove the green line if you erase content and settings from your iPhone. Yet, note that it'll delete all your iPhone files. So you should follow the hints when performing the task. Here are the instructions:
On your iPhone device, navigate to Settings.
Tap on "General" > "Reset".
Hit "Erase All Content and Settings".
A message will appear telling you to update the iCloud backup before the reset.
Tap on "Back Up" > "Erase".
Enter the passcode when prompted.
Press "Erase iPhone" to begin the reset.
After that, you can restore the backup to your iPhone device.
Solution 10: Force Restart iPhone
"I dropped my iPhone, and the screen has green lines. Is there any easy and effective approach to get it settled?" Sure! Force rebooting an iPhone may get your hope up.
For iPhone SE (2nd generation), iPhone with Face ID, iPhone 8/8 Plus, and newer:
- Quickly press and release the "Volume Up" button and quickly press and release the "Volume Down" button.
- Now hold on to the "Side" button and do not release until you see the Apple logo.
For iPhone 7/7 Plus:
- Press and hold the "Sleep"/"Wake" button and the "Home" button at the same time.
- Do not release both buttons until the Apple logo appears, and the phone should restart.

For iPhone 6/6S, iPhone SE (1st generation):
- Hold down the "Power" and "Home" keys at the same time.
- Release the buttons while getting a black screen.
- Press the "Power" key to restart the device.
Solution 11: Contact Apple Support
If none of the methods have worked so far, you can try calling Apple Customer Care for technical support or go to the nearest Apple device store. There may be some damage to your phone's hardware. Please avoid opening up your iPhone as this may render your Apple warranty null.
Extended Reading:
Part 3: How to Get Rid of Green Line on iPhone Screen without Data Loss
No matter what kind of software problems you're encountering, there's a piece of software that can help you out in a short period of time. Well, iOS System Recovery could provide you with a one-stop solution in almost all cases. The product can remove the green line on iPhone or other issues without harming your iOS data. It can make your iOS system troubleshooting as easy as ABC.
Main features of iOS System Recovery:
Fix green lines on the iPhone screen with no data loss.
Resolve overall iOS problems, such as battery draining fast, Touch ID not working, iPhone blue screen of death, iPhone/iPad errors, loop restart, and a lot more.
Offer two repairing modes to get your iOS back to normal.
Upgrade and downgrade iOS to the supported version.
Work for a whole range of iOS devices, including iPhone 14/14 Pro/14 Pro Max/14 Plus, iPhone 13/13 Pro (Max)/13 mini/12/12 Pro (Max)/12 mini, iPhone 11/11 Pro/11 Pro Max, iPhone X/XR/Xs/Xs Max, iPhone 8/8 Plus, iPhone 7/7 Plus, iPhone 6/6S/6 Plus, iPod touch, iPad, etc.
It can well protect your privacy.
How to fix the green line on an iPhone screen via iOS System Recovery?
Step 1. Download and install this iOS repair software on your computer. Open it and choose "More Tools" > "iOS System Recovery".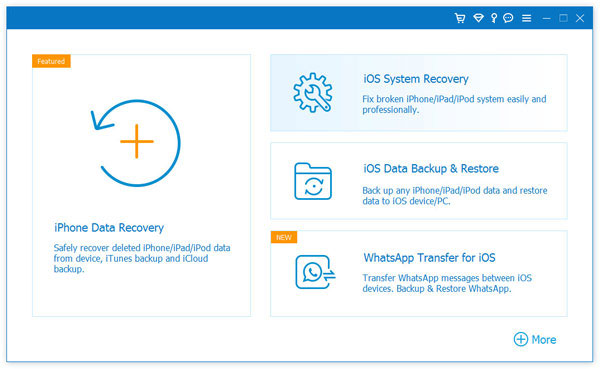 Step 2. Connect your iPhone to this computer via a USB cable and click on "Start" to begin the iPhone system repair.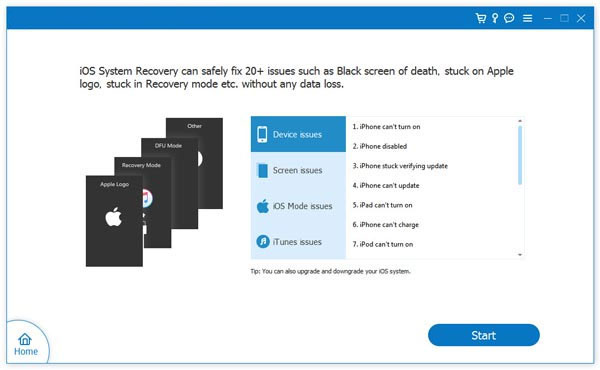 Step 3. This tool will detect the info of the iPhone soon. Next, please check it and click "Repair". If the detected info isn't correct, just pick the right one and press "Repair" again.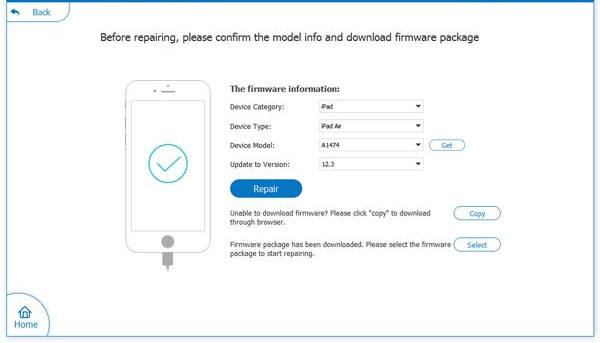 Step 4. After the repair, you have to restart your iPhone, and the green lines on your device will disappear.
The End
We just sketched out how to fix green lines on the iPhone screen in 12 flexible ways. And apparently, iOS System Recovery is the ultimate tool for both novice and veteran. It not only boasts a high success rate but won't cause you any trouble after the repair. But then again, if there's a hardware problem with your phone, we recommend that you recourse to Apple Support or a reputable repair shop.
Related Articles:
9 Effective Ways to Fix Apple iPhone 14/13/12/11/X Stuck on Hello Screen
Definitive Guide: How to Back Up iPhone with Broken Screen?
How to Record iPhone Screen without Jailbreak?
iPhone Black Screen of Death? 9 Fixes Help You Resolve This Issue Easily
Top 6 Methods to Unlock iPhone When Screen is Broken
[Easy Guide] How to Transfer Data from iPhone to iPhone without iCloud?