Top 6 Methods to Unlock iPhone When Screen is Broken
"Help! My son accidentally dropped my iPhone to the floor while playing a game on the phone last night. Although the phone seems alive, the iPhone screen is broken, and the touch screen function is not working. Now, how to unlock an iPhone with a broken screen? What can I do? Thank you very much!"
Oops! You accidentally dropped the iPhone on the floor, and the screen was broken! This is really a sad thing. What's more annoying is that the screen has no response, so you can't enter the password to unlock the iPhone. I fully understand your feelings at the moment. However, no need to worry! It is not difficult to solve this problem. We will share six different and effective methods to help you unlock iPhone with broken screen, cracked screen, or unresponsive screen.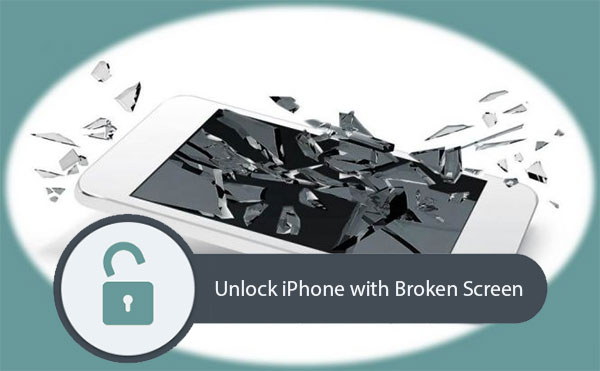 Method 1: How to Unlock iPhone with Broken Screen via iOS Unlock
"iPhone screen broken how to unlock passcode"? It's really a troublesome but very common problem. You can simply draw support from a professional iPhone unlocking tool to do the job. iOS Unlock can easily unlock your iPhone password when the touch screen is broken, cracked or unresponsive. During the entire unlocking process, you will not be asked to enter the original password.
A brief introduction to iOS Unlock:
Unlock iPhone with broken screen easily, without entering the previous passcode.
Bypass 4-digit passcode, 6-digit passcode, touch ID, face ID on overall iPhones or iPads.
Remove screen lock simply and safely.
Remove Apple ID from iPhone/iPad without a password.
Apply to overall iDevices, covering iPhone 14/13/12/12 Pro (Max)/12 mini, 11/11 Pro (Max), iPhone X/XS/XR/XS Max, iPhone 8/8 Plus, iPhone 7/7 Plus, iPhone 6/6S/6 Plus, iPad Pro/mini/Air, iPod touch, etc.
It does not interfere with any user's privacy.
How to Unlock an iPhone with a Broken Screen via iOS Unlock?
Notice:
* This program can unlock passcode on all iDevices. But it will thus wipe away the device data after the unlock. So, please back up your locked iPhone on your computer beforehand.
* Currently, the 1-click iPhone unlocking feature applies to iOS devices with iOS 14.2 or earlier.
Step 1. First of all, download and install the iOS Unlock on your PC/Mac. Then choose "Unlock" among the modules on the interface.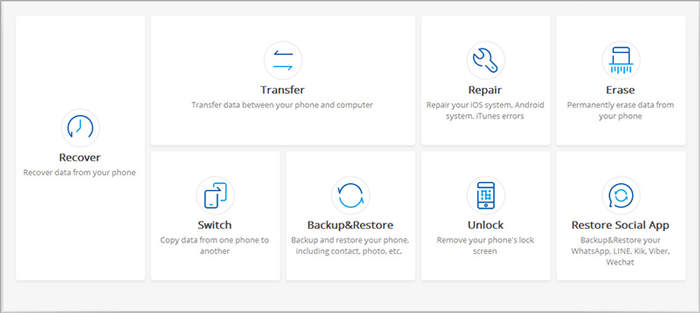 Step 2. Use an original USB cable to connect your broken iPhone to the computer, and wait until the iOS Unlock program detects it. Afterward, click "Unlock iOS Screen" from the program screen.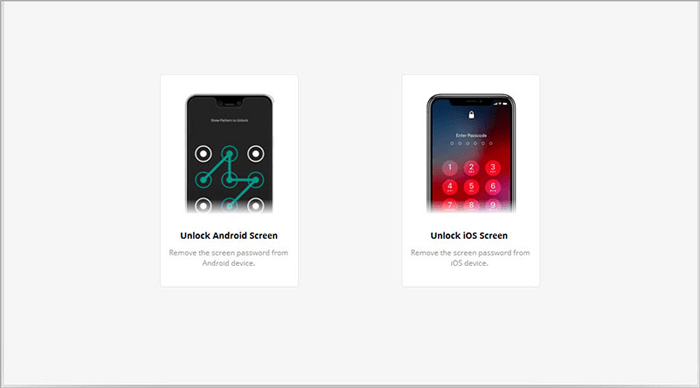 Step 3. Follow the on-screen prompts to boot your broken iPhone to the "Recovery Mode" or "DFU Mode".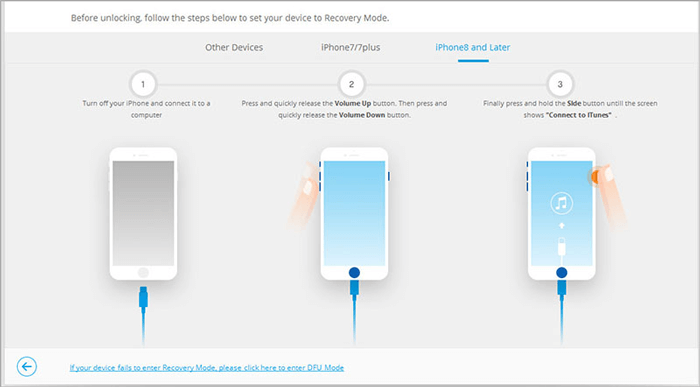 Step 4. Once getting your device into the Recovery or DFU mode, you can check your iPhone model and system version in the next window. Then, click on "Download" to download and verify the firmware package.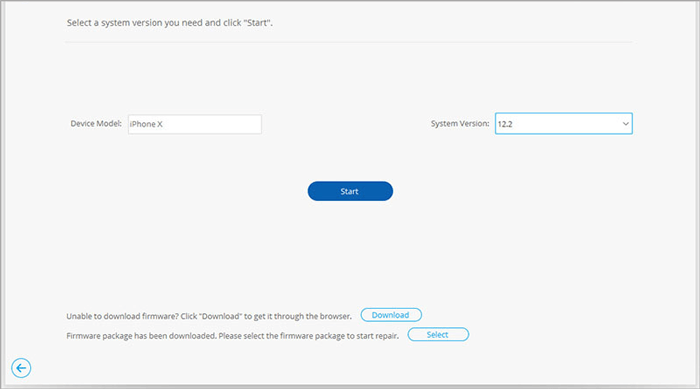 Step 5. When the firmware download is completed, you can tap on "Unlock Now" to start unlocking your broken iPhone. Once it is done, you can access your broken iPhone successfully.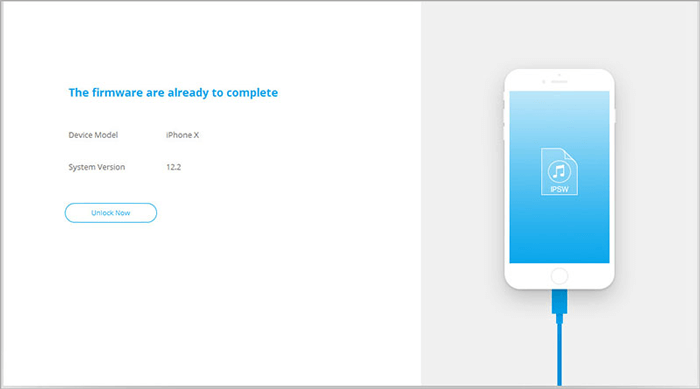 Your iPhone will be unlocked in minutes. If you have kept a backup of your iPhone data on the computer, you can then restore the backup onto your iPhone from your computer.
You May Also Need:
Method 2: How to Unlock iPhone when Screen is Broken with iTunes
Besides, we can also use iTunes to unlock iPhone with broken screen. But the prerequisite for this method is,you have synced your iPhone with iTunes, which means you have "trusted this computer" on this iPhone. In this case, you can access the iTunes backup file without entering a password.
How to unlock iPhone with broken screen using iTunes?
Connect your broken iPhone to the synced PC or Mac with your device.
Launch iTunes on this computer and click the "device" icon after your device is recognized automatically. (iPhone not showing up in iTunes? Tap here)
Click on "Summary" at the left sidebar and then tap the "Restore" option to restore your iPhone.

Finally, select "Restore from iTunes backup" as the prompt request.
Method 3: How to Unlock iPhone if Screen is Broken with iCloud
As long as you have enabled the "Find My iPhone" feature on iCloud, you can try this method to unlock iPhone with cracked screen by using iCloud. The following are the detailed steps.
How to get into a locked iPhone without Siri via Find My iPhone?
Visit icloud.com on a web browser on your computer or other devices.
Log in to the iCloud account with your Apple ID and password.
In your iCloud account, choose the "Find iPhone" option and select your iPhone under the list of "All Devices".
Click on "Erase iPhone" once you have selected your broken iPhone.

A pop-up will appear, from which you should click on "Erase" to erase all content and screen passcode remotely.
Further Reading:
Method 4: How to Unlock iPhone with Broken Touch Screen Using Siri
When your iPhone screen is cracked and has no response, you can try to use the Siri function to unlock this broken iPhone. It's not 100% successful, but it's okay to give it a try. What if you are lucky?
How to unlock iPhone if screen is broken Using Siri feature?
Press and hold the Home button to activate Siri, tell Siri to "turn on VoiceOver", then press the Home button to exit Siri and enter the main unlock screen.
Swipe left or right to select the "Slide to Unlock" option, and then double-click, the password page will appear.
Swipe left or right again until the correct number on the keyboard is displayed. At this time, you need to double-click to select each number button.
When finished, you need to swipe until the Enter button is displayed. Double-click this button again to submit the password.
Method 5: Enter Passcode on iPhone with Broken Screen via Recovery Mode
Some users may never trust their computers on the broken iPhone, so they can't use the approaches above to solve the problem. At this time, you can enter passcode on iPhone with broken screen via Recovery Mode.
How to unlock iPhone with broken touch screen via Recovery Mode?
1. Link your broken iPhone to the computer via a USB cable and launch the latest version of iTunes.
2. Force restart your iPhone. The steps to restart an iPhone vary from different iPhone models.
iPhone 6S and easier models: Press and hold the "Power" and "Home" buttons simultaneously until the device enters the recovery mode.
iPhone 7 (Plus): Press and hold the "Power" and "Volume down" buttons simultaneously until you get the "Connect to iTunes" icon.
iPhone 8 and later models: Hold and quickly release the "Volume Up" button. Press and quickly release the "Volume Down" key, followed by the "side" button until you see the "Connect to iTunes" icon appears on the screen.
3. Once the iPhone is connected with iTunes, a window will pop up, asking you to restore your device.
4. Click the "Restore" button to let iTunes restore the latest backup to your iPhone.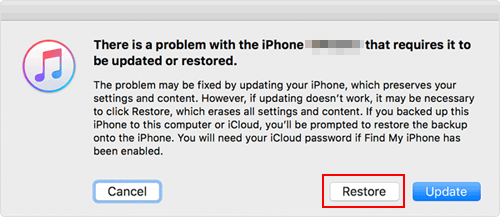 After the restoration process, your broken iPhone will be reset to default settings.
Method 6: Unlock iPhone with Broken Screen Using External Keyboard
The final solution to unlock an iPhone with a cracked screen is to plug the iPhone's lightning adapter into a wired USB keyboard and then connect it to the iPhone. What is a wired USB keyboard? Where can I get it? Well, you can buy a wired USB keyboard from Amazon or eBay. For example, a regular Dell USB keyboard costs about US$14 to US$20.
Wired USB keyboard:
Use the original Apple Lightning cable to connect the wired USB keyboard to your broken iPhone.
Double-click the space bar to activate the lock screen.
Enter a 4-digit or 6-digit password, and then your device will be successfully unlocked.
Bluetooth keyboard:
You can also use a Bluetooth keyboard to help you complete the above tasks. The premise is that Bluetooth has been enabled on your iPhone.
Please turn on the Bluetooth keyboard and wait for it to connect to your broken iPhone.
Double-click the space bar to activate the lock screen.
Enter a 4-digit or 6-digit password, and your device will be successfully unlocked.
Final Verdict
When your iPhone is inaccessible due to a damaged screen, it makes you very anxious. However, every problem has its solution. Above, we introduced six ways to teach you how to unlock iPhone with broken screen. Among them, the first program, iOS Unlock, offering the simplest and most direct solution. It does not require any prerequisites, and anyone can use it easily.
However, if your iPhone's screen is so severely damaged that the hardware does not respond, then you'd better take the device to the official Apple store for repair. No matter which method you ultimately adopt, don't forget to strictly follow the tutorial to prevent the improper operation from outweighing the gain.
Related Articles:
6 Best iPhone Unlocker Software to Unlock iPhone Easily
Siri Not Working After iOS Update, How to Fix It?
How to Unlock iPad without Passcode? 6 Ways to Solve It!
How to Factory Reset iPhone without Passcode?
7 Useful Methods to Unlock Android Phone without Password
8 Best iCloud Bypass Tools: 100% Working iCloud Unlocker Software