[Fixed] How to Unlock Android Phone Password without Factory Reset?
In most cases, Android lock screen pattern is a welcome feature for the reason that it can prevent the phone data from divulging. But it would become an obstruction sometimes when users forget the password that they have set and unable to access the device. And in this case, some of you may choose to factory reset the device to enter the device. However, we all know that the factory reset would erase all the data on the device. Therefore, how to unlock Android phone password without factory reset?
Actually, it's possible to unlock a password, PIN or pattern locked Android device without losing data. In this article, 6 efficient and safe ways are available for you to unlock Android phone without factory reset.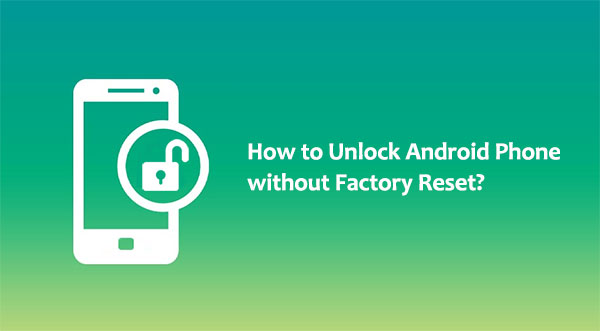 Fix 1. Unlock Android Phone Password without Factory Reset Using Google Account
This most direct and easiest way to unlock Android phone after too many pattern attempts without factory reset is to make use of your Google account. You can perform this means on the device and what you need to do is just enter the name and password of your Google account that you have singed in on the device. Just take a look!
Enter any random passcode on the device for 5 times.
The device will pop up a message that says "Try again in 30 seconds". While this message is showing, Tap "Forgot Pattern?" option at the bottom of the screen.
Choose "Enter Google account details" and click "Next".
Enter your Gmail account and password associated with the device.

Google will send you an email with the unlock pattern, or you can change it on the screen directly.
Can't miss:
Fix 2. Unlock Android Phone without Factory Reset Using Android Device Manager
You can also use Android Device Manager to unlock Android tablet/phone without factory reset. This method is related to your Google account also but it is totally different from the fix 1 above.
Go to the page www.google.com/Android/devicemanager on a computer or another mobile phone, and sign in with your Google account details.
Google will start to search for your device. Here you need to select the Android phone that you want to unlock.
You will get three options: Ring, Lock and Erase. Just choose the "Lock" option.

A window will pop up in which you can type a temporary passcode. After that, click on "Lock" again.
If the password reset is successful, you will get a confirmation below the three options: Ring, Lock and Erase.
Go to your locked phone, enter the temporary password to enter the device.
After accessing to the phone, you can go to "Settings" > "Security" to remove the temporary passcode and set a new one.
Fix 3. Unlock Android Phone Pattern Lock without Factory Reset via ADB
If you have previously enabled USB debugging on your Android phone, you can use ADB to unlock Android phone without factory reset on your computer. This is a powerful and efficient tool to remove the password from a locked Android phone. By using this means, you won't lose any files on the device.
Download "ADB" on your computer from the Android developer's site https://developer.android.com/studio/command-line/adb.html, and encrypt it to "Local Disk C".
Next, use a USB cable to connect your locked phone to the computer.
Select "Charge Only" on your phone rather than USB Debugging.
Click on "Start" on your PC, select "Run" and enter "cmd".
Now you need to type in the code one by one: cd c:\adb > adb shell > cd data/system> ls.
After that, you can see a folder named "password.key" and you need to delete it and enter "rm password.key".

In the end, reboot your phone and the secure lock screen would be gone.
Learn More:
Fix 4. Unlock Android Pattern Lock without Factory Reset Using Backup PIN
When you set the lock screen on your Android device, a security PIN was also set up. When you fail to unlock the device multiple times, you can choose to use the backup PIN to unlock the device.
Go to your Android pattern lock screen and try using the pattern unlock unsuccessfully for several times.
You'll then get a message says "Try again in 30 seconds".
Select the option of "Backup PIN".
Enter the backup PIN and click "OK".

At last, entering the backup PIN can unlock your device.
Fix 5. Unlock Samsung Phone Password without Factory Reset Using Find My Mobile
If the phone you need to unlock is Samsung brand, then you can directly try Samsung's service, Find My Mobile, to unlock Samsung phone pattern lock without factory reset. This method requires that you have already set up a Samsung account on your phone.
Go the webpage of Samsung's Find My Mobile and sign in with your Samsung account.
On the Find My Mobile section, choose the Samsung device you want to unlock.
Click "Unlock My Screen" > "Unlock" .
You will get a notification that your phone is unlocked, and then you can change the pattern or PIN now.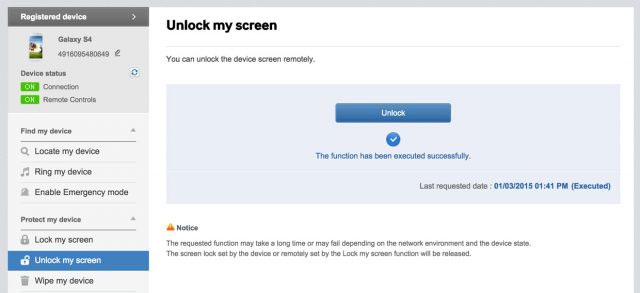 Fix 6. Remove Pattern Lock on Android without Factory Reset Using Android Unlock
Whether you lock the screen by pattern, PIN or fingerprint, you can use Android Unlock to bypass any type of password. It is a safe, reliable and very convenient unlocking tool that can help you unlock Android phone password without factory reset without the risk of data leakage. You only need to connect your phone to your computer to let Android Unlocker start the unlocking process.
Attention: It should be noted that although Android Unlock supports most Android devices, however, except for some Samsung and LG devices, the data on devices of other Android brands will be erased after unlocking.
Main Highlights of Android Unlock:
Remove 4 screen lock types: pattern, PIN, password & fingerprints.
It can unlock some LG and Samsung models without data loss.
Easy to use. No tech knowledge asked.
Work for all mainstream Android brands like Samsung, Huawei, LG, Xiaomi, etc.

Follow the detailed guide to unlock your Android password without factory reset using Android Unlock.
Step 1. Launch Android Unlock
Install and launch the Android Unlock tool on your computer, choose the "Screen Unlock" tab from the primary interface and connect your locked Android phone to the computer with a USB cable.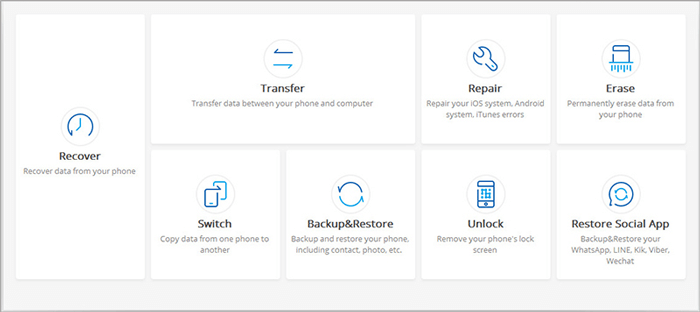 Step 2. Get your Android phone into Download mode
Select the phone model from the list or choose "I can't find my device model from the list above" to the next screen. After that, click the "Start" button on the screen and follow the steps popped up on the next interface to turn your phone into the Download mode.
- Turn off your Android phone.
- Press and hold Volume Down + Home button + Power key at the same time.
- Press the Volume Up to get into the Download Mode.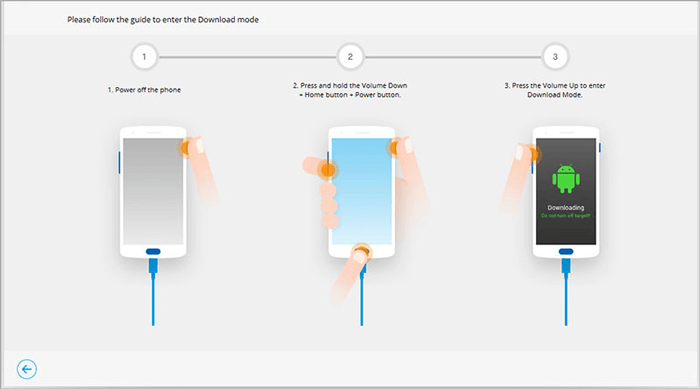 Step 3. Download a recovery package on Android phone
Once your phone is in download mode, the program will download a recovery package on the locked phone to unlock the Android phone without factory reset.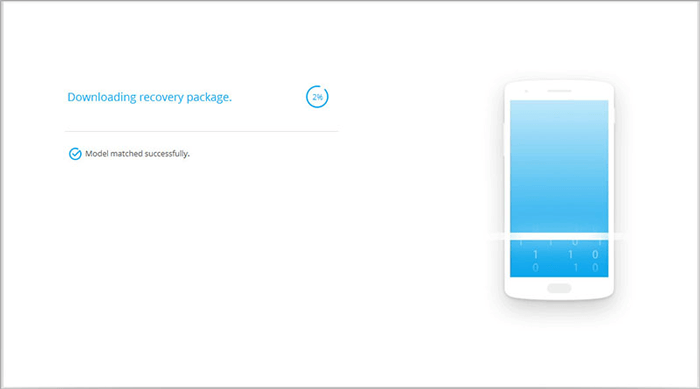 Step 4. Unlock your locked Android device
When the unlocking process is finished, you will see a pop-up showing "Remove Password Completed".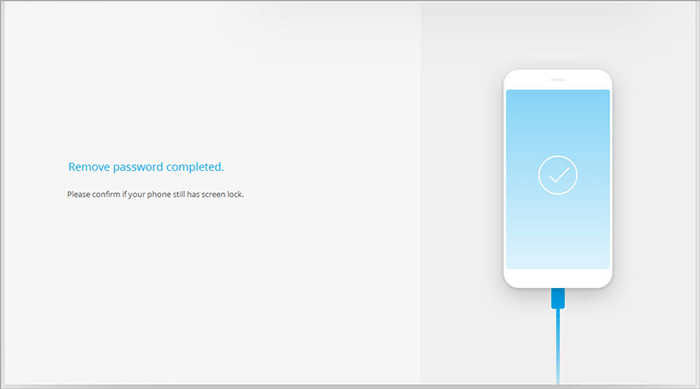 The End
The problem that the phone lock cannot be opened is a common problem in today's Android phones. The last thing users want to try is to restore the factory settings and open a locked Android device at the cost of losing all the data. Then, how can I unlock my Android password without resetting is an issue of much concern.
We have discussed here six common solutions that can effectively unlock Android phone password without factory reset. If you are looking for a safe, reliable and simple solution to unlock your device, then please do not miss Android Unlock, this professional and experienced Android unlocking tool.

Related Articles:
Samsung Fingerprint Scanner Not Working, How to Fix It?
[Productive Tips]How to Recover Data after Factory Reset Android Phone?
How to Unlock iPhone X without Face ID?
[Fixed] Samsung Phone Stuck on Odin Mode, How to Fix It?
How to Recover Data from Android Phone with Broken Screen?
3 Ways to Recover Deleted Contacts from Android (#1 is Awesome)