Bypass Android Password without Factory Reset
In most cases, Android lock screen pattern is a welcome feature for the reason that it can prevent the phone data from divulging. But it would become an obstruction sometimes when users forget the password that they have set and unable to access the device. And in this case, some of you may choose to factory reset the device to enter the device. However, we all know that the factory reset would erase all the data on the device so some users do not want to use this means.
Then, is it possible to bypass Android password without factory reset? Yes, it is possible! There are 3 ways available for you to unlock the Android phone without factory reset.
Unlock Android Phone with Google Account
This most direct and easy way to unlock the Android phone password is to make use of your Google account. You can perform this means on the device and what you need to do is just enter the name and password of your Google account that you have singed in on the device. Just take a look!
- Enter random passcode on the phone screen for 5 times.
- Then the device will prompt you that Incorrect bakup password entered 5 times and give you three options: Try again in 25 seconds, Emergency call, Unlock via Google. Just tap on the last option to go on.
- Next, you need to type your Gmail name and password and click on Sign in to enter the account.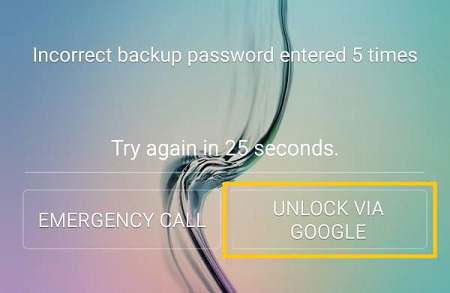 Once you login to the account, the lock screen will be reset as swipe and you can enter the device easily now.
Use Android Device Manager to Bypass Android Password
The second means is to use Android Device Manager to bypass your Android phone. This method is related to your Google account also but it is totally different from the first one:
- First of all, you need to go to google.com/Android/devicemanager on a computer or another mobile phone. Then sign in your Google account and it will start to search for your phone. Here you need to select the mobile phone that you want to unlock.
- After that, you will get three options: Ring, Lock and Erase. Tap on Lock here.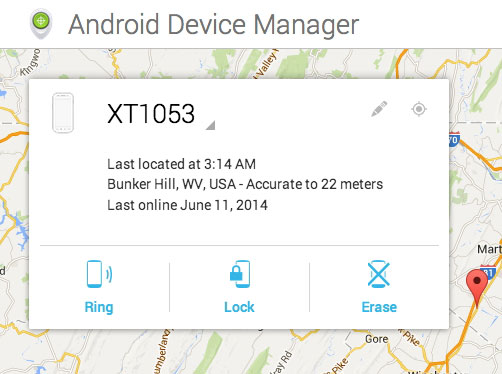 - Then a window will pop up in which you can type a temporary passcode and click on Lock again. If the password reset is successful, you will get a confirmation below the three options: Ring, Lock and Erase.
- Now you can go to your locked phone and enter the temporary password to enter the device.
- After accessing to the phone, you can go to Settings> Security to remove the temporary passcode and set a new one.
Unlock Android Password via ADB
If you do not create a Google account before, you need to use another way- use ADB on your computer. This is a powerful and efficient tool to remove the password from a locked Android phone. By using this means, you won't lose any files on the device.
- Download ADB to your computer and encrypt it to Local Disk C.
- Next, use a USB cable to connect your locked phone and computer.
- Then select Charge Only on your phone rather than USB Debugging.
- Click on Start on your PC and select Run and enter cmd.
- Now you need to type in the code one by one: cd c: \adb> adb shell> cd data/system> ls.
- After that, you can see a folder named "password.key" and you need to delete it and enter "rm password.key".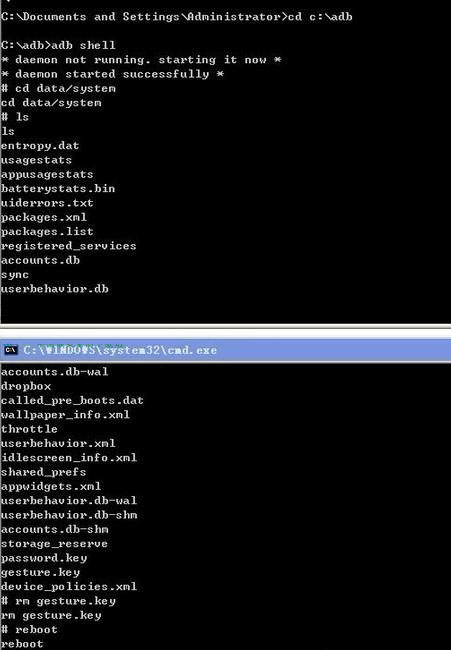 - In the end, just reboot your phone and use it freely.
Can't miss:
How to Disable Android Lock Screen?
How to Reset Locked Android without Password?
How to Restore Data from A Locked Android?
Some users may worry that their phone data would be lost during the unlocking process for these or those reasons. This scruple is also reason since data loss is unpredictable. So to avoid the unexpected data loss, you can restore the data from the locked Android phone beforehand. And here the tool- Broken Android Data Extraction can help you.
This program is able to restore data from Android phone which are locked, broken or damaged and the restoring process is time-saving. Thus, extracting data on a locked Android with this tool would be very easy:
- Download the software on your computer and go with the instructions to install it.
- Then just launch the software and select Broken Android Phone Data Extraction mode on the main interface directly.
- Now connect your phone to the computer. Once the program detect your phone, you will be asked to select the phone name and model. Just choose the right one and click on Confirm to ensure your option.
- Next, you need to enter the Download mode by following the instructions on the screen. And then you can click on Start to scan your device.
- After the scan, all the files on your phone will be listed in the program. Just select the file type that you want to restore and hit Recover to save the files to your computer.
Related Articles:
Tips & Tricks to Remove Swipe Screen to Unlock Android Phone