Android Apps Keep Crashing, How to Fix It? [Solved]
Help: I have a LG Spirit. Sometimes my Apps keep crashing for no apparent reason. This all started when I first downloaded Fire Emblem Heroes from the Google Play Store. Now some Apps that used to run smoothly crash constantly. There are Apps I can't even open now, even though I used them before with no problems.
This is one of the most common conditions appear during the Android phone using process. When it occurs, you are not able to run the Apps on your phone smoothly or even fail to manage the device. Thus, in this case, you must want to find out a method which is easy to handle to fix this Android Apps keep crashing issue. And luckily, there are several methods available to solve the problem and this article is the full guide about it.
Part 1. Why Apps on Android Keep Crashing?
From the example mentioned at the beginning, we can see that an improper application would cause the Android Apps keep crashing issue. But except that, there are still many other reasons would cause the problem. For instance:
- You have downloaded or updated the software on your device impertinently. If you forget to download App updates from Google Play Store or install the downloaded software in wrong place, the applications on your phone won't be able to run smoothly.
- The Wi-fi or cellular data you are using is poor or unstable. Normally, the operation of Android applications requires a good network connection. The network is better, the running speed of applications is faster. Thus, when you connect your phone to a bad network, the Apps on the device are hard to work well or even keep crashing.
- There is no enough storage space for the App to run. Many users like to save pictures, songs, videos, games or other files on their device which would take up too much space of the phone. These heavy files would prevent the Android Apps work normally.
- ...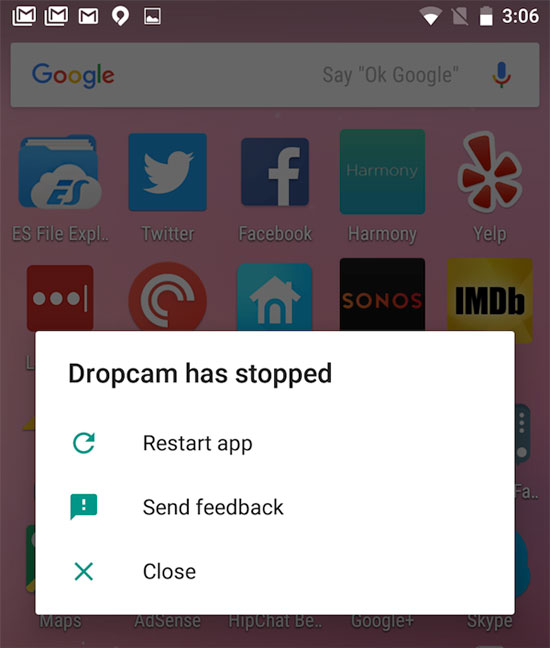 See also:
Full Guide on How to Fix Android System Crash Issue
Part 2. How to Fix Android Apps Keep Crashing Issue?
The methods to fix Android Apps keep crashing issue are not as complicated as you think. All the means we show you here are simple and easy to operate so you can follow the details step by step to fix the error by yourself simply.
1. Restart your phone
When some common but not serious errors occur on your device, you can first try to reboot the device to solve the problem. That's because the phone restart can shut down the all background operations, which can close the needless Apps and leave some space for you to run the wanted software.
To reboot your Android phone, you only need to long press the Power button of your device until you see a pop-up with several options. Just click on Restart option to reboot it.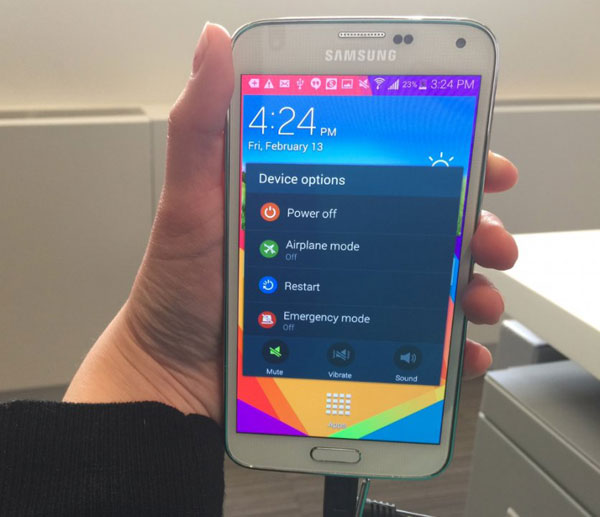 2. Clear App cache and data
The superfluous App data and cache would affect the good running of the application. Thus, you can select to clear the application data and cache to remove the unnecessary data to fix the crashing error. This will also free up your phone space slightly.
For clearing App cache and data, you need to visit Settings> Application Manager> Apps. Then choose the App that crashes frequently from the App list and click on Clear Cache and Clear data.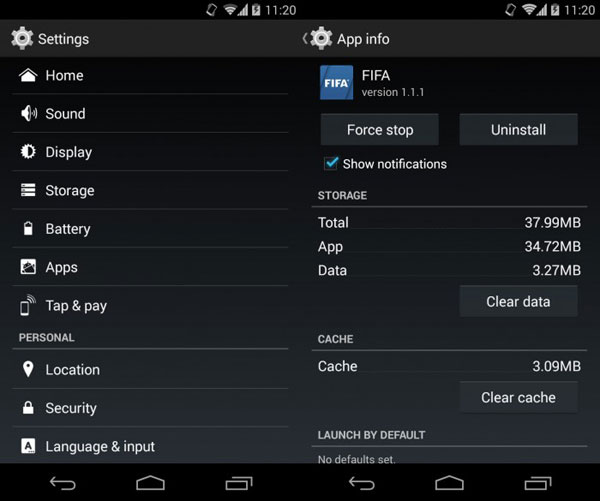 3. Make room for the wanted Apps
If the available internal space on your phone is very small, you need to free up some space for your wanted Apps to run. To achieve your goal, you have two options- delete needless files or move the files to SD card. Here if you choose to move the files to SD card, you can visit Settings> Application Manager> Apps to elect the application that you want to move. After that, you will enter the App Info page. Just tap on Move to SD card option to begin the moving process.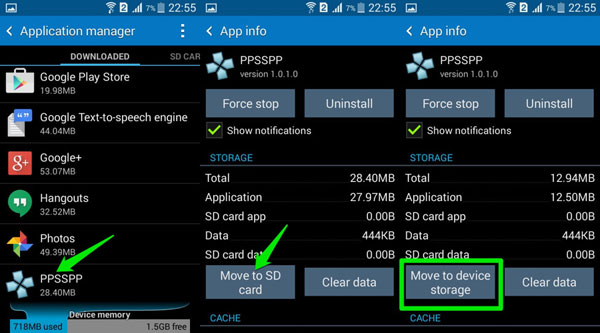 4. Reinstall Applications
It is possible that some applications on your phone are installed improperly or interruptedly which would cause the crashing problem. In this case, you are suggested to reinstall the Apps to settle the problem.
You can navigate to Settings> Application Manager/Apps to get a list of applications that have installed on your phone. Then elect and click the Apps that often crash to enter their App Info. Next, you can tap on Uninstall to remove the App from your device. After uninstalling the applications, you need to go to Play Store to download and install the App once again.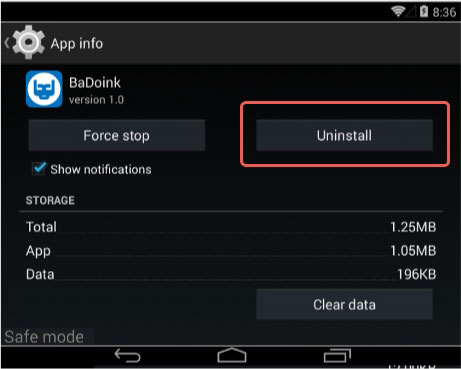 5. Connect your Android to a good network
The network status plays an important role in application running. Thus, when you face the Apps keep crashing on Android issue, you can try to check or reconnect the network to fix it. To get a good network, you can:
Turn off the Wi-fi connection on your phone and then press and hold the Power button to reboot the device. After that, you need to switch the Wi-fi connection on your phone back on. If the wireless network you are using is poor, you can attempt to link another usable and strong Wi-fi.
6. Wipe Cache Partition
Wiping cache partition is a frequently-used means to fix Android issues. By using this way, you can erase all the unwanted or futile data from your phone easily.
To wipe cache partition, you need to long press the Power and Volume Down buttons together to boot your Android phone into Recovery Mode. Once you enter the Recovery Mode, you will see several options on the screen. Just use Volume button to select Wipe cache partition option to start the sweep. When the clean is finished, you can select reboot system now to restart your device to normal status.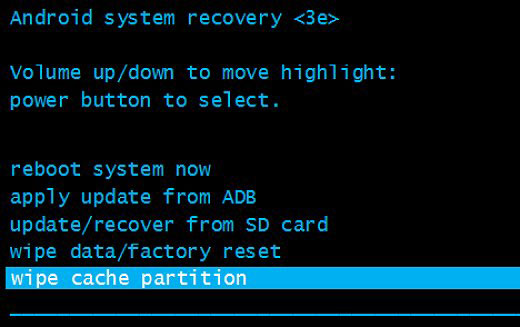 7. Factory reset your Android
Factory reset your Android device is the last method that we suggest you to do. This means can be used only when you have tried all the methods above and still fail to fix the problem because it will delete all the contents and settings on your phone. Therefore, you'd better backup your Android files at first if you choose it as your solution.
To perform the factory reset, you only need to go to Settings> Backup and Reset> Factory Data Reset> Reset Device.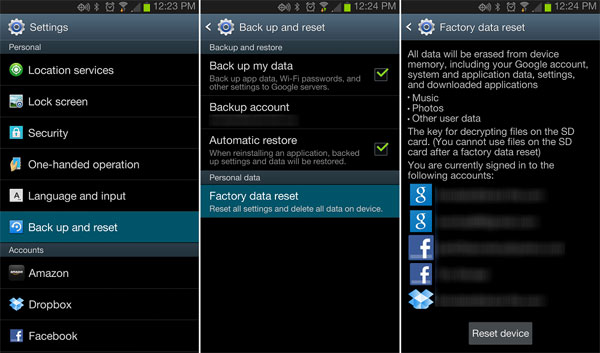 Related Articles:
Full Guide on How to Fix Android App Not Installed Error