[Solved] 7 Ways to Fix "iTunes Error 13014" Issue Easily
We usually use iTunes to transfer music, videos, TV series or e-books from computer to iPhone, iPad and iPod. But in the process, you may encounter various unknown iTunes error codes, such as iTunes error 13014. In this regard, you are so annoyed with iTunes that you even plan to look for an iTunes replacement. So what is iTunes error 13014? Error 13014 usually occurs when you use iTunes to sync with your iOS device. It will prevent users to update, backup or restore our iPhone/iPad/iPod and you will not be able to open iTunes on Mac or Windows PC.
If you've run into this problem and are desperate to know how to fix it, you've come to the right place. This guide will detail the causes and solutions for the 13014 iTunes error.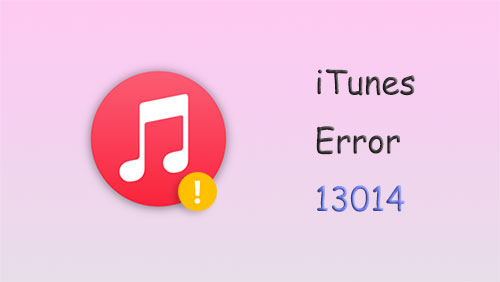 Part 1: Causes of "13014 iTunes Error"
While looking for a solution to a problem, it's equally important to understand what's causing the problem. iTunes error 13014 on your Mac or PC can be caused by a number of different factors. Now, let's take a look at the reasons for "iTunes error 13014".
Erroneous or incomplete deletion of iTunes related files.
A recent change to Windows or iTunes damaged the Windows registry.
Corrupted Windows system files or iTunes files.
Corrupted iTunes download or incomplete installation.
Virus or malware infection.
The impact of iTunes' built-in Genius feature.
Interference from third-party security software.
You May Also Need
Part 2: iTunes Error 13014 Fixes
After knowing the various reasons behind iTunes error 13014, you must be wondering how to fix this error. Here are the troubleshooting steps you can try and hope you can get rid of this problem soon.
Method 1: Free Up Hard Drive Storage Space
Too full hard drive storage will trigger 13014 iTunes error code. There have been quite a few users reporting that this iTunes error has been successfully resolved by freeing up hard drive space. Therefore, it is recommended that you try to free up space by deleting unnecessary data from your computer.
Method 2: Install the Latest Version of iTunes
An outdated version of iTunes may cause an unknown error occurred (13014), especially if that version already has a bug and the latest version has fixed it. That way, downloading the latest iTunes version can easily fix this problem.
Update iTunes in Windows:
If you downloaded iTunes from the Microsoft Store, iTunes will automatically update as new versions become available.
If you downloaded iTunes from the Apple website, you can open iTunes, click the Help option on the Windows PC's menu bar, and select Check for Updates to make sure you have the latest version.
Update iTunes on Mac:
Launch the App Store on your Mac.
Click Updates at the top of the App Store window.
If an iTunes update is available, click Install.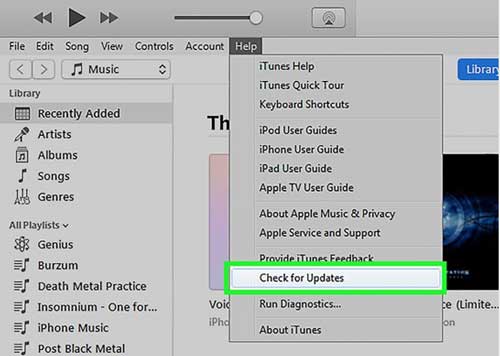 See More:
Method 3: Unplug Your iPhone/iPad/iPod
If the "iTunes application could not be opened 13014" problem persists, it's time to check your iPhone accessories. First, make sure the USB cable is connected successfully, otherwise iTunes cannot detect your iPhone and cannot read the device contents. Here, we recommend that you use Apple-authorized cables and stay away from non-genuine cables. Because the latter may destroy your iPhone data.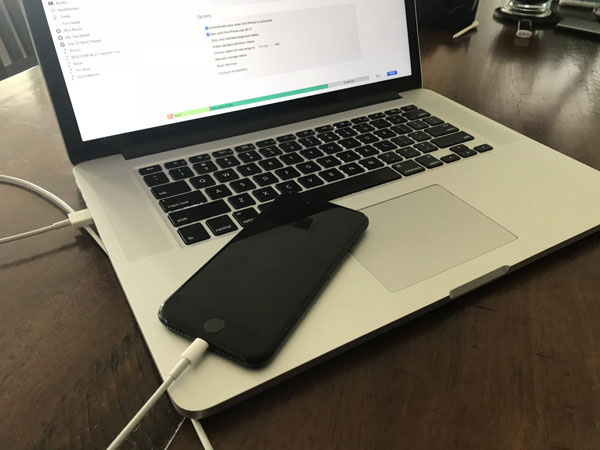 Method 4. Reboot Your iPhone and Computer
Sometimes, iTunes unknown error 13014 and related issues may be resolved by force restarting the iPhone and all processes on the computer and then restarting. Restart your iPhone, Windows and Mac as follows.
Restart iPhone: Press and hold the On/Off button and slide the shutdown slider to turn off iPhone. When the screen goes black, press and hold the power button until the Apple logo appears.

Restart Windows: Click the "Start" option, select "Power", and then click the "Restart" option.
Restart Mac: Go to the Apple menu and select the "Restart" option.
Method 5. Disable the Genius Folder
Genius is a feature introduced in iTunes 8 to automatically create playlists and find new music for you. However, for some unknown reason, this feature, when enabled, will cause iTunes to throw some errors, including error 13014. You can try turning it off to get things back on track.
Open iTunes on your computer.
Click the "File" option on the top navigation menu.
Click on "Library" and choose to turn off Genius to prevent it from interfering with iTunes.
After disabling Genius, restart iTunes to see if the iTunes error 13014 goes away.
Method 6: Temporarily Disable the Antivirus Program
An antivirus program may be protecting your computer. You can try quitting iTunes, temporarily disabling your antivirus program, and reopening iTunes to see if the problem is resolved.
Method 7. Use iOS System Recovery to Fix iTunes/iPhone Error 13014
If all the above methods are in vain for you, then we recommend you to use the ultimate tool to get rid of iTunes error 13014 once and for all - iOS System Recovery. It can help you fix all kinds of iOS system problems, no matter what the cause of your iPhone does not work properly, the app can fix the problem without losing any data. Whether you're a Windows or Mac user, iOS System Recovery does the job brilliantly.
iOS System Recovery - Best iPhone/iPad system recovery program:
Fix iTunes error 13014 within a few mouse clicks.
Fix various iOS issues, such as the iPhone clicking on its own, iPhone keeping restarting, iPhone grey/black/white/red screen of death, battery draining fast, iPhone stuck on a loading screen, etc.
Provide two repairing modes to fix iOS system problems.
There is no harm to your existing data during the fixing process.
Work for a whole range of iDevices, containing iPhone 14/14 Pro/14 Pro Max/14 Plus, iPhone 13/13 Pro (Max)/13 mini/12/12 Pro (Max)/12 mini, iPhone 11/11 Pro/11 Pro Max, iPhone X/XR/Xs/Xs Max, iPhone 8/8 Plus, iPhone 7/7 Plus, iPhone 6/6S/6 Plus, iPod touch, iPad, etc.
The process is simple and quick.
How to fix iPhone/iTunes error 13014 with iOS System Recovery?
Step 1. Download iOS System Repair on your computer. Install and run it directly. Then, go to click "More Tools" > "iOS System Recovery" from the program interface.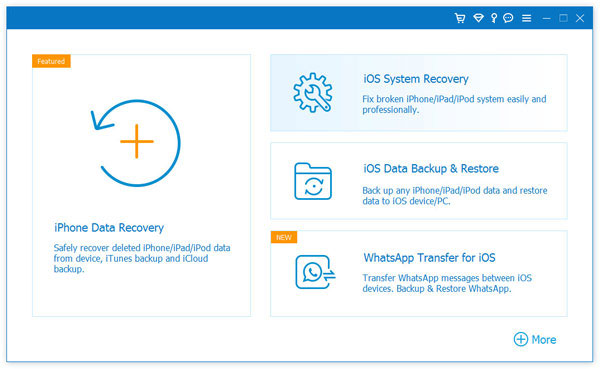 Step 2. Connect your iPhone to the computer using authentic lightning cable. Now, click on "Start" to go to the next step.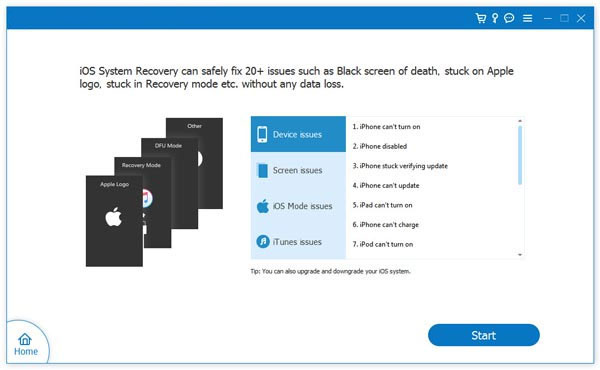 Step 3. Check the info of your device on the interface and tap "Repair" to download firmware for fixing your iPhone.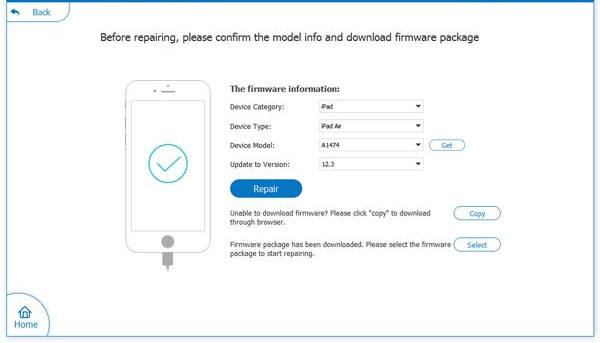 Step 4. As the iOS firmware is downloaded properly, the program will start the fixing process. Wait until the repair process is complete. Then, you can connect and sync your iPhone to iTunes smoothly.
Round Off
Hope the above 7 solutions can help you fix "iTunes Error 13014". Among these methods, it is obvious that iOS System Recovery is the most recommended one. Apart from fixing error 13014, it can also fix more iOS system errors. What's more, it won't cause any loss to your iPhone data and neither your computer nor your iPhone will be exposed to any risk. If you have any comments and suggestions on this topic, you can contact us or write in the comment area below, we will reply to you as soon as possible.
Related Articles:
Full Solutions to Fix The device is Unreachable Error for iPhone
3 Best Methods to Add Music from iTunes to iPhone 14/13/12/11/XR/Xs/8/7?
How to Transfer iTunes Music to Android (5 Proven Ways in 2023)
Top 6 iTunes Alternatives for Android Phones/Tablets in 2023
4 Practical Tips to Sync iPhone to a New Computer without Erasing
Where Does iTunes Store Backups & How to Change iTunes Backup Location?