iTunes Error 9? Fix it When iPhone/iPad Could Not Be Updated or Restored
When you are performing an iPhone update or system restore, everything goes well, then suddenly, iTunes error 9 occurs. Well, this case is usually associated with a message like, "iPhone has timeout; an unknown error occurred (9)". Next, it's urgent to achieve an optimal solution so that you can resume updating the firmware or restoring your device for any purpose.
OK, this comprehensive guide tells you the possible reasons and the 11 workarounds to easily get rid of the error message. Let's get started now.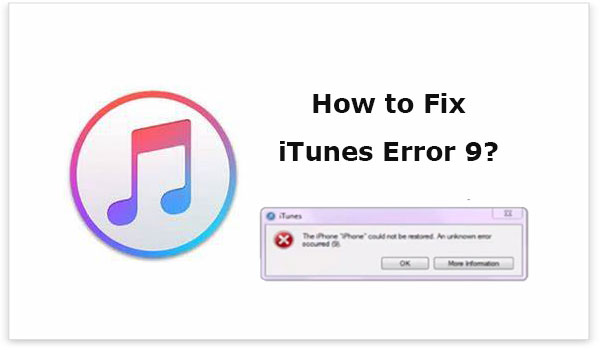 Part 1: What Causes iPhone/iTunes Error 9
When iPhone error 9 appears, it'll halt the procedure unexpectedly. Often, it has something to do with the following scenarios:
You installed an older version of iTunes.
iTunes is working with a jailbroken iPhone.
Firewall blocks communication between iTunes and Apple services.
Confliction caused by security software on your computer.
A USB cable that is unable to work.
There might be some Network Settings errors.
Your iPhone/iPad is known to get into error states.
You May Also Need:
Part 2: How to Fix iTunes Error 9 in 10 Quick Ways?
Way 1: Check USB cable/port
If iPad/iPhone 13/12/11/X/8/7 could not be updated error 9, first, try a new USB cord that is certified and authentic. Then do the task with another USB port and make sure you'll make a firm connection.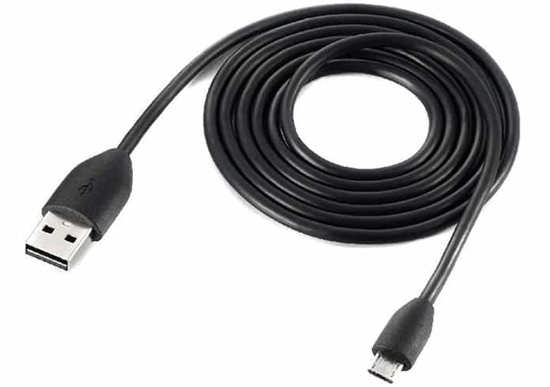 Way 2: Use another computer
There might be some hardware or software problems on your computer and thus lead to iPhone stuck on the restore screen or a failed iOS update. So try to do the same task on another PC. And if it works, just perform a complete recovery for the current one.
Way 3: Clear Safari cookies and cache
The iPhone/iPad could not be restored; an unknown error occurred 9. In rare cases, too many cookies and cache on your iDevice might be the important reasons for this phenomenon. You can clear them by going to your device's "Settings" > "Safari" > locate and tap "Clear History and Website Data".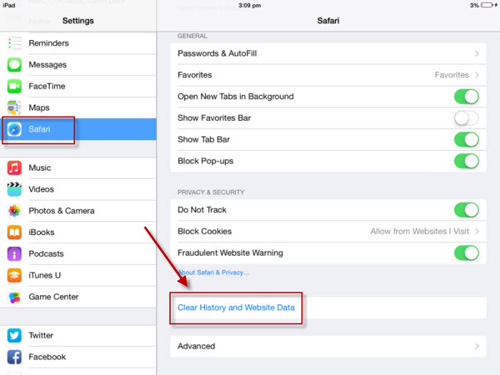 Way 4: Update iTunes
Updating iTunes to the latest version is also a good practice. Here are the simple steps:
Click the "Win" icon > "Start" > enter "iTunes" > launch the program.
When you are in the iTunes interface, tap "Help" > "Check for Updates".

iTunes will ask if you wish to download it if there's an update available.
Download the most current version of it before installing it on this computer.
See More:
Way 5: Check apps for update
A buggy or faulty app may have a negative effort on iPhone update or restore and thus results in iPhone restore error 9. Try to update the outdated apps as follows:
Open the App Store.
Tap your "Profile" from the top menu.
Scroll down to locate all the application updates available.
Install the new updates.
Way 6: Reset network settings
An errored network setting may be responsible for an unknown error that occurred (9). Follow the steps to reset it now:
First, make sure your iPhone is working with a Wi-Fi network.
Reset it by going to its "Settings" > "General".
Proceed to "Reset"/"Reset iPhone" > "Reset Network Settings".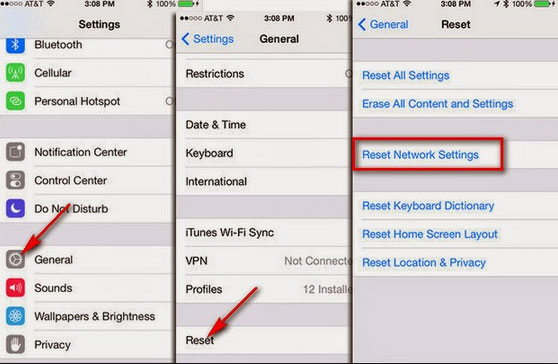 Way 7: Check Data & Time
Your iPhone may fail to get connected to iTunes if you are using a Mac computer with incorrect data and time. You can now check them for updates as follows:
Click the "Apple" menu > "System Preferences".
Choose "Date & Time" and touch the "lock" sign.
Enter your password and head to the "Date & Time" section.
Enable "Set date and time automatically".
Choose time.apple.com from the pull-down menu.
Tap the "Time zone" button > enable "Set time zone automatically using current location".
Next, head to "System Preferences" > "Language & Region". Make sure you set the correct region.
Way 8: Boot iPhone into recovery mode
Updating your iPhone via recovery mode can help fix iTunes error 9 while preserving the existing iOS settings and content. To make it, you can:
Have your iTunes ready (Update it if you haven't done it yet).
Attach your device to the computer when you reach the white Apple logo.
Ensure your USB cord is known to work. And when prompted, click "Update".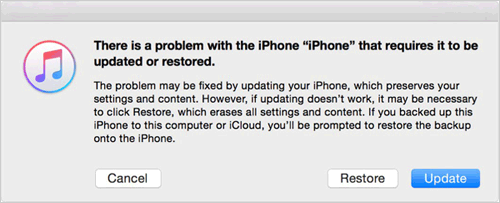 Way 9: Disable security software & firewall
Security software & firewall may keep iTunes from connecting to the Apple server. Here's the exact Apple error 9 fix by disabling security software and firewall:
Check if iTunes is not included in the exempted list set by anti-virus software.
Make sure iTunes is on the exceptions list of any firewall programs.
Quit virtualization apps like Parallels.
Way 10: Force restart iPhone
Misconfiguration or wrong settings in iTunes may lead to the error message. And force rebooting the device can be one of the most effective methods to troubleshoot this state. Here's how to fix iTunes error 9 in this way:
For iPhone X/8/8 S/Plus, quickly press the "Volume up" button, do the same on the "Volume down" button, and press and hold the "Power" button until the Apple logo comes out on the screen.
For iPhone 7/7 S/Plus, press and hold "Wake"/"Sleep" and "Volume down" simultaneously until you get the Apple logo on the screen.
For iPhone 6/5/S earlier and iPad, press and hold "Home" and "Power" until you reach the Apple logo on the screen.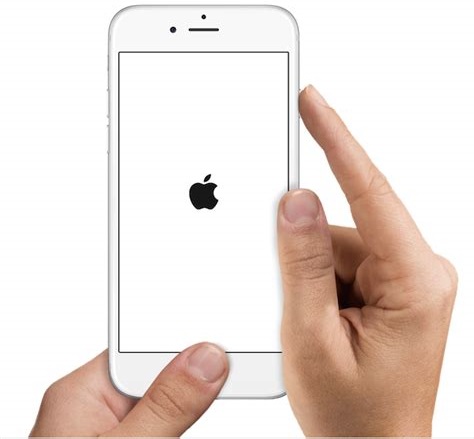 Part 3: Use a Professional Tool to Fix Apple iPhone/iTunes Error 9
Want to find the most efficient way to fix the error without effort? iOS System Recovery can be your best bet. This program aims to troubleshoot a whole range of problems, covering device issues, screen issues, iOS mode issues, and iTunes issues. It is all the more important given that you want to always keep the iOS data secure, for this program can fix iTunes error 9 with zero data loss.
Overview of iOS System Recovery:
Fix iTunes/iPhone/iPad error 9 in no time.
Resolve 50+ iOS issues, including the iTunes error 9/4005/54/56, iPhone stuck on the loading screen, iPhone grey screen of death, iPhone keeps crashing, touch screen not working, etc.
Troubleshoot iOS system problems using two modes.
Upgrade or downgrade iOS to the supported version.
Apply to overall iOS devices, including iPhone 14/14 Pro/14 Pro Max/14 Plus, iPhone 13/13 Pro (Max)/13 mini/12/12 Pro (Max)/12 mini, iPhone 11/11 Pro/11 Pro Max, iPhone X/XR/Xs/Xs Max, iPhone 8/8 Plus, iPhone 7/7 Plus, iPhone 6/6S/6 Plus, iPad Pro, iPad Air, iPad 4, iPad mini, the new iPad, iPad 2, etc.
It won't reveal your privacy.
Steps to fix iTunes error 9 with iOS System Recovery:
Step 1. Choose the "iOS System Recovery" option
Download and install iOS System Recovery on a computer. Then launch the program and choose "More Tools" > "iOS System Recovery".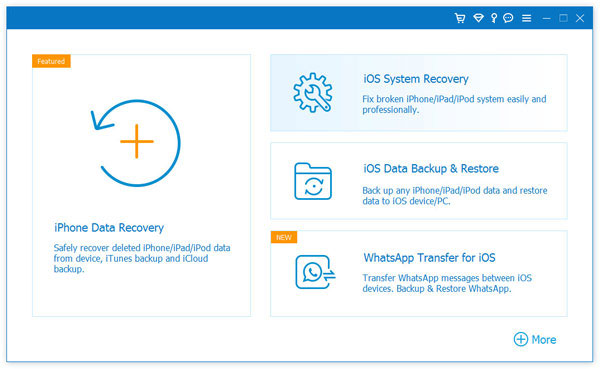 Step 2. Connect the iPhone to the computer
Plug your iPhone into this computer via USB and tap on "Start". Then, please follow the on-screen hint to push ahead with the repair.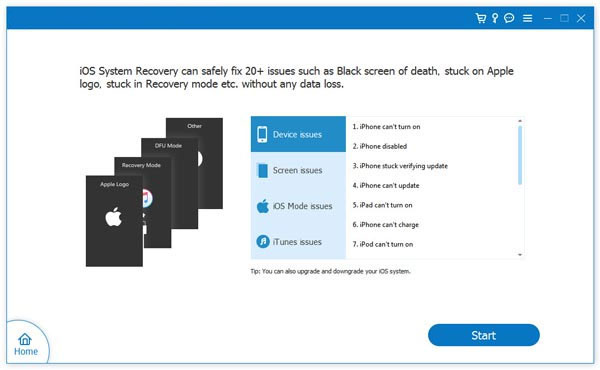 Step 3. Repair iTunes/iPhone/iPad error 9
This tool will detect the info about your iPhone. After the detection, you can check it and tap "Repair" to download firmware for your iDevice. If it displays the wrong info on its screen, choose the right one and press "Repair".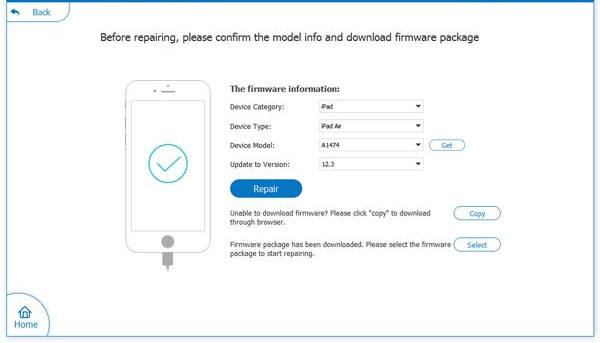 When the repair is done, restart your iOS device. And iTunes error 9 will no longer appear when you start over again.
The Bottom Line
There you have it, you folks! The 10 workarounds compiled above are comprised of user-defined ones shared by some other iPhone/iPad owners. If none of them have helped you out, iOS System Recovery is highly recommended to fix the current error while doing no harm to the content on your device.
In addition to resolving various iOS issues, it also serves as a great tool to upgrade or even downgrade iOS as per your needs. So, get the all-rounder now and easily settle the matter without delay.
Related Articles:
8 Productive Ways to Fix iTunes Stuck on Preparing iPhone for Restore
Top 11 Tips to Fix "iPhone Keeps Crashing" without Delay
3 Best Methods to Add Music from iTunes to iPhone 14/13/12/11/XR/Xs/8/7?
How to Fix iPhone/iTunes Error 56 Effortlessly? 7 Ways You'd Better Know
iTunes Could Not Connect to This iPhone? Here's the Full List of Fixes!
Top 6 iTunes Alternatives for Android Phones/Tablets in 2023